This Cowboy Caviar recipe is a flavorful and colorful Tex-Mex salad (or dip!) made with beans, veggies, and a tangy homemade dressing!
Ever heard of Cowboy Caviar? It's a flavorful dip or side dish that's loaded with beans, sweet corn, sweet and spicy peppers, and onion and then it's all tossed in a vibrant dressing made with fresh cilantro, lime juice, and olive oil.
Bring this to the next potluck or cookout and I can just about guarantee it's going to be the star of the show!
Something about that bright, vibrant dressing paired with the mixture of creamy beans and crunchy veggies all piled on a salty tortilla chip is just magic.
There are quite a few versions of this dip/salad out there, but I'm partial to this one and firmly believe it's the best. You'll just have to try it to see for yourself!
Ingredient Notes:
This post contains affiliate links. As an Amazon associate and member of other qualifying programs, I earn from qualifying purchases.
For the salad:
Canned Veggies – This simple Tex-Mex salad recipe starts with some canned black beans, black-eyed peas, and corn. Feel free to use fresh corn that's been cooked and cut from the cob here too if you prefer.
Bell Pepper & Onion – I'm using orange bell peppers but you can use any color that you like! I'm also adding some diced red onion which has a strong flavor and pairs well with the tangy dressing!
Roma Tomatoes – Some freshly diced tomatoes will add great flavor and lots of bright color to the cowboy caviar mix.
Jalapeno Pepper – Use as much or as little as you like, depending on how spicy you like things.
For the dressing:
Olive Oil – The base of this dressing starts with olive oil so use a good quality extra virgin olive oil for the best flavor!
Red Wine Vinegar – This will add lots of wonderful tangy flavor to the dressing! You could swap this for apple cider vinegar too. Use more or less of the vinegar to adjust the amount of tangy flavor.
Lime Juice – I'd recommend using freshly juiced limes for the dressing to get the best flavor, but the bottled stuff should work too. As with the vinegar you can use more or less of this to suit your taste.
Cilantro – Some freshly chopped cilantro is a great way to add even more of that Tex-Mex flavor to the dressing and salad.
What We Love About This Recipe:
You can make this recipe your own by easily swapping, adding, or adjusting ingredients! Swap the black beans for kidney or pinto beans, leave out any veggies you dislike, swap the cilantro for parsley, etc.
We love the tangy flavor of the dressing with the fresh flavors of the veggies and the spicy heat from the jalapeno!
This recipe can double as a dip or a salad, depending on what you serve it with! It's delicious on a tortilla chip, but it's just as tasty eaten with a fork.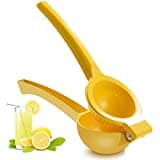 Citrus Juicer
Freshly squeezed lime and lemon juice is useful in lots of recipes, and this tool makes it easy and mess free.
How To Make Cowboy Caviar:
Veggies: This salad can be whipped up in no time at all! Start by adding the canned veggies to a large bowl along with the bell pepper, onion, chopped tomatoes, and jalapeno peppers!
Dressing: To prepare the tangy homemade dressing for the cowboy caviar salad you'll add the olive oil and vinegar to a small bowl along with some freshly squeezed lime juice.
Whisk those together with some salt and pepper and the chopped cilantro to finish preparing the dressing!
Combine: When you've prepared the dressing pour it over the bean and veggie mixture in the large bowl and toss gently to combine the salad ingredients. Feel free to add more lime juice, salt, and pepper to your taste.
Refrigerate: You'll need to cover the bowl and let the cowboy caviar salad chill for at least an hour in the fridge before serving so that the dressing can set and for all the flavors to get worked in.
Serving Suggestions:
This Cowboy Caviar makes a great dip! Serve it with our air fryer tortilla chips next to the restaurant style salsa and homemade guacamole!
Use this as a topping or filling for tacos and burritos!
Pile this onto your plate and enjoy it as a healthy side dish. It's hearty and filling and so flavorful.
Variations:
Feel free to switch things up with this recipe! You can easily swap ingredients or change the amounts used to suit your taste. Here are some suggestions:
Add some protein and upgrade this from a side dish to a main dish! Try this cowboy caviar with some diced chicken, steak bites, or grilled shrimp.
Not everyone enjoys cilantro. Some good subs would be freshly chopped parsley or even some fresh basil!
Black beans and black-eyed peas are standard for this recipe but you could easily swap them out with lots of different varieties of beans! Pinto beans or kidney beans are a great choice.
You could add veggies or swap them out too! Try this with some chopped green onion, diced cucumber, diced avocado, or even diced mango to add a bit of sweetness.
FAQ's:
How to store cowboy caviar?
You can store the leftover salad in an airtight container for up to 3-4 days in the fridge. For the best taste and texture I'd recommend eating it within a couple of days.
Can I make cowboy caviar ahead of time?
Yep! You need to refrigerate it for at least an hour so this is a great recipe to make a day or so ahead of time.
Cowboy Caviar
Cowboy Caviar is a delicious and colorful Tex-Mex salad or dip, made with a combination of delicious beans, veggies, and a tangy irresistible dressing. This recipe's super versatile and can be enjoyed as a dip (with tortilla chips!), a side dish, or even as a filling for tacos or burritos.
Prep10 minutes
Chill Time1 hour
Total1 hour 10 minutes
Ingredients
15 ounces canned black beans rinsed and drained
15 ounces canned black-eyed peas rinsed and drained
15 ounces canned corn drained
1 large bell pepper any color, diced – I used orange bell pepper
1 medium red onion diced
2-3 Roma tomatoes diced
1 jalapeno pepper seeded and finely chopped (optional, adjust to taste)
3 tablespoons olive oil
2 limes juice of
2 tablespoons red wine vinegar
1/2 cup fresh chopped cilantro
Salt & pepper to taste
Instructions
In a large bowl, combine black beans, black eyed peas, corn, bell pepper, red onions, chopped tomatoes, and jalapeno pepper (if using).

In a small bowl, whisk together the olive oil, lime juice, vinegar, cilantro, and salt and pepper.

Pour the dressing over the bean and veggies mixture. Toss gently to combine.

Taste the salad and adjust lime juice, salt, and pepper according to preference.

Cover the bowl and refrigerate the cowboy caviar for at least 1 hour before serving. This allows the flavors to meld together.

You can serve it chilled or at room temperature. Enjoy the cowboy caviar as a dip, side dish, or even as a filling for tacos or burritos.
Tips & Notes:
If you prefer a milder flavor, you can reduce or omit the jalapeno pepper. For a fresher taste, you can use fresh corn kernels instead of canned corn. Simply boil or grill fresh corn on the cob and then cut off the kernels into the salad. Adjust the amount of lime juice and vinegar to your taste. If you like it tangier, add more. If you prefer a milder flavor, use less. To store: store the leftover salad in an airtight container for up to 3-4 days. However, it's best to consume it within the first 2-3 days for the best taste and texture.
Nutrition Information:
Calories: 216kcal (11%)| Carbohydrates: 32g (11%)| Protein: 9g (18%)| Fat: 7g (11%)| Saturated Fat: 1g (6%)| Polyunsaturated Fat: 1g| Monounsaturated Fat: 4g| Sodium: 296mg (13%)| Potassium: 496mg (14%)| Fiber: 8g (33%)| Sugar: 4g (4%)| Vitamin A: 809IU (16%)| Vitamin C: 39mg (47%)| Calcium: 45mg (5%)| Iron: 3mg (17%)