This buffalo chicken chili recipe is loaded with chicken, white beans, and buffalo sauce. Top it off with some blue cheese or cheddar before serving. Big thanks to Hurst's Beans for sponsoring this post.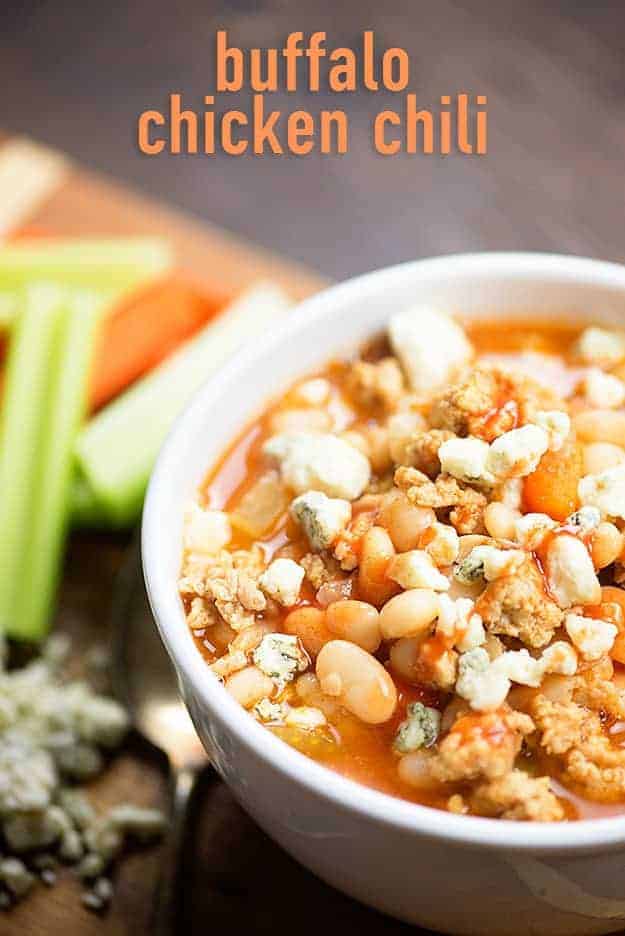 There is, apparently, a big football game coming up.
I know this because my husband keeps inviting people to our house and then wondering aloud if we should get a keg.
A keg.
Does the man forget that the Super Bowl happens to fall on a Sunday and also I go to bed at 9pm like a grandma every night?
Boys are weird.
Anyway, I'm ignoring the hints about the keg and instead focusing on football food. I mean, let's be real – football food is my life.
Do you remember my taco chili or slow cooker chili? Those are both so great for football games because they're easy to toss together, they feed a crowd, and they're super hearty and filling.

My chicken chili is getting doctored up with some buffalo sauce.
I thought I'd mix things up this year though. We're having this white bean chicken chili that's been doctored up with buffalo sauce.
Have you ever had buffalo chicken chili before? It's outta this world good.
I've been working with Hurst's Beans this year to bring you recipes featuring their dried beans and this chicken chili is the perfect recipe to try your hands at cooking dried beans from scratch.
This buffalo chicken chili recipe starts with a bag of dried Great Northern beans.
I don't bother soaking the beans. I just rinse them well and sort through for any debris before adding them to my stockpot with a whole bunch of other goodies.
In this case, for buffalo chicken chili, we're starting with ground chicken. I really like ground meat in chili so I went with ground chicken, but shredded chicken works just as well. If you do use cooked, shredded chicken, I'd add it in at the end.
I also thew some carrots and celery into the pot, because those guys just belong with buffalo chicken chili, right?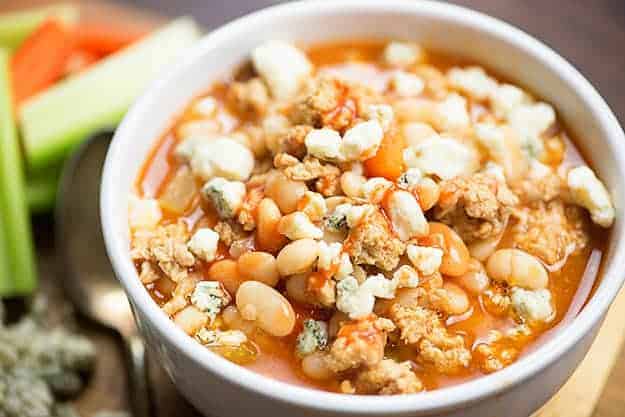 Once the chicken is cooked through and the veggies are in, add your dried beans. Hurst's Beans come with a little seasoning packet inside the package which makes life easy. For this recipe, though, we're just going to set that packet aside for another time.
Add in your chicken stock and bring the whole thing to a boil. Reduce the heat, cover, and cook for about 2 hours. How easy is that??
Once the beans are tender, you want to spice it up. This is buffalo chicken chili, right?
Add in some buffalo sauce, chili powder, and cumin. Buffalo sauce tends to be a little salty, but I still thought this needed a dash of extra salt. Taste before adding it in, if you're sensitive to salty foods, though.
This white bean chicken chili is such a flavorful twist on a classic recipe. The white beans are so tender, the broth is so flavorful, and the chicken is just divine. Your hungry football fans are going to love this buffalo chicken chili!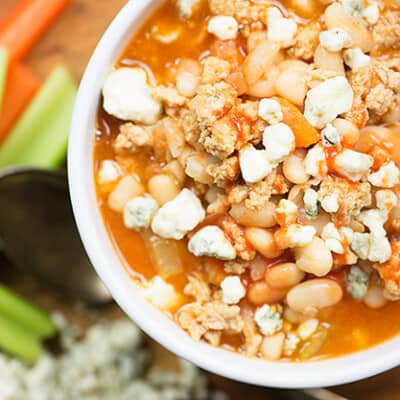 Buffalo Chicken Chili
This white bean chicken chili gets a little kick from the addition of buffalo sauce. It's perfect for serving to hungry football fans.

Prep15 minutes
Cook2 hours 15 minutes
Total2 hours 30 minutes
Ingredients
1 tablespoon extra virgin olive oil
1 pound ground chicken
1/2 cup diced carrots
1/2 cup diced onion
1/2 cup diced celery
2 cloves garlic minced
1 package Hurst's Great Northern Beans
8 cups chicken stock
1/2 cup cayenne pepper sauce
1 tablespoon chili powder
1 teaspoon cumin
1 teapsoon salt
Crumbled blue cheese for serving, as desired
Instructions
Add the oil to a large stock pot and heat over medium heat.

Add the ground chicken and cook, stirring often to crumble, until cooked through.

Stir in the onion, carrots, celery, and garlic. Cook for 3 minutes.

Rinse and sort through the beans. Set aside the seasoning packet that comes inside the package for another use.

Add the beans and chicken stock to the stock pot and bring to a boil. Reduce heat to a simmer and cook, covered, for 2 hours, stirring occasionally.

Stir in the hot sauce, chili powder, cumin, and salt. Continue cooking for 15 minutes. Add more broth, if needed.

Serve with crumbled blue cheese and extra sauce.
Nutrition Information:
Calories: 437kcal (22%)| Carbohydrates: 49g (16%)| Protein: 29g (58%)| Fat: 13g (20%)| Saturated Fat: 3g (19%)| Cholesterol: 55mg (18%)| Sodium: 3500mg (152%)| Potassium: 1448mg (41%)| Fiber: 12g (50%)| Sugar: 6g (7%)| Vitamin A: 1710IU (34%)| Vitamin C: 6.2mg (8%)| Calcium: 146mg (15%)| Iron: 5mg (28%)