This smoky pulled pork slow cooker chili recipe is an easy dinner recipe that will warm you up from the inside out. The pork chili is sweet, smoky, and a little bit spicy!


Enough. I've had enough.
The weather just needs to make up it's mind. It's either hot or cold, warm or chilly. I don't even care which at this point, but quit teasing me with sunshine only to freeze me out a day later.
Fifty degrees felt warm a few weeks ago, but then it hit seventy degrees, and now I have to wear a parka every time I leave the house if it's not in the seventies! What in the world is happening? My body can't deal with the confusion.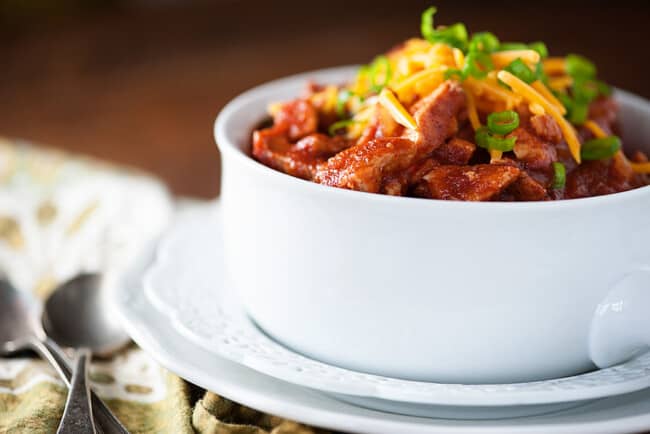 So, on one of the frozen tundra type of days, I decided to warm everyone up with a bowl of slow cooker chili.
A bowl of pulled pork chili.
A bowl of pulled pork chili that was sweet and smoky and spicy, all in one delicious heaping bowl.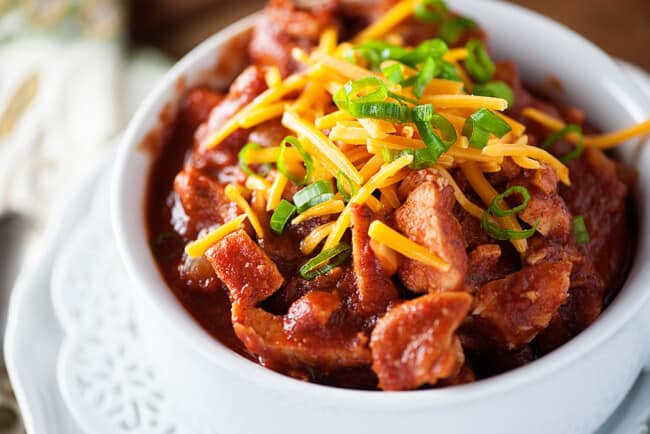 I've teamed up with Smithfield to create some new recipes using their already seasoned and marinated pork and I can not wait to bring to life all of the ideas I have! You'll just have to wait for the rest of the ideas, though.
In the meantime, you can comfort yourself by covering your entire body in this chili to stay warm. Seems like a good plan, no?
I chose to use the Mesquite loin filet for this chili. The tender pork is 100% natural and already seasoned for you with a sweet and smoky marinade that adds a great flavor to the chili. Aaaaand, I went ahead and threw it all in the slow cooker for you guys, because I know how much we all love a good crock pot recipe. Remember my slow cooker salsa verde pulled pork? Or my beer cheese chicken sliders? This is the slow cooker I use and I love it.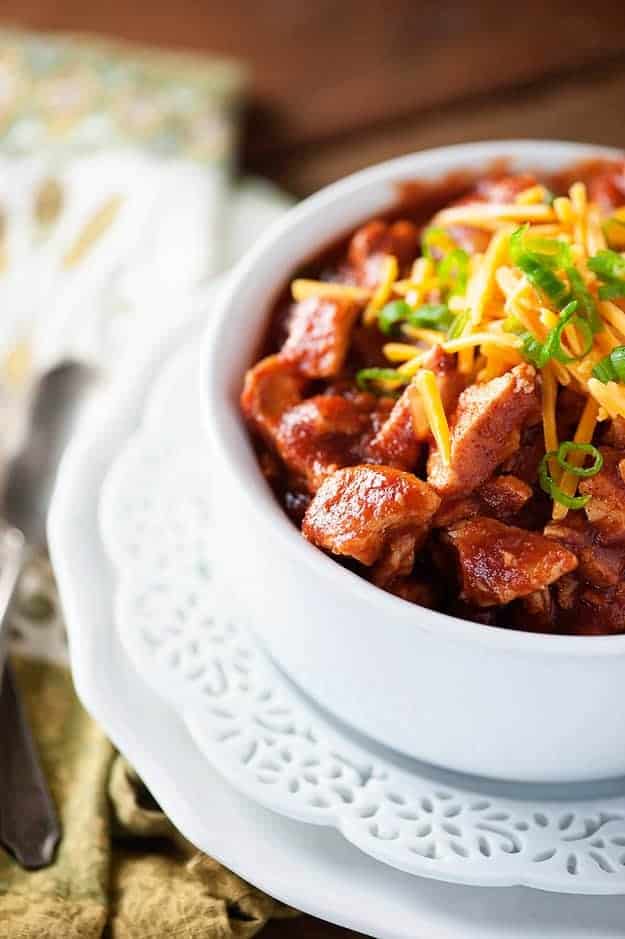 You can make this recipe with or without the beans, as you prefer. My kids and husband are not bean fans, so I usually make chili without. I went ahead and added them this time around though, because they aren't the boss of me. I do what I want. Really, though, all that tender pork is very filling and the final dish is very meaty, so I don't think anyone would miss the beans in this chili.
You can also use a couple of forks to pull the pork apart, or you can use a knife and chop it into small pieces. I was in a hurry and I chopped it into bite sized pieces. Either method works and the pork is definitely tender enough to pull. It almost melts in your mouth!
I insist that you serve this chili with a batch of my homemade pretzel rolls, k?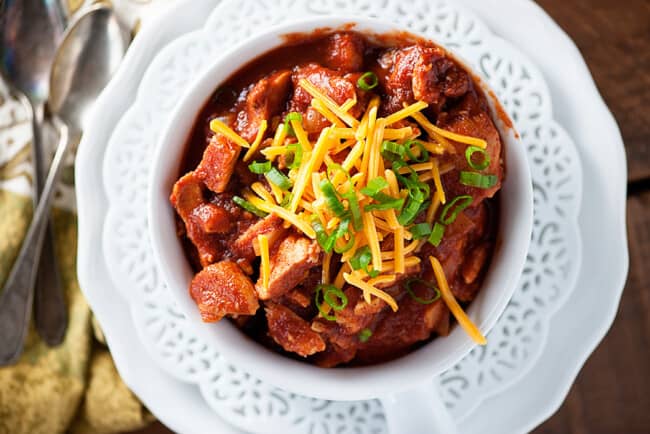 Smoky Pulled Pork Chili
This smoky pulled pork slow cooker chili recipe is an easy dinner recipe that will warm you up from the inside out. The pork chili is sweet, smoky, and a little bit spicy!

Prep30 minutes
Cook8 hours
Total8 hours 30 minutes
Ingredients
1 package Smithfield Mesquite Pork Loin Filet about 1 1/2-2 pounds
3 tablespoons olive oil divided
1 sweet onion diced
3 cloves garlic minced
1 chipotle chile in adobo sauce diced (more for extra heat)
1 teaspoon adobo sauce
1/4 cup chili powder
2 tablespoons cumin
2 tablespoons smoked paprika
1 tablespoon salt
1 teaspoon instant espresso powder
30 ounces canned crushed tomatoes
30 ounces tomato sauce
15 ounces mild chili beans
15 ounces hot chili beans
Cheese, green onions, crackers, sour cream, etc. for serving
Instructions
Slice the pork tenderloin into 4 equal sized pieces. Set aside.

Heat a large skillet over medium heat and add half of the the oil. Stir in the onions and cook until softened, stirring often, about 5 minutes.

Stir in the garlic, chipotle chile, adobo sauce, chili powder, cumin, paprika, and salt. Stir to coat the onions and cook for 1 more one minute.

Remove the vegetables and spices to a 5 quart slow cooker set to low.

Add the crushed tomatoes, tomato sauce, and beans to the slow cooker and stir to combine.

Add the rest of the olive oil to the pan and turn the heat up to medium-high. Sear the large pieces of pork on all sides.

Place the pork in the slow cooker and stir to cover the meat in the sauce. Cover and cook on low for 7 hours.

Remove the pork pieces from the slow cooker using a slotted spoon and place on a cutting board. Use two forks to shred the meat or use a knife to cut into bite sized pieces.

Return the pork to the chili, cover, and continue cooking for one more hour.

Serve with grated cheddar, green onions, sour cream, crackers, etc.
Nutrition Information:
Calories: 186kcal (9%)| Carbohydrates: 19g (6%)| Protein: 15g (30%)| Fat: 5g (8%)| Saturated Fat: 1g (6%)| Cholesterol: 28mg (9%)| Sodium: 1342mg (58%)| Potassium: 845mg (24%)| Fiber: 4g (17%)| Sugar: 9g (10%)| Vitamin A: 845IU (17%)| Vitamin C: 11.5mg (14%)| Calcium: 62mg (6%)| Iron: 3.4mg (19%)
This post contains affiliate links.