I teamed up with Crock-Pot® brand to bring you this slow cooker breakfast casserole and I think you're going to love this recipe!


Have you guys had a houseful of guests yet or are you saving that up for Christmas day?
I actually really love overnight guests, because it means I have a perfect excuse to make a big breakfast. My kids usually prefer cereal and my husband always wants the same thing – 2 eggs over hard and 3 sausage patties.
Then there's me. I'm over here like, hook me up with a pound of hashbrowns, 2 or 3 biscuits slathered with butter and jelly, a few slices of bacon, and maybe a scrambled egg or two. Also, toast. And pancakes. Maybe a waffle? Basically, just give me every possible carb you have in the house and we'll call it good.
So.
It's nice to have guests to feed and the holiday season always means guests to feed! I love to make this slow cooker breakfast casserole for Christmas morning breakfast. You can do this one of two ways – let this cook while you're sleeping and switch it over to warm until you're ready to eat, or wake up early and get it started for brunch.
I like to use my Crock-Pot® 6.5 quart Countdown Touchscreen Digital Slow Cooker for this one. Once the time has counted down, it automatically switches over to keep your food warm and starts the timer counting up, so you know how long you've had things cooking. It's perfect for this casserole, since I like to put this on when I go to bed. No worries about waking up early to check on my casserole! It keeps warm just fine for an hour or two.
This casserole is pure comfort food and is a total crowd pleaser! I think it makes the perfect Christmas morning breakfast – especially if you have leftover ham from Christmas Eve!
Cooking this in your Crock-Pot® slow cooker keeps everything warm, steamy, moist, and delicious. No dry eggs here, friends! You're going to love this!
Be sure to check out the Crock-Pot® brand website for even more delicious slow cooker recipes! And click here for 20% off a Crock-Pot® slow cooker!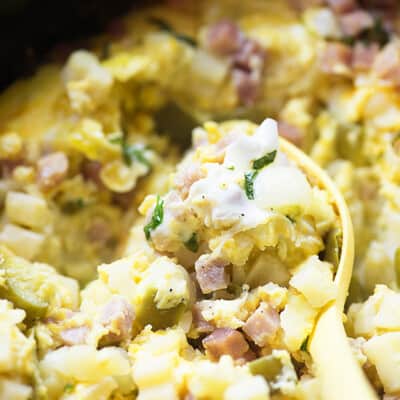 Slow Cooker Breakfast Casserole
This breakfast casserole is made extra easy by the use of a slow cooker!
Prep10 minutes
Cook6 hours
Total6 hours 10 minutes
Ingredients
12 eggs
1 1/4 cups milk
2 pounds frozen diced potatoes
1 pound diced cooked ham
1 sweet onion diced
1 bell pepper diced
2 cups grated cheddar
2 teaspoons salt divided
2 teaspoons pepper divided
1/4 cup chopped parsley
Instructions
Spray a 6-8 quart slow cooker with non-stick cooking spray.

Crack the eggs into a medium bowl. Add the milk and 1 teaspoon each of salt and pepper. Whisk well to combine. Set aside.

Pour half of the potatoes into the slow cooker. Top with half of the ham. Sprinkle with the remaining salt and pepper.

Top with the onion and pepper and half of the cheddar.

Add remaining potatoes, ham, and cheddar.

Pour eggs over the mixture and cover with lid.

Cook on low for 6 hours.

Before serving, sprinkle with chopped parsley.
Nutrition Information:
Calories: 429kcal (21%)| Carbohydrates: 29g (10%)| Protein: 28g (56%)| Fat: 22g (34%)| Saturated Fat: 10g (63%)| Cholesterol: 305mg (102%)| Sodium: 950mg (41%)| Fiber: 4g (17%)| Sugar: 6g (7%)