This cheesy taco pasta is a quick and easy one dish dinner that the whole family will love! I like to top mine with cilantro, avocado, and sour cream. So good and cheesy!
My kids and I were talking about our trip to Europe the other day and my son was complaining about the fact that people rag on England for not having good food.
The kid enjoyed the food at every restaurant we ate at and he was trying new things left and right. He had a great time exploring the food scene, which makes him one of my favorite people to travel with. 😉
I mentioned that, while I agreed the food was good enough, there was an alarming lack of tacos. I would get excited and point out any Mexican joint I saw, which was usually a little burrito shop tucked in between a couple of tourist spots.
I mean, look. I enjoyed Europe. Ireland and Scotland are both vying for the top spot on my list of places to return. But I could never live there. Not without more Mexican food. Not without A LOT more Mexican food.
It's just my favorite thing ever. So, I created this Mexican-inspired cheesy taco pasta to share with you all.
Don't you love how I go on and on about my love of Mexican food and then I share this weird American-ized version of tacos and pasta all mashed together? I can't help myself. I love the authentic stuff when we go out to eat, but I'm just a white girl in the middle of Illinois here. I make amazing American-ized Mexican food, but don't come to me for the authentic stuff. Sorrrrrry. Like my chicken enchilada casserole, for example. I don't think they eat that in Mexico, but that's just a hunch.
My carnitas, on the other hand… I think those are pretty authentic. They sure are delicious anyway.
This cheesy taco pasta will be a sure hit in your family, too!

So, anyway. My kiddos love my homemade hamburger helper recipe, so I decided to switch it up with Mexican flavors. Hello, cheesy taco pasta. Let's get married and run away together.
You're going to love how easy this is. It's made in one dish and takes about 25 minutes from start to finish. I love how flavorful the pasta gets when it's cooked right in the same pot as the meat and seasonings. Totally brilliant if you ask me! My chicken florentine pasta is a perfect example of how tasty a one dish dinner can be!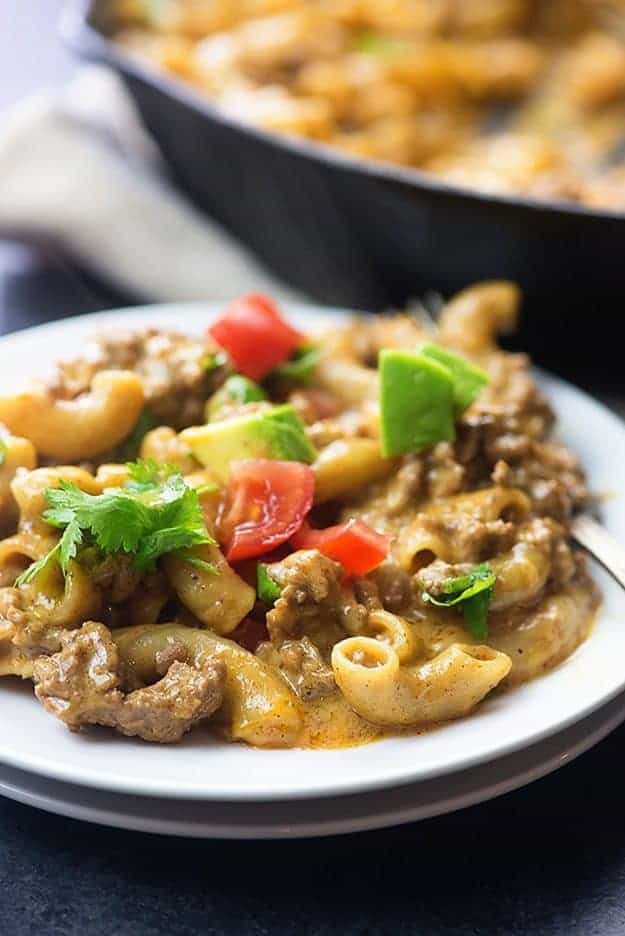 One Pot Taco Pasta
My kiddos love Hamburger Helper, so we came up with a homemade version of their taco version. This one pot pasta is a cinch to make, packed with all those taco flavors we love, and always a hit with the family.
Prep5 minutes
Cook20 minutes
Total25 minutes
Ingredients
1 pound ground beef
1 cup dry macaroni
1 cup hot water
2 cups milk
1 tablespoon corn starch
1 packet taco seasoning
1 cup grated cheddar cheese
Cilantro, tomato, avocado, for serving
Instructions
Brown ground beef in a 12 inch skillet over medium heat, crumbling it as it cooks. Drain grease.

Add the macaroni, water, milk, cornstarch, and taco seasoning to the skillet with the beef. Stir well.

Bring to a boil, reduce to a simmer, and cover. Cook for 12 minutes.

Remove from the heat, stir in the cheddar cheese, and cover for 2 minutes.

Stir well. Top with cilantro, diced tomato, and avocado before serving.
Nutrition Information:
Calories: 581kcal (29%)| Carbohydrates: 27g (9%)| Protein: 33g (66%)| Fat: 36g (55%)| Saturated Fat: 17g (106%)| Cholesterol: 122mg (41%)| Sodium: 328mg (14%)| Potassium: 553mg (16%)| Sugar: 7g (8%)| Vitamin A: 505IU (10%)| Calcium: 367mg (37%)| Iron: 2.7mg (15%)