This Asian Ramen Salad recipe is a crunchy cold salad with a sweet and tangy homemade dressing, loads of crunchy Ramen noodles, almonds, green onion, and more! Made in just 10 minutes! It's an easy recipe that is always the first to go at potlucks.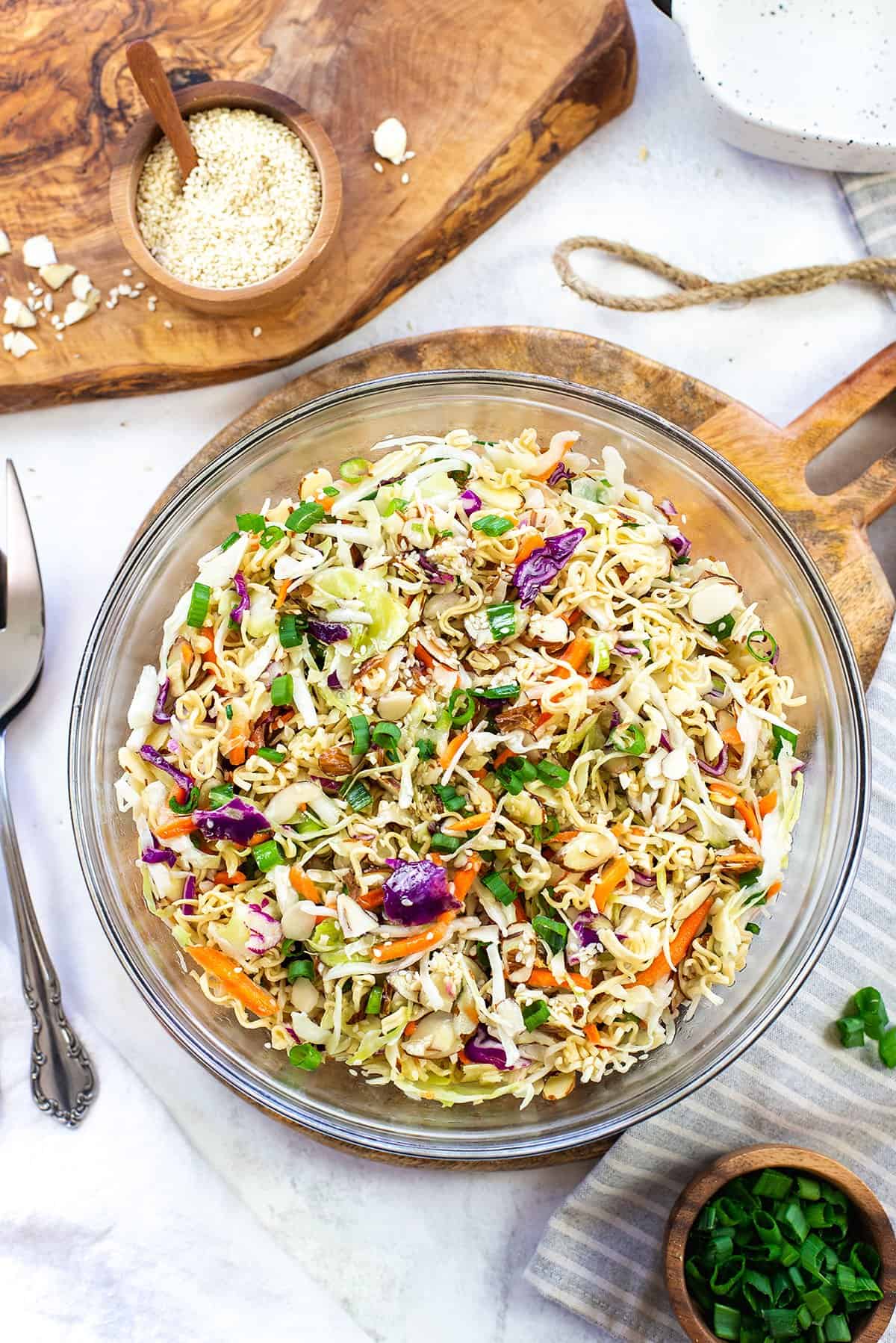 There was a period of my life where this Ramen Noodle Salad made an appearance at every potluck, summer BBQ, and holiday dinner I attended.
Sometimes I was the one bringing it along, sometimes it was another party-goer. But, you could be sure that every Midwestern event you attended from the years of 2000-2010 were going to feature this crispy, crunchy, delightfully sweet and tangy salad!
Not sure where this salad went, but I realized the other day that I hadn't made it or seen it in years and it took about 4 seconds for me to hop up, head to the store, and grab the ingredients.
Ramen salad is still always and forever a favorite around here. So many flavors and those crunchy ramen noodles are just *chef's kiss.*
This is perfect for your next cook out, along with my turkey burger recipe or animal style burgers. Our orzo pasta salad and cornbread salad are other fun sides for a potluck.
Ingredient Notes: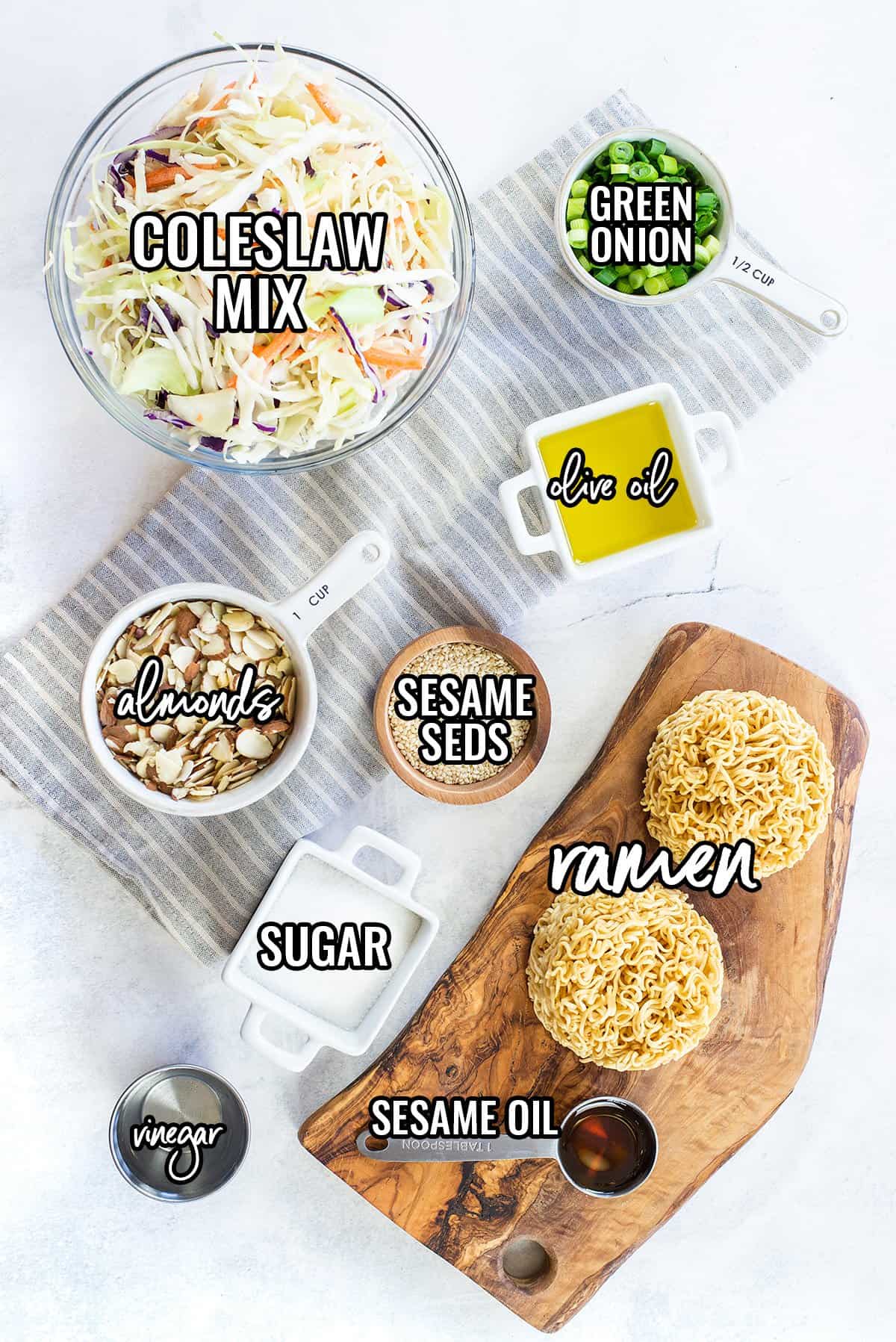 Ramen Noodles – You'll need two packets of dry noodles. We won't use the seasoning packet, so discard that or save it for something else.
Coleslaw Mix – Pick up a package of coleslaw mix from the store. It's quick and easy, just like the ramen noodles!
Mix-Ins – We're stirring in slivered almonds, sesame seeds, and lots of green onion.
Dressing – You'll prepare a homemade dressing from olive oil, sesame oil, vinegar, and sugar. The ramen noodles will soak up some of the dressing and soften them a bit the longer the salad sits.
What We Love About This Recipe:
No cooking involved! This recipe is ready in just a few minutes with some simple mixing.
Sesame oil is a popular Asian ingredient that works perfectly in the homemade dressing for this ramen noodle salad recipe!
This salad is sweet and tangy, crispy and crunchy, and just an all around crowd-pleaser.
How to Make Ramen Salad:
Ramen: Crumble the dry ramen noodles into your mixing bowl. Do not cook them first.
Mix: Add in the coleslaw mix, almonds, sesame seeds, and green onions, and give it a stir.
Dressing: Whisk together the olive oil, sesame oil, vinegar, and sugar.
Serve: When you're ready to serve pour the dressing over the salad mix and stir it up until all the ingredients are well coated in the dressing. This Asian salad is best served right away if you want the ramen noodles to stay nice and crunchy.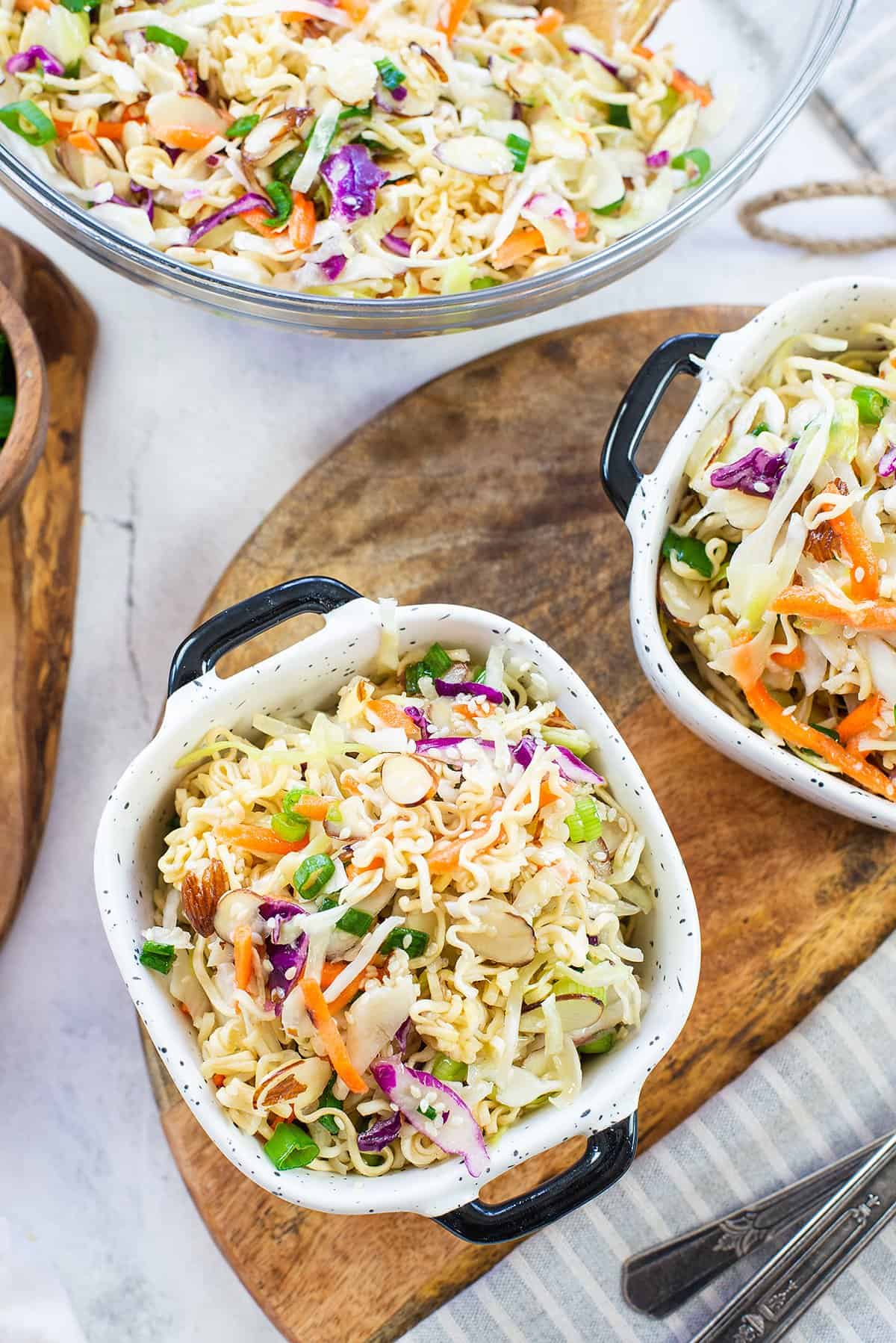 Helpful Tip!
The dressing will soften the ramen noodles the longer the salad sits. If you want it to be as crunchy as possible wait to add the dressing until just before serving! Or prepare it with the dressing and add the ramen noodles before serving.
Is Asian Ramen Salad actually an Asian dish?
While there is a Ramen Salad that is a local specialty of Hokkaido, this version is not it. While I don't know the origins of this version of Ramen salad, my guess is that it is not an authentic Asian dish, but I could be wrong!
FAQs:
Can I keep leftovers?
This salad will keep in the fridge for 3-4 days, but the noodles will soften up as they soak up the dressing. We prefer this salad freshly made, but if you don't mind the soft noodles then go ahead and enjoy it!
Can you use cooked ramen noodles for salad?
While you probably could add cooked noodles to this salad, you would really be missing the texture and crunch of the ramen. The crunchy noodles are what make the dish!
MORE EASY COLD SALAD RECIPES!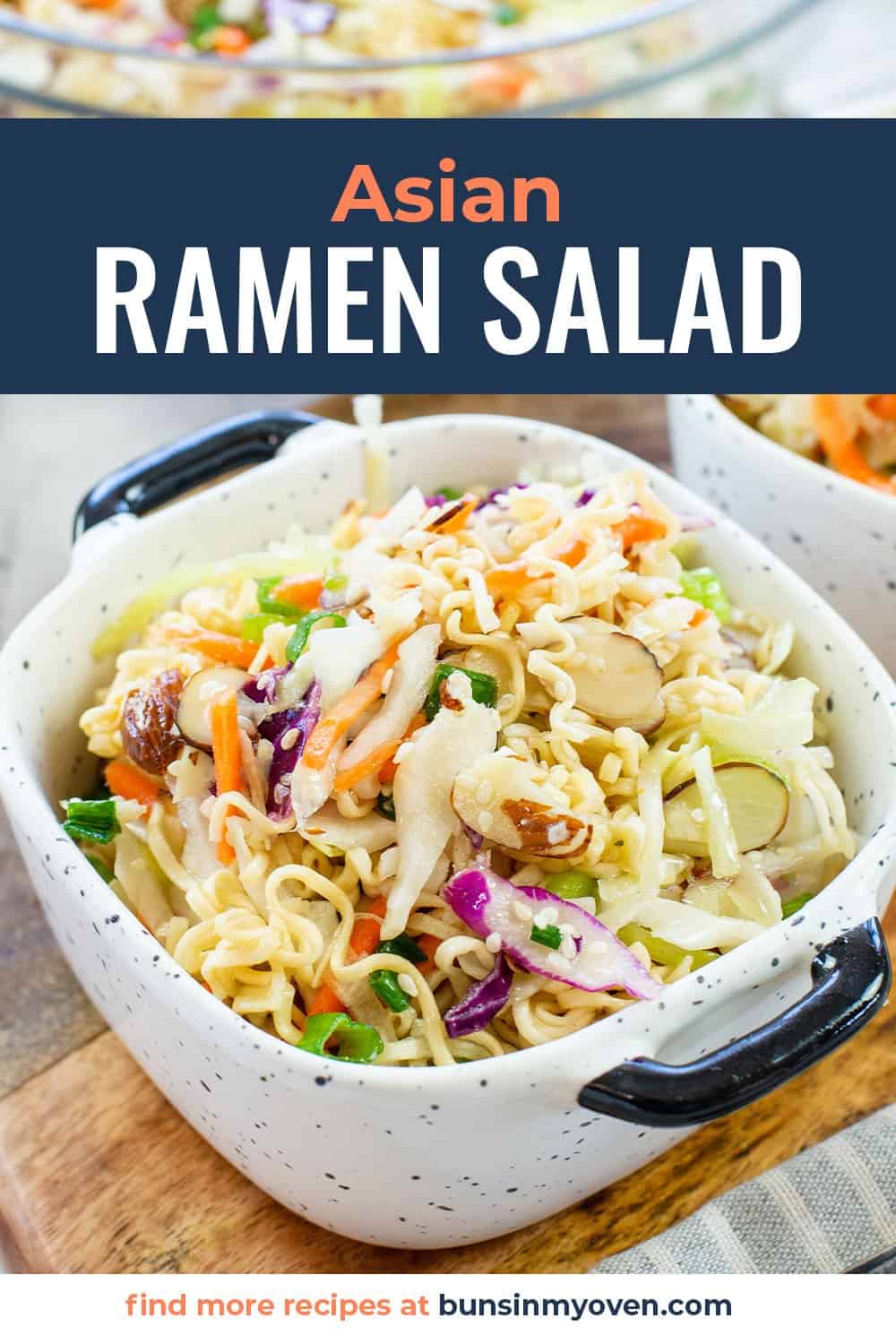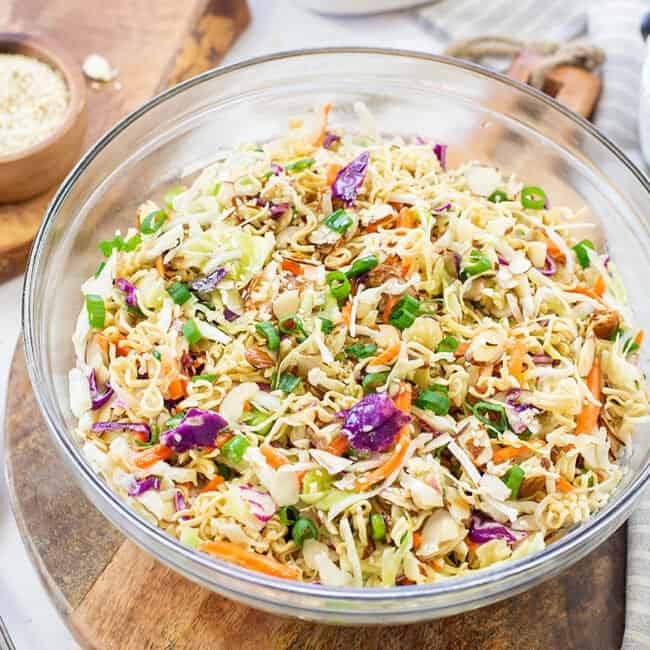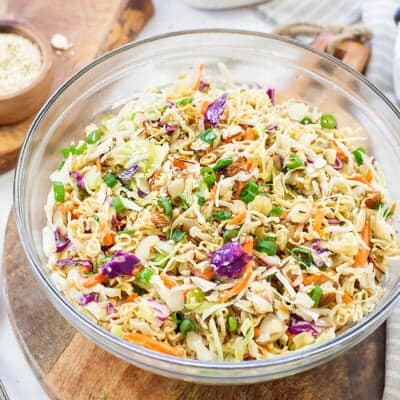 Asian Ramen Salad
This Asian Ramen Salad is perfect for taking to a potluck or cookout and always one of the first foods to go. Everyone loves the sweet, tangy dressing paired with the crisp vegetables and crunchy Ramen.
Prep10 minutes
Total10 minutes
Ingredients
2 packages Ramen noodles 3 ounces each, any flavor
16 ounces coleslaw mix
1 cup slivered almonds
3 tablespoons sesame seeds
½ cup chopped green onions
½ cup olive oil
½ cup granulated sugar
¼ cup white distilled vinegar
1 tablespoon toasted sesame oil
Instructions
Open the ramen packets and set aside the seasoning packets for another use. They won't be used in this recipe. Crumble the ramen into small chunks into a large mixing bowl.

Add the coleslaw mix, almonds, sesame seeds, and green onions and toss.

Add the olive oil, sugar, vinegar, and sesame oil to a small bowl and whisk well to combine.

Pour the dressing over the salad and stir to coat.

Serve immediately or cover and refrigerate for up to 6 hours. Best served fresh.
Tips & Notes:
The Ramen noodles will lose their crunch the longer they sit in the dressing. If you must make this ahead, we recommend keeping the noodles separate and stirring them in just before serving.
Nutrition Information:
Calories: 311kcal (16%)| Carbohydrates: 27g (9%)| Protein: 5g (10%)| Fat: 22g (34%)| Saturated Fat: 4g (25%)| Polyunsaturated Fat: 4g| Monounsaturated Fat: 13g| Trans Fat: 1g| Sodium: 356mg (15%)| Potassium: 212mg (6%)| Fiber: 3g (13%)| Sugar: 12g (13%)| Vitamin A: 97IU (2%)| Vitamin C: 18mg (22%)| Calcium: 80mg (8%)| Iron: 2mg (11%)