This double double animal style burger is the most amazing burger I've eaten! If you love the In and Out Burger Animal Style, you're going to love my In and Out copycat recipe!

So, no big deal or anything, but I've pretty much mastered the cheeseburger.
I mean, this cheeseburger recipe is life changing. It's completely addictive. You'll never be content with another cheeseburger again.
Basically, what I'm saying is that life as you know is over.
This new life that you're going to be living is full of things like juicy meat, gooey cheese, sweet, melty caramelized onions, and butter soaked buns. Did I mention the secret sauce? It's not really very secret, because I'm totally going to run up and down the streets shouting about this sauce. It's good, you guys.

So, that's what's going on in my world. Running through town like a mad woman, burger juice dribbling down my chin, screaming about secret sauces and the most perfect onions you've ever had in your life and no, I don't even care if you don't like onions, because these onions are not your average onion. These onions melt in your mouth. These onions are sweet and salty and soft and perfect.
The burger? It's thin, man. You squish the crap out of it when you put it on the griddle, but no worries. You're going to double your burgers up…plenty of meat to go around. Oh, did I forget to tell you how you're going to squirt mustard on your burger patties before you grill them? It's ridiculous, you guys. Just plain ridiculous.
So. That's where we at. Best. Dang. Cheeseburgers. Ever.
It should be noted that this recipe is based off of a copycat version of the Double Double Animal Style Burger from In-N-Out. I live in the middle of Illinois where there is a serious lack of In-N-Outs. I don't know how this compares, but I do know that this burger is my soul mate.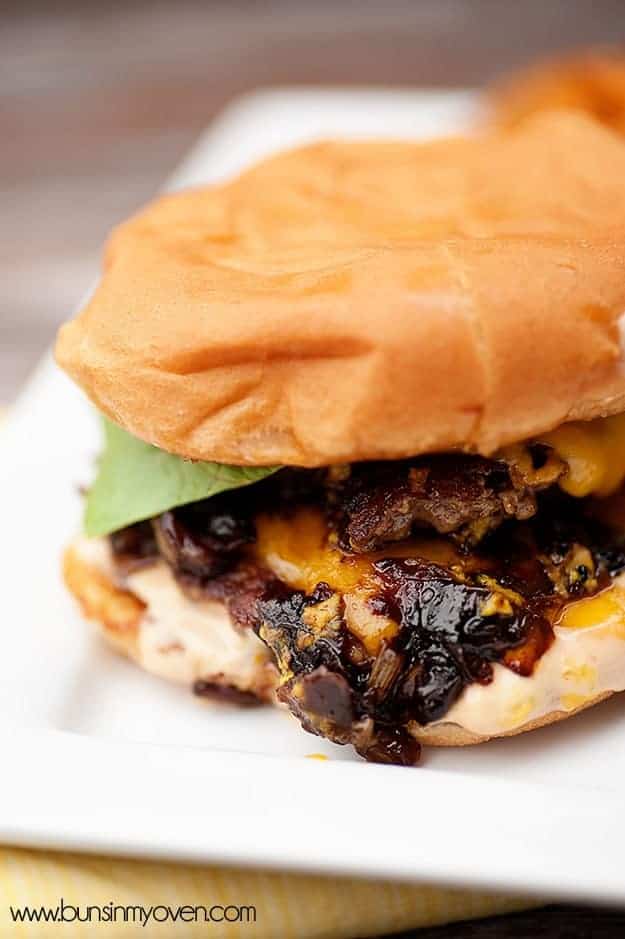 Update: I keep getting emails about the fabulous looking waffle fries. The recipe goes like this: purchase a bag of Alexia Waffle Fries, preheat the oven and cook fries according to package directions. Easy and so, so good. We love Alexia! Try their sweet potato fries if you haven't already!

Double Double Animal Style In-N-Out Copy Cat Burger
These are hands down the best cheeseburgers I've ever had! They're juicy, melty, and full of flavor. Have a napkin handy, because you're sure to make a mess of yourself with these amazing burgers! Don't be frightened if this looks like a lot of steps - these burgers cook in no time are super easy to whip up!
Prep45 minutes
Cook10 minutes
Total55 minutes
Ingredients
For the burgers:
1 pound ground beef 75/25 if possible
8 slices American cheese from the deli (not the plastic wrapped kind)
6-8 teaspoons prepared yellow mustard not the fancy kind
Salt to taste
2 onions diced
1/2 cup water
4 cheap store brand hamburger buns
6 tablespoons butter divided
Pickles, lettuce, tomatoes - I prefer my burger plain, but add toppings if you must
For the secret sauce:
2 tablespoons ketchup
2 tablespoons mayonnaise
2 teaspoons white vinegar
1 teaspoon dill pickle relish
Instructions
Heat a medium skillet over medium heat.

Melt 2 tablespoons of butter in the skillet and add the diced onions. Cook, stirring occasionally, for about 15 minutes.

When the onions are soft and beginning to brown, add 1/4 cup of water and continue cooking, stirring occasionally, until the water has evaporated. Repeat with the remaining 1/4 cup of water.

After about 30 minutes of cooking the onions should be golden brown, soft, melty, and pure perfection.

Sprinkle with salt. Set aside.

While the onions are cooking prepare the secret sauce. Stir together the ketchup, mayo, vinegar, and relish. Set aside.

Heat a griddle or large cast iron skillet to medium.

Melt the remaining butter on the hot griddle and place the buns, cut side down, on the griddle. Cook until golden brown.

Spread around 1 tablespoon of the sauce on the bottom of each bun. Set aside.

Turn the heat to high. While the griddle is heating, form the meat into 8 small balls of meat, loosely compacted.

Place the balls of meat a few inches apart on the griddle and sprinkle the tops with salt. Let cook one minute.

Flip the balls over and immediately take a small plate (or flat spatula that doesn't have holes for the meat to squish through) and press the meat flat, forming a thin patty the same diameter as your bun.

Squirt about one teaspoon of mustard on each patty. Cook for 1-2 minutes and flip again.

Immediately place the cheese on each patty and top half of the patties with a heaping spoonful of the onions.

Cook 1 minute or until patties are cooked through and cheese is beginning to melt.

Use a spatula to pick up one of the patties without the onions and place it on top of a patty with the onions.

Let cook for 30 more seconds to meld everything together.

Remove from griddle to the grilled buns. Top with lettuce, tomato, and pickles, if desired.
Nutrition Information:
Calories: 798kcal (40%)| Carbohydrates: 30g (10%)| Protein: 32g (64%)| Fat: 60g (92%)| Saturated Fat: 28g (175%)| Cholesterol: 170mg (57%)| Sodium: 1357mg (59%)| Potassium: 530mg (15%)| Fiber: 2g (8%)| Sugar: 7g (8%)| Vitamin A: 960IU (19%)| Vitamin C: 5mg (6%)| Calcium: 556mg (56%)| Iron: 4.2mg (23%)