If you've ever wanted to learn how to make scones, you're going to love my lemon scones recipe! The sweet blackberry glaze makes these extra special.
A few weeks back, my mama and I went to this little pop up vintage/antique sale in someone's backyard. There were tons of vendors and the most gorgeous items for sale.
It was like a garage sale for fancy people. We loved it!
They had these little pots of succulents that I was dying to buy, but I just knew that I'd kill them. They basically screamed when they saw me eyeing them. And I know – succulents are supposed to be an easy plant! I've not had the greatest luck with house plants, but I'm really hoping to turn all that around.
Anyway, one of the vendors was selling scones. Big, puffy, melt in your mouth scones. The line was a mile long, but obviously my mom and I waited in it. I mean, scones. SCONES.
I ended up with a cinnamon pecan scone that was pretty rad. My mama got lemon. The glaze on both of them was so thick and sweet. I immediately came home and headed to the kitchen to make some scones of my own!
I started with a simple lemon scone and then fancied things up with this gorgeous, brightly colored blackberry glaze. And, of course I double dipped my scones in the glaze, because mo' glaze, mo' bettah. Right?
These are really quite simple to make. Just be sure not to over work your dough or you'll end up with tough scones instead of tender scones. Nobody wants that.
You could also swap in raspberries for blackberries in the glaze if that's what you have on hand. Either way, that glaze is going to be something you dream about! I kind of want to bathe in it myself. I'm sure it's totally good for the skin.
Hope you guys enjoy these summery scones!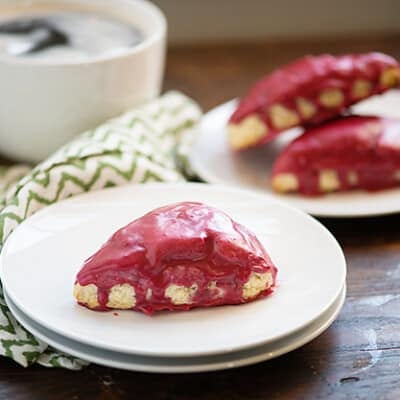 Double Dipped Blackberry Glazed Lemon Scones
If you've ever wanted to learn how to make scones, you're going to love my lemon scones recipe! The sweet blackberry glaze makes these extra special.

Prep10 minutes
Cook15 minutes
Total25 minutes
Ingredients
1 3/4 cup flour
1 tablespoon baking powder
2 teaspoons lemon zest
1/3 cup sugar
5 tablespoons butter
1/2 cup milk
1/4 cup sour cream
6 ounces blackberries
1 tablespoon sugar
1 tablespoon lemon juice
2 cups powdered sugar
Instructions
Add the flour, baking powder, lemon zest, and sugar to the bowl of a food processor fitted with the dough blade. Pulse to combine.

Dice the butter into small cubes and add to the food processor. Process until the butter is worked into the dough leaving small pea sized clumps of butter thoughout.

Remove the mixture to a medium mixing bowl.

In a small bowl, whisk together the milk and sour cream. Add the the flour mixture and stir gently until just combined.

Flour your hands and a work surface. Pat the dough out into a circle on the floured surface to make a 6 inch diameter circle. Cut into 8 equal sized wedges.

Bake in a preheated 400 degree oven for 12-15 minutes or until lightly browned. Let cool.

While the scones are cooling, add the blackberries, granulated sugar, and lemon juice to a small sauce pan over medium heat. Cook for 2-3 minutes, using a fork to smash the berries and release the juice.

Pour berries into a sieve over a small bowl. Press the berries to release the juice.

Whisk the powdered sugar into the berry juice until thick and creamy.

Dip the tops of the scones into the glaze and let sit 5 minutes to harden. Dip a second time for a sweeter amd thicker topping.
Nutrition Information:
Calories: 351kcal (18%)| Carbohydrates: 64g (21%)| Protein: 3g (6%)| Fat: 9g (14%)| Saturated Fat: 5g (31%)| Cholesterol: 24mg (8%)| Sodium: 77mg (3%)| Potassium: 245mg (7%)| Fiber: 1g (4%)| Sugar: 41g (46%)| Vitamin A: 335IU (7%)| Vitamin C: 5.9mg (7%)| Calcium: 102mg (10%)| Iron: 1.5mg (8%)