These soft and fluffy cinnamon scones are topped with a thick, rich maple glaze. These are just perfect for a chilly morning!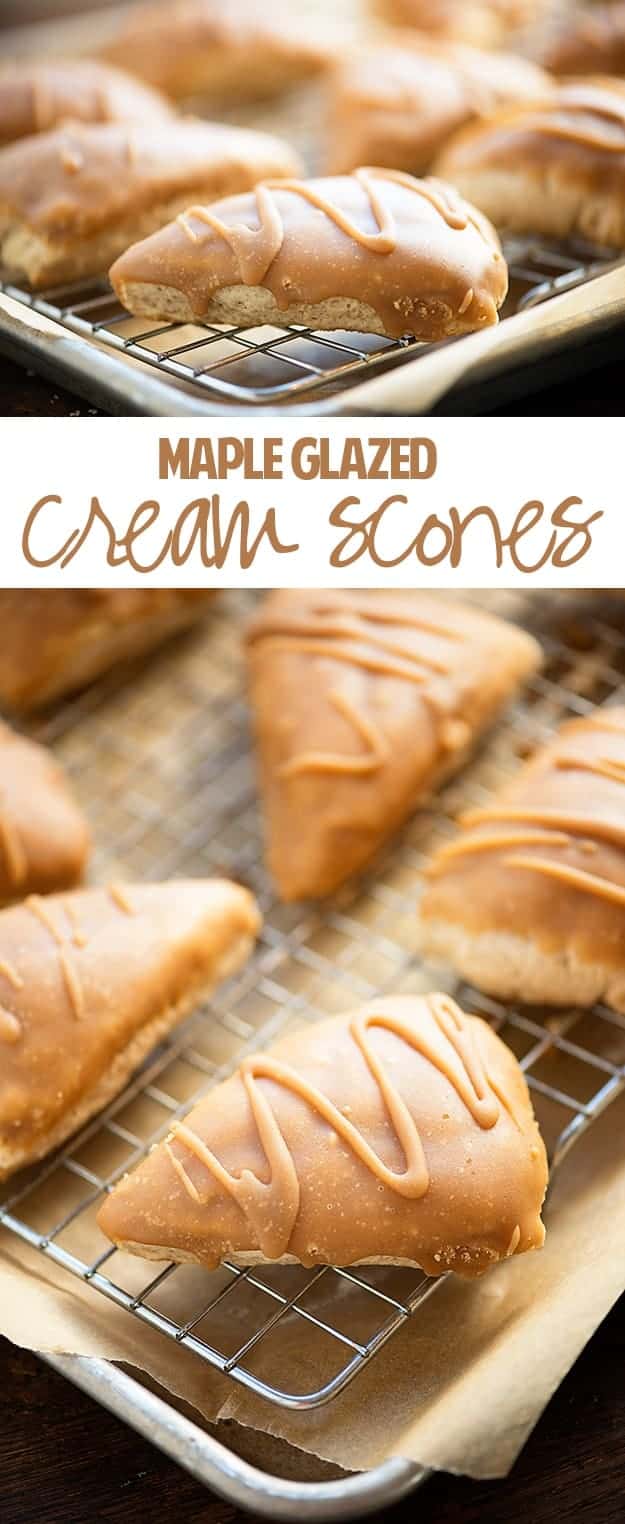 Alright, friends. Before we talk about these scones (heaven, I promise), can we first talk about this weather? It's cold out there. Like, there is wind blowing and my ears are cold and I have accidentally on purpose left the house in my slippers three times this week alone because they are so warm and cozy.
I want to go back to Mexico. It was warm there. Warm and ridiculously beautiful.
As you guys miiiiiiiiiight just remember, I was invited by Princess Cruises to attend a cruise along the California coast aboard the Ruby Princess. I was lucky enough to bring my high school BFF along for a ride and we made some amazing memories. Can I share them with you to help warm us all up? Memories of Mexico are known to do that.
First, I want to be up front with all of you and let you know that Princess Cruises paid for my trip as well as compensated me to write about the experience and share it with all of you. I have a dream job, I know. Of course, all opinions are my own, as always! 🙂
Anyway, I already wrote a brief summary of the trip, all about our private chef's dinner, and the day we spent in Santa Barbara, if you'd like to read all up on that. Now I'd like to talk a little about our day in Ensanada!
Ensanada is about 80 miles south of San Diego, which makes it a popular spot for Califonians to visit and get a little taste of Mexico. It's the third largest city on the Baja peninsula and truly a fun little town with gorgeous mountains and beaches galore.
One of the best parts about cruising is all of the excursion options offered on port days. We ended up on an excursion to the Monte Xanic Winery. The winery was located about 30 kilometers inland from Ensanada and the bus ride was surprisingly one of the highlights of the trip. Our tour guide grew up in Ensanada and had such passion and love for her city and country. She was just full of knowledge and was so happy to share it with us as we traveled through her country side.
We were getting farther and farther from the city, driving through mountains and dessert, and then we came to the winery – it was shockingly beautiful amidst the dessert scenery.
We enjoyed a lunch that was like nothing I've ever experienced before. Honestly, I'm not much of a seafood fan (I like white fish! Especially fried. But that's about where it ends, unfortunately.), so I didn't get to enjoy the meal quite as much as the rest of the guests, but they were just raving over the food. I sat back and had wine for lunch. No complaints from me, friends. 😉
We were also able to tour their wine cave – a literal cave. The building was built into the mountain making for a super impressive wine cave. It was gorgeous in there!
All in all, it was just an all around lovely day and an experience I'll never forget. There are more photos on Instagram – you should follow alone with me so you can check out my updates in real time instead of waiting to read about it weeks later! 😉
Okay, I'm warmed up just remembering that day in Mexico. Ahhhh. Is it time for another vacation yet? No? Darn.
So, let's talk about other ways we can warm up. Namely, with these maple glazed cinnamon scones. I'm such a sucker for maple this time of year. It just makes me happy.
I used my basic cream scone recipe, spiced it up with a little cinnamon, and then baked these to fluffy perfection. I love these scones because there is nothing dry about them. Like, at all.
If you love these scones, you'll enjoy my chocolate chip scones too!
I've had Butter With A Side Of Bread's maple bars bookmarked for a few months now (I mean, click that link and look at that glaze!), so I figured this was a perfect opportunity to test her glaze out. It's just as thick and rich as it looks! So good and perfect for these scones. I ate a little with a spoon too, because I've gotta be me, y'all.
So, I hope that I've inspired you to hop on a boat and head to Mexico, but not before running to the kitchen to get your maple scone fix for the day. 😉
Maple Glazed Cinnamon Scones
These soft and fluffy cinnamon scones are topped with a thick, rich maple glaze. These are just perfect for a chilly morning!

Prep10 minutes
Cook20 minutes
Total30 minutes
Ingredients
For the scones
3 1/4 cups flour plus more for dusting
1/2 cup sugar
4 teaspoons baking powder
1 teaspoon cinnamon
1/4 teaspoon salt
2 cups cold heavy whipping cream
1 teaspoon vanilla
For the maple glaze
1/2 cup brown sugar
1/4 cup butter
3 tablespoons milk
1 tablespoon maple syrup
1 tablespoon maple extract
2 cups powdered sugar
Instructions
To make the scones, preheat oven to 375 degrees. Line two baking sheets with parchment paper.

Add the flour, sugar, baking powder, cinnamon, and salt to a large mixing bowl and whisk to combine.

Pour in the heavy cream and vanilla and stir with a wooden spoon until just combined.

Place dough on a floured work surface and use your hands to separate dough into two evenly sized balls.

Pat each ball into a circle about 8 inches across and 1 inch thick. Use a pizza cutter or knife to cut each circle of dough into 8 triangles.

Place triangles on baking sheet and bake for 15-20 minutes or until light and fluffy and golden brown. Do not overbake.

While scones are cooling, prepare the glaze. Add brown sugar, butter, and milk to a small sauce pan over low heat and whisk until butter has melted. Heat for 5 minutes, whisking occasionally, to warm milk.

Remove from the heat and whisk in maple syrup and maple extract.

Gradually stir in powdered sugar, 1/2 cup at a time, until the glaze is smooth and thick.

Dip the tops of each scone in the glaze and let set.
Nutrition Information:
Calories: 336kcal (17%)| Carbohydrates: 49g (16%)| Protein: 3g (6%)| Fat: 14g (22%)| Saturated Fat: 8g (50%)| Cholesterol: 48mg (16%)| Sodium: 78mg (3%)| Potassium: 166mg (5%)| Sugar: 28g (31%)| Vitamin A: 530IU (11%)| Vitamin C: 0.2mg| Calcium: 79mg (8%)| Iron: 1.3mg (7%)