Packed with fresh blueberries and made with heavy cream, these blueberry scones are a rich, indulgent scone that bakes up moist and flavorful (never dry or crumbly!) every time. Perfect for breakfast, brunch, or an afternoon snack!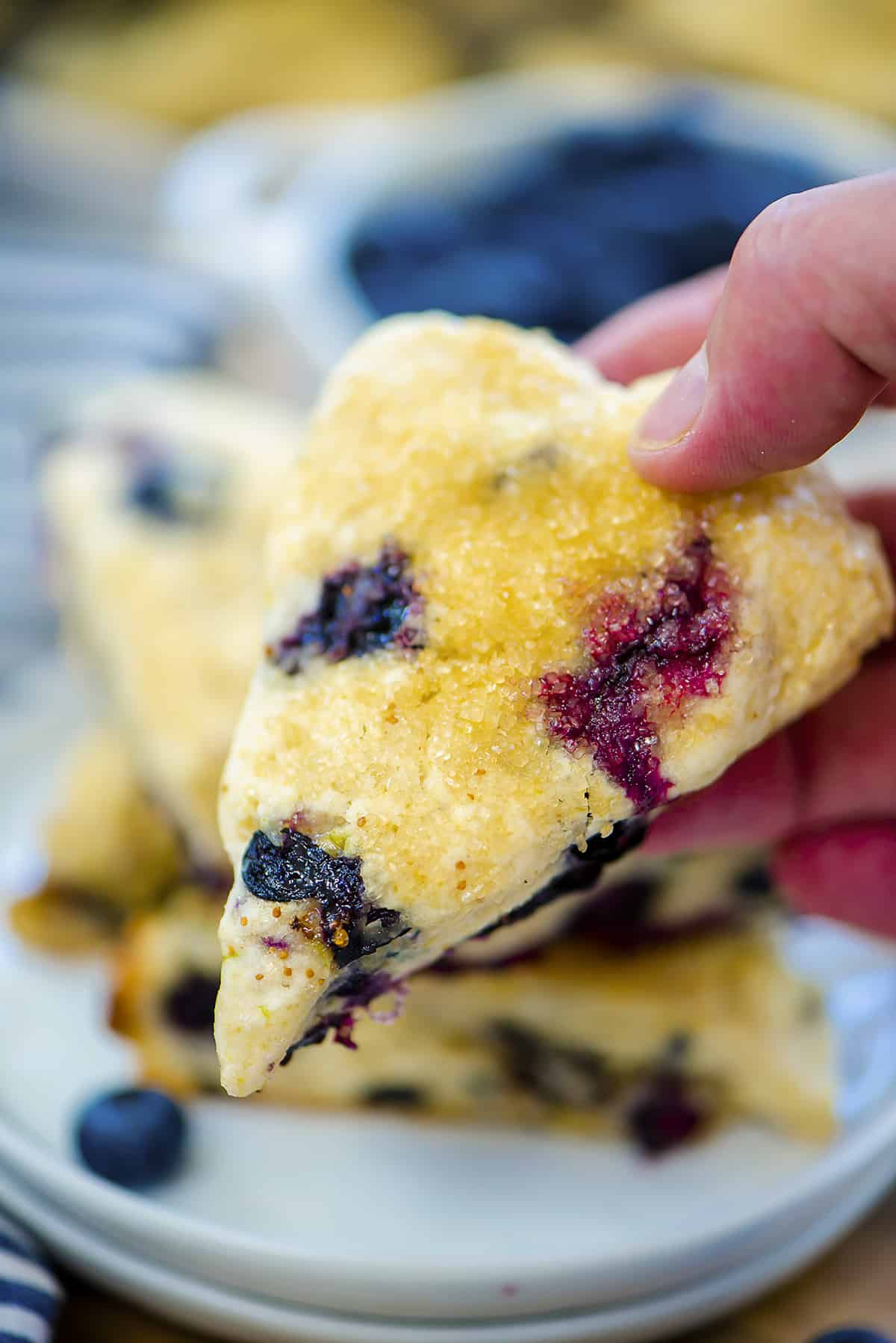 I just love pretending that I'm fancy and whipping up a batch of scones for brunch. <— Sounds like such a fancy person thing to do, but gosh, our blueberry scone recipe couldn't be easier.
Now, if you think you don't like scones, please give me just a second here before you click away. I'm going to go out on a limb here and say that what you actually don't like are DRY and CRUMBLY scones that lack any real flavor at all.
That's not what we've got going on here today, my friend. And to be honest, I'm offended you thought it was. 😉 I would NEVER.
Today, we're making my famous cream scones…as in heavy cream. Lots of it. In the batter. Because ain't no dry crumbly scones happening on my watch.
If you've been around awhile, you might recognize the recipe. It is admittedly just my chocolate chip scones, but with fresh, bright, bursty blueberries in place of the chocolate. I'm not normally big on swapping chocolate for fruit, but when it comes to scones, it just works. 😉
Ingredient Notes:
This post contains affiliate links. As an Amazon associate and member of other qualifying programs, I earn from qualifying purchases.
Flour – You'll need some all-purpose flour to prepare the dough for these blueberry scones.
Sugar – We're using two types of sugar for this recipe: granulated white sugar for preparing the dough, and turbinado sugar for topping the blueberry scones just before baking! The turbinado sugar adds a little crunch to the exterior and it honestly makes these extra hard to resist. Wait…is that a good thing? *checks waistline* Maybe skip it if you want?
Cold Whipping Cream – There are many reasons why this is an important ingredient for making the scones. See the FAQ's section below for more info. But the gist is…ya gotta use heavy cream here. There are no substitutions. This isn't a diet food. The calories are worth it.
Blueberries – You can use either fresh or frozen blueberries when preparing these blueberry scones. We prefer fresh, but do you.
Melted Butter – We're brushing a little melted butter on top to help the turbinado sugar stick. Use salted butter…it doesn't make things salty, but it does help balance the sweet.
Baking Powder & Salt – A couple of standard baking ingredients that you probably already have on hand!
What We Love About This Recipe:
Tender, Moist, Fluffy: Did you see dry and crumbly in that list? No, you did not. This scone recipe is the one you've been waiting for.
Bursting Blueberries: I love when a blueberry gets baked in some sort of something (a muffin, a coffee cake, these scones), and it gets all hot and bothered and it just explodes into a juicy mess inside the baked good. That might be what heaven looks like.
Easy Peasy: I know we're all at different skill levels here and what I think of as easy is maybe not what a newbie baker thinks of as easy, but you really do just toss everything in a bowl, give it a quick stir, and then knead it together gently with your hands before shaping and cutting. You can do this.
Versatile: Want to live a little? Drizzle on some vanilla glaze. Or hey, what about a lemon glaze? What if you stirred some lemon zest right into the dough? Have we considered swapping blueberries for raspberries?
How To Make Blueberry Scones:
Dough: Add the flour, baking powder, and salt to a large bowl and stir to combine. Stir in your blueberries and cream. You'll want to be a little gentle so you don't break up the berries too much.
Knead: After mixing in the cream turn the dough out onto a floured surface. Start kneading it gently with your hands until it just comes together. Some of the blueberries may break up a bit at this point, which is okay! Don't overknead this dough – we're not making bread here. Just get everything nicely combined into a smooth dough and then separate it into 3 pieces and roll each piece into a ball.
Cut: Flatten each ball into a disc about 7″ in diameter. Use a pizza cutter or a sharp knife to slice each disc of dough into 8 triangles, the classic shape for scones! (Psst…these are at the perfect point to freeze them! I love having a bag of these in the freezer to pop out at a moment's notice. Details below!)
Topping: To finish these blueberry scones before baking you'll need some melted butter and turbinado sugar. Brush the melted butter over the top of each scone and then sprinkle on as much (or little) sugar as you like!
Bake: Pop these on a parchment lined baking sheet and bake on the middle rack for 15 minutes or until they have lightly browned around the edges and cooked through.
You don't want to end up with dry scones so keep an eye on them and don't over bake!
What To Serve With Scones:
Scones are typically served with butter, jam, or clotted cream. Clotted cream is majorly delicious, but quite difficult to find in the United States. If you spot it, grab some! Otherwise, you'll want to plan a trip abroad. 😉
Scones are also delicious served with honey, whipped cream, or even lemon curd! Or try them with my crockpot apple butter recipe! Apple and blueberry? Why not!
They'll also go well with some hot tea or coffee in the morning or afternoon!
Tips For Baking Scones:
Don't skip preheating your oven. The initial burst of hot air is what's going to make the baking powder do it's thing, resulting in a nice, fluffy scone.
Place your scones on a baking/cookie sheet one to two inches apart from each other and two inches from any edge. This will allow them to spread a bit and keep the heat moving around them.
Before baking, be sure to brush with butter and sprinkle on some turbinado sugar. This adds a richness to the tops and a little texture. You could also brush with heavy cream instead of butter, if that's your style.
Scones are best served warm, so try to have them ready shortly before serving. You can always pop them in a warm oven for a couple of minutes to warm them back up if needed.
Nobody likes dry scones. We add heavy cream to our recipe to keep them super moist, but overbaking will dry them out every time. The bottoms should just be turning golden when you pull these from the oven.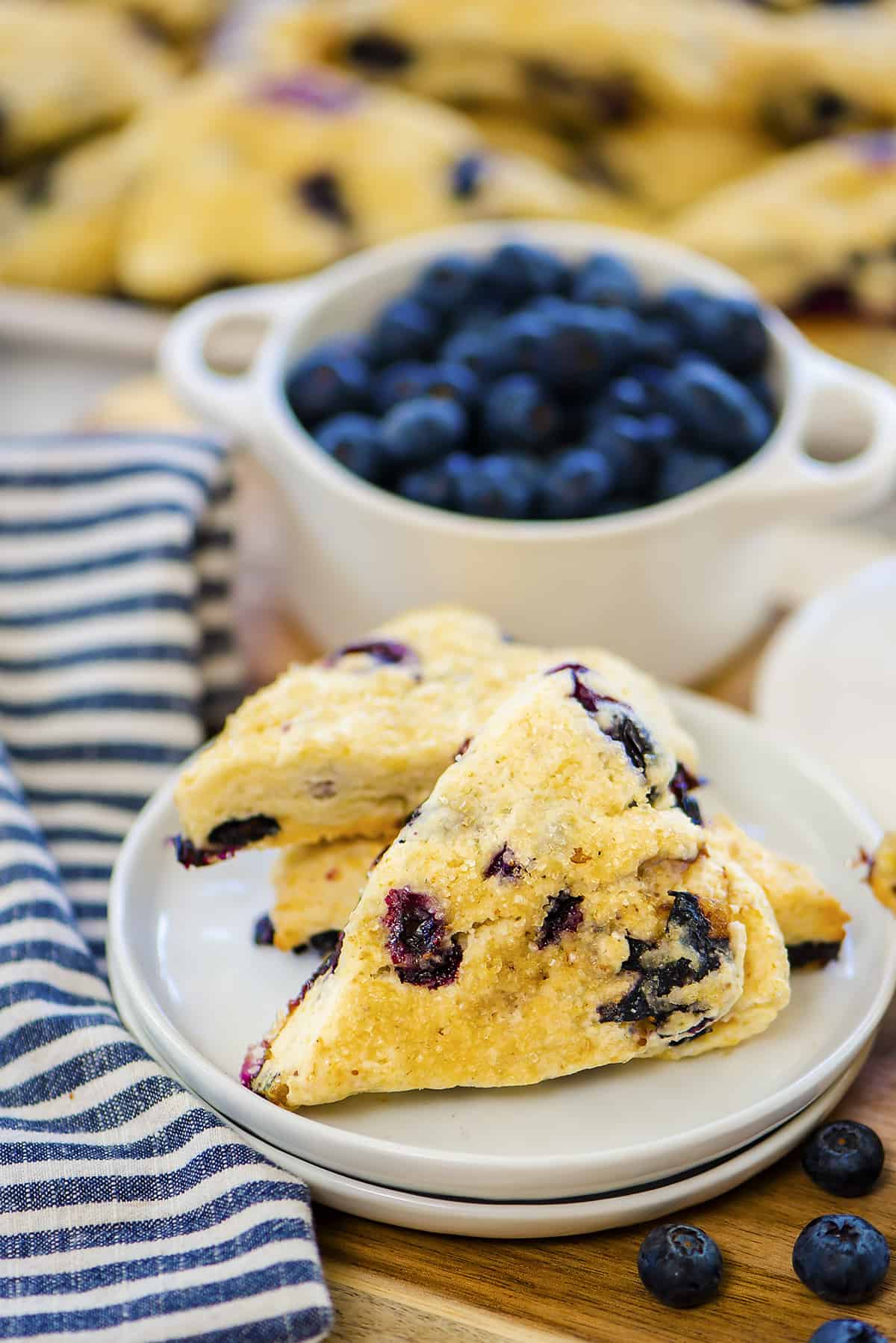 FAQ's:
What is a scone?
A scone is a very popular pastry originating from Scotland. Traditional scones are made with flour, butter, sugar, and milk.
Can I freeze the dough to bake later?
Yes! Prepare the scone dough and slice into triangles but do not add the butter and sugar topping. Place the scones on a baking sheet and freeze for one hour before transferring to a freezer bag.

When you are ready to make the blueberry scones, bake them straight from the freezer at 350 degrees for about 20-25 minutes! Brush with melted butter and sugar just before baking.
Why add cold whipping cream?
The cold heavy cream is a key ingredient for making the perfect scones! The most important thing it does is add moisture and fat to the scones so they won't dry out. But it also adds rich creamy flavor and the fat helps contribute to the texture.
How to store scones?
You can store your blueberry scones in an airtight container on the counter for 2-3 days or refrigerate for 4-5 days.

For longer storage, place your completely cooled scones in a freezer safe bag, remove as much air as possible when sealing, and freeze for up to 3 months.
MORE HOMEMADE SCONE RECIPES!
Blueberry Scones
Dry and crumbly scones? Not on my watch. These blueberry scones are incredibly tender and moist scones, studded with bursting blueberries and topped with crunchy turbinado sugar. These are the type of scones that will turn scone haters into scone lovers!
Prep15 minutes
Cook15 minutes
Total30 minutes
Ingredients
3 1/4 cups all-purpose flour
1/2 cup granulated sugar
4 teaspoons baking powder
1/4 teaspoon salt
2 cups cold whipping cream
2 cups fresh or frozen blueberries
3 tablespoons melted butter
¼ cup turbinado sugar
Instructions
Preheat oven to 375 degrees. Line 3 baking sheets with parchment paper.

In a large bowl, combine the flour, sugar, baking powder, and salt. Stir in the blueberries.

Gently stir in the whipping cream to moisten the flour, being careful not to break the berries.

Turn dough out onto a floured surface and knead gently with your hands just until the dough comes together. At this point, the blueberries will break a bit – that's okay, it will result in pretty drips down the edges of the scones.

Separate dough into 3 balls and flatten each ball with your hands to form a disc about 7 inches in diameter. Use a pizza cutter or sharp knife to cut each disc into 8 triangles.

Brush the tops of the scones with melted butter and sprinkle with the turbinado sugar.

Place on prepared baking sheets and bake on the middle rack for 15 minutes or until lightly browned and cooked through. Do not overbake or scones will be dry.

Serve warm.
Tips & Notes:
While kneading the dough, you'll want to work the dough just until it all comes together and can easily form a mostly smooth ball. Don't overwork the dough. To freeze the scones, before baking and brushing with butter/sugar place the scones on a baking sheet and freeze for one hour. Remove to a freezer bag, press out as much air as possible, and seal. Freeze for up to 3 months. Bake straight from the freezer (brush with melted butter and sprinkle with sugar first) at 350 degrees for 20-25 minutes or until lightly browned and cooked through.
Nutrition Information:
Serving: 1scone| Calories: 174kcal (9%)| Carbohydrates: 22g (7%)| Protein: 2g (4%)| Fat: 9g (14%)| Saturated Fat: 5g (31%)| Polyunsaturated Fat: 0.5g| Monounsaturated Fat: 2g| Trans Fat: 0.1g| Cholesterol: 26mg (9%)| Sodium: 42mg (2%)| Potassium: 115mg (3%)| Fiber: 1g (4%)| Sugar: 8g (9%)| Vitamin A: 342IU (7%)| Vitamin C: 1mg (1%)| Calcium: 46mg (5%)| Iron: 1mg (6%)