Nothing beans a Double Double Animal Style Burger from In-N-Out and this copycat recipe nails it! You'll start with two thin beef patties, caramelized onions, and their famous burger spread. These burgers are what dreams are made of.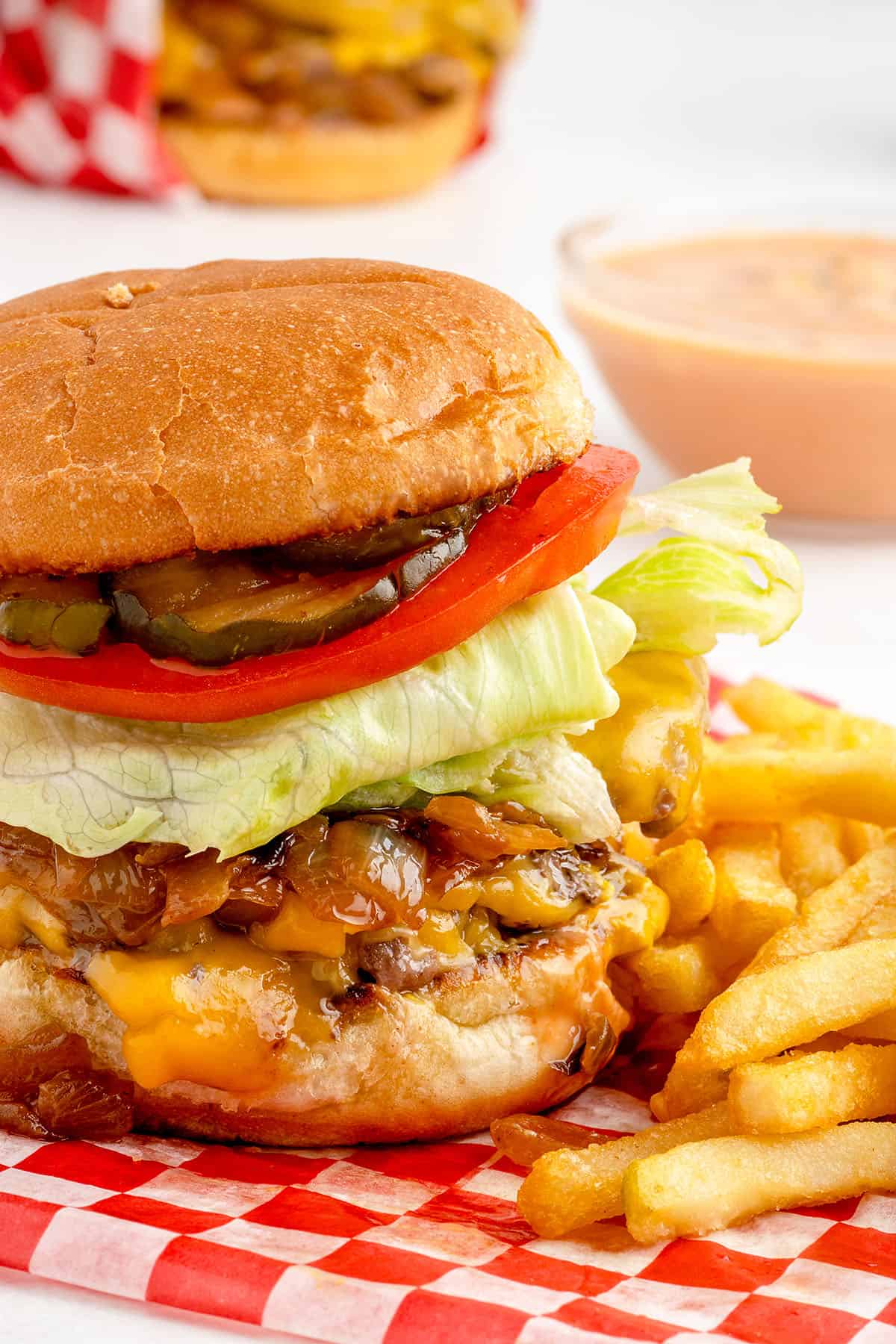 Burgers are a whole big thing in my house and we make them at least once a week.
They're a universal favorite with our kids, our friends, and our family so we always know that it'll be a hit when we serve them up!
Of course, sometimes you crave a big, juicy, grease dripping down your arm style of burger and where better to go than In-N-Out? Well…sadly, I live in the Midwest and there are no In-N-Outs around these parts.
So, we're making their Double Double Animal Style Burger at home. Strange name, but just stick with me…this burger is legit.
This recipe is based off of a copycat version of the Double Double Animal Style Burger from In-N-Out. I figured why bother reinventing the wheel when Serious Eats did such a good job already. 😉
👩‍🍳 Ingredient List:
Ground Beef – Use the 73% lean ground chuck. You want a fatty beef for tasty burgers.
American cheese – Preferably the deli style rather than the plastic wrapped kind, but both work!
Yellow mustard – We're squirting this on the burger as it cooks!
Onions – A must, if you're making an animal style burger. We're going to caramelize them.
Hamburger buns – The cheap store brand buns, please. We'll butter them and toast them.
Burger Spread – Ketchup, mayo, vinegar, and relish.
Toppings – Pickles, lettuce, and tomatoes are a must, in my opinion.
🧀 What does 'double double' mean?
A double double burger from In-N-Out just means 2 hamburger patties and 2 slices of cheese.
🐮 What does 'animal style' mean?
Animal Style means that In-N-Out griddles the burgers with mustard and tops them off with pickles, grilled onions, and their delicious burger spread.
🍔 How to make this animal style burger:
Onion topping- First of all, these caramelized onions are sweet, salty, and soft. So even if onions aren't your thing, you are likely to love these. Try them! To make them, dice your onions and cook them in a skillet with two tablespoons of melted butter for 15 minutes. Then add your water and continue cooking until the water evaporates and add another 1/4 cup of water. Cook until water evaporates then sprinkle with salt and set aside.
The secret sauce- You can start this while the onions are cooking. Stir together your ketchup, mayo, vinegar, and relish.
The buns – Start with cheapo store brand burger buns. Heat up a large skillet and melt butter on the skillet. Place the buns with the sliced portion down onto the butter and cook until golden brown. Add your sauce to your hot grilled bun and set aside.
The burgers- Take your same skillet you cooked the buns with and add 8 small balls of ground beef to it – 2 ounces each. Sprinkle them with salt and cook for one minute. Flip them over and then squish the meat flat into a thin patty about the size of your bun. Squirt some mustard on each patty and cook for a couple more minutes and flip again. Put your cheese on top of each patty then put your cooked onions on top of half of them. Cook until the cheese melts.
Serving- Place a patty without onions on top of a patty with onions. Then take that stack and place it on top of the bottom half of your prepared bun. Top with your favorite toppings and then add the top half of the bun.
Serve with our air fried french fries, potato wedges, or maybe our mac and cheese casserole. Can't beat burgers & mac!
❔ FAQs:
Where is In-N-Out located?
In-N-Out is located in the west of the USA. You can find In-N-Out is seven states, including California, Nevada, Texas, Oregon, Utah, Colorado, and Arizona.
Does In-N-Out freeze their meat?
Nope – they only use fresh beef pattied in their facilities located in California and Texas. The fresh patties are then delivered to their stores.
⭐More Favorite Copycat Recipes:
Double Double Animal Style In-N-Out Copy Cat Burger
These are hands down the best cheeseburgers I've ever had! They're juicy, melty, and full of flavor. Have a napkin handy, because you're sure to make a mess of yourself with these amazing burgers! Don't be frightened if this looks like a lot of steps – these burgers cook in no time are super easy to whip up!
Prep45 minutes
Cook10 minutes
Total55 minutes
Ingredients
For the onions:
2 onions diced
2 tablespoons butter
1/2 cup water
1/2 teaspoon salt
For the burgers:
1 pound ground beef 75/25 if possible
8 slices American cheese from the deli (not the plastic wrapped kind)
4 teaspoons prepared yellow mustard
1 teaspoon salt
4 hamburger buns store brand
4 tablespoons butter
Pickles, lettuce, tomatoes for topping
For the secret sauce:
2 tablespoons ketchup
2 tablespoons mayonnaise
2 teaspoons white vinegar
1 teaspoon dill pickle relish
Instructions
To make the onions:
Heat a medium skillet over medium heat.

Melt 2 tablespoons of butter in the skillet and add the diced onions. Cook, stirring occasionally, for about 15 minutes.

When the onions are soft and beginning to brown, add 1/4 cup of water and continue cooking, stirring occasionally, until the water has evaporated. Repeat with the remaining 1/4 cup of water.

After about 30 minutes of cooking the onions should be golden brown, soft, melty, and pure perfection.

Sprinkle with salt. Set aside.
To make the sauce:
While the onions are cooking prepare the secret sauce. Stir together the ketchup, mayo, vinegar, and relish. Set aside.
To make the burgers:
Heat a griddle or large cast iron skillet to medium.

Melt the remaining butter on the hot griddle and place the buns, cut side down, on the griddle. Cook until golden brown.

Spread around 1 tablespoon of the sauce on the bottom of each bun. Set aside.

Turn the heat to high. While the griddle is heating, form the meat into 8 small balls of meat, loosely compacted.

Place the balls of meat a few inches apart on the griddle and sprinkle the tops with salt. Let cook one minute.

Flip the balls over and immediately take a small plate (or flat spatula that doesn't have holes for the meat to squish through) and press the meat flat, forming a thin patty the same diameter as your bun.

Squirt about 1/2 teaspoon of mustard on each patty. Cook for 1-2 minutes and flip again.

Immediately place the cheese on each patty and top half of the patties with a heaping spoonful of the onions.

Cook 1 minute or until patties are cooked through and cheese is beginning to melt.

Use a spatula to pick up one of the patties without the onions and place it on top of a patty with the onions.

Let cook for 30 more seconds to meld everything together.

Remove from griddle to the grilled buns. Top with lettuce, tomato, and pickles, if desired.
Tips & Notes:
Double Double means double the meat and double the cheese, so 2 patties and 2 slices of cheese per bun. Animal Style means the burgers are griddled with mustard and topped with caramelized onions, pickles, and extra sauce.
Nutrition Information:
Serving: 1burger| Calories: 798kcal (40%)| Carbohydrates: 31g (10%)| Protein: 33g (66%)| Fat: 60g (92%)| Saturated Fat: 28g (175%)| Polyunsaturated Fat: 6g| Monounsaturated Fat: 20g| Trans Fat: 3g| Cholesterol: 171mg (57%)| Sodium: 2210mg (96%)| Potassium: 534mg (15%)| Fiber: 2g (8%)| Sugar: 8g (9%)| Vitamin A: 974IU (19%)| Vitamin C: 5mg (6%)| Calcium: 547mg (55%)| Iron: 4mg (22%)
This recipe was originally published March 2013. It was updated in August 2022 with new photos. Original photos below.