This barbecue fry sauce recipe is so quick and easy to prepare and it takes French fries to a whole new level! Big thanks to Alexia Food's for sponsoring this post!
Soooooo, calm down.
I know how you guys feel about dips and sauces. I know that they are your jam. They are the foods that make your heart go pitter-patter.
I know this both because y'all pin the crap out of some dips and sauces when I share them and because I get a bazillion emails thanking me for the recipe and telling me how you made it and slathered it on all kinds of food. I love those emails. Except for that then I'm compelled to go recreate your recipe and slather said dip/sauce all over it myself.
My fat pants are basically now my regular pants. I need fatter pants.
Anyway! I made you a sauce. For your fries!
Another little thing I know about you guys is that you're babies. Big cry babies. Big cry babies who hate frying things in hot oil.
It's cool. I don't particularly like the way it stanks up the house and makes a mess all over the kitchen.
So, for today's fry sauce recipe, we're going to be dipping Alexia Food's Sweet Potato Fries with Sea Salt. You guys, these things are a life saver. I serve them at least once a week, because you literally rip open a package, toss 'em on a baking sheet, and bake them until they are simple sweet potato fry perfection. Aaaaand, they're made with all real, all natural ingredients, which is kind of awesome.
We like to go a little crazy with the Alexia fries…see my buffalo chicken waffle fries to see what I mean. 😉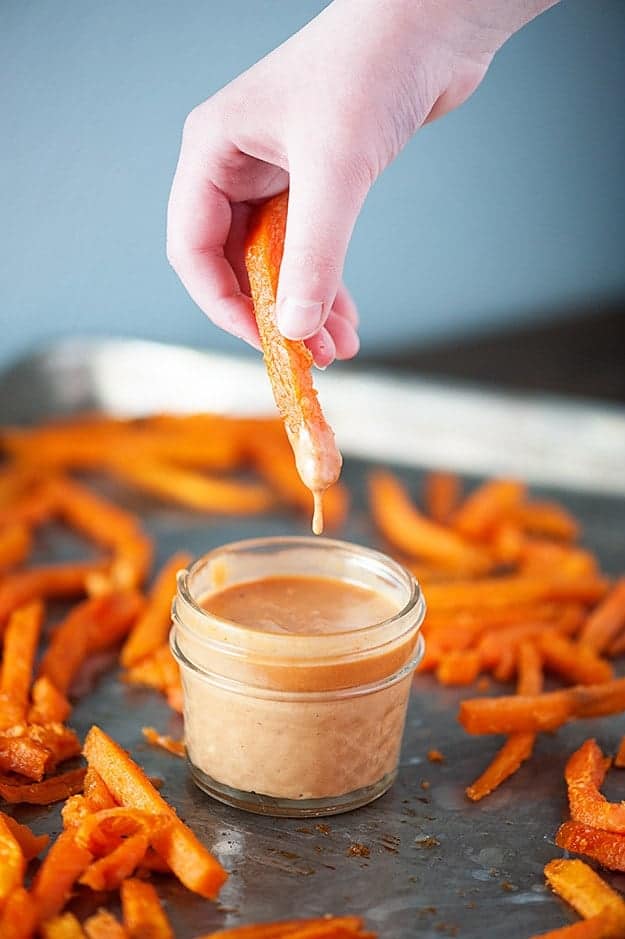 When I posted my original fry sauce recipe, I got a bunch of comments telling me to swap out the ketchup with barbecue sauce and I very much resisted for a very long time. Because, nope. Mayo and barbecue sauce just sounds wrong, y'all.
Aaaaaand, then one day the unthinkable happened. I had baked up a big tray of all natural Alexia fries and I was out of ketchup.
Barbecue Fry Sauce to the rescue! For real. It saved our lives.
This stuff is just as amazing as the original version! If you like experimenting with flavors and your favorite part about french fries or potato chips is the dip, this one is for you! I know it seems like an awfully easy recipe and maybe a little weird, but you guys. Something about the creaminess of the mayo just takes barbecue sauce to a whole new level and makes this dip outrageously good. Besides, simple is best, right?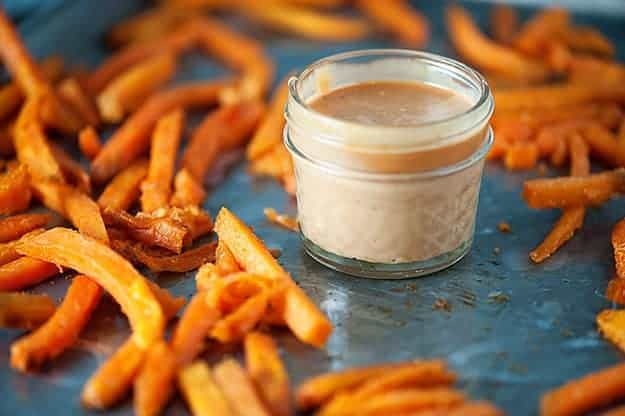 You'll want to prepare yourself a full meal here. Whip up some of my most favorite, best ever cheeseburgers (for serious, though!) to go along with your fries, because it's a weeknight and weeknight dinners at home need to be both easy and amazing. And, since we're going for easy, ignore the secret sauce recipe that the burgers call for and replace it with this barbecue fry sauce. You'll be in heaven and you'll have saved 5 minutes.
Don't forget about the veggies. I prefer green beans cooked in bacon and onion, but my family is partial to these roasted carrots. Bonus points on the carrots: You can roast them right alongside your fries aaaaaaaand you have a super orange dinner, which is fun for some weird reason.
There are lots of recipes on Alexia's site too!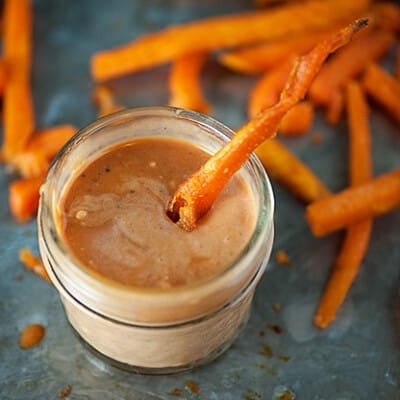 Barbecue Fry Sauce
This barbecue fry sauce recipe is so quick and easy to prepare and it takes French fries to a whole new level!

Prep1 minute
Cook1 minute
Total2 minutes
Ingredients
2 tablespoons mayonnaise not the sweet stuff
2 tablespoon barbecue sauce
Instructions
Mix together the mayo and barbecue sauce until well combined.

Use for dipping fries, chips, or for spreading on sandwiches.
Tips & Notes:
This recipe is easily doubled, tripled, quadrupled, etc. Store in a jar in the fridge for up to 2 weeks.
Nutrition Information:
Calories: 125kcal (6%)| Carbohydrates: 7g (2%)| Fat: 10g (15%)| Saturated Fat: 1g (6%)| Cholesterol: 5mg (2%)| Sodium: 268mg (12%)| Potassium: 40mg (1%)| Sugar: 6g (7%)| Vitamin A: 40IU (1%)| Calcium: 6mg (1%)| Iron: 0.1mg (1%)