We packed as much creamy peanut butter into these Peanut Butter Stuffed Cookies as possible. The dough is so soft and loaded with peanut butter, but the star of the show is the gooey, melty peanut butter filling! These cookies are a must make absolute favorite of ours!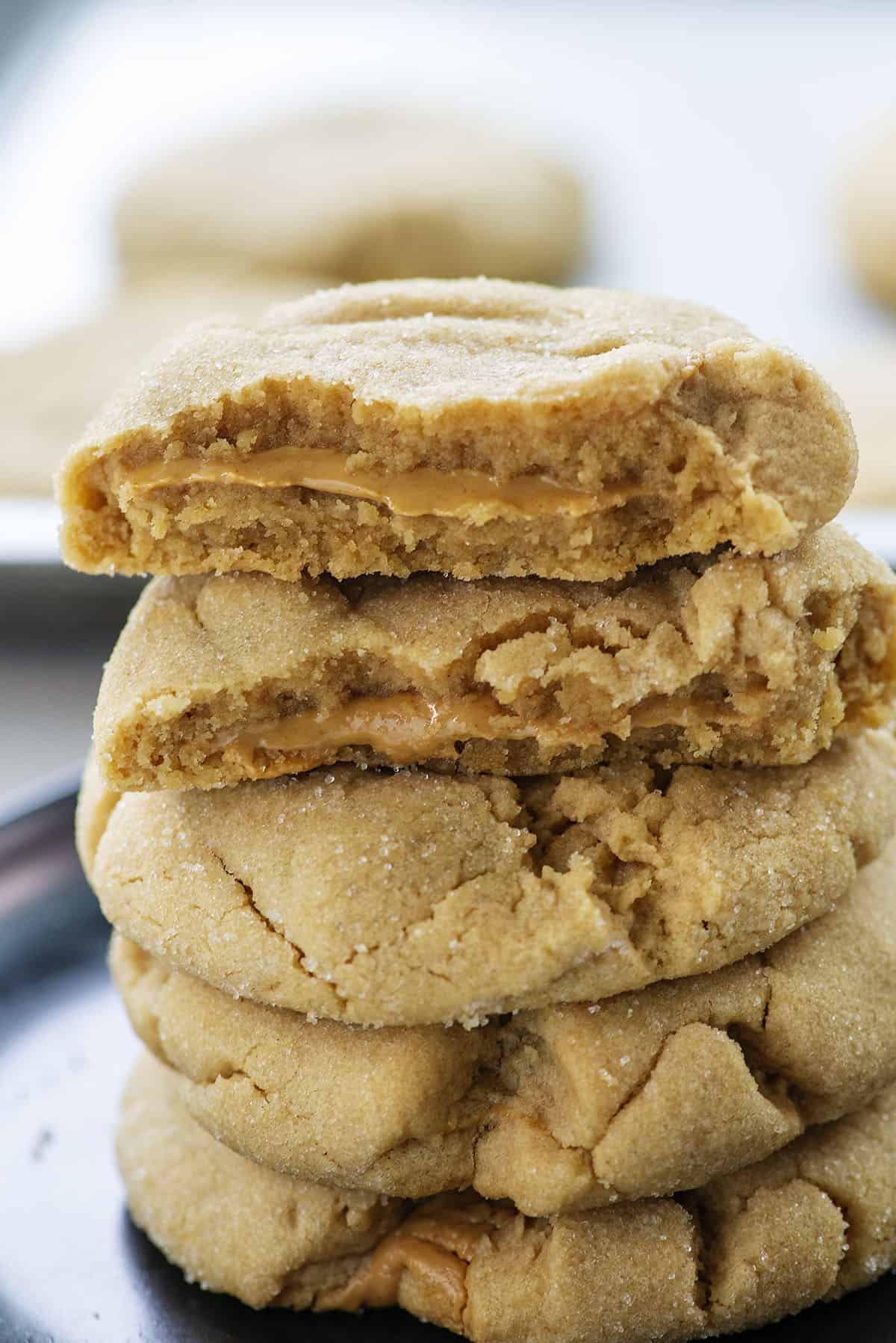 We've shared quite a few of our cookie recipes here with you and all of them are good, but of course we have our favorites. Our perfect chocolate chip cookies are a go to in my house (and with readers everywhere!), our peanut butter oatmeal chocolate chip cookies have been a long standing favorite, and now we have a new all star cookie to share with you.
I've actually been sitting on this recipe for close to a year now, testing it once every couple of weeks, making small tweaks here and there, and getting it just right. We wanted this dough to be filled with as much peanut butter as possible. We wanted a distinct layer of creamy peanut butter in the center. We wanted giant, bakery sized cookies, but we also wanted to be able to make small, more average sized cookies.
It's time to declare these peanut butter stuffed cookies officially perfect and ready to share with the world. I hope you're ready!
Crumbl Peanut Butter Cookie Recipe:
Ever been to Crumbl? They make huge cookies in all kinds of fun and creative flavors! They're peanut butter cookie is a definite favorite, stuffed with creamy peanut butter – just like these!
These are a great Crumbl copycat recipe! Way cheaper, every bit as soft and delicious, and just loaded with peanut butter.
These will totally satisfy that Crumbl craving for a whole lot cheaper!
Ingredient Notes:
This post contains affiliate links. As an Amazon associate and member of other qualifying programs, I earn from qualifying purchases.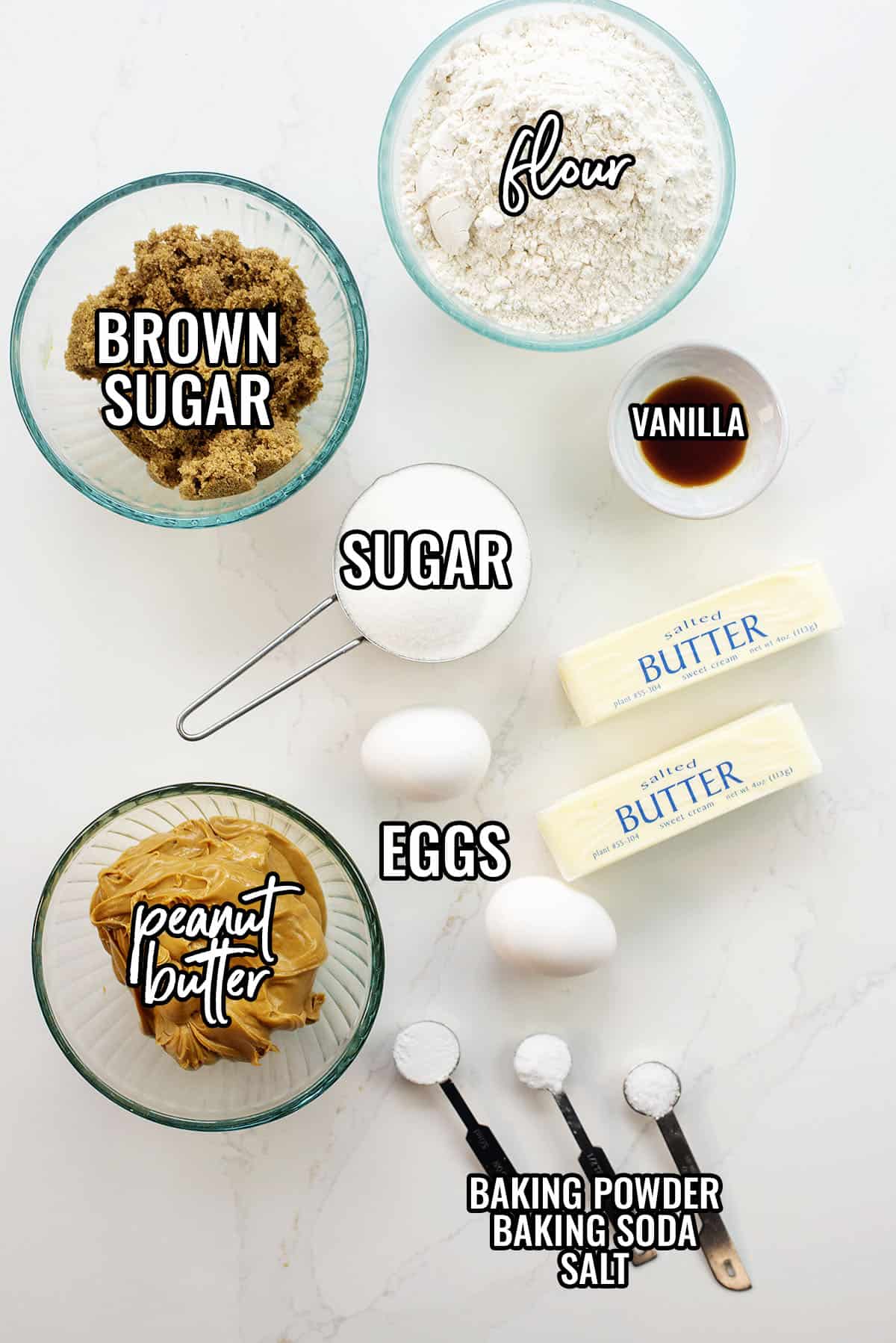 Peanut Butter – Use the creamy processed kind, such as Jif or Skippy. Natural peanut butter that separates doesn't always bake well, so we don't recommend that.
Sugars – You will need both white sugar and brown sugar for preparing the peanut butter cookie dough.
Butter – Two full sticks of room temperature butter will go into the peanut butter cookie dough.
Dry Ingredients – You'll need the usual cookie dough ingredients, like flour, baking powder, baking soda, and salt.
Vanilla Extract – We always bake with pure vanilla. The imitation kind just isn't the same.
What We Love About This Recipe:
We truly stuffed as much peanut butter as possible into these cookies, making the dough so soft and loaded with flavor.
That center layer of gooey peanut butter gets everyone raving about these cookies.
These cookies can be made giant, like from a bakery, or more average sized, depending on what you're in the mood for.
Helpful Tools: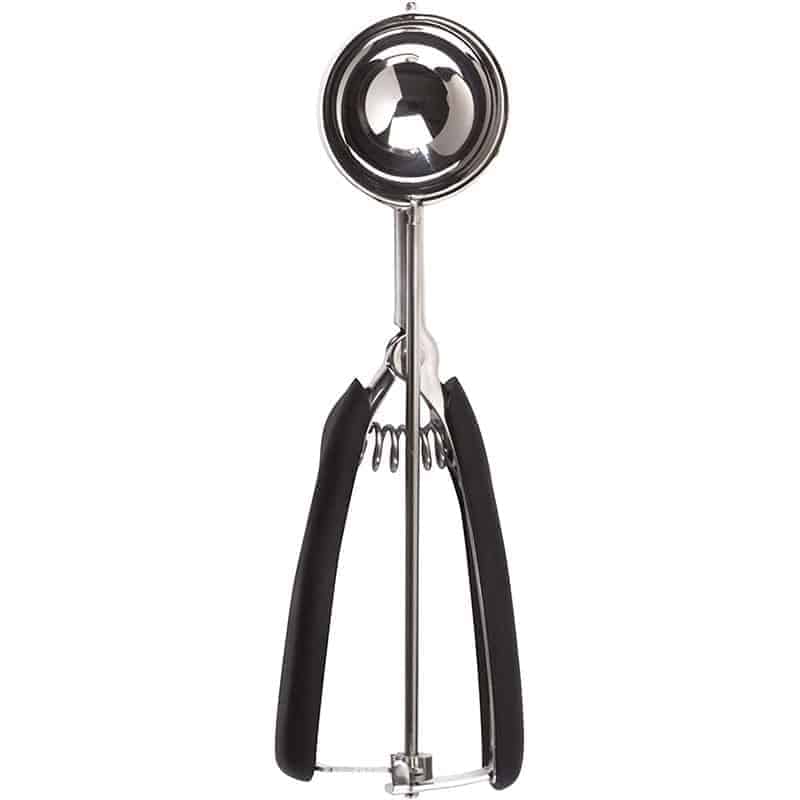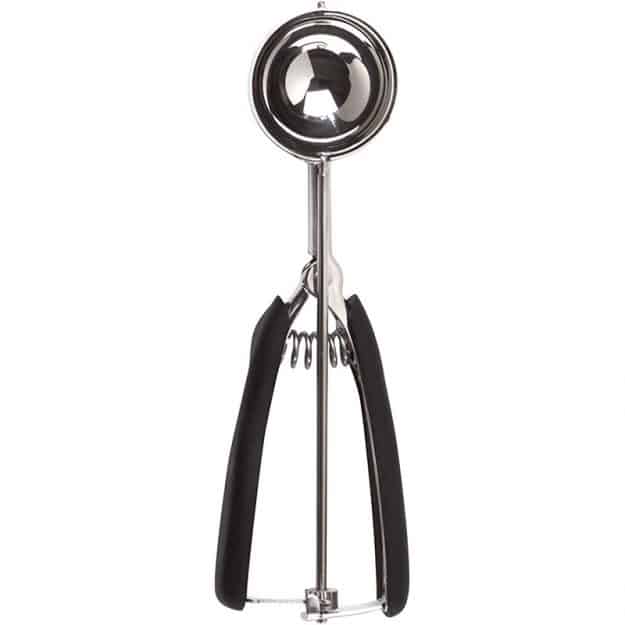 We use cookie scoops for everything from baking cookies to scooping meatballs to easily filling muffin tins.
It's so easy to whip up dessert with this cute hand mixer. It doesn't take up much space and is a must for any kitchen!
How to Make Stuffed Cookies:
Dough: The dough comes together much like any other cookie dough. Butter, sugar, peanut butter all whipped up, then eggs, then dry ingredients. Easy stuff here.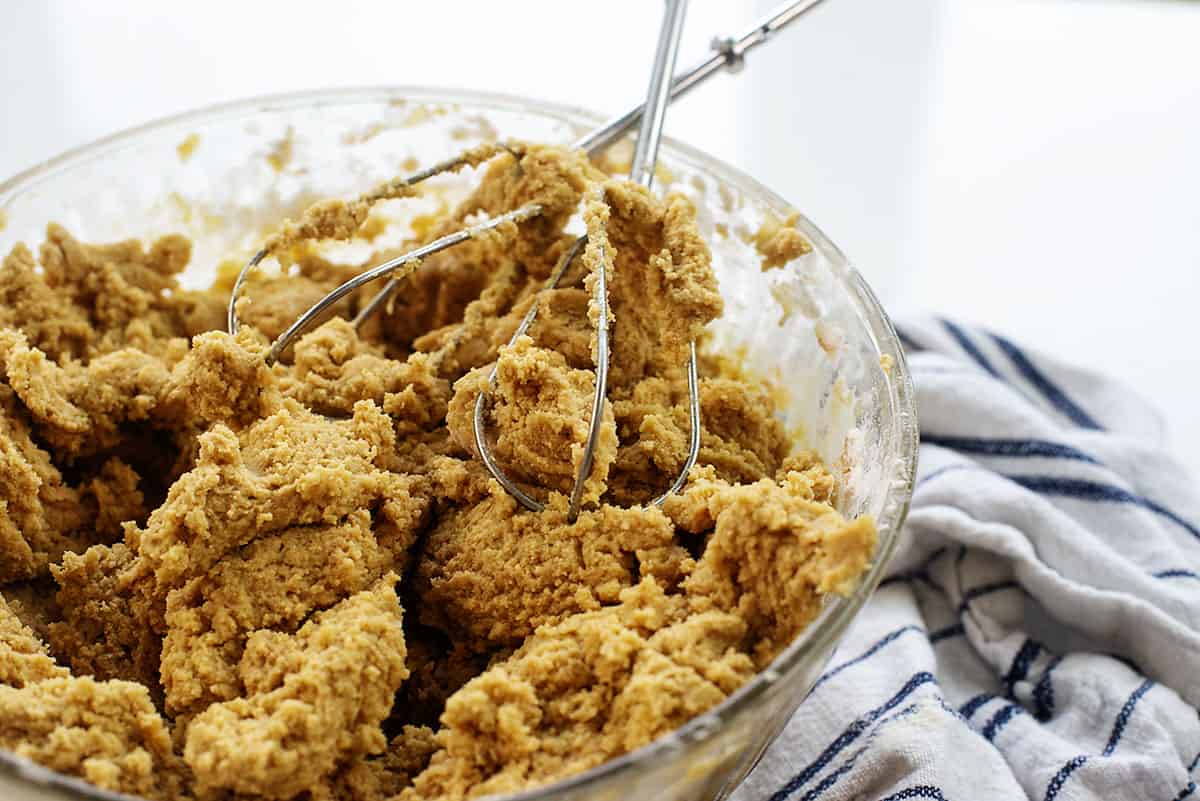 Peanut Butter: Use a large cookie scoop to scoop out balls of dough. Flatten the dough in your hand, like a hamburger patty. Drop a spoonful of peanut butter into the center and then fold the dough up and around the peanut butter, like you'd fold a taco. Roll into a ball and press little bits of extra dough to cover any gaps where the peanut butter might leak out.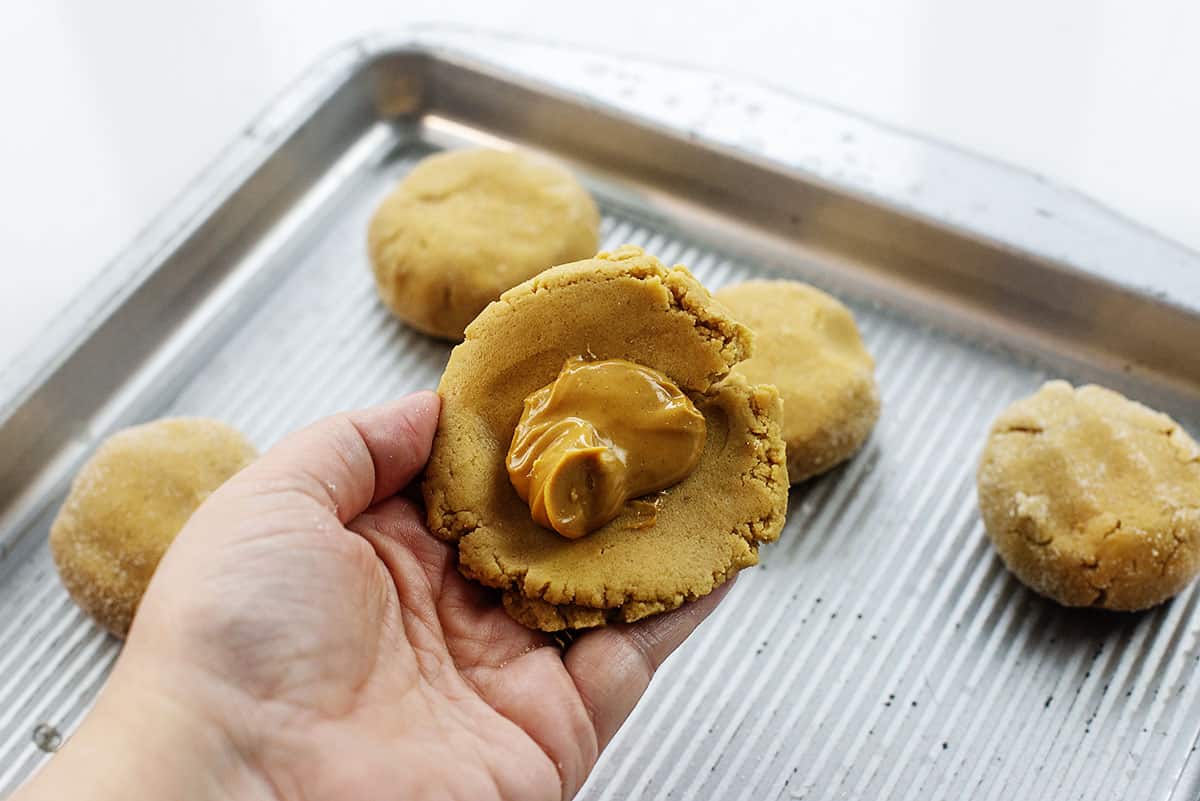 Helpful Tip!
Who wants giant cookies?
If you prefer your cookies super-sized you can use TWO scoops of cookie dough! Flatten one into a patty, add the peanut butter, then flatten the second scoop into another patty for topping. Seal the edges, and then roll into a giant ball! They'll need to bake for about 15 minutes.
Roll & Press: Roll each cookie ball through granulated sugar. lightly flatten to more of a hamburger patty shape than a ball, and then use a fork to gently press that classic peanut butter cookie crosshatch into the cookies. Don't press too hard or you'll squeeze out the peanut butter.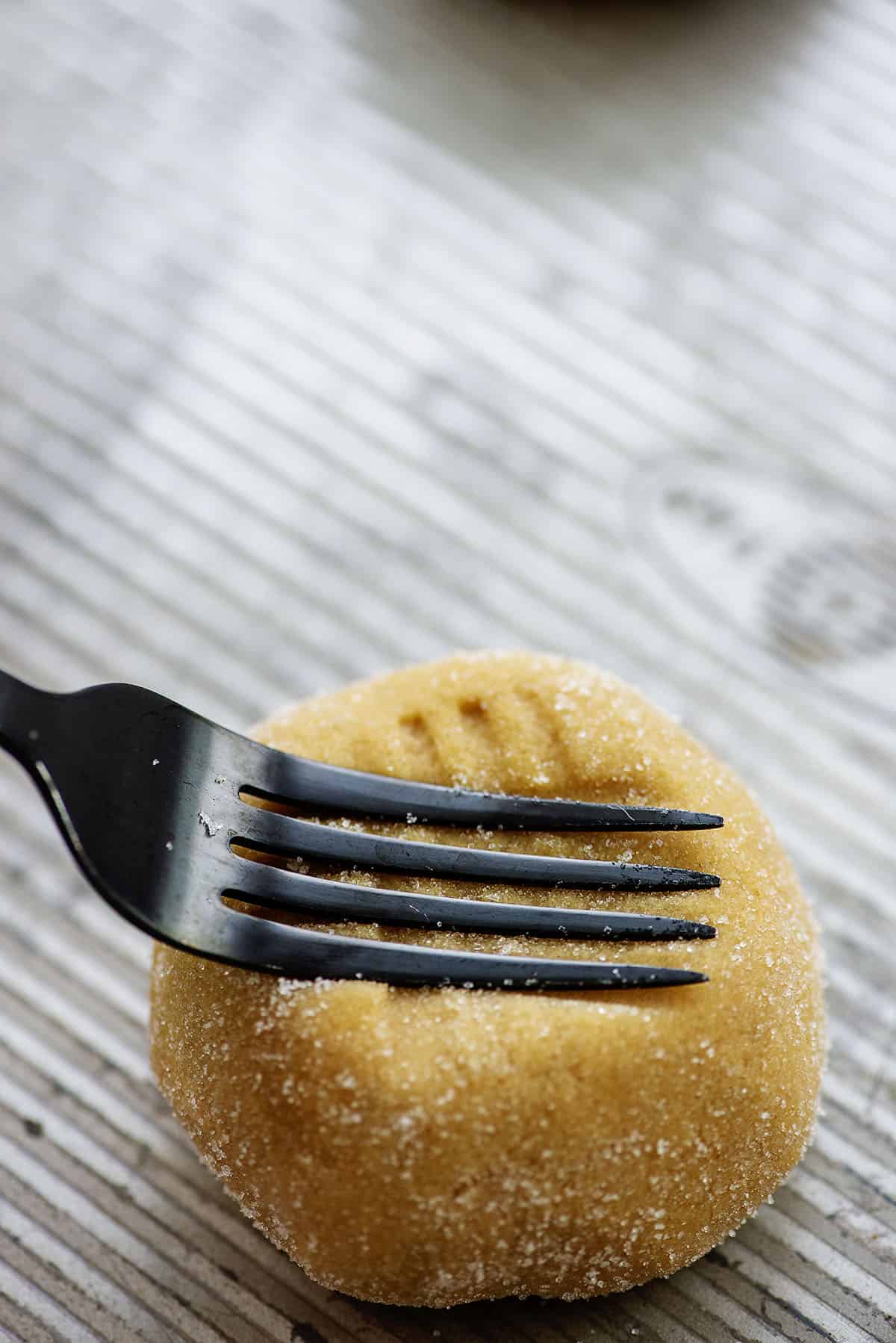 Bake: Pop these in a hot oven and bake for about 13 minutes. They should still look soft and moist, but be golden and set around the edges. They'll finish baking on the hot cookie sheet after you take them out of the oven.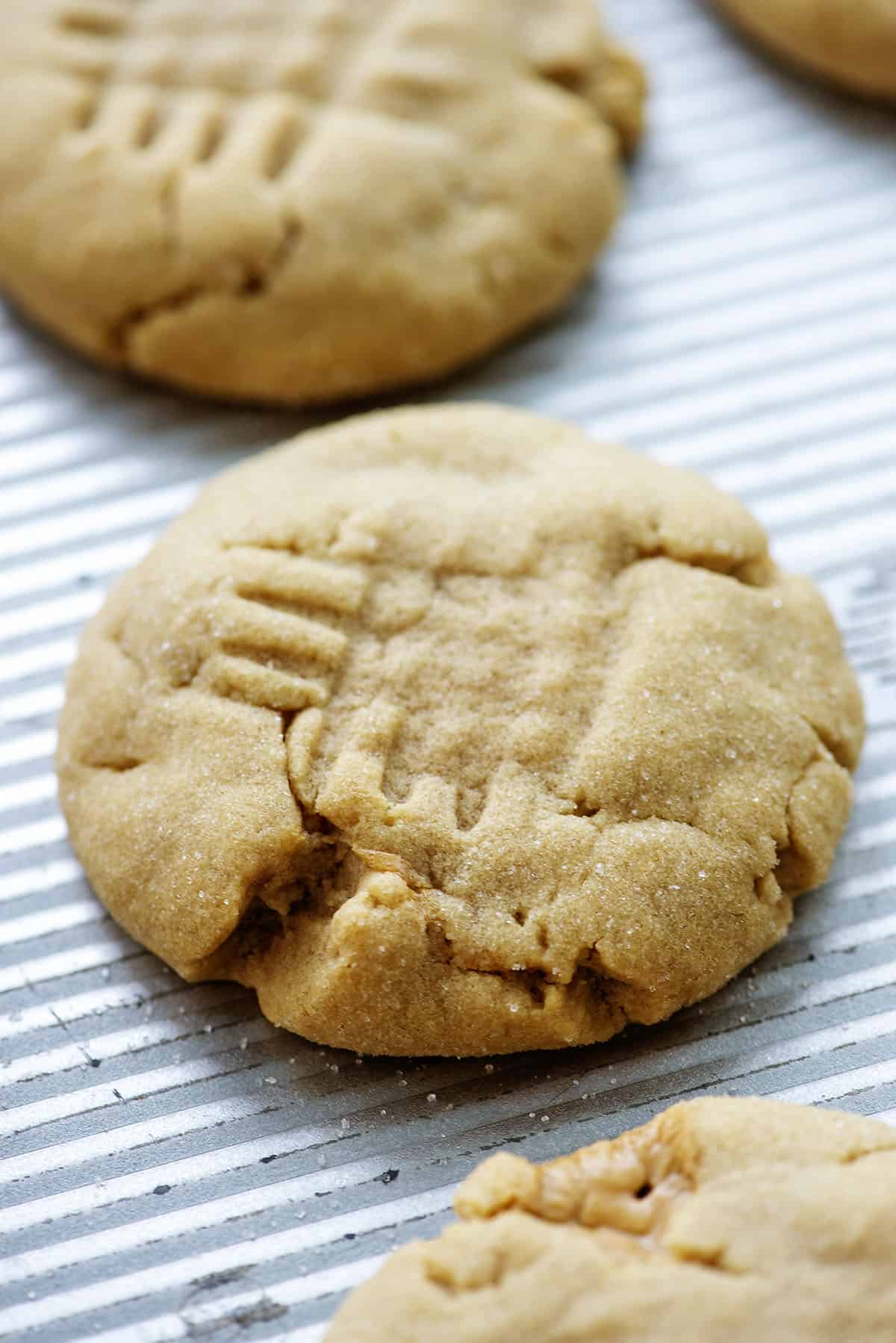 FAQs:
How to store cookies?
You can keep these peanut butter stuffed cookies stored at room temperature in an airtight container or bag for about 4 to 5 days.
Why do you press a fork in peanut butter cookies?
That crosshatch pattern on top of peanut butter cookies is a classic look for peanut butter cookies, popularized by Pillsbury back in the 1930s. Pressing the fork into the cookies also helps the cookies bake more evenly.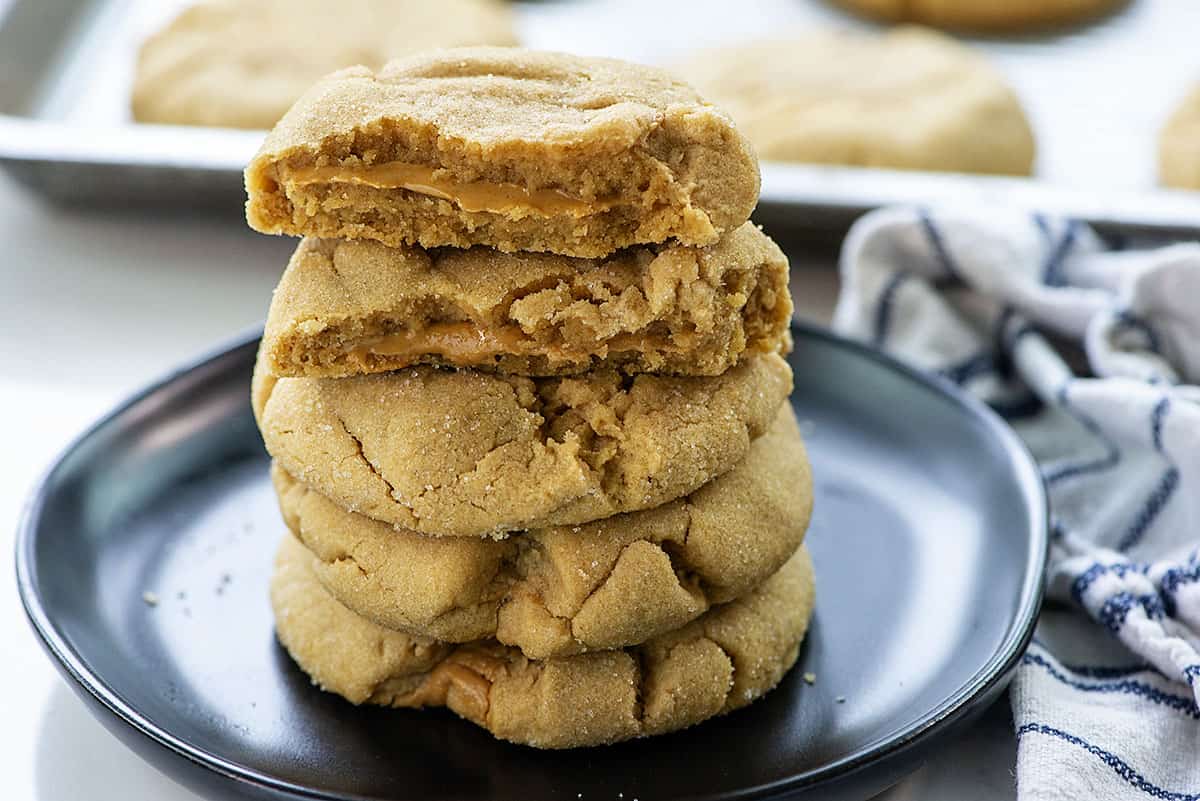 Why chill cookie dough:
It's not necessary to chill every type of cookie dough out there, but we do highly recommend it for our peanut butter stuffed cookies!
We truly added as much peanut butter as possible to this dough, which makes for a very soft dough. It's easiest to work with after it's firmed up in the fridge and the cookies themselves won't spread as much if they go into the hot oven while the butter is a bit cool.
If you're in a hurry, this recipe DOES work without chilling, but the dough is not nearly as easy to work with and the peanut butter is more likely to ooze out of the cookies because they spread more.
MORE CREAMY PEANUT BUTTER RECIPES!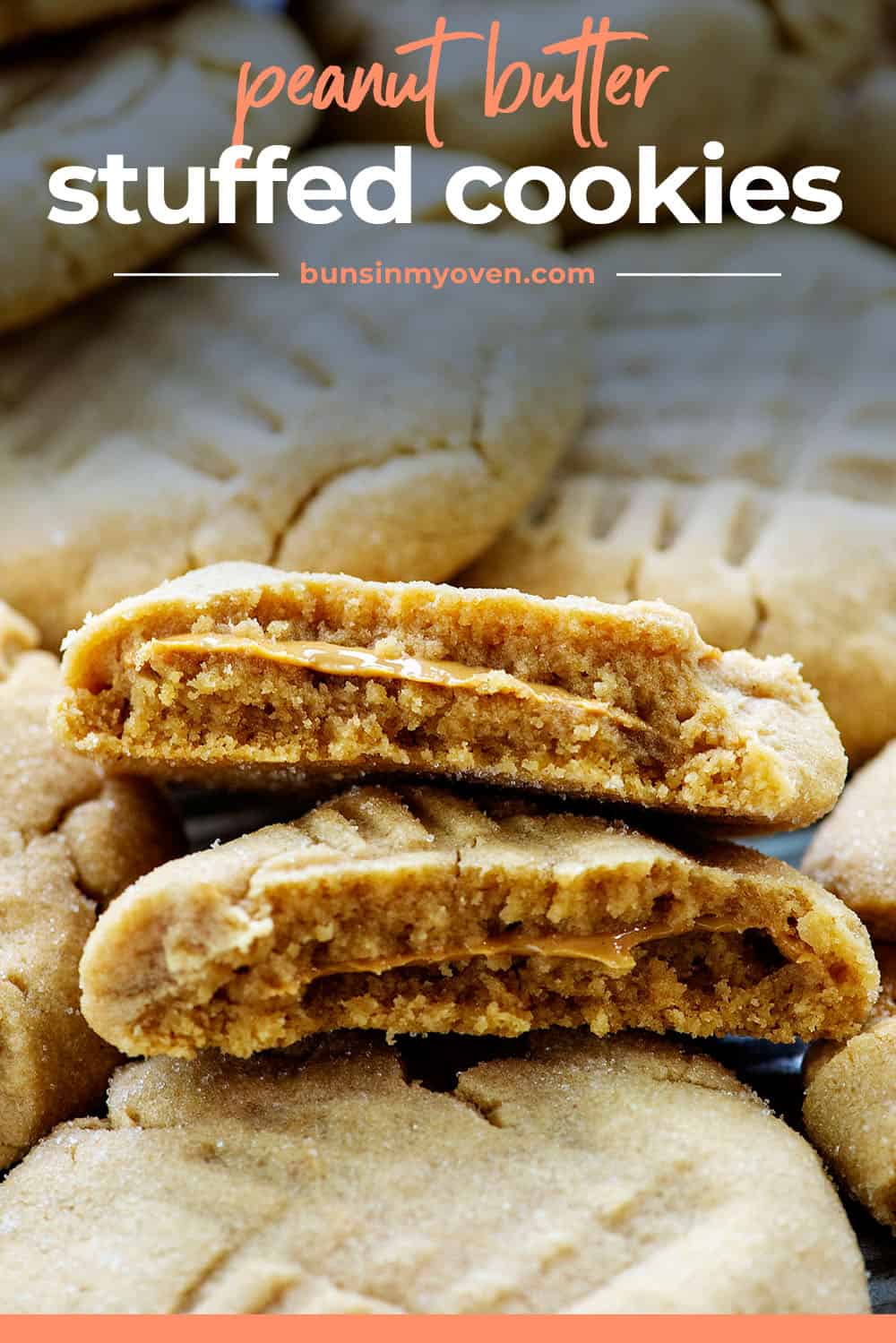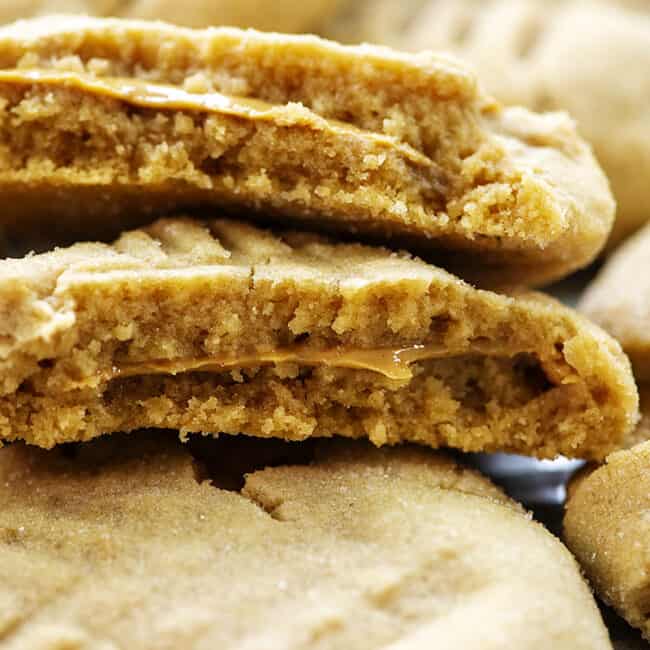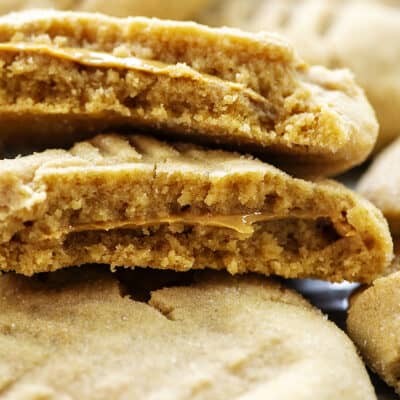 Peanut Butter Stuffed Cookies
We packed as much peanut butter as possible into this cookie dough and then we took it a step further by adding a blob of peanut butter right in the center of each cookie and then sealing it with dough. These are the ultimate peanut butter cookies, for peanut butter lovers only!
Prep20 minutes
Cook13 minutes
Chill Time30 minutes
Total1 hour 3 minutes
Ingredients
1 cup butter room temperature
1 ½ cups granulated sugar divided
¾ cup brown sugar
2 cups creamy peanut butter divided
2 large eggs
2 teaspoons vanilla extract
3 cups flour
1 teaspoon baking powder
1 teaspoon salt
½ teaspoon baking soda
Instructions
Add the butter, 1 cup of granulated sugar, and brown sugar to a mixing bowl and beat on medium speed until light and fluffy.

Beat in 1 ½ cups of peanut butter, eggs, and vanilla until smooth and combined, scraping down the sides of the bowl as needed.

Add the flour, baking powder, baking soda, and salt to the bowl and mix on low speed until the dough is fully combined.

Cover the bowl with plastic wrap and refrigerate for 30 minutes.

After dough has chilled, preheat oven to 350 degrees. Line a baking sheet with parchment paper.

Use a large cookie scoop to scoop out the dough.

Flatten the dough into a patty and place about a teaspoon of peanut butter in the center of dough. Carefully fold up the edges around the peanut butter. Completely seal the peanut butter in the dough. If needed, press small pieces of extra dough around any spaces where the peanut butter is peeking out. Roll the dough into a ball.

Place the remaining ½ cup of granulated sugar on a plate or in a shallow bowl and roll each cookie through the sugar to coat.

Arrange cookies on the prepared baking sheet 2 inches apart. Use a fork to gently press a crosshatch shape in each cookie. If you press too hard, the dough will crack and the peanut butter will leak out.

Bake for 13 minutes or lightly browned around the edges, but still moist on top.

Let cool for 15 minutes on the baking sheet before transferring to a wire rack to finish cooling.
Tips & Notes:
These are a bit larger than the average cookie, but we love them! For even larger cookies, reminiscent of the popular Crumbl cookies, use 2 large scoops of dough per cookie. Flatten one into a patty, place peanut butter in the center, and flatten the second ball of dough into a patty. Place it over the top, seal the edges, and shape it into a ball. These cookies are HUGE, but super fun and impossible to resist. You'll get one dozen extra large cookies and you'll need to bake them for 15 minutes.
Nutrition Information:
Serving: 1cookie| Calories: 334kcal (17%)| Carbohydrates: 36g (12%)| Protein: 7g (14%)| Fat: 19g (29%)| Saturated Fat: 7g (44%)| Polyunsaturated Fat: 3g| Monounsaturated Fat: 8g| Trans Fat: 1g| Cholesterol: 36mg (12%)| Sodium: 281mg (12%)| Potassium: 173mg (5%)| Fiber: 1g (4%)| Sugar: 22g (24%)| Vitamin A: 259IU (5%)| Calcium: 31mg (3%)| Iron: 1mg (6%)