These chocolate banana muffins are loaded with extra ripe bananas, cocoa powder, and chocolate chips. The banana flavor shines right through and pairs so well with all of the chocolate! Who wouldn't want to wake up to one of these easy banana muffins on a busy morning?
Every morning I wake up, grab a glass of iced coffee, and head to my office where I sit in my comfy chair on my laptop and work on this blog until I can't stand sitting for another second.
Usually, I get in about 2-3 hours of good, solid work before my tummy starts rumbling and I start remembering that I haven't actually showered yet and maybe that should be a thing I do.
My kids are homeschooled and people are often surprised to hear that I don't spend my mornings standing in front of a chalkboard.
No, friends. That's not at all how I do things.

My babies are 17 and 13 this year, so they're self-sufficient when it comes to most things.
I print them a schedule of work to do each week and they work on it themselves with minimal help from me. The internet is a glorious thing and the homeschool programs they have these days are amazing.
Anyway, while the kids are working on school, they're also eating breakfast.
You'd think they would eat before school started, but school starts at 9am sharp and if they aren't at the table working on time, they have to do an extra math lesson. Which means, most days, they wake up at 8:30, rush through showers, and grab a bowl of cereal to eat with while they start their work.
When I have these banana bread muffins on hand though, they totally skip their beloved cereal and that's saying a lot. These kids LOVE cereal for breakfast.
But I mean…these are chocolate chip banana bread muffins. Who would choose a cold bowl of cereal over one of these guys?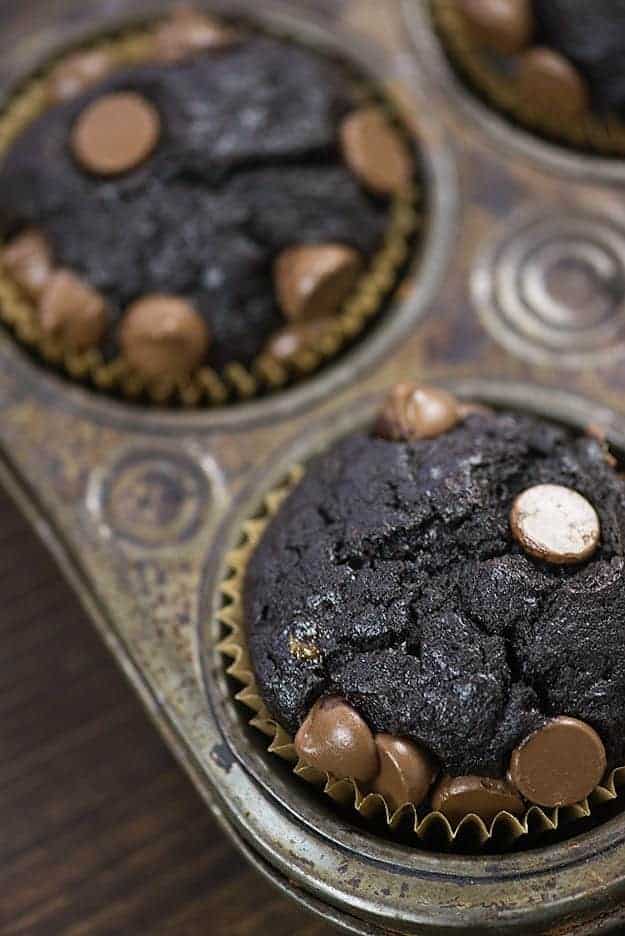 If you're looking for a new banana muffin recipe to try, this one is it!
This is an easy recipe that starts with creaming together butter and sugar. You will want to use a hand mixer (affiliate link) or stand mixer for this recipe, but other than that, this is totally simple.
After you cream the butter and sugars, you'll stir in the cocoa powder, flour, and mashed bananas. There's even some sour cream for extra moist goodness.
I use a cookie scoop (affiliate link) to scoop the batter into a muffin tin, but a spoon or ice cream scoop works just as well.
Dotting the tops of the muffins with chocolate chips ensure that muffins come out extra decadent and chocolaty. The kids think the chocolate chips are so fun and the muffins just look so pretty!
These easy banana muffins have two types of chocolate!
I use Hershey's Special Dark Cocoa Powder in this recipe and in most recipes that call for cocoa powder.
I like it because of the extra rich color it lends to cocoa based recipes. So pretty, right?
Even if you don't like dark chocolate, this cocoa powder is great. You're adding in sugar, so the end result doesn't taste like dark chocolate.
I also sprinkle the tops of the muffins with chocolate chips – you can use whatever variety you like. I normally use milk chocolate, because that's what my kiddos prefer.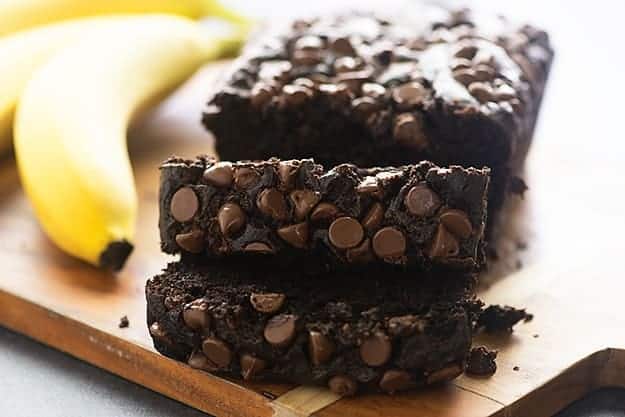 These banana bread muffins are a riff on my banana bread recipe that's full of cocoa powder and chocolate chips, just like these chocolate banana muffins.
Can you even deal with how decadent that loaf of bread looks?
Ahhhh, banana bread is just the best!
Anyway, I hope you'll give these chocolate banana muffins a try and let me know what you think!
Snap a photo of your muffins and share it on Instagram! Be sure to tag #bunsinmyoven so I see your creation! You can also share in my Facebook group that I started for my foodie friends. Join here!
For more breakfast ideas, try my applesauce muffins, English muffin bread and perfect homemade biscuits!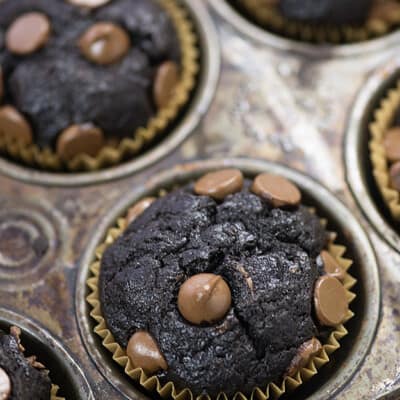 Double Chocolate Banana Bread Muffins
These double chocolate banana bread muffins are what dreams are made of! Rich, chocolaty, and full of banana!
Prep10 minutes
Cook20 minutes
Total30 minutes
Ingredients
1/2 cup butter softened
1/2 cup brown sugar
1/4 cup white sugar
1 large egg
2 teaspoons vanilla extract
3 medium bananas mashed - about 1 cup
1/4 cup sour cream
1 cup all purpose flour
1/2 cup cocoa powder
1 teaspoon baking soda
1/2 teaspoon salt
1/2 cup milk chocolate chips
Instructions
Preheat oven to 350 degrees. Place muffin liners into a muffin tin.

Add the butter and sugars to a mixing bowl and beat until well combined.

Beat in the egg, vanilla, banana, and sour cream until just combined.

Stir in the flour, cocoa powder, baking soda, and salt.

Scoop the batter into the muffin wells, filling them 2/3 of the way full.

Sprinkle the top with chocolate chips and gently press them into the batter.

Bake for 18-20 minutes or until a tester comes out clean.

Let the muffins cool before serving.
Nutrition Information:
Calories: 245kcal (12%)| Carbohydrates: 35g (12%)| Protein: 3g (6%)| Fat: 11g (17%)| Saturated Fat: 6g (38%)| Cholesterol: 39mg (13%)| Sodium: 177mg (8%)| Potassium: 196mg (6%)| Fiber: 2g (8%)| Sugar: 21g (23%)| Vitamin A: 325IU (7%)| Vitamin C: 2.6mg (3%)| Calcium: 34mg (3%)| Iron: 1.3mg (7%)