These mini banana muffins with mini chocolate chips are an irresistible bite-sized snack! So simple to make, way tastier and healthier than the packaged muffins, and kids absolutely love them!
For awhile there my kids were asking for those packages of mini muffins every time I went to the store. Not gonna lie, it was getting ridiculous – those things are expensive!
It was either blow through their entire college fund or start making my own mini banana muffins at home. I obviously chose the latter and here I am to share the recipe with you!
Maybe your kids like those packaged muffins too! Or hey, no judgement, maybe YOU like those muffins. Either way, we've got you covered!
These mini banana muffins bake up sweet and moist. We snuck some chocolate chips in, because hey, we're grown ups and we can do what we want! But you could leave them out or swap them for some walnuts if you'd rather.
If you like these, you'll like our mini chocolate chip muffins and mini pumpkin muffins too!
Ingredient Notes:
This post contains affiliate links. As an Amazon associate and member of other qualifying programs, I earn from qualifying purchases.
Bananas – You'll need a few ripe bananas. These mini muffins are the perfect way to use up your brown bananas.
Dry Ingredients – Some flour, sugar, brown sugar, baking powder, baking soda, cinnamon, and salt. Those are all pretty standard baking ingredients that you probably already have.
Wet Ingredients – You're also going to need butter, egg, and vanilla extract to prepare the muffin mix.
Chocolate Chips – These are chocolate chip banana muffins so you'll be loading them up with mini chocolate chips! You could also swap these out for chopped nuts if you prefer banana nut muffins.
What We Love About This Recipe:
These mini banana muffins with chocolate chips are perfectly sized for snacking or taking on the go for breakfast.
These are a fun way to use up those brown bananas sitting on your counter.
These freeze well in freezer bags! Thaw overnight in the fridge or defrost them in the microwave.
It's so easy to whip up dessert with this cute hand mixer. It doesn't take up much space and is a must for any kitchen!
How to Make Banana Muffins:
Wet Ingredients: Mash the bananas with the sugar and brown sugar. Stir in the egg, butter, and vanilla until smooth and creamy.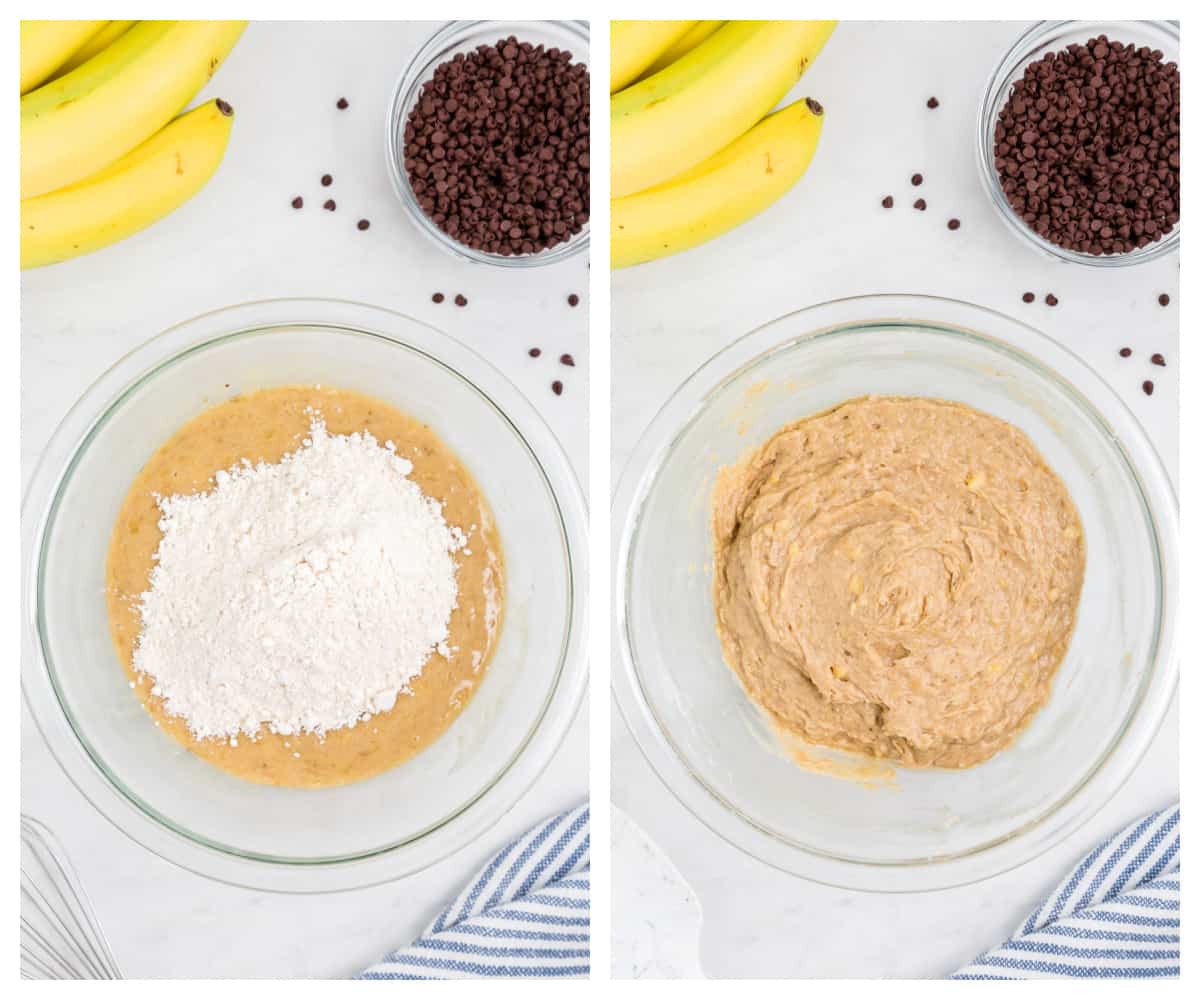 Dry Ingredients: In a separate, smaller mixing bowl add the flour, baking soda, baking powder, cinnamon, and salt. Stir all those ingredients up until they are well combined and then stir all that into your wet mixture.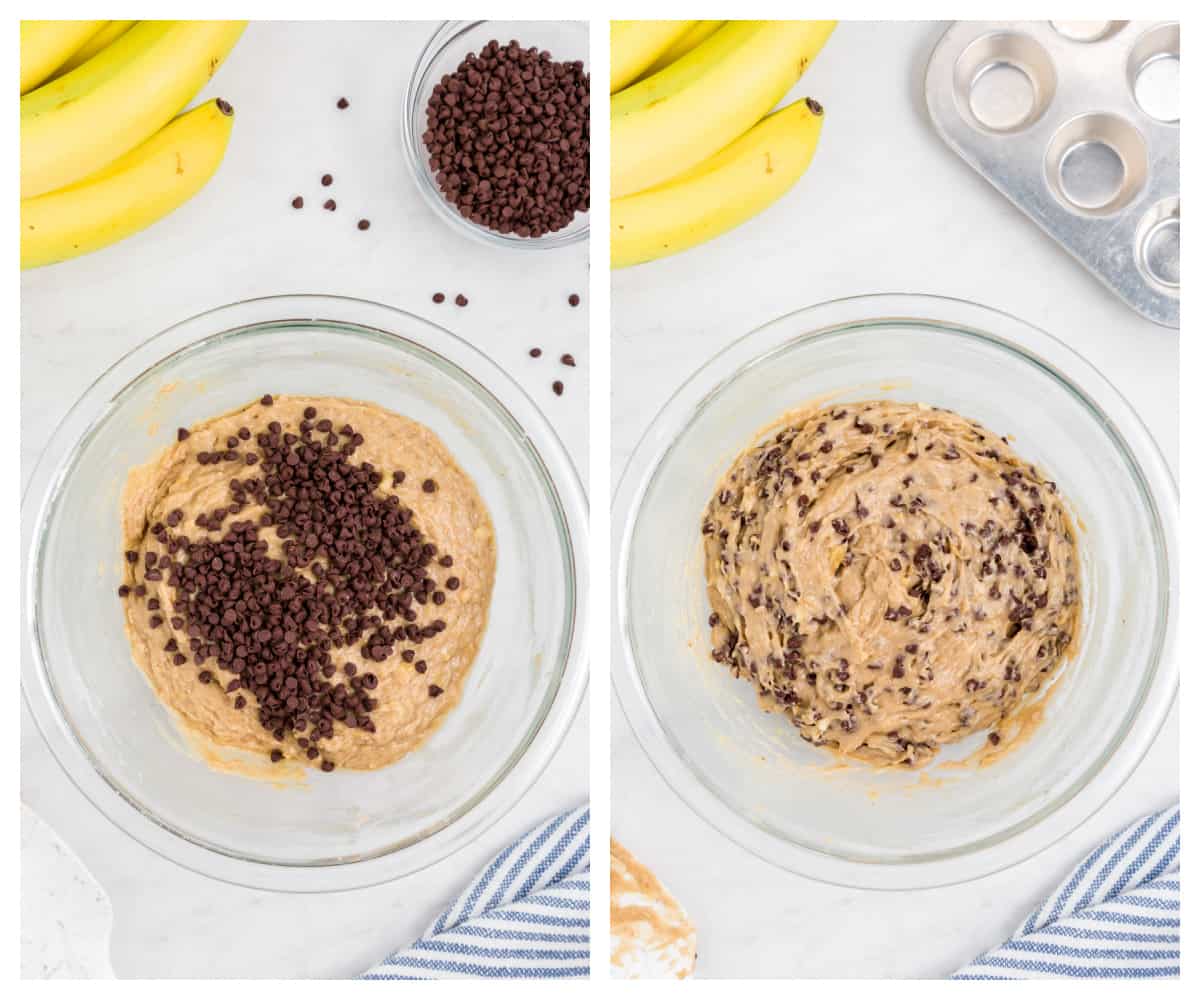 Chocolate Chips: Pour in your mini chocolate chips and give them a stir. We like to save a few for sprinkling on top of the muffins, just to make them extra pretty.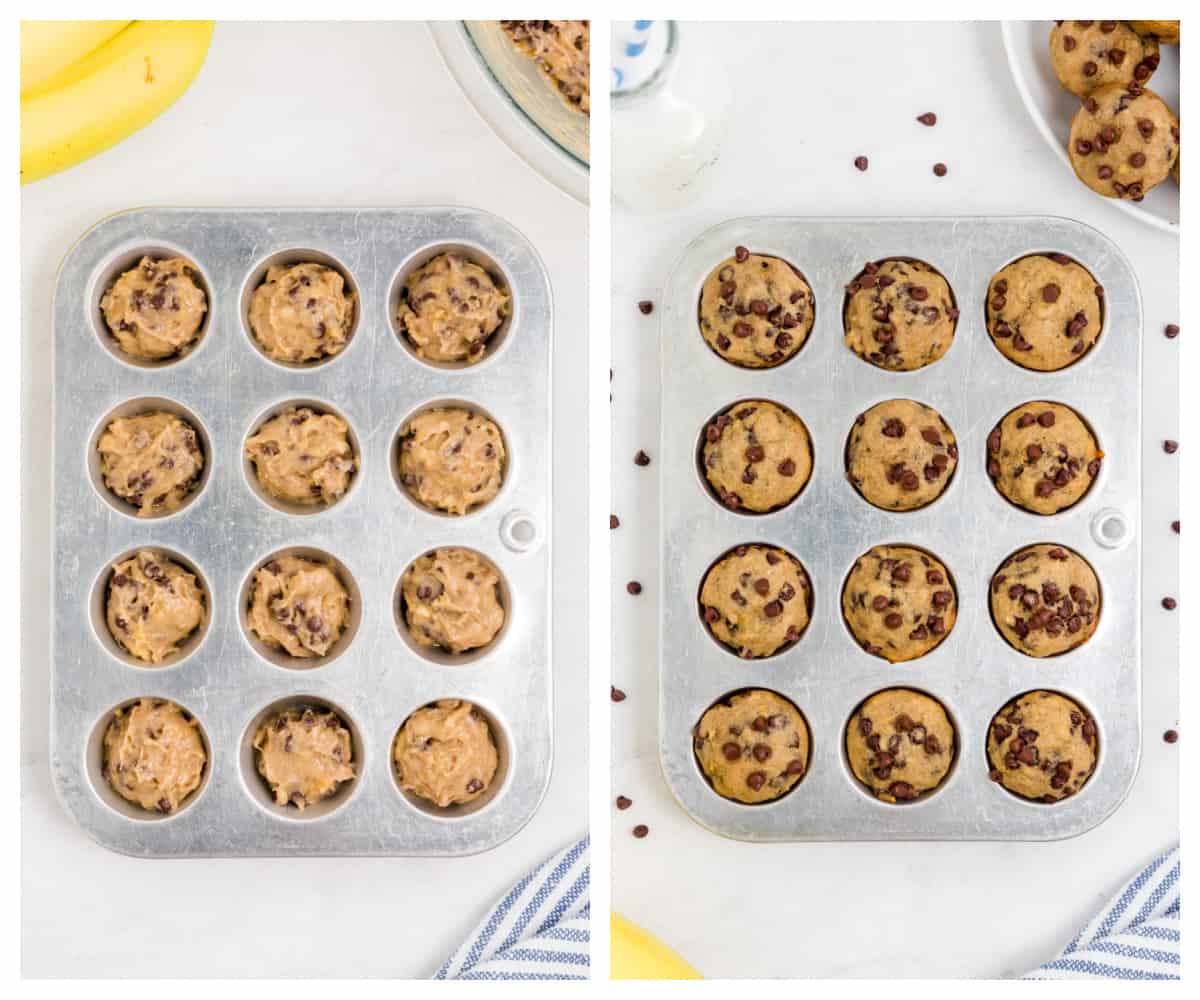 Fill: Spoon the muffin batter into a greased mini muffin tin, about 2/3 of the way full.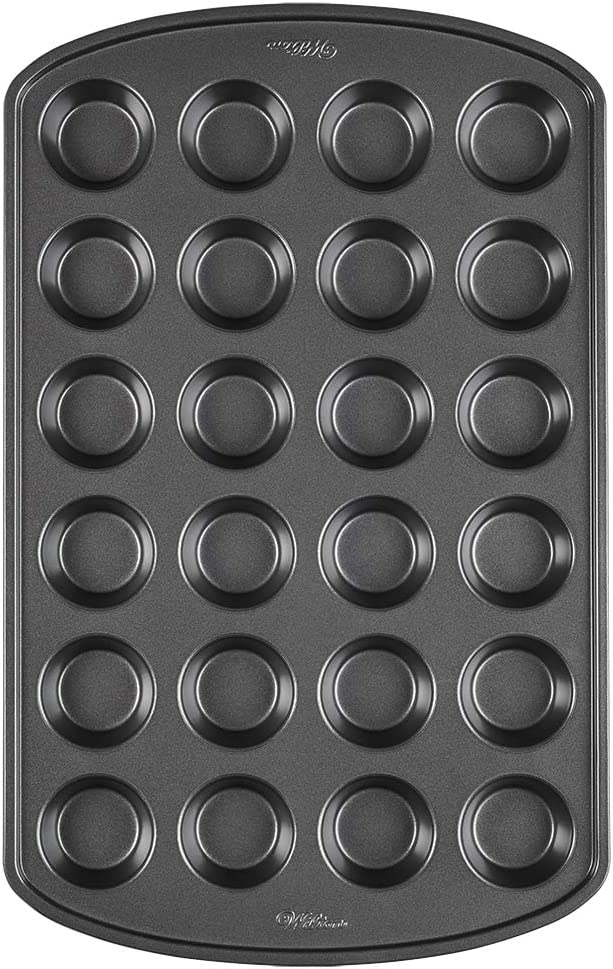 We love whipping up bite-sized muffins and other desserts in this mini muffin tin! One tin holds 24 mini muffins.
Bake: Finally you can pop the muffin tin into the oven and bake for 13 minutes or until a tester comes out clean. These mini chocolate chip banana muffins will need a few minutes to cool before serving.
FAQs:
How to store banana muffins?
If you have leftover muffins you can keep them stored in the fridge for about 3 to 4 days in an airtight container. Line it with a paper towel and then place another over the muffins to keep them from getting soggy.
What can I use besides chocolate chips?
You can leave out the chocolate chips entirely or replace them with chopped nuts. We love walnuts in our banana muffins, but pecans are also a great option.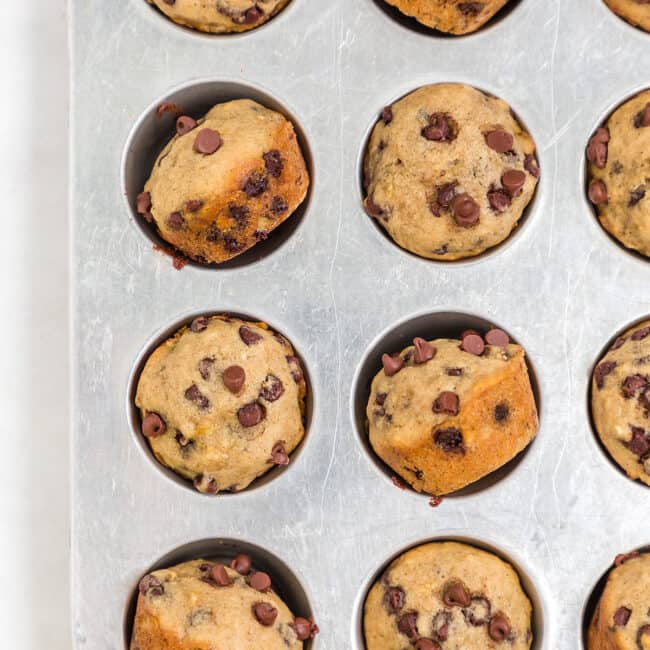 Mini Banana Muffins
These mini banana muffins are simple to make and they taste better and are healthier and cheaper than the packaged mini muffins my kids are always wanting. We love these with chocolate chips, but you can swap them for walnuts or just leave them out, if you prefer.
Prep15 minutes
Cook10 minutes
Total25 minutes
Ingredients
3 medium over-ripe bananas mashed
1/2 cup brown sugar
1/4 cup sugar
1 large egg
1/3 cup butter melted
2 teaspoons vanilla
1 1/2 cups flour
1 teaspoon baking powder
1 teaspoon baking soda
1/2 teaspoon cinnamon
1/2 teaspoon salt
1 cup mini chocolate chips
Instructions
Preheat oven to 375 degrees. Spray or line a mini muffin tin.

Add the bananas, brown sugar, and sugar to a mixing bowl and beat on medium speed until well combined.

Beat in the egg, butter, and vanilla until just combined.

Add the flour, baking powder, baking soda, cinnamon, and salt to a small bowl and stir to combine.

Add the flour mixture to the wet mixture, stirring until just combined.

Stir in the chocolate chips.

Spoon the mixture into the muffin tin 2/3 of the way full.

Bake for 13 minutes or until a tester comes out clean.

Let cool in the muffin tin for 10 minutes before removing and serving.
Tips & Notes:
The browner, more ripe your banana is, the sweeter your muffins will be. We like mini chocolate chips in these, but chopped walnuts are also a great option. You can leave them out entirely if you prefer. To freeze, place on a sheet pan in the freezer for 1 hour and then transfer to a freezer safe bag. Freeze for up to 3 months. Thaw in the fridge overnight or defrost in the microwave.
Nutrition Information:
Serving: 1muffin| Calories: 131kcal (7%)| Carbohydrates: 21g (7%)| Protein: 2g (4%)| Fat: 5g (8%)| Saturated Fat: 3g (19%)| Polyunsaturated Fat: 0.2g| Monounsaturated Fat: 1g| Trans Fat: 0.1g| Cholesterol: 16mg (5%)| Sodium: 124mg (5%)| Potassium: 88mg (3%)| Fiber: 1g (4%)| Sugar: 13g (14%)| Vitamin A: 116IU (2%)| Vitamin C: 1mg (1%)| Calcium: 24mg (2%)| Iron: 1mg (6%)