These mini chocolate chip muffins are perfectly soft and moist and packed with mini chocolate chips! So much cheaper and tastier than the boxes of mini muffins that the kids love and you can store little packs in the freezer for the kids to grab and go!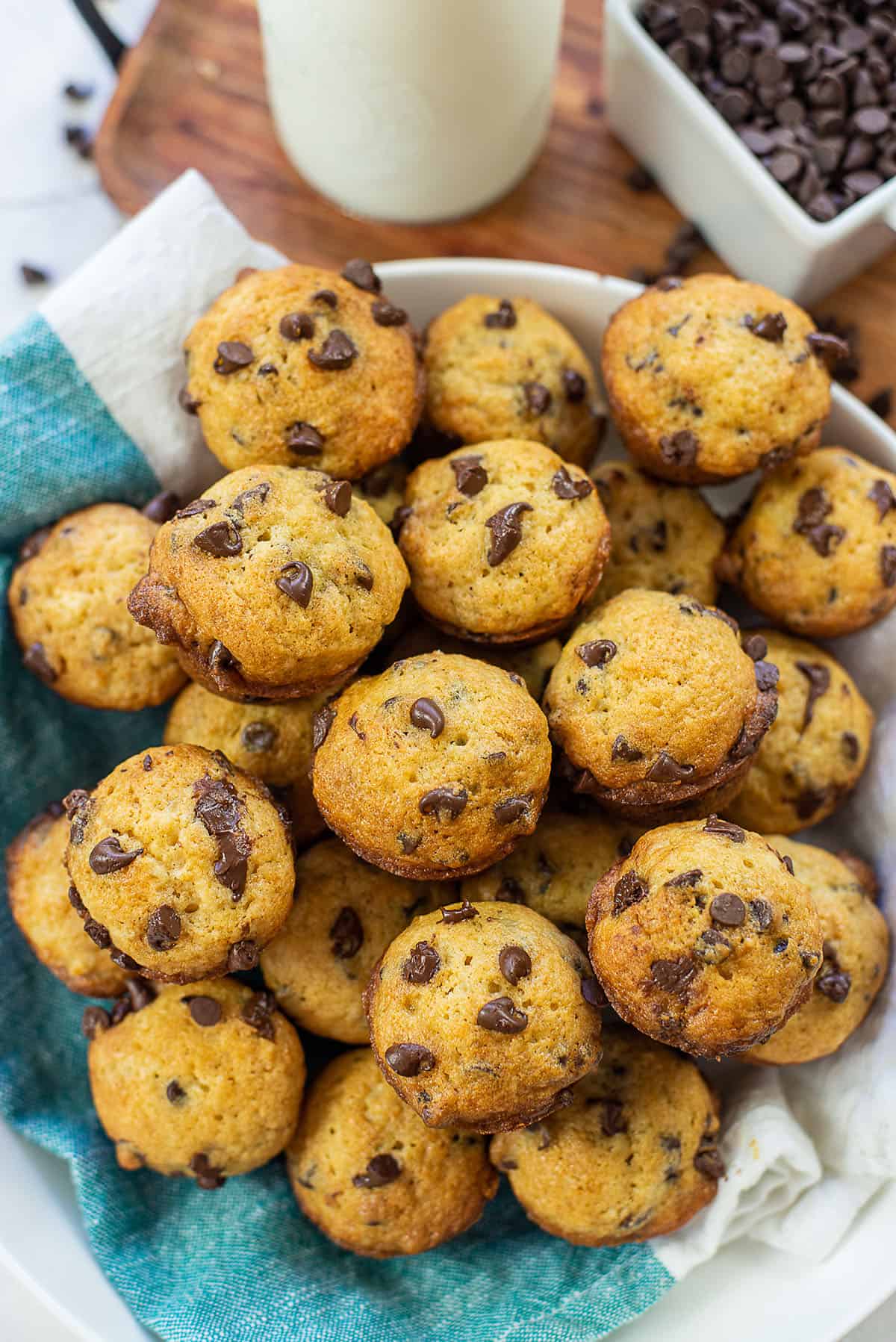 My kids are OBSESSED with the little boxes of mini muffins – even now that they're 16 and 21 years old!
What is it about those expensive, highly processed, not even very delicious muffins that get kids so excited?! I dunno, but I've recreated the whole vibe at home and I save a fortune while serving up tasty muffins!
Plus, nothing makes you feel like a good mama quite like baking your kids a batch of muffins. 🙂
We store these mini chocolate chip muffins a few to a bag in the freezer so that the kids can just grab a pack and either microwave them for breakfast or let them thaw in their lunch.
Plus, these obviously taste better than the packaged ones – with real chocolate chips, sour cream to keep things nice and moist, and real butter – these turn out so tasty, super moist, and just plain delicious.
Our cinnamon sugar muffins and mini pumpkin muffins are favorites for quick breakfasts too!
Ingredient Notes:
This post contains affiliate links. As an Amazon associate and member of other qualifying programs, I earn from qualifying purchases.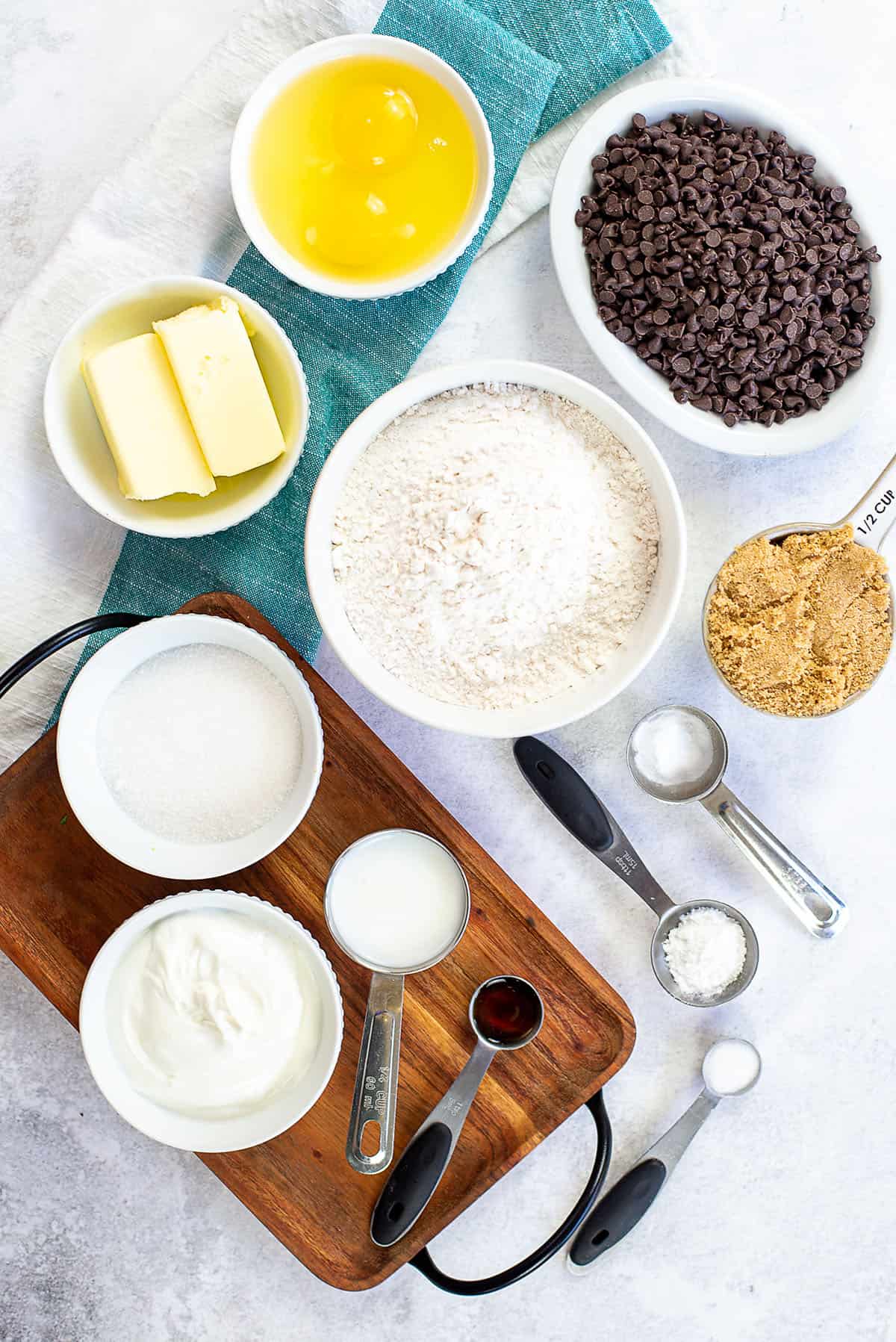 Muffin Mix – You'll be using some pretty standard ingredients to prepare these muffins. Flour, eggs, butter, white and brown sugar along with some baking soda and baking powder.
Buttermilk & Sour Cream – The buttermilk makes these muffins extra tender and the sour cream adds loads of moisture.
Mini Chocolate Chips – These are mini chocolate chip muffins so you'll be loading them up with mini chocolate chips!
Vanilla Extract – For flavor!
What We Love About This Recipe!
These simple mini chocolate chip muffins are a kid's dream come true! Package them up a few to a bag and kids can take them in their lunch or enjoy a pack for breakfast. This recipe makes 36 muffins, so we get 12 packs of 3 muffins to store in our freezer.
How to Make Chocolate Chip Mini Muffins:
Mix: To begin preparing the muffin batter you'll need to add the butter and sugars to a mixing bowl and beat together until they are light and fluffy before mixing in the eggs and beating again until well combined.
Moisture: The secret to a perfect muffin is the soft, moist texture! You don't want them dried out and crumbly. To keep that from happening you'll mix in the sour cream and buttermilk. Add in the vanilla extract too and mix until everything is combined.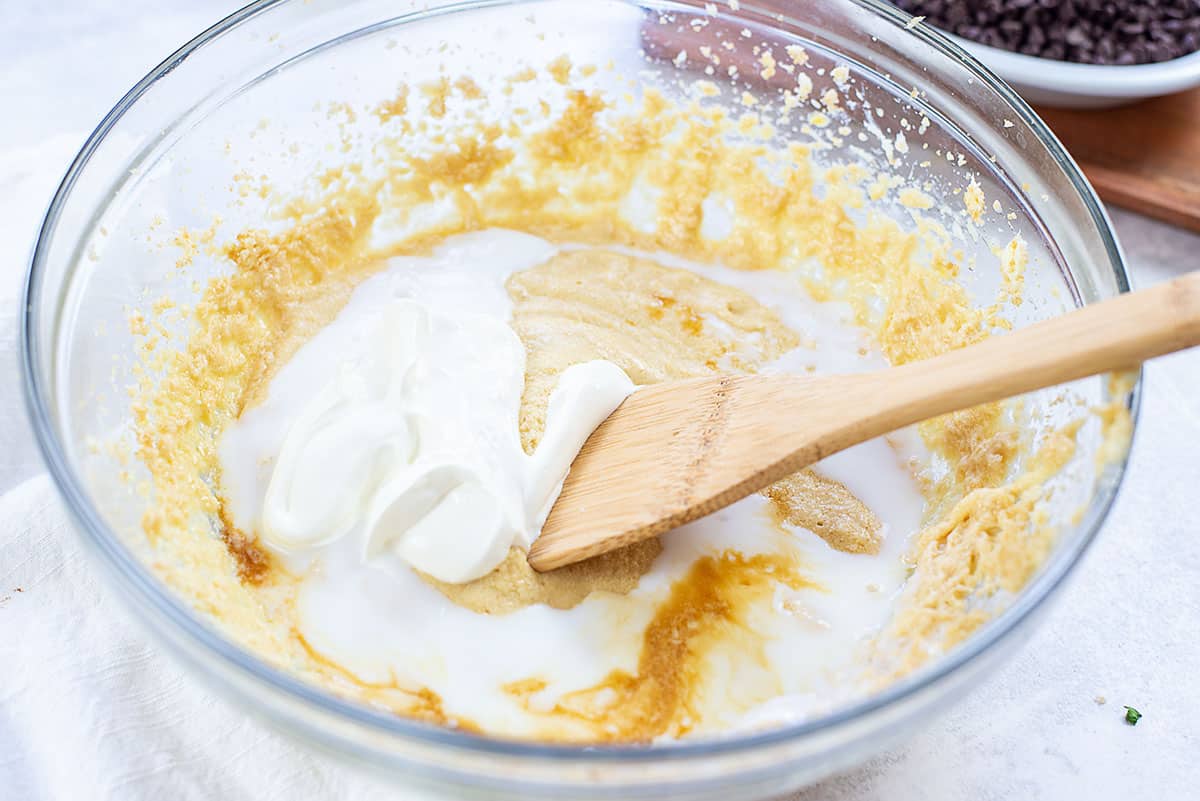 Dry Ingredients: Now you can go ahead and stir in the dry ingredients including the flour, baking soda, baking powder, and salt. Stir by hand until the flour has just disappeared. You do not want to overmix or the muffins won't be as tender.
Chocolate Chips: With the muffin batter complete you can now start turning these into mini chocolate chip muffins by gently folding the chocolate into the batter with a rubber spatula. There should be enough mini chocolate chips that each muffin will have some mixed in!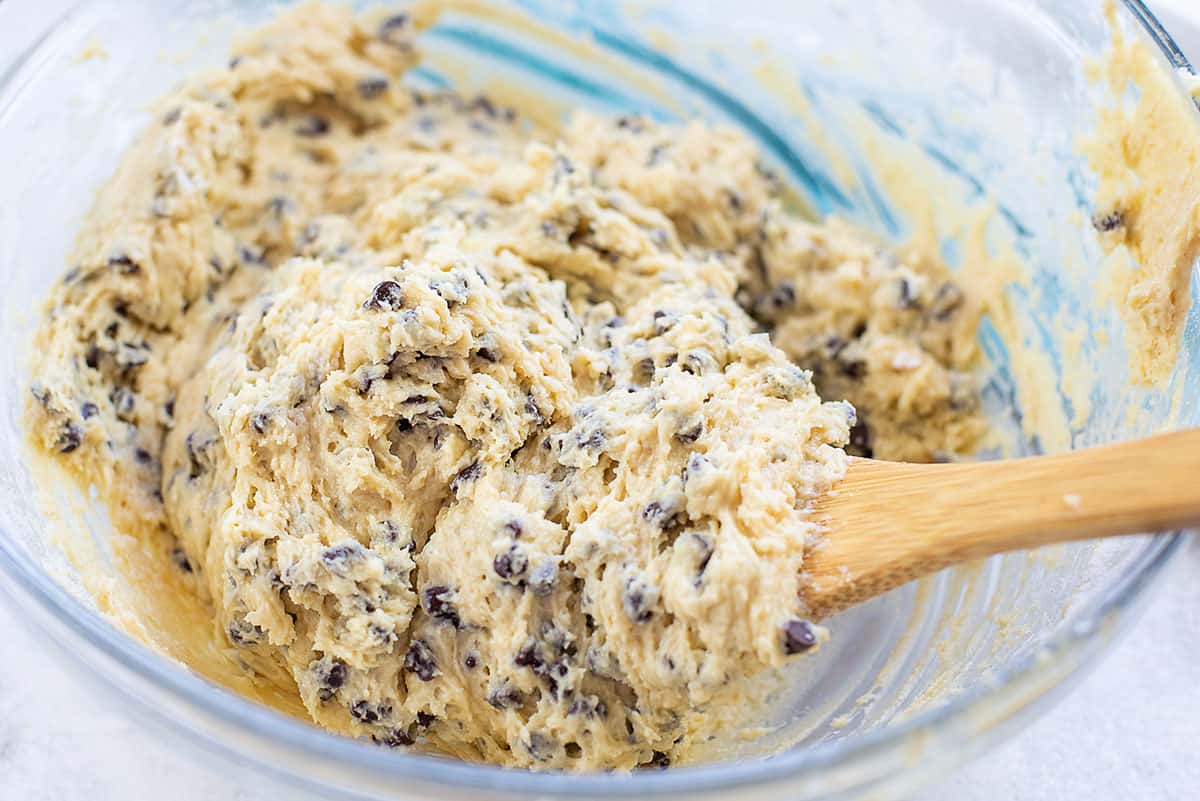 Fill: Line your muffin tin with paper liners or use some non-stick spray if you don't have any liners. You'll fill each muffin well up about 3/4 of the way full. The muffins will rise so you don't want to overfill the wells with batter.
A mini muffin tin is perfect for making mini muffins, cookie cups, mini quiche, and mini cheesecake bites! We use ours quite a bit!
Bake: The muffins won't take long to bake. It's about 12 to 14 minutes or until the tops spring back when gently pressed on with a finger. Let them cool in the muffin tin for 10 minutes before removing to cool completely, and then dig in.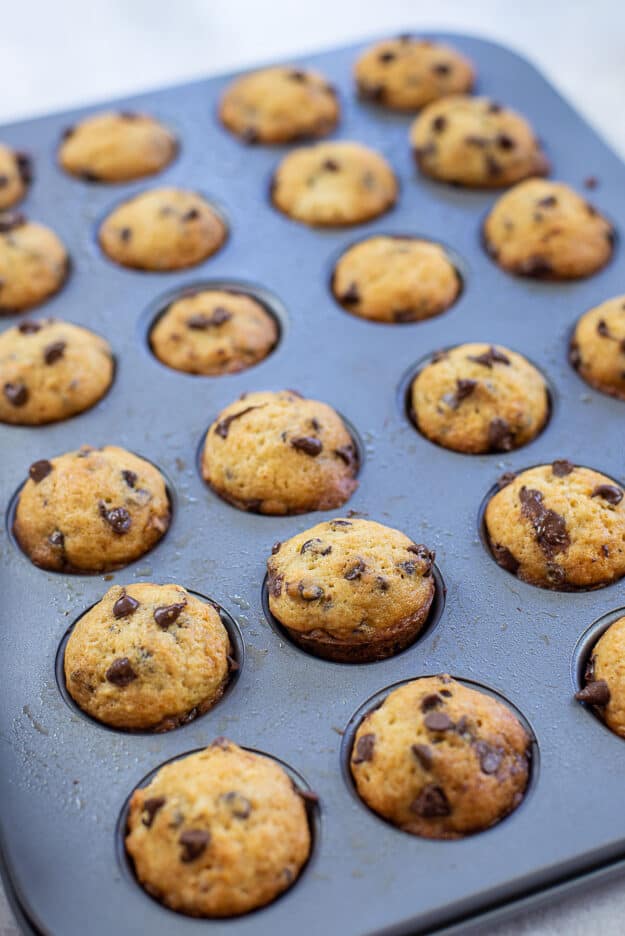 How to freeze:
Place your completely cooled muffins on a baking sheet with a bit of space between each muffin.
Freeze for one hour.
Remove from the freezer and place 3-4 muffins each in small zip top bags.
Place the bags of muffins into one or two large freezer bags and seal tightly.
Store in the freezer for up to 3 months.
To reheat your frozen muffins, remove a bag from the freezer the night before and thaw on the counter, or remove the frozen muffins from the bag and microwave in 15 second bursts until warmed. Alternately, place the bag of frozen muffins in your kiddo's lunch box and they'll be thawed by lunch time.
Buttermilk Substitute:
Buttermilk helps make these muffins super tender and adds moisture.
If you don't have any on hand, just measure out 1/4 cup of 2% or whole milk and add in one teaspoon of white distilled vinegar or lemon juice. Whisk and let sit for 5 minutes before stirring into your muffin batter.
FAQs:
Can I store these muffins on the counter?
Sure! Prevent your muffins from getting soggy by lining an airtight container with paper towels. Arrange the muffins in the container and top with another paper towel. Close and store on the counter for 4-5 days.
Why do you add sour cream to muffins?
Sour cream adds lots of moisture to baked goods. You won't taste the sour cream in the final product, but it will help your muffins to stay moist and tender.
Why do you add buttermilk to muffins?
Buttermilk adds acid to the muffins, which will help them rise nicely and keep them moist and tender.
Freeze For Later!
Muffins are perfect to store in the freezer and grab and go later! We like to place 3 muffins each inside a baggy, seal, and place inside a large freezer bag. Then the kids can grab a little pack of mini muffins and pop them in their lunch or warm them in the microwave for breakfast.
More Muffin Recipes!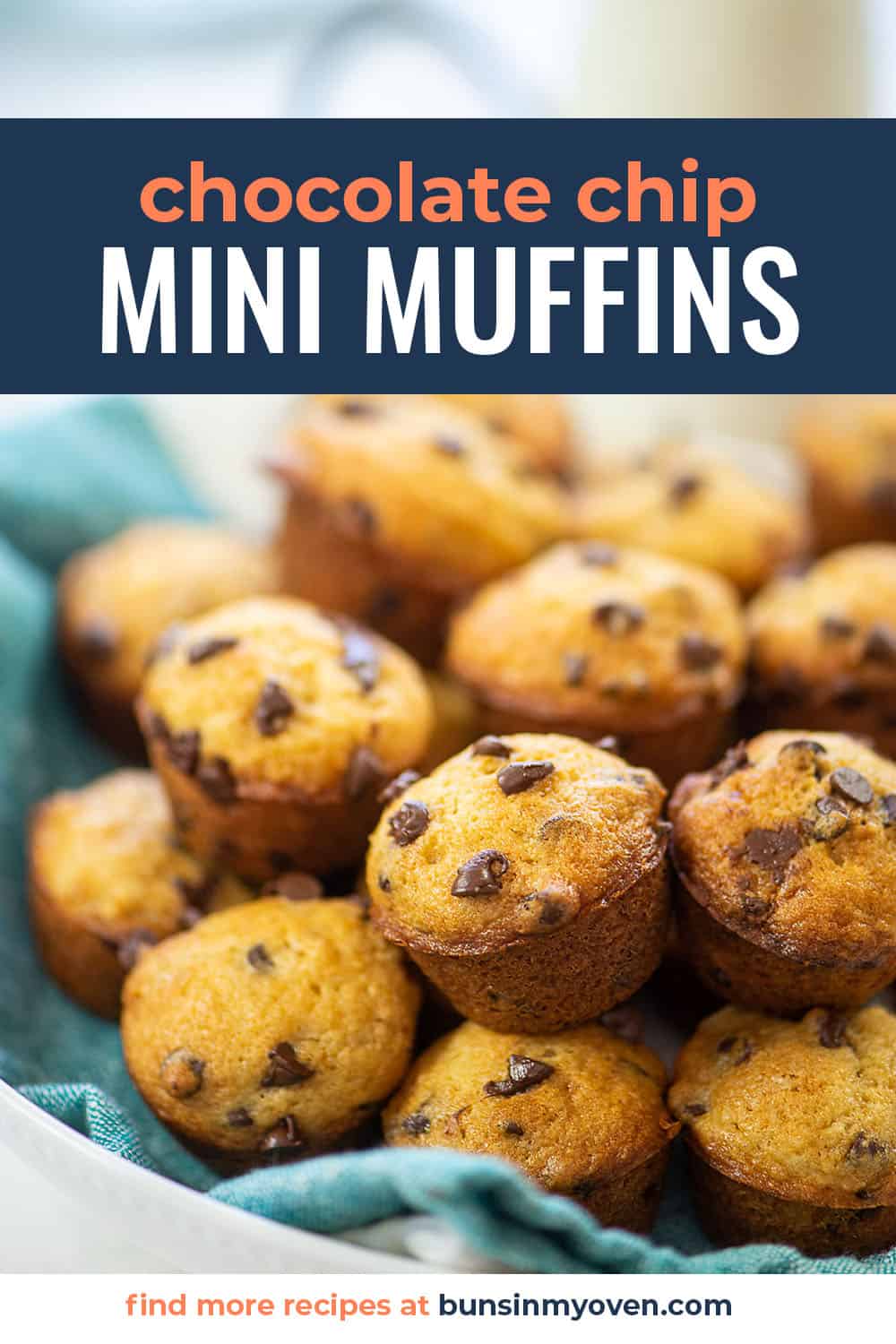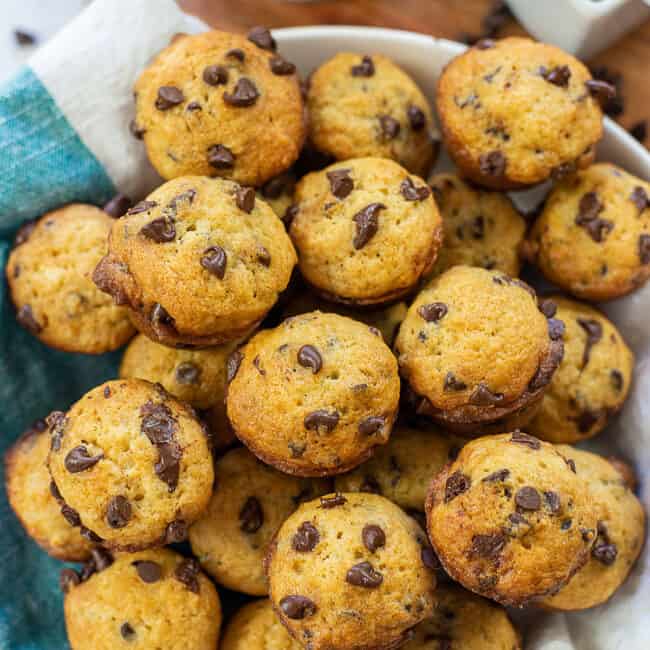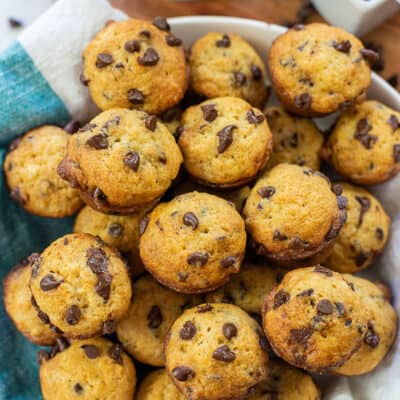 Mini Chocolate Chip Muffins
These mini muffins are my take on the packaged muffins that the kids seem to love. These are so much cheaper to make, taste a million times better, and are easy to freeze in little bags for lunches and snacks!
Prep10 minutes
Cook12 minutes
Total22 minutes
Ingredients
1/2 cup butter room temperature
1/2 cup brown sugar
1/4 cup sugar
2 large eggs
1/2 cup sour cream
1/4 cup buttermilk
1 teaspoon vanilla extract
1 3/4 cups flour
1 teaspoon baking soda
1 teaspoon baking powder
1/2 teaspoon salt
1 1/2 cups mini chocolate chips
Instructions
Preheat oven to 350 degrees. Line a muffin tin with paper liners or spray with non-stick spray.

Add the butter, brown sugar, and sugar to a mixing bowl and beat on medium speed until light and fluffy.

Beat in the eggs until well incorporated.

Stir in the sour cream, buttermilk, and vanilla until combined.

Add the flour, baking soda, baking powder, and salt to the bowl and stir by hand until the flour has just disappeared into the batter. Do not overmix or your muffins will be tough.

Gently fold the chocolate chips into the batter with a rubber spatula.

Fill the muffin tins 2/3 full.

Bake for 12-14 minutes or until the tops spring back when lightly pressed.

Cool for 10 minutes in the muffin tin before removing to the counter to cool completely.
Tips & Notes:
If you don't have buttermilk on hand, you can make your own by adding 1/4 cup of 2% or whole milk to a dish along with 1 teaspoon of vinegar or lemon juice. Whisk together and let sit for 5 minutes before adding to your muffin batter. Swap the chocolate chips for blueberries to make a blueberry version.
Nutrition Information:
Serving: 3muffins| Calories: 111kcal (6%)| Carbohydrates: 14g (5%)| Protein: 1g (2%)| Fat: 5g (8%)| Saturated Fat: 3g (19%)| Polyunsaturated Fat: 1g| Monounsaturated Fat: 1g| Trans Fat: 1g| Cholesterol: 20mg (7%)| Sodium: 100mg (4%)| Potassium: 33mg (1%)| Fiber: 1g (4%)| Sugar: 9g (10%)| Vitamin A: 133IU (3%)| Vitamin C: 1mg (1%)| Calcium: 25mg (3%)| Iron: 1mg (6%)