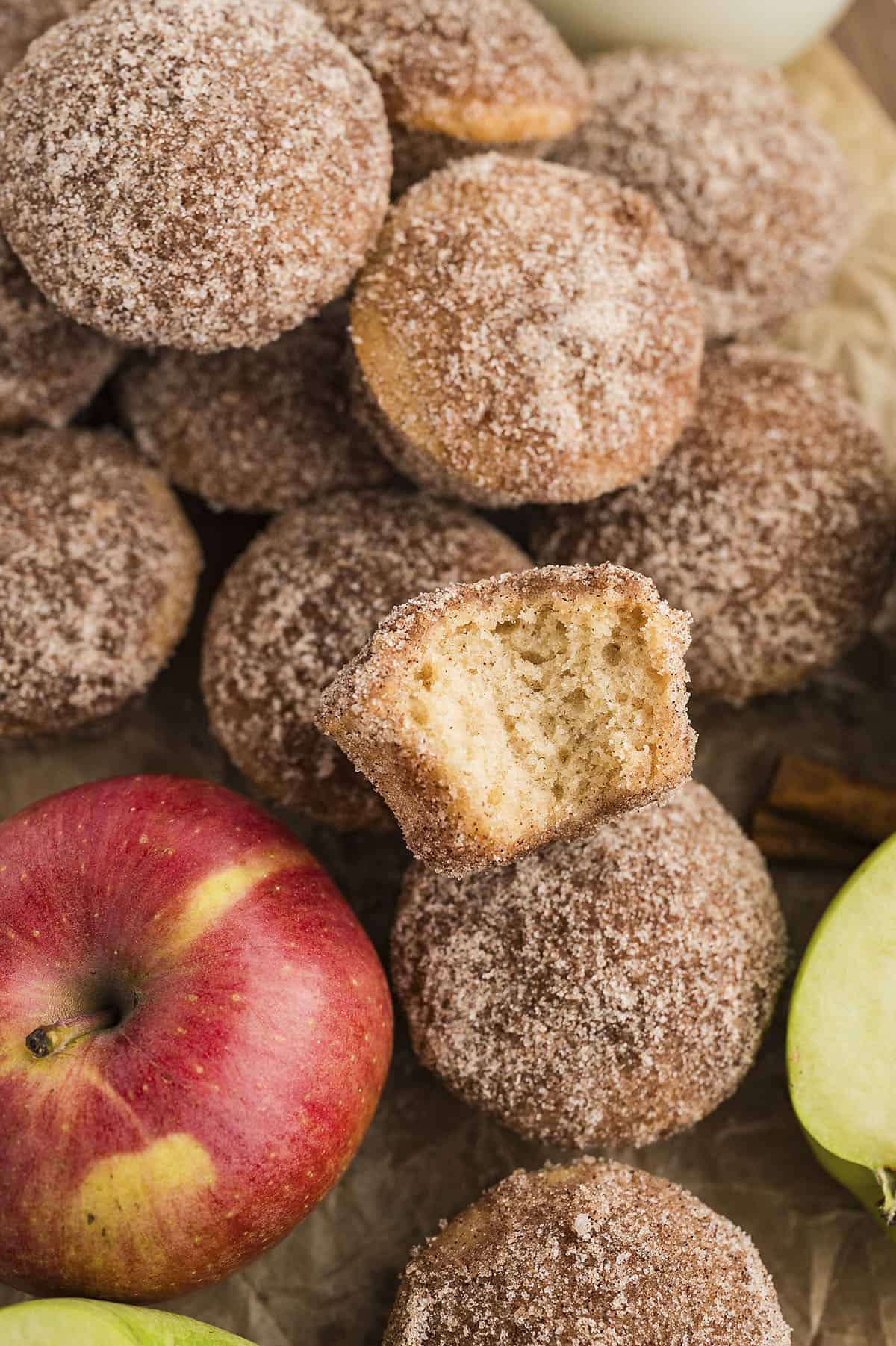 I think I owe you guys an apology.
I'm a jerk. A big, mean jerk.
I skipped right over the apples and went straight for the pumpkin recipes and now we're all tired of pumpkin and jonesing for some apples. Or is that just me? I don't think it's just me, according to the people on my Facebook page who whine when I share yet another pumpkin recipe.
So, this is me, begging for forgiveness with a cinnamon sugar coated apple recipe.

These little mini muffins bake up light and fluffy and then they're dipped in melted butter (oodles of it!!) and rolled through cinnamon and sugar to make that delectable crunchy exterior you find on all the best donuts. So, are these donuts or are they muffins? I think they're a delightful mix of both. (I feel like a thesaurus today…delectable, delightful, what in the world?)
Now, before we jump to the recipe, tell me the truth about something. These photos. What do you think??
Nikon recently reached out to me (me!!) and asked if I'd like to review the Nikon d3300 DSLR camera. <—- Is this real life?
Nikon. Contacted me. Me. Contacted by Nikon. Breathe, Karly. You can pull through this.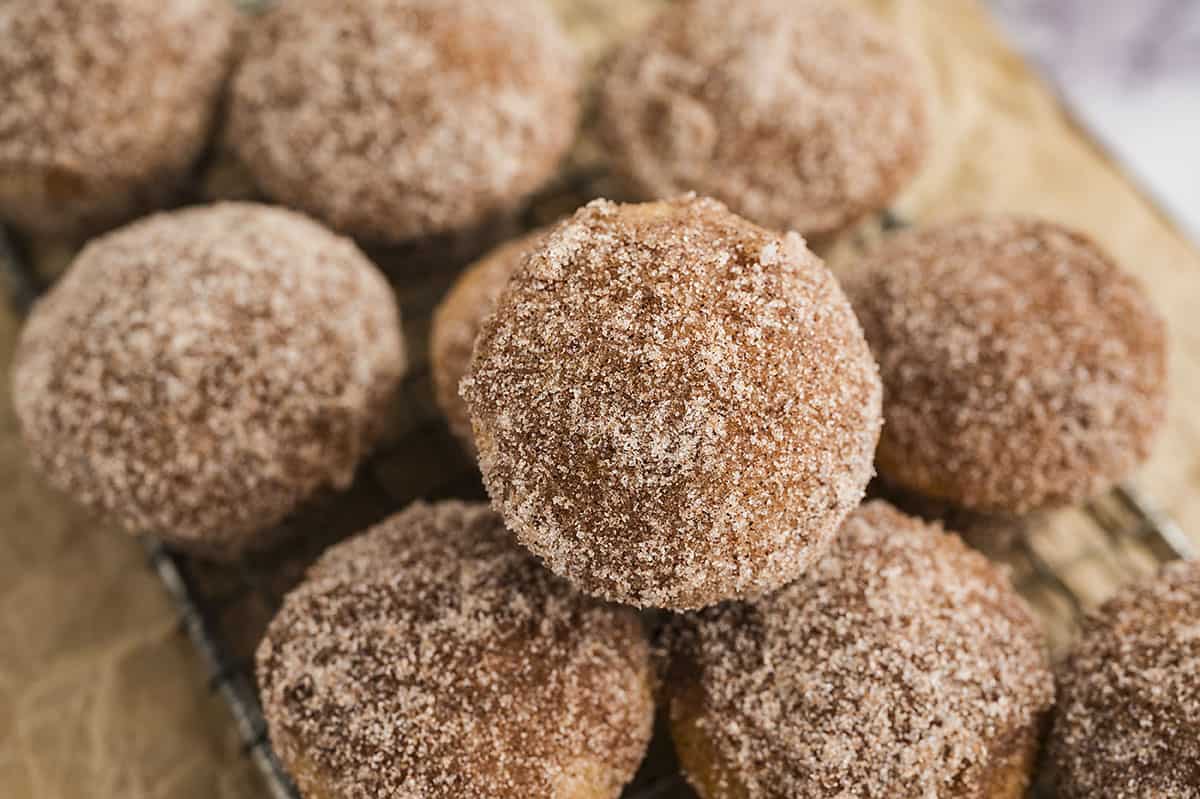 I've been a Nikon girl since the minute I got interested in photography. I went to a camera shop and tested all the DSLRs I could and Nikon and I just clicked (get it? Clicked?). It's been true love ever since.
So, in my best fan girl voice, I said holy heck, yes I will review your camera. I normally shoot with a Nikon d700 which is a full frame (read: awesome) professional level camera. Testing out and reviewing the Nikon d3300 was going to be tricky, I thought.
I needn't have worried. I'm super thrilled with this little camera. It is SO lightweight, although keep in mind my current set up weighs nearly 4 pounds. If you're coming from a point and shoot, it will probably feel heavy to you. I, however, am planning keeping this guy around for travel. I hate hate hate lugging heavy cameras around but I also hate compromising on quality. The d3300 is a great compromise for me!
It has all the important features you'd expect, with 24.2 megapixels (you could print a billboard if you wanted to), 5 frames per second (which means you can shoot five pictures in 1 second…you can totally catch the action shots with that feature!), 11 autofocus points so you can focus where you need to, and a guide mode to help you figure out just what the heck you're doing!
I love the way the info is displayed on the back of the camera. I'm a very visual person and this is an awesome, easy to read setup!
Did I mention the wi-fi capability? Add the optional WU-1a Wireless Adapter and you can set it up to have your images pop up on your compatible smartphones and tablets, making sharing a total breeze!
So, here is my unbiased opinion of this camera…it's a great camera for an amateur/hobbyist who wants to take quality photos without investing a boatload of time into it. Starting a blog? Interested in photography? Want to photograph your kids ballet recitals and football games? This is your camera. Buy it on Amazon and you can have it in just a couple days.
Applesauce Donut Muffins
The perfect way to hide donuts as an acceptable breakfast food.
Prep10 minutes
Cook25 minutes
Total35 minutes
Ingredients
1 cup softened butter divided
1 1/2 cups sugar divided
1 large egg
1 teaspoon vanilla
1 cup cinnamon applesauce
2 cups flour
1/2 teaspoon baking soda
1 1/2 teaspoons ground cinnamon divided
Instructions
Preheat oven to 350 degrees. Spray a mini muffin tin with non-stick cooking spray.

In the bowl of a stand mixer, beat together 1/2 cup of butter and 1 cup of sugar until light and fluffy. Beat in the egg, vanilla, and applesauce until well combined.

Gradually stir in the flour, baking soda, and 1/2 teaspoon of cinnamon.

Fill the muffin wells 2/3 full. Bake for 20 minutes or until a toothpick inserted in the center of a muffin comes out clean.

Let cool for 10 minutes before carefully removing the muffins from the tin.

Melt the remaining 1/2 cup of butter. Place in a small bowl.

Stir together the remaining 1/2 cup of sugar and teaspoon of cinnamon and place in a second small bowl.

Dunk each muffin in the butter and then roll in the cinnamon sugar mixture to coat.
Nutrition Information:
Calories: 162kcal (8%)| Carbohydrates: 21g (7%)| Protein: 1g (2%)| Fat: 7g (11%)| Saturated Fat: 4g (25%)| Cholesterol: 28mg (9%)| Sodium: 93mg (4%)| Potassium: 23mg (1%)| Sugar: 13g (14%)| Vitamin A: 250IU (5%)| Vitamin C: 0.1mg| Calcium: 6mg (1%)| Iron: 0.6mg (3%)
I received this camera, as well as a second lens, as compensation for my time in writing this review. As always, all opinions are my own. This post contains affiliate links.