These Banana Crumb Muffins are a great way to use up those browned bananas! The crumbly and coarse cinnamon sugar topping is pretty hard to resist and the muffins bake up so tall, soft, and buttery.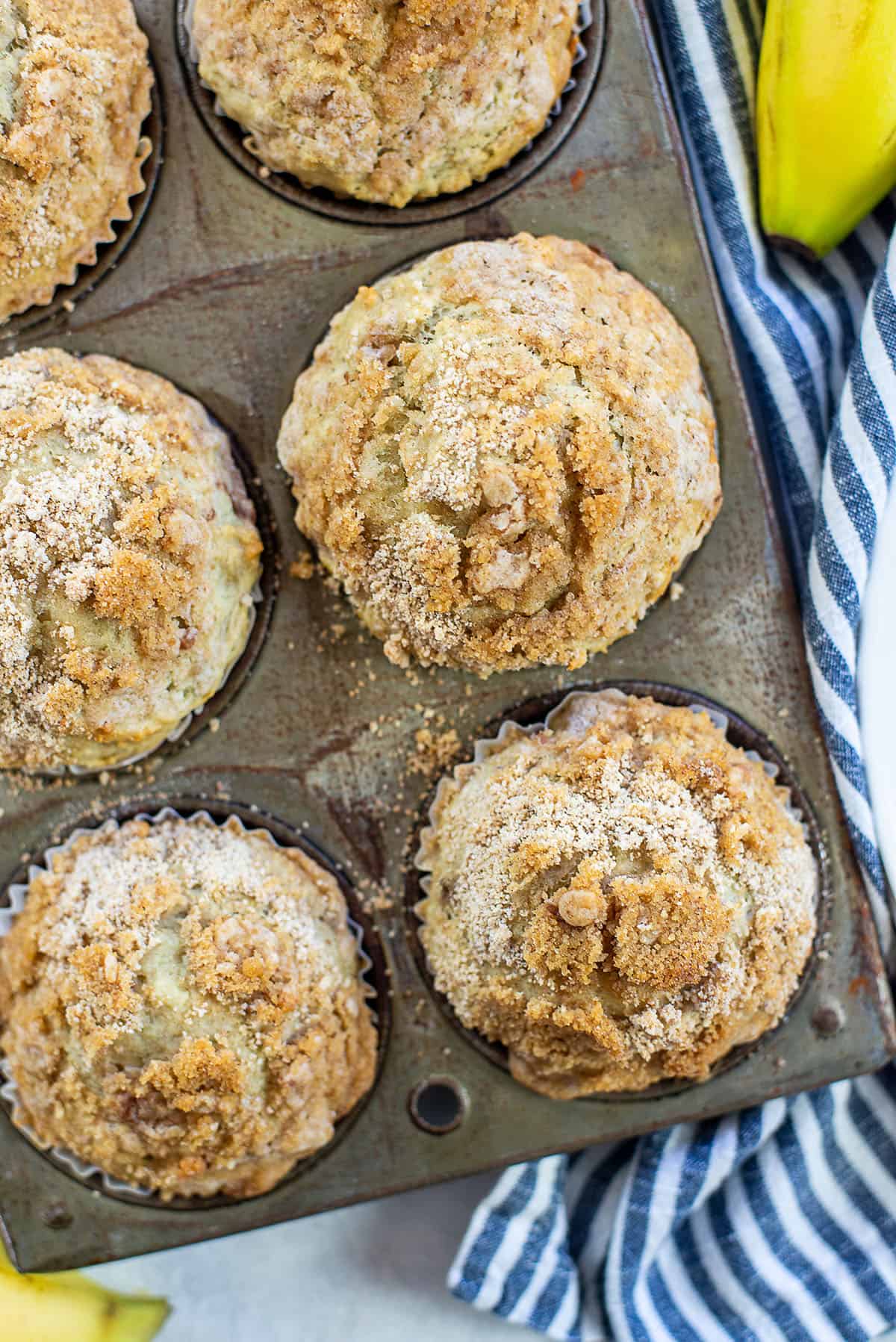 My husband stopped at the gas station the other day and walked out with a packaged banana muffin.
A muffin. Wrapped in plastic wrap. From the gas station.
I just…I don't even…what was he thinking?
Then he had the nerve to complain that it wasn't very good.
Ya think?
So I made muffins to teach him a lesson. I'm not sure what the lesson was. Maybe, if you buy gross packaged food I'll recreate it at home for you?
Or maybe his sham of a muffin just made me hungry for the real thing.
Either way, these banana crumb muffins are LEGIT, you guys. Soft, fluffy, buttery, and tall…no flat muffins here.
And that crumbly, buttery, sugary topping? Honestly, I'm not sure why we don't put that on every muffin to ever exist. 😉
It'd be pretty divine on our mini pumpkin muffins, too!
Ingredient Notes: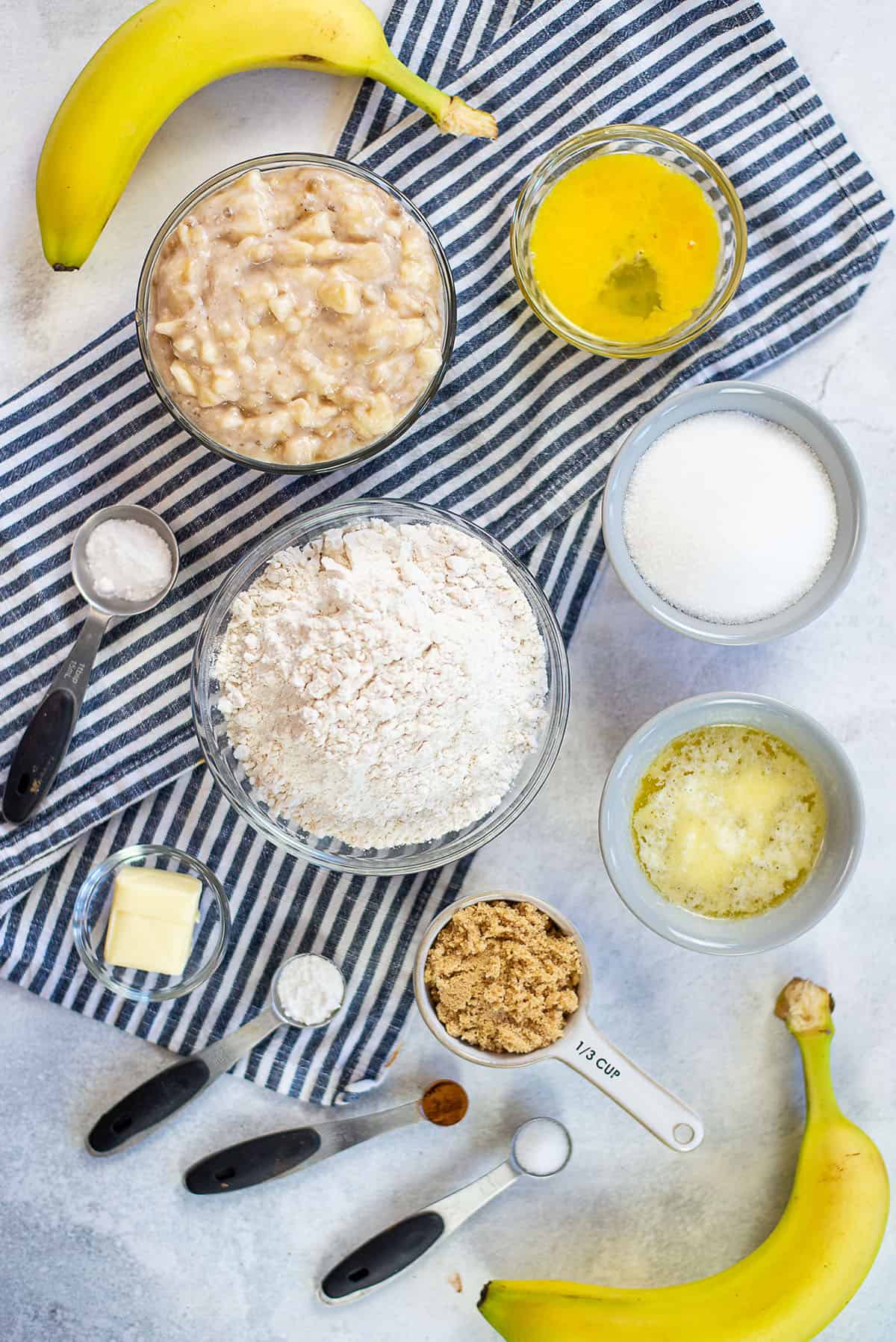 Bananas – You'll be mashing bananas up in this recipe so it is perfect for using up those brown bananas!
Muffin Mix – You'll need some standard ingredients to prepare this homemade muffin mix: flour, egg, butter, sugar, baking soda, baking powder, and salt.
Crumb Topping – This is just a simple mix of flour, cinnamon, cold butter, and brown sugar.
What Readers are Saying!
"I LOVE these muffins! There isn't a time that we have ripe bananas in the house and I don't make these!" – Mimi
How to Make Banana Crumb Muffins:
Muffin Mix: First up you'll prepare the banana muffin mix. Mash the bananas and set those aside. In a large bowl mix together the flour, salt, baking soda, and baking powder.
In a separate medium sized bowl add in the mashed bananas, sugar, egg, and butter and beat together until they are well combined.
Finally, combine the banana mixture with the dry ingredients in the large mixing bowl. Stir until it is just combined, it's okay if there are lumps!
Helpful Tip!
If you want to add a little more crunch and flavor to these muffins, you could easily mix in some chopped or pecans!
Crumb Topping: The topping for these banana crumb muffins is definitely my favorite part! It's just so crumbly and sweet and it blends so well with the banana flavors. Add all the topping ingredients to a mixing bowl and work together with a pastry cutter until it forms coarse crumbs.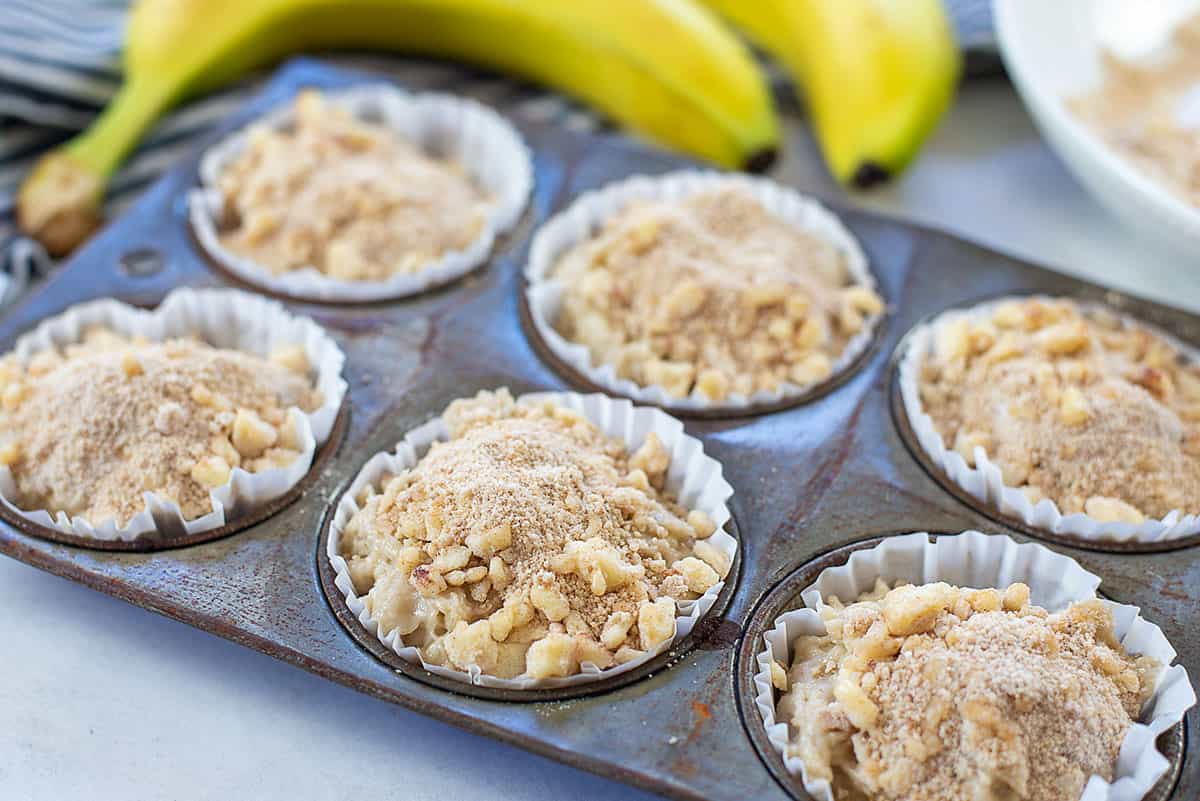 Bake: Once the muffin mix and crumb topping are prepared, place the paper muffin liners in the tin and start spooning the banana muffin mixture into each well. Finally, sprinkle the crumb topping evenly over the muffins!
These will bake in about 18 minutes. Use a toothpick to test for doneness, it should come out clean when inserted in the center.
FAQs:
Can I store banana muffins?
Absolutely! Line a container with paper towels and arrange the cooled muffins over the top. Store them in a single layer with a second paper towel over the top. This will keep your muffins moist without becoming soggy.
Can I freeze banana muffins?
Yes, these muffins will freeze well. Wrap each muffin in plastic wrap and then place them in a sealed freezer safe bag and they should last for up to 3 months. You can quickly warm them in the microwave.
MORE FAVORITE MUFFIN RECIPES!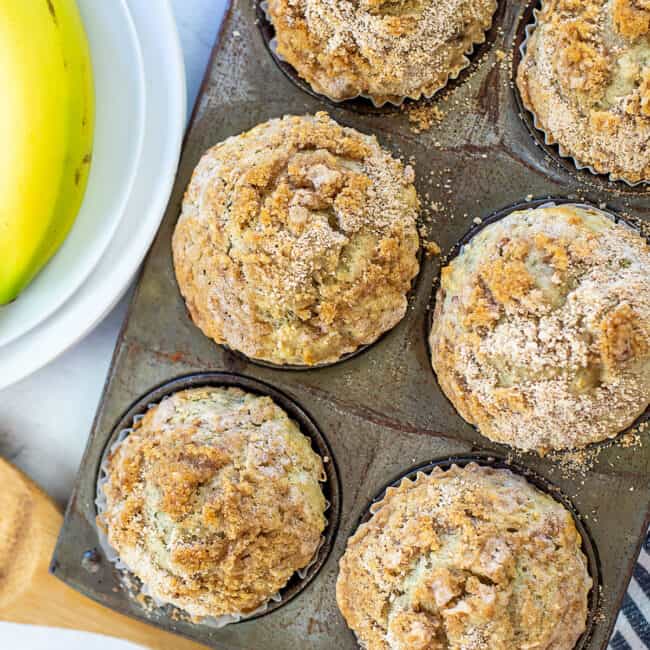 Banana Crumb Muffins
These muffins are so moist and the crumb topping really takes them over the top. Mix in some chopped walnuts or pecans for some extra flavor and crunch!
Prep10 minutes
Cook18 minutes
Total28 minutes
Ingredients
For the muffins:
1 1/2 cups all-purpose flour
1 teaspoon baking soda
1 teaspoon baking powder
1/2 teaspoon salt
3 ripe bananas mashed
3/4 cup sugar
1 large egg lightly beaten
1/3 cup butter melted
For the crumb topping:
1/3 cup packed brown sugar
2 tablespoons all-purpose flour
1/4 teaspoon ground cinnamon
1 tablespoon butter cold
Instructions
Preheat the oven to 375 degrees. Line a muffin tin with papers.

In a large bowl, mix together the dry ingredients.

In a medium bowl, beat together the bananas, sugar, egg, and butter until well combined.

Stir the banana mixture into the dry ingredients until just combined. Lumps are okay.

Spoon the mixture into the muffin tins.

To make the crumb topping, add all ingredients to a small bowl and work them together with a pastry cutter until you have coarse crumbs.

Sprinkle the crumb topping evenly over the muffins.

Bake for 18 minutes, or until toothpick inserted in the center comes out clean.
Nutrition Information:
Serving: 1muffin| Calories: 262kcal (13%)| Carbohydrates: 45g (15%)| Protein: 3g (6%)| Fat: 8g (12%)| Saturated Fat: 4g (25%)| Cholesterol: 35mg (12%)| Sodium: 299mg (13%)| Potassium: 203mg (6%)| Fiber: 1g (4%)| Sugar: 26g (29%)| Vitamin A: 270IU (5%)| Vitamin C: 3.1mg (4%)| Calcium: 32mg (3%)| Iron: 1.2mg (7%)