Chocolate raspberry muffins are the sweetest way to start your day! The tart berries pair so well with the sweet chocolate muffin.
I'm hitting the mom thing hard this summer, you guys.
Throughout the school year, we have a rule. Fruit with breakfast.
It's simple. You can have the cereal, because mama doesn't have time to be cooking you eggs and bacon and pancakes. Just, for the love of all that is holy, eat a freaking piece of fruit with your cereal so that I can feel okay about this choice.
Cereal is our favorite convenience food.
Then summer hits and our schedules loosen up a bit and I decide to be all Betty Crocker at 5am. Whipping up muffins and ish.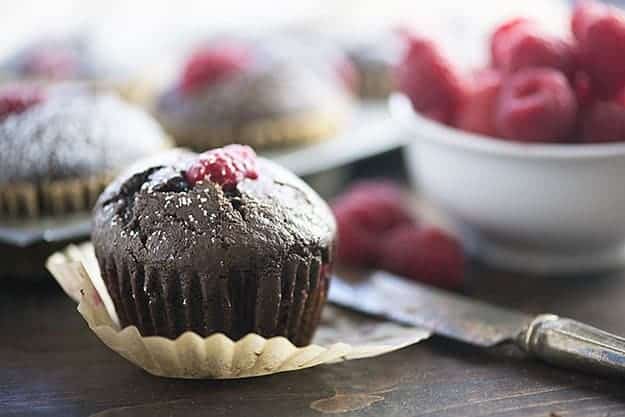 My latest batch of muffins include both chocolate and raspberries, because my kids will not eat your sprouted wheat agave sweetened kefir filled kombucha muffin. No. My kids are American and they want chocolate for breakfast.
So, I took my very favorite chocolate muffin base and I loaded it up with fresh raspberries to make…raspberry muffins!
It's a miracle the berries even made it into the batter, honestly. I'm well known for eating the berries straight from the container the minute they make it home from the store. I always have to buy double the amount I think we'll need, because once I start hoovering them in, there is no stopping me.
Some other raspberry favorites of mine – Mason Jar Chocolate Raspberry Tarts, Raspberry Crumb Bars, and Raspberry Sweet Rolls. Also, this one isn't raspberry, but my glazed chocolate donut is another breakfast favorite this time of year. It's baked instead of fried and ready in less than 30 minutes.
Now go forth and make your kid some muffins. They deserve 'em.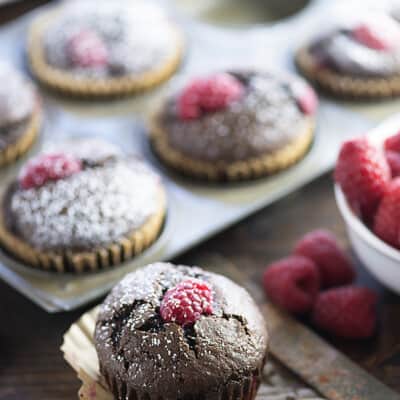 Chocolate Raspberry Muffins
Raspberry muffins are a sweet way to start the day!
Prep10 minutes
Cook15 minutes
Total25 minutes
Ingredients
2 cups flour
1 cup sugar
1/2 cup chocolate chunks or chips
1/2 cup cocoa powder
1 teaspoon baking soda
1 teaspoon espresso powder
1 cup sour cream
1/2 cup milk
1/2 cup vegetable oil
1 egg
2 teaspoons vanilla extract
6 ounces fresh raspberries
Instructions
Preheat oven to 400 degrees. Line muffin tin with papers.

Add flour, sugar, chocolate chunks, cocoa powder, baking soda, and espresso powder to a large bowl. Whisk to combine.

Add sour cream, milk, vegetable oil, egg, and vanilla to a medium bowl and whisk well to combine.

Pour wet ingredients into dry ingredients and stir until combined.

Gently stir in half of the raspberries.

Spoon muffin batter into muffin liners, 2/3 full. Press remaining berries into tops of muffins.

Bake for 15 minutes or until a tester comes out mostly clean, with just a few moist crumbs.

Cool completely. Dust with powdered sugar, if desired.
Nutrition Information:
Calories: 322kcal (16%)| Carbohydrates: 42g (14%)| Protein: 4g (8%)| Fat: 17g (26%)| Saturated Fat: 5g (31%)| Cholesterol: 24mg (8%)| Sodium: 126mg (5%)| Fiber: 3g (13%)| Sugar: 22g (24%)