These Raspberry Biscoff Crumb Bars are packed with an entire jar of cookie butter! You won't believe how easy and decadent these bars are!
You all know how we moved (again) at the beginning of May?
Yes. Well, we now live on a golf course. I did not think I would like it nearly as much as I do. I mean, I knew I loved the house and the view was pretty, but I thought it would be weird having a bunch of sweaty men hitting golf balls in what was basically my backyard.
It's the opposite of weird. I mean, sweaty men. In my backyard. All day long. It's not so bad.
I also promised my husband that since we now live on a golf course, I would go ahead and give golfing a chance. And then he convinced me to go with him one day and when we got to the clubhouse to pay the greens fees, I had a heart attack and died.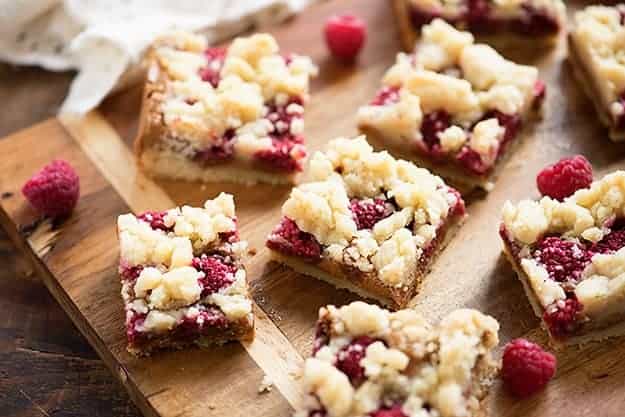 Thirty dollars for 9 holes of golf? Times two people. One of whom can probably not even actually make contact with the ball?
Noooooope. I drove the golf cart while he hit the balls. And, yeah, okay, I snuck in a few hits just to confirm that I am as bad at golf as I anticipated myself being.
Golf sounds so easy. You walk around in cute little golf clothes and wear Michael Jackson gloves and hit little balls with big sticks. Easy!'
Except not. Those little balls are so far away from you. And the holes are like miles away. It's really all kinds of ridiculous if you ask me.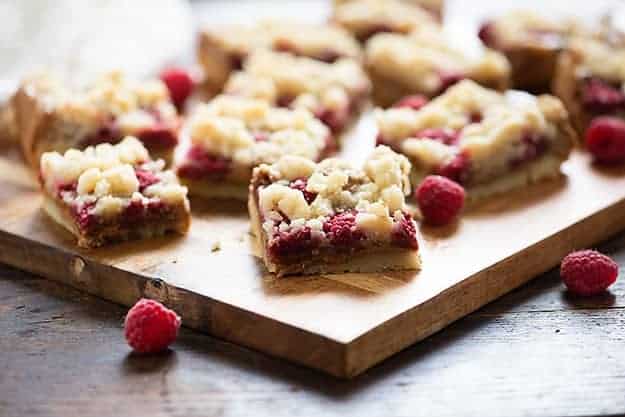 Golf cart driving is pretty legit though. Even if I did manage to get us stuck in the mud. It impressed my husband. I believe his exact words were "Well, that's the first time I've ever seen that happen on a golf course." Which, let's be real. If he hit the balls on the green instead of in the woods, I never would have gotten stuck. Mm hmm. I went there.
Anyway, I made you guys some raspberry Biscoff crumb bars. Because it's summer and raspberries are everywhere and they're basically begging you to pop them in your mouth like candy. Also, I love raspberries – see these browned butter raspberry pie blondies for proof!
Did I mention that I used an entire jar of Biscoff Spread in these bars? One. Full. Jar. Don't question me, just do it. But be sure to buy an extra jar of Biscoff at the store so you can make these Biscoff stuffed vanilla bean Snickerdoodles, too!
And the crust is super easy, too. You guys are going to love this recipe! I adapted this from my Caramel Nutella Crumb Bars that I shared way back when, and people just rave about those.
Raspberry Biscoff Crumb Bars Recipe originally appeared on Food Fanatic.