Our classic banana bread recipe will always make a great afternoon snack or quick breakfast. Slather it in a little salted butter for the perfect treat. With this recipe, you can count on it to be moist and delicious!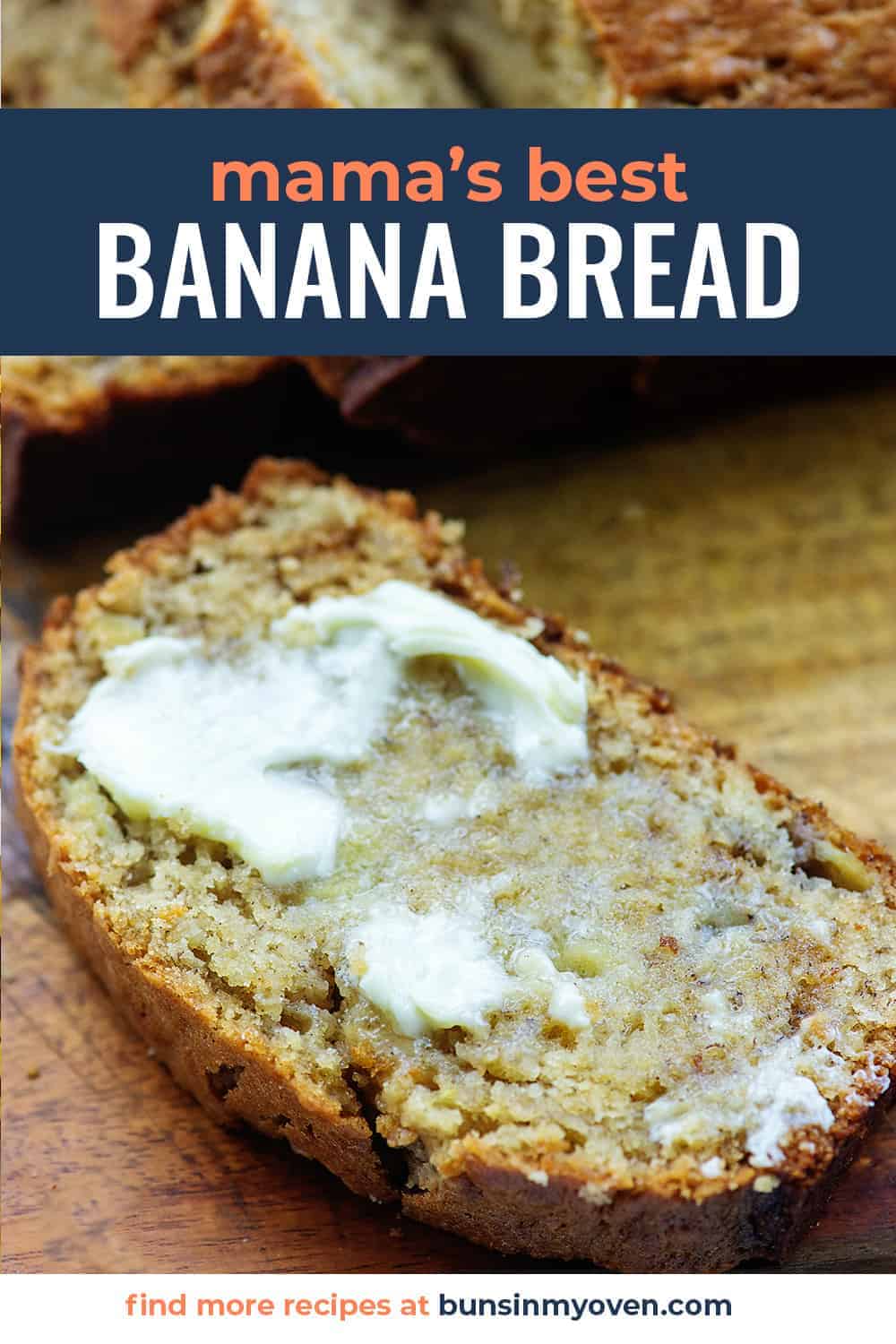 I have made many many things over the years with bananas. The one banana recipe that always has and always will stand the test of time is my classic banana bread.
Everyone loves banana bread!
I give it out as a gift to new neighbors and co-workers. I eat it for breakfast, for a snack, or one of those midnight escapes to the kitchen. <— This isn't just a thing they do in the movies right? We all actually wake up and sneak snacks in the dark?
Ingredient Notes: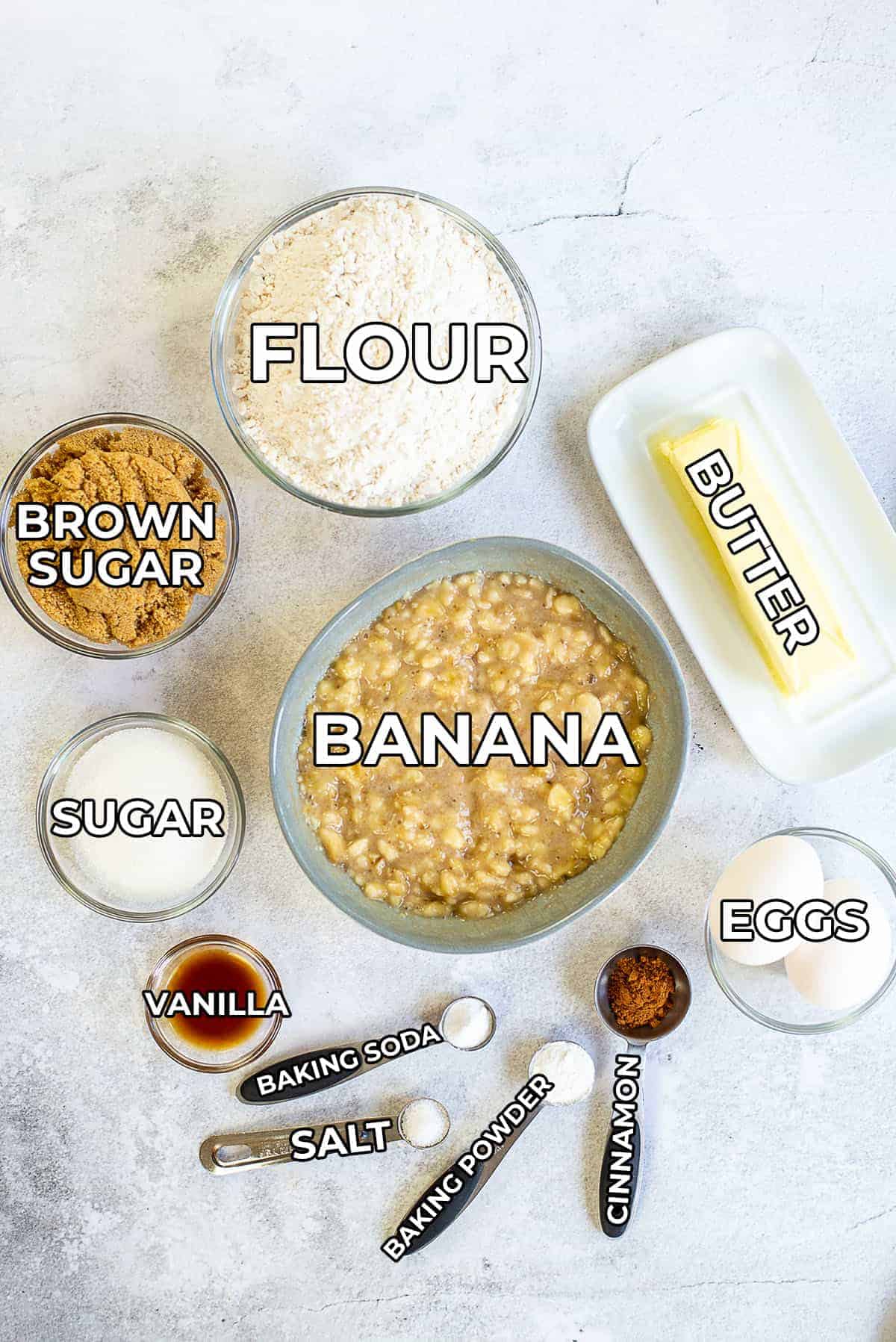 This post contains affiliate links. As an Amazon associate and member of other qualifying programs, I earn from qualifying purchases.
Bananas – You'll need 3 medium sized bananas and they should be over-ripe. Extra brown and soft are the way to go!
Sugar – Brown sugar and white sugar are needed for this recipe.
Flavoring – This recipe includes plenty of vanilla extract and also some cinnamon for that delicious classic taste!
What Readers are Saying!
"Delicious!!!! Followed recipe and added walnuts and chocolate chips. Thank you for sharing!!" – Sandra Dee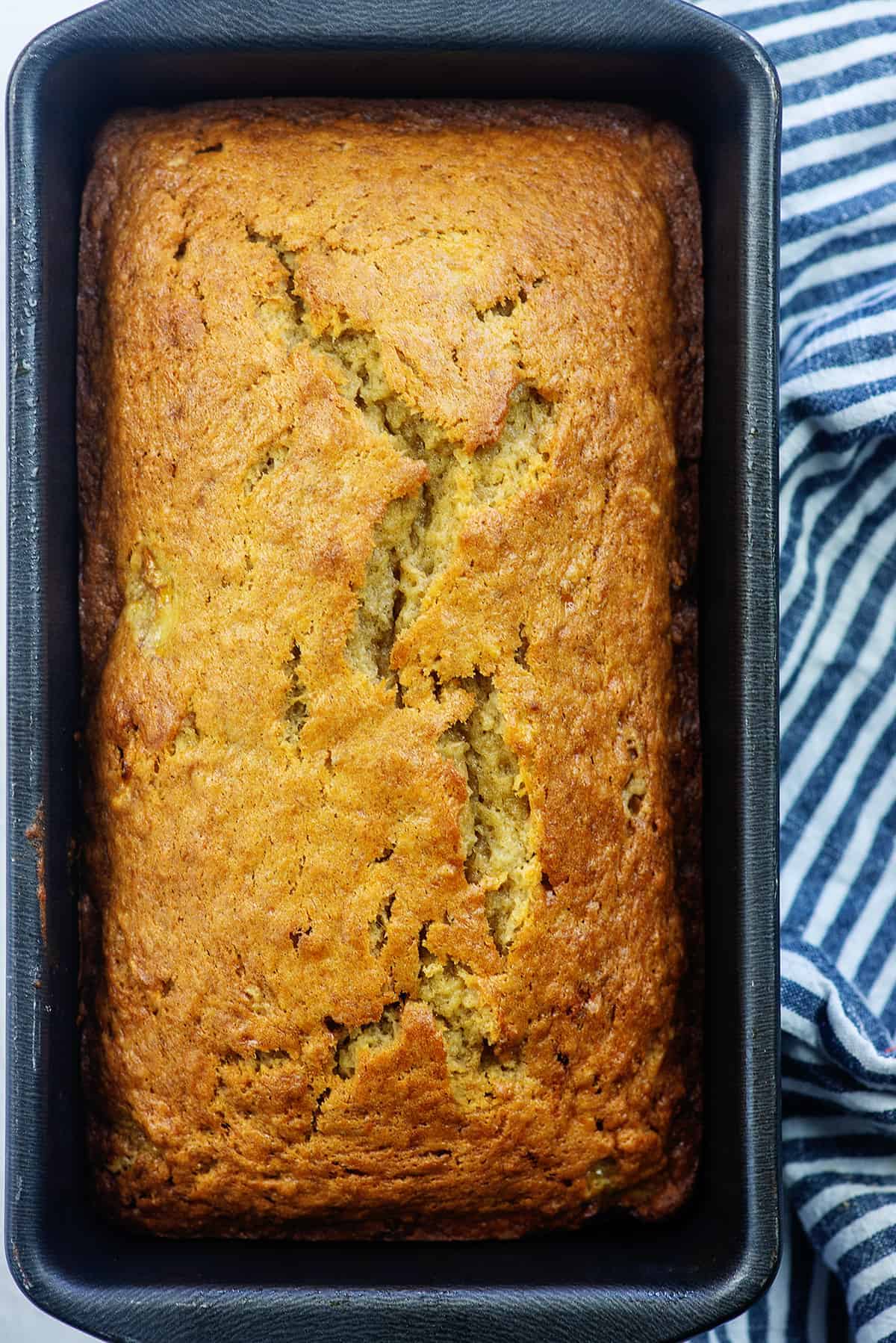 How to Make Banana Bread:
Mix: Combine the flour, baking soda, baking powder, salt, and cinnamon in a mixing bowl and set aside.
Cream together the butter, brown sugar, and sugar until smooth and creamy. beat in the eggs and vanilla, Stir in the mashed banana.
Beat the eggs in one at a time until fully combined. Then mix in the vanilla and mashed bananas. Remember, the best bananas for this recipe are over-ripe. This is the best way to use up those brown bananas!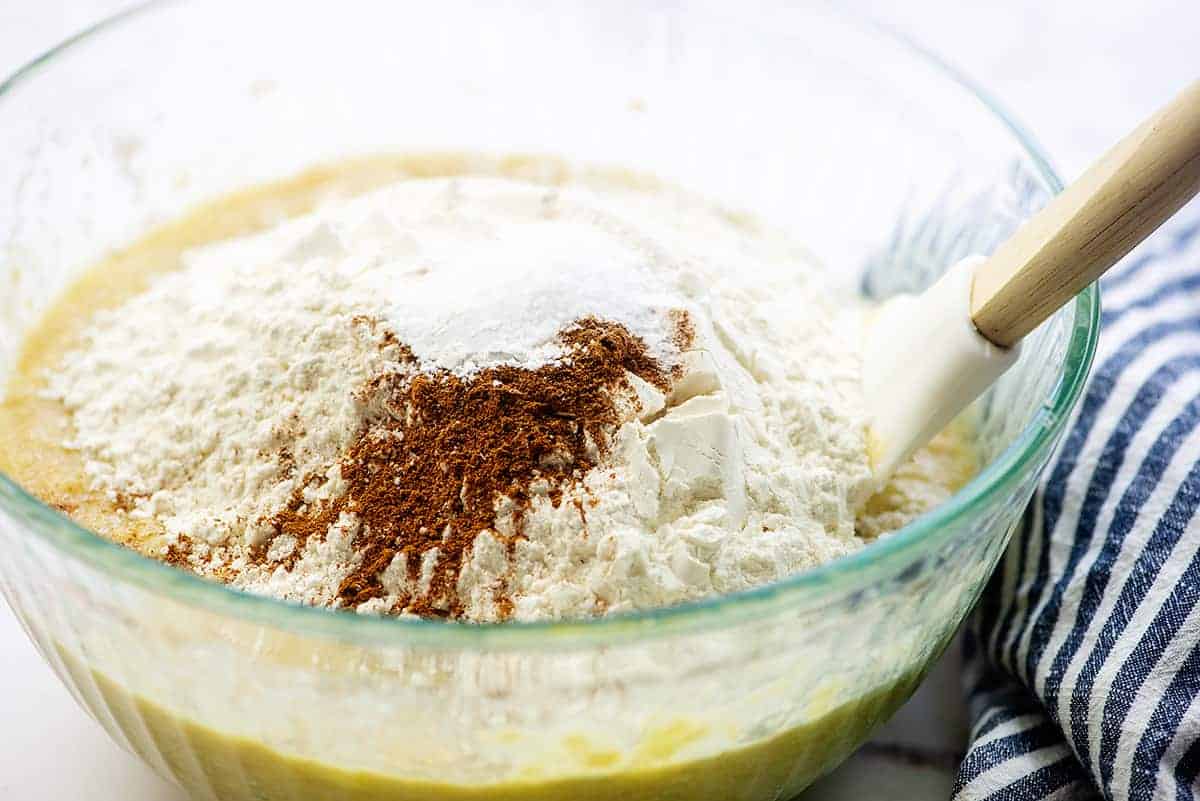 Combine: To finish making the banana bread batter you'll stir the dry ingredients into the wet mixture until just combined. If you overmix the batter it'll start to get tough and no one wants that!
Now would be a good time to add in any extra mix-in options you might like such as chopped walnuts. See below for some more suggestions!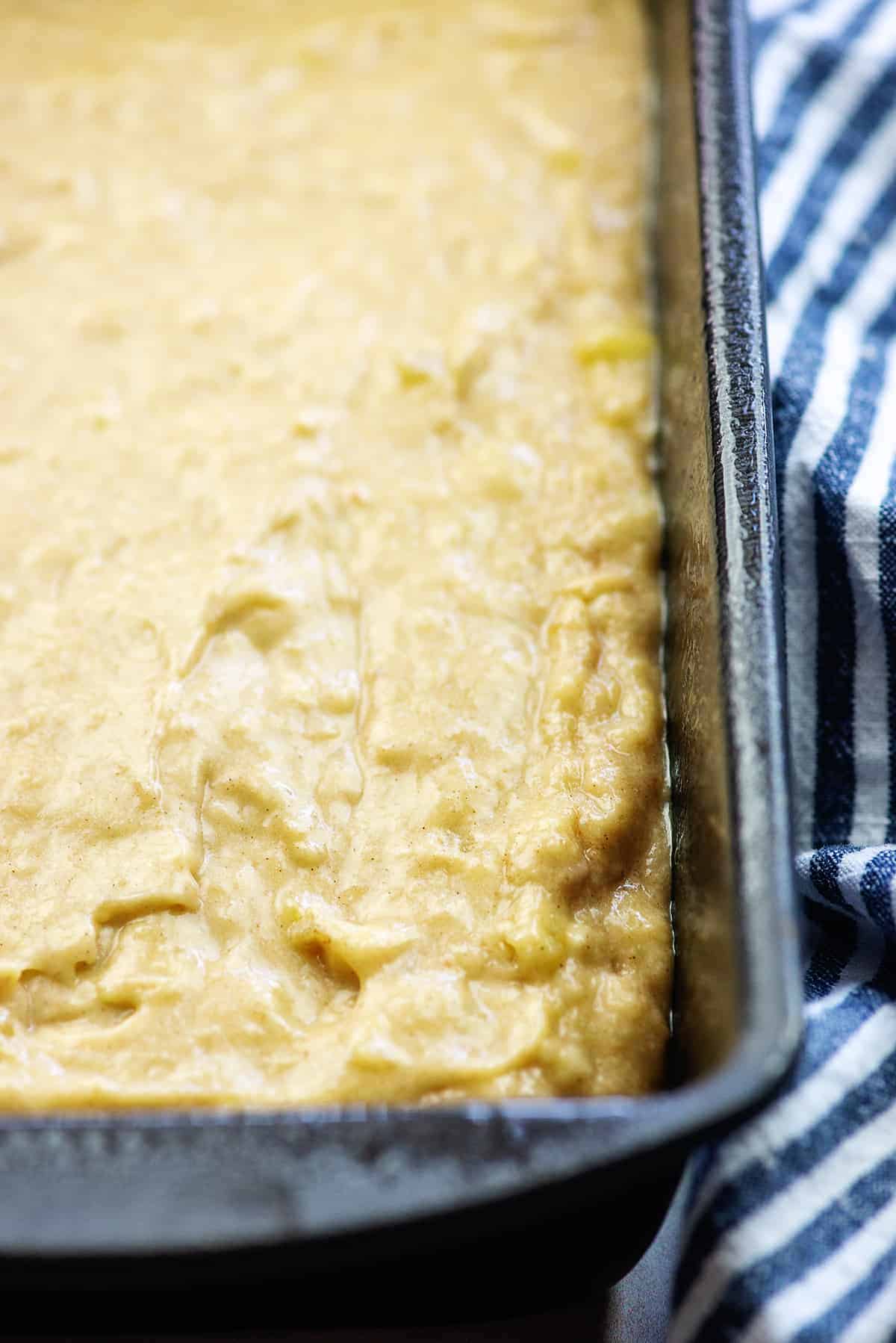 Bake: When the batter is ready go ahead and pour it into a prepared 9×5 loaf pan. It'll only take about an hour to finish baking, or until you can insert a toothpick and it comes out clean.
Let it cool before slicing and serving! I enjoy mine slathered with a bunch of salted butter. Even better if the bread is still a little warm!
BAKING Tip!
Banana bread will rise a little as it is baking. If it sinks after cooling, it's no big deal, but it means that your bread likely wasn't cooked all the way through OR you whipped in too much air when mixing. It'll still be tasty.
FAQs:
How do I store this banana bread recipe?
This recipe does not need to be refrigerated if it will be consumed in a couple days. You can freeze banana bread if you first wrap it in plastic wrap, then place it in a freezer bag. It can last 2-4 months this way!
How ripe should bananas be for banana bread?
A few brown spots are fine, but a fully brown banana is perfect for banana bread! The bananas get sweeter and softer the riper they are.
Mix-In Options:
When I feel like getting creative I toss in a handful of these extra goodies into the bread batter to change it up just a bit.
Blueberries
Dried Apricots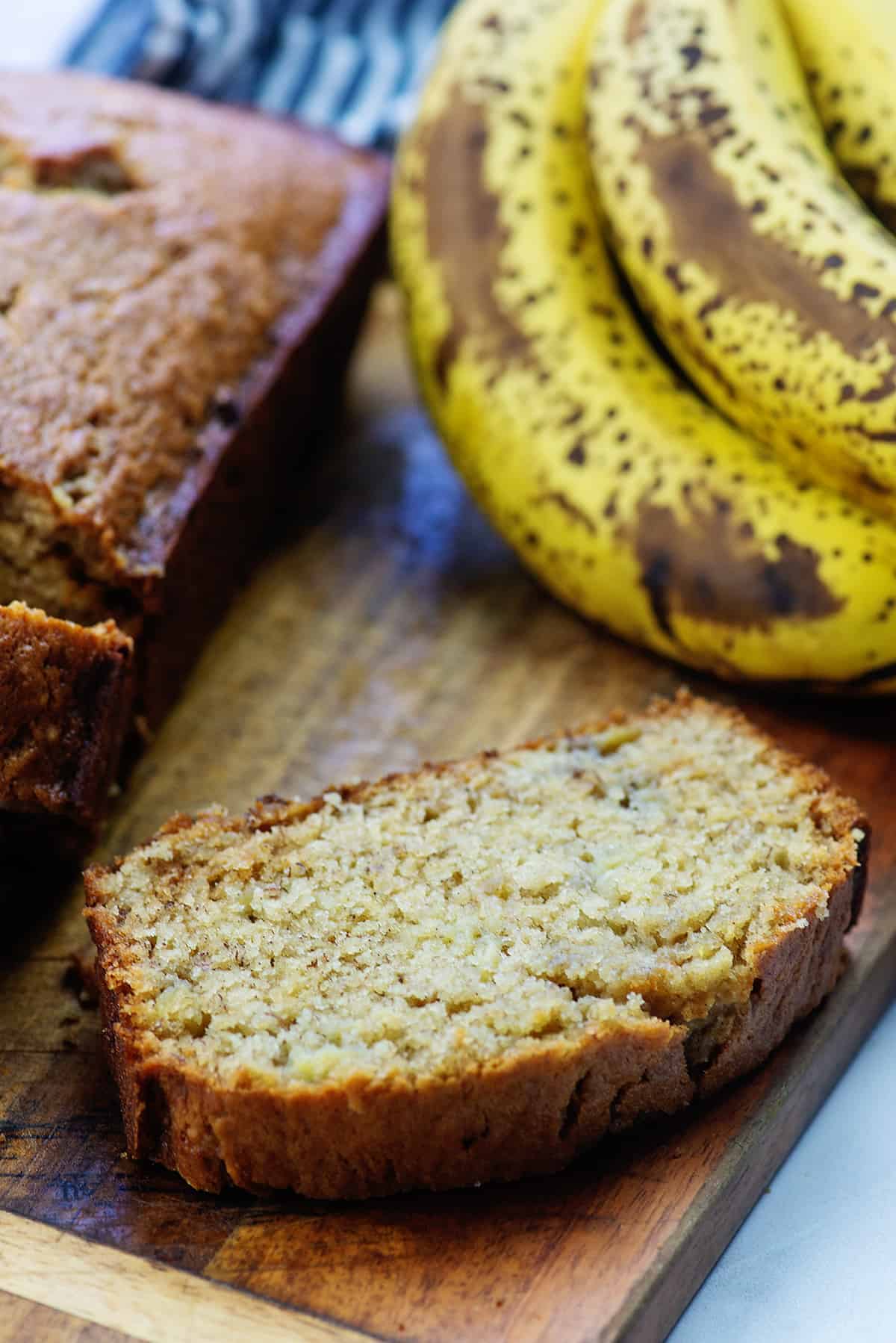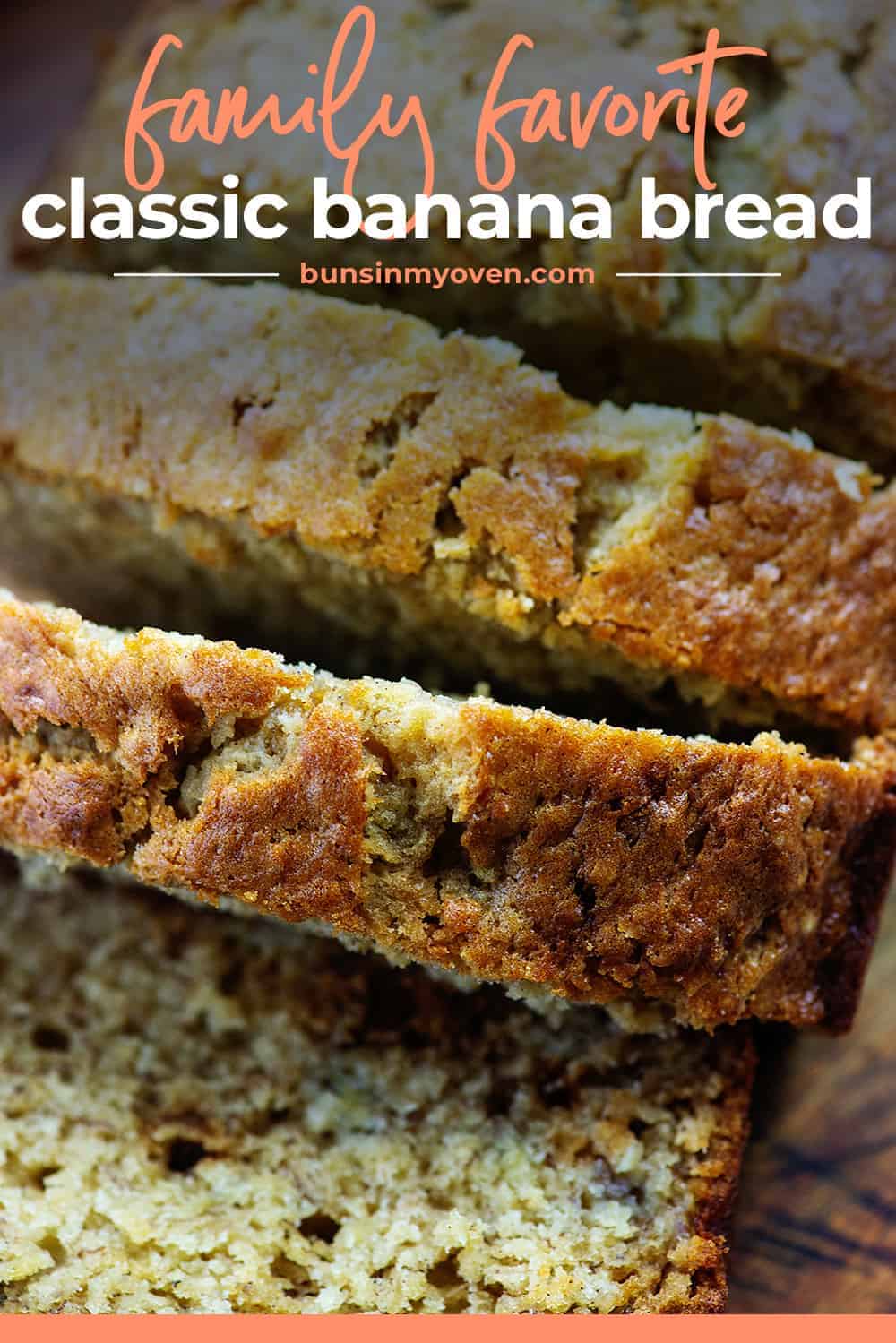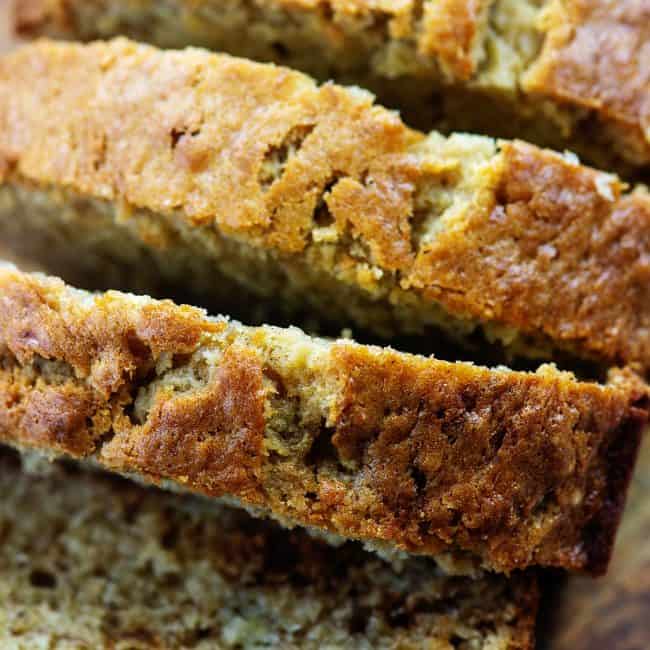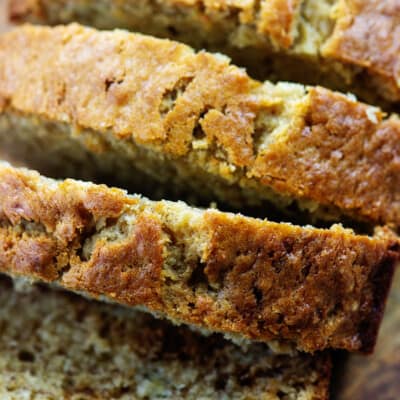 Classic Banana Bread
Simple, classic, and oh so perfect! We like to serve our banana bread in thick slices, slightly warm, with a pat of salted butter.
Prep10 minutes
Cook1 hour
Total1 hour 10 minutes
Ingredients
2 cups flour
1 teaspoon cinnamon
1 teaspoon baking powder
1/2 teaspoon baking soda
1/2 teaspoon salt
1/2 cup butter
3/4 cup brown sugar
1/4 cup white sugar
2 large eggs
2 teaspoon vanilla extract
3 medium over-ripe bananas mashed
Instructions
Preheat the oven to 350 degrees.

In a medium bowl, combine the flour, cinnamon, baking powder, baking soda, and salt. Set aside.

In a large bowl, cream together the butter and sugars with an electric mixer until light and fluffy. Beat in the eggs and vanilla until combined. Mix in the bananas.

Slowly add the dry ingredients to the wet and stir until just combined.

Bake for 1 hour or until a toothpick inserted in the center comes out clean.

Cool in the pan for 10 minutes and then move to a wire rack to finish cooling.
Tips & Notes:
Bananas should be very ripe for the best banana bread. You can mix in up to a cup of chopped walnuts or chocolate chips, if desired. Store banana bread, tightly covered, on the counter for 3-4 days.
Nutrition Information:
Serving: 1slice| Calories: 303kcal (15%)| Carbohydrates: 49g (16%)| Protein: 4g (8%)| Fat: 11g (17%)| Saturated Fat: 6g (38%)| Cholesterol: 62mg (21%)| Sodium: 272mg (12%)| Potassium: 230mg (7%)| Fiber: 2g (8%)| Sugar: 26g (29%)| Vitamin A: 360IU (7%)| Vitamin C: 3mg (4%)| Calcium: 47mg (5%)| Iron: 2mg (11%)
This post was originally published in July 2012. It was updated with new photos in May 2020.