August 17, 2018
Classic Banana Bread
I'm a rebel, you guys.
You tell me to do something and I will do the exact opposite. I hate being told what to do. Hate. It.
You can imagine how much fun my parents had with me when I was a teenager, right?
So, when I have a big cluster of bananas sitting on my counter turning blacker by the second, I get irritated.
You, banana, cannot tell me what to do. You are not my boss. I will not stop whatever I'm doing to mush you up and put you in banana bread.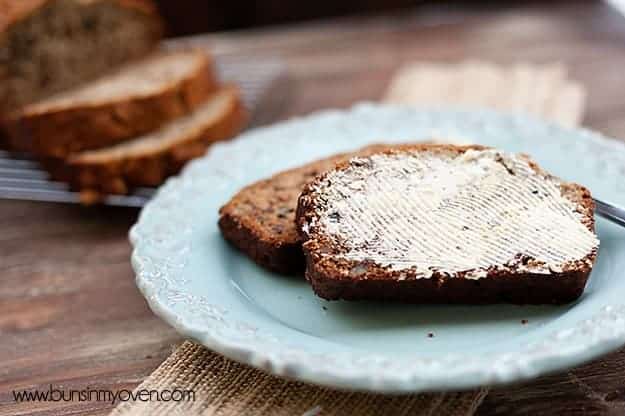 Usually what I do to shut the bossy bananas up is peel 'em, pop 'em in a freezer bag, and freeze 'em. Apparently, I also lose the ability to pronounce and/or spell the word "them."
Then, when I am good and ready for banana bread, but not one stinkin' second before and certainly not when I think the banana itself is ready for banana bread, then I make some delicious, fruity and nutty banana bread.
Of course, I don't always make banana bread with those frozen bananas. No, those bananas get put to good use in quite a variety of ways.
1. Banana Nutella Scones
2. Peanut Butter Banana Dog Treats
3. Hot Fudge Fluffernutter Banana Bread
4. Nutella Swirled Banana Bread
5. Peanut Butter Banana Cake with Chocolate Frosting
6. Peanut Butter and Banana Pound Cake with Nutella Glaze
7. Banana Bread Cookies
8. One Ingredient Banana Ice Cream
9. Triple Chocolate Banana Bread
This time around I just went for the classic. It's moist and delicious and I guarantee you'll love it. Or your money back! (Not.)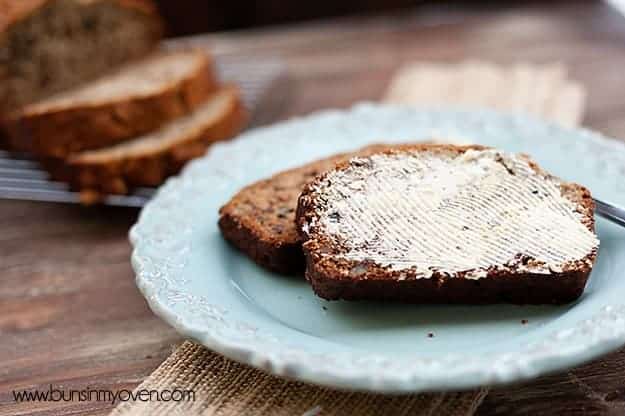 Classic Banana Bread
Servings: 12 servings
Course: Bread
Cuisine: American
Keyword: back to school, easy bread recipes, kid-friendly recipes
Calories: 234 kcal
This time around I just went for the classic. It's moist and delicious and I guarantee you'll love it. Or your money back! (Not.)

Ingredients
2 cups flour
1 teaspoon baking soda
1/4 teaspoon salt
1/4 teaspoon cinnamon
1/2 cup butter
3/4 cup brown sugar
2 large eggs
3 medium over-ripe bananas mashed
Instructions
Preheat the oven to 350 degrees.

In a medium bowl, combine the dry ingredients. Set aside.

In the bowl of a stand mixer, cream together the butter and sugar until light and fluffy. Beat in the eggs one at a time. Mix in the bananas.

Slowly add the dry ingredients to the wet and mix until just combined.

Bake for 1 hour or until a toothpick inserted in the center comes out clean.

Cool in the pan for 10 minutes and then move to a wire rack to finish cooling.
Nutrition Facts
Classic Banana Bread
Amount Per Serving
Calories 234 Calories from Fat 72
% Daily Value*
Fat 8g12%
Saturated Fat 5g31%
Cholesterol 51mg17%
Sodium 223mg10%
Potassium 157mg4%
Carbohydrates 36g12%
Fiber 1g4%
Sugar 17g19%
Protein 3g6%
Vitamin A 300IU6%
Vitamin C 2.6mg3%
Calcium 23mg2%
Iron 1.3mg7%
* Percent Daily Values are based on a 2000 calorie diet.
Nutrition Disclaimer: All information presented on this site is intended for informational purposes only. I am not a certified nutritionist and any nutritional information shared on bunsinmyoven.com should only be used as a general guideline.