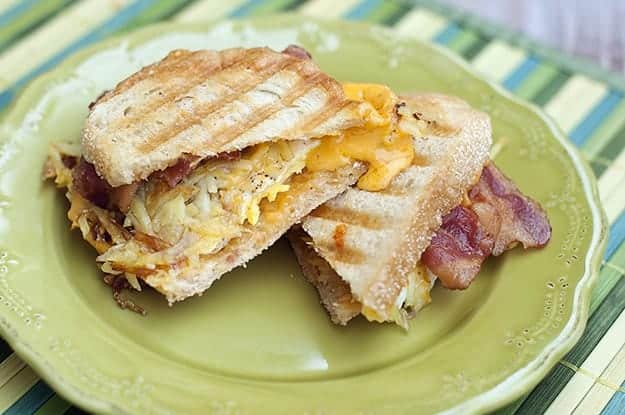 It turns out that my parents read my blog. Which is totally cool! It's not like I'm blogging about that one time I picked up a hitchiker or stole day of the week underwear from the store, but it does mean that they now have written proof that I borrowed their panini grill and plan to keep it forever. Darn it.
Before they demand it back I thought I would go ahead and whip up another panini. This was a totally last minute breakfast that was super simple to prepare and totally filling.
I scrambled my egg and fried a hard egg for my husband. I always bake a pound of bacon each week and then keep it in a baggie in the fridge for easy grabbing, so that really cut down on the time to make these! You could also use sausage patties or a slice of ham. I grated two yukon gold potatoes in my food processor and then fried those up into yummy hashbrowns. Pile all of that on some thinly sliced sourdough bread with a big helping of sharp cheddar cheese, pop it on the panini grill, and you've got breakfast.
This was so simple and so tasty!
Breakfast Paninis for Two
This takes breakfast sandwiches to the next level!
Prep10 minutes
Cook20 minutes
Total30 minutes
Ingredients
4 slices sourdough bread
2 tablespoons butter
2 large eggs scrambled or fried
4 slices cooked bacon
2 yukon gold potatoes shredded
2 tablespoons olive oil
1/2 cup grated sharp cheddar cheese
Instructions
Butter the bread and set aside.

Turn on the panini grill to preheat.

Place a large skillet over medium heat and drizzle the olive oil. Arrange hashbrowns in a single layer and cook for about 10 minutes or until browned on bottom. Flip the hashbrowns over and continue cooking until browned and cooked through.

Cook eggs according to your preference.

Layer the cheese, eggs, meat, and hashbrowns on one slice of bread. Sprinkle on a bit more cheese on top. Top with the remaining slice of bread.

Grill on panini grill until the cheese is melted and the bread is crispy and golden brown.
Nutrition Information:
Serving: 1sandwich| Calories: 755kcal (38%)| Carbohydrates: 46g (15%)| Protein: 27g (54%)| Fat: 51g (78%)| Saturated Fat: 18g (113%)| Cholesterol: 251mg (84%)| Sodium: 912mg (40%)| Potassium: 934mg (27%)| Fiber: 5g (21%)| Sugar: 2g (2%)| Vitamin A: 680IU (14%)| Vitamin C: 19.4mg (24%)| Calcium: 249mg (25%)| Iron: 8.2mg (46%)