August 8, 2018
Pesto Chicken Panini
This is like the perfect chicken panini sandwich for lunch!  Super easy!
You wanna hear a cute story?
My parents' have a panini grill (this one, if you're interested – not an affiliate link, fyi) and I don't. It's really not fair. They don't have a food blog, why should they get the fancy appliances?
Anyway, my mom told me that I could borrow the grill since they don't use it much in the summer.
I stopped over to grab it (along with their big mama juicer that they never use – I'm in the process of juicing every single food I come in contact with – carrot juice? Sure! Cheeseburger juice? Awesome! Butter juice? Wait…isn't that, like, heavy cream? I'll take it!) and my mom handed it over and said these words:
"You can keep it 'til it cools off outside. We might want to grill indoors this winter."
And, I said "Sure! I'll bring it right back! I just want to try it once!"
Here's the cute part: she believed me. Don't you just want to pat her on the head and squeeze her adorable, naive little cheeks?
This pesto chicken sandwich is perfect for a quick lunch.
The thing is, that panini grill is mine now. I put one of my address labels on it, so when she asks about it I'll be all, what? This grill? You mean the one that has my name and address on it? I think you must be mistaken.
Works every time.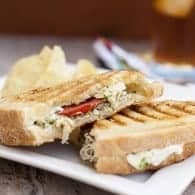 Pesto Chicken Panini
Servings: 1 sandwich
Calories: 672 kcal
This chicken panini is flavored with pesto for a quick and easy lunch.
Ingredients
2 slices sourdough bread
1 tablespoons butter
1/4 cup cooked, shredded chicken
2 slices fresh mozzarella
2 slices tomato
1/4 teaspoon salt to taste
1 tablespoon mayonnaise
2 tablespoons pesto
Instructions
Heat the panini grill to low.

Spread both slices of bread with the butter. Spread the mayo and pesto on the opposite side of the butter. Top with chicken, mozzarella, and tomato. Sprinkle with salt. Top the sandwich with the other piece of buttered bread.

Place on the panini grill and close the top. Grill until the cheese begins to get melty. Turn the grill up to medium to get a nice crunch on the outside of the bread.

Remove from the grill, slice in half, and serve hot.

Nutrition Facts
Pesto Chicken Panini
Amount Per Serving (1 sandwich)
Calories 672 Calories from Fat 441
% Daily Value*
Fat 49g75%
Saturated Fat 19g119%
Cholesterol 110mg37%
Sodium 1767mg77%
Potassium 310mg9%
Carbohydrates 29g10%
Fiber 2g8%
Sugar 5g6%
Protein 26g52%
Vitamin A 1790IU36%
Vitamin C 7.4mg9%
Calcium 387mg39%
Iron 1.7mg9%
* Percent Daily Values are based on a 2000 calorie diet.
Nutrition Disclaimer: All information presented on this site is intended for informational purposes only. I am not a certified nutritionist and any nutritional information shared on bunsinmyoven.com should only be used as a general guideline.