November 19, 2018
Cinnamon Roll French Toast Casserole

Cinnamon Roll French Toast Casserole – this is the perfect overnight French toast casserole for any special morning! Serve mine up with extra maple syrup, please!
I've never been much of a cinnamon roll ran.
I mean, sure. As a kid, I would happily eat those cans of cinnamon rolls for breakfast but it was mostly all about the little tub of frosting, if we're being honest.
Nowadays, I really don't make cinnamon rolls too often – unless we're having chili for dinner.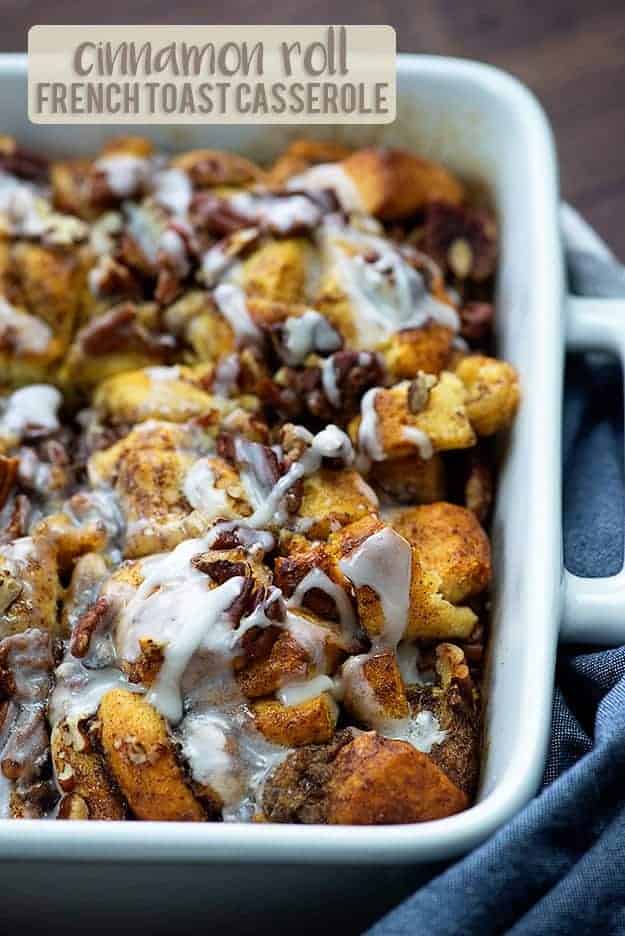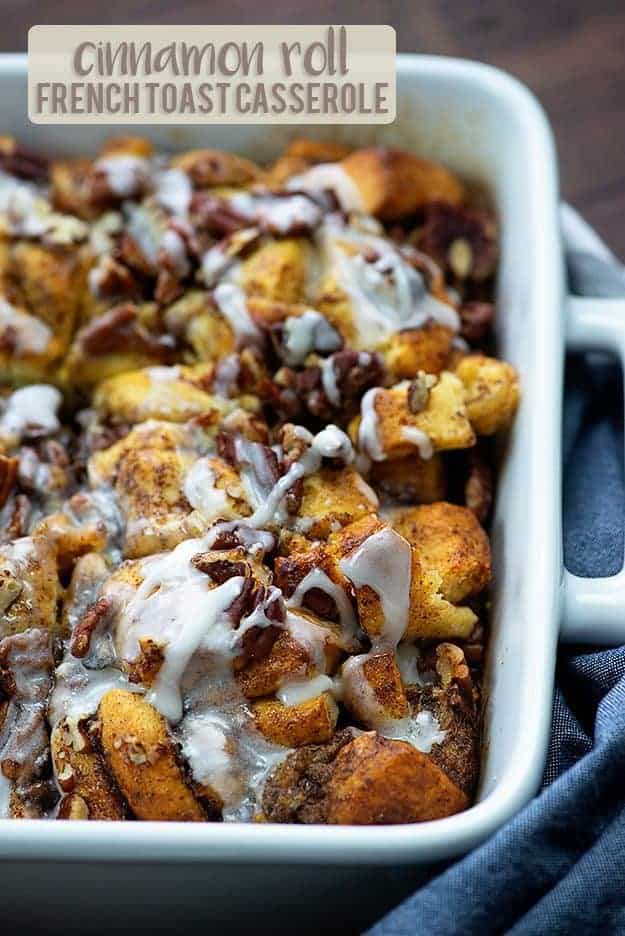 Sounds weird, but when we lived in Nebraska for a year awhile back that was a whole big thing. Cinnamon rolls and chili. I still don't get it, but everyone there insisted we try it and now my kids will literally not eat chili if there isn't a cinnamon roll sitting next to the bowl.
Kids, man.
Anyway, I thought I'd be a nice mama and make my kids this cinnamon roll French toast bake for breakfast last weekend.
You'd have thought they won the lottery. This was a total hit for them and I loved how easy it was to make.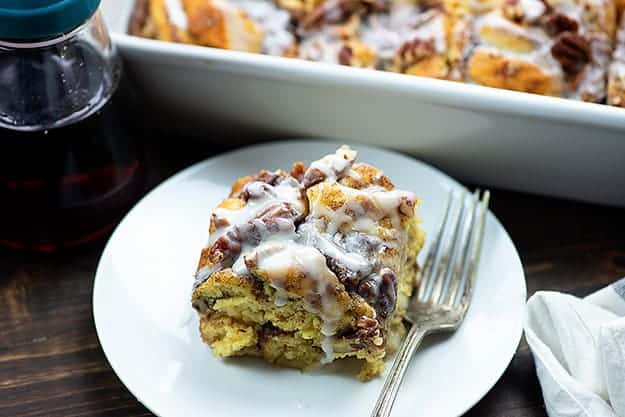 How to make French Toast Casserole:
You're going to start with a couple of tubes of cinnamon rolls. Easy, right?
You'll also need the usual ingredients for French toast – eggs, milk, a little cinnamon, some nutmeg, butter, and maple syrup. I'm throwing pecans into this casserole as well, because YUM.
First, you'll whisk together your eggs, milk, cinnamon, and nutmeg.
Next, you'll chop up your cinnamon rolls and toss them in melted butter. You can't have a cinnamon roll casserole without cinnamon rolls and butter. 😉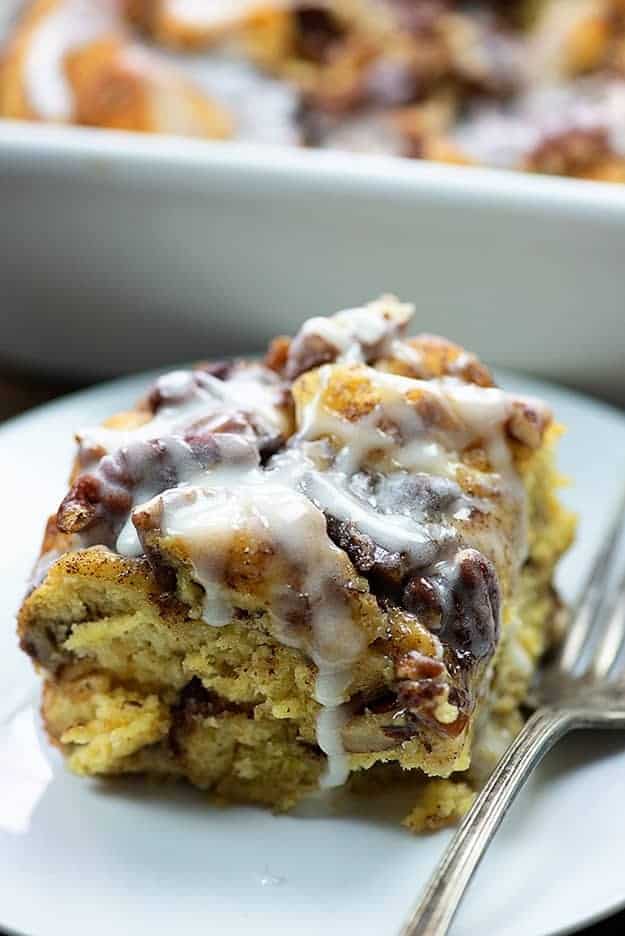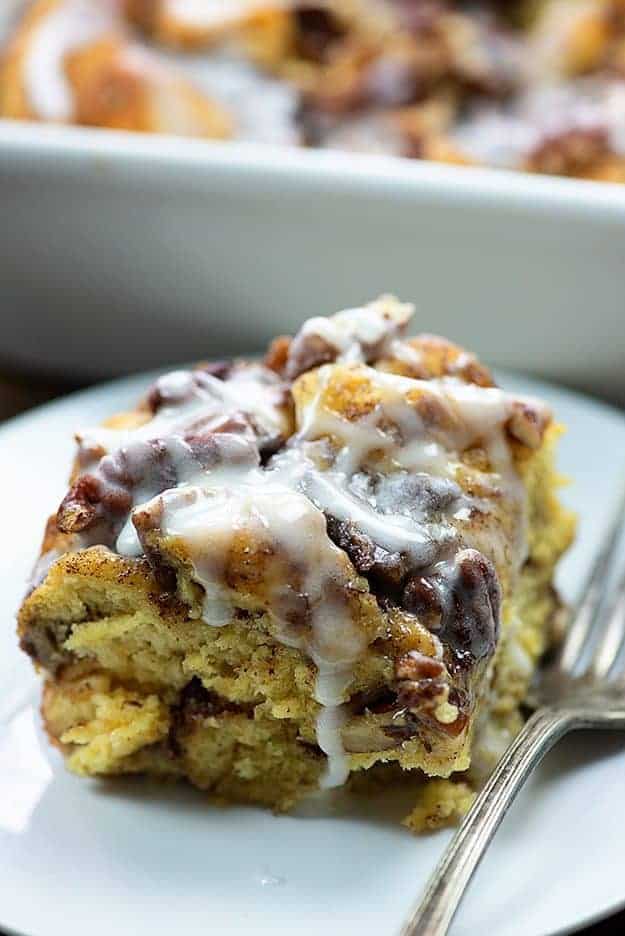 Combine everything together and pop it all in a greased 9×13 baking dish.
Drizzle syrup over the top and sprinkle with pecans.
This gets covered tightly and placed in the fridge overnight.
In the morning, pop it right in the oven at 375 degrees for about 35 minutes.
If you want to skip the overnight step, just pop this right in the oven! It'll take closer to 30 minutes to bake if it hasn't been refrigerated.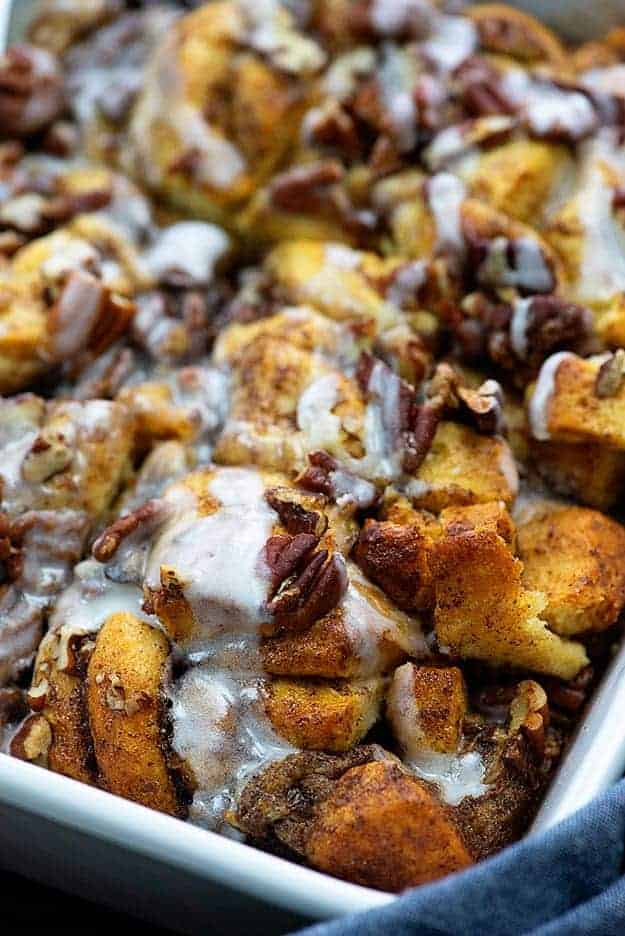 When this is finished baking, remove from the oven and drizzle with the containers of icing from the cans of cinnamon rolls.
Your kids are going to FLIP for this cinnamon roll casserole.
If you like this overnight french toast casserole, you'll love these recipes too: 
These cinnamon pancakes, from my book, are a favorite in this house for Saturday mornings.
This low carb breakfast casserole is sooooo filling and hearty.
My crockpot breakfast casserole is made easy with a slow cooker!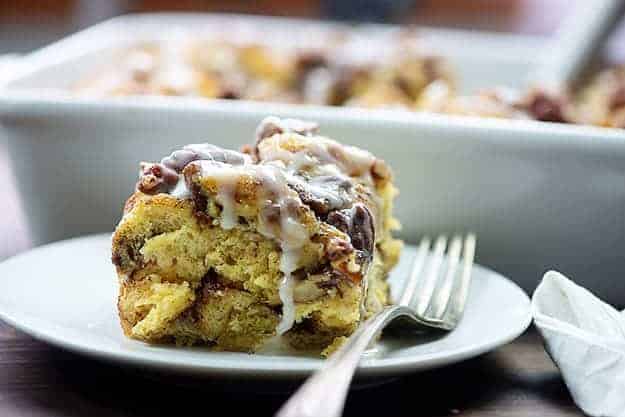 Cookies for breakfast! Yep. These breakfast cookies are full of good stuff.
And this Mexican breakfast casserole is full of bagels and Mexican flavor.
If you give this easy french toast casserole recipe a try, I hope you'll report back and let me know what you thought! Tag me on Instagram @bunsinmyoven or #bunsinmyoven. Leave a comment and rating below in the comment section too! Can't wait to hear what you think.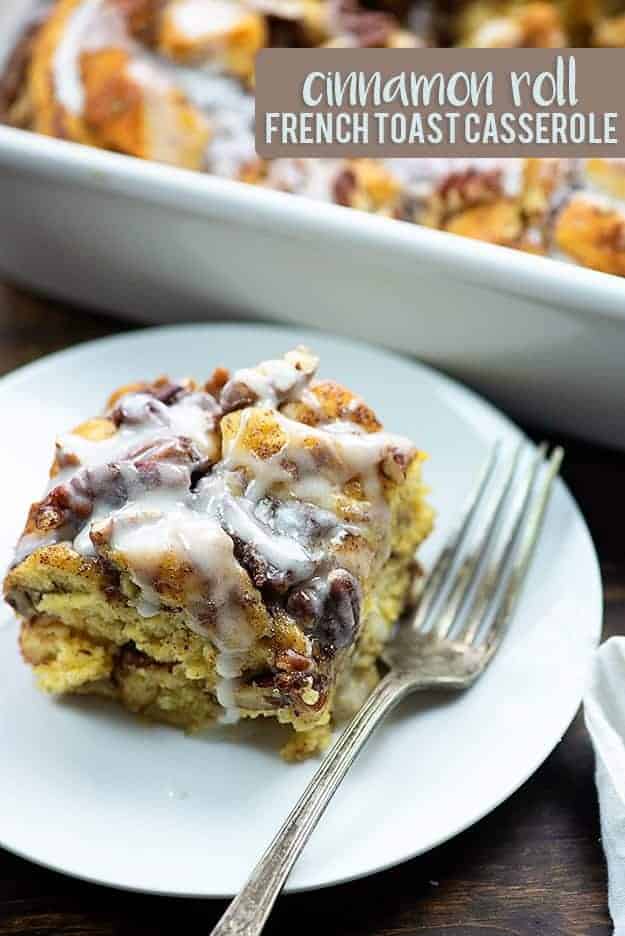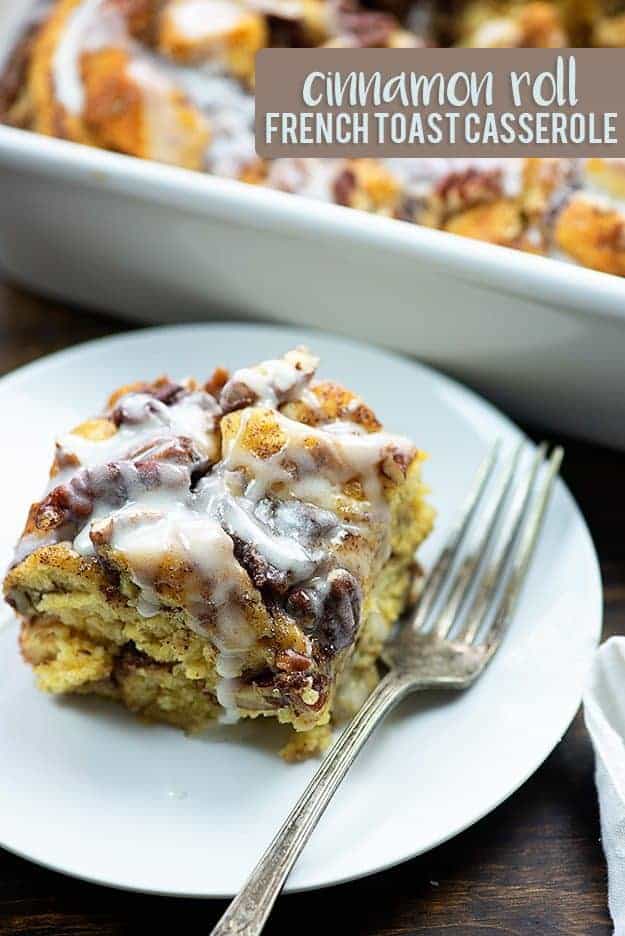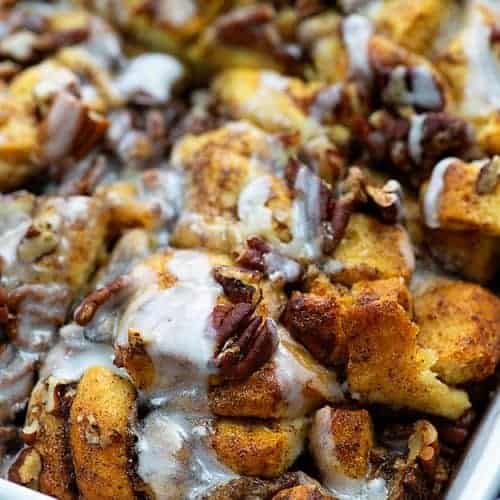 Cinnamon Roll French Toast Casserole
Servings: 10
Course: Breakfast
Cuisine: American
Keyword: casserole, easy breakfast recipes
Calories: 252 kcal
This cinnamon roll french toast casserole is easy to make the night before and then pop in a hot oven when you wake up! I like mine served with extra maple syrup on the side!
Ingredients
2 cans 18 ounces each cinnamon rolls
½ cup butter melted
6 eggs
¼ cup milk
2 teaspoons cinnamon
1 teaspoon nutmeg
2 teaspoons vanilla extract
½ cup syrup
1 cup chopped pecans
Instructions
Open the packages of cinnamon rolls and place the icing in the refrigerator. Break apart the cinnamon rolls and cut into 4 pieces each. Place rolls in a large mixing bowl.

Pour melted butter over the cinnamon rolls and stir to coat.

Place into a 9x13 baking dish.

In a large bowl, whisk together the eggs, milk, cinnamon, nutmeg, and vanilla until well combined.

Pour egg mixture over the cinnamon rolls.

Drizzle with syrup and sprinkle the pecans over the top.

Cover tightly and refrigerate overnight or for up to 12 hours.

Preheat oven to 375 degrees.

Remove cover from pan and bake for 35 minutes or until cooked through.

Remove from oven and cool for 10 minutes before drizzling with reserved icing.

Serve immediately
Nutrition Facts
Cinnamon Roll French Toast Casserole
Amount Per Serving
Calories 252 Calories from Fat 180
% Daily Value*
Fat 20g31%
Saturated Fat 7g44%
Cholesterol 123mg41%
Sodium 131mg6%
Potassium 89mg3%
Carbohydrates 15g5%
Fiber 1g4%
Sugar 14g16%
Protein 4g8%
Vitamin A 440IU9%
Vitamin C 0.1mg0%
Calcium 38mg4%
Iron 0.8mg4%
* Percent Daily Values are based on a 2000 calorie diet.
Nutrition Disclaimer: All information presented on this site is intended for informational purposes only. I am not a certified nutritionist and any nutritional information shared on bunsinmyoven.com should only be used as a general guideline.