Our Cinnamon Roll French Toast Casserole is the perfect overnight French toast casserole for any special morning! Top with a drizzle of icing and some maple syrup for the ultimate breakfast treat!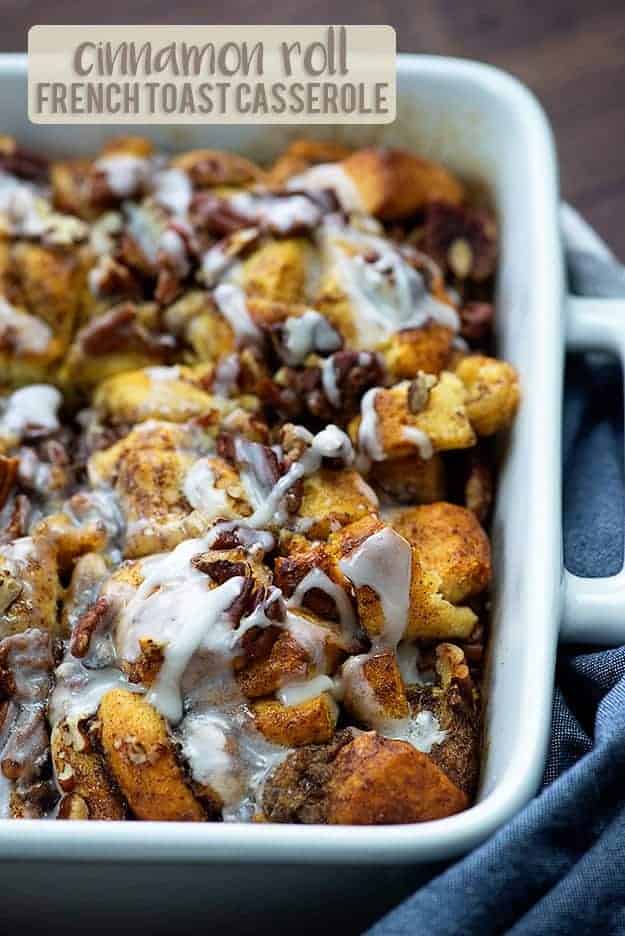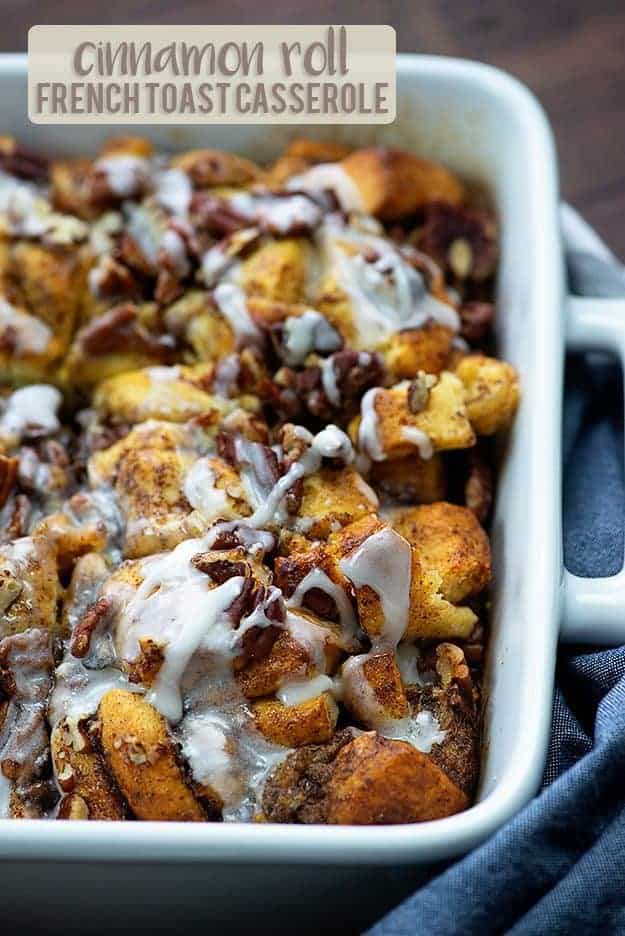 What is it about a cinnamon roll that gets everyone excited to wake up and dig into breakfast?
For me, it's the combination of cinnamon and brown sugar topped off with a vanilla glaze. Sorry, but that combo is just hard to beat, which is probably why we love our Cinnamon Roll Cake so much!
Rather than make cake for breakfast, or whip up a batch of made from scratch cinnamon rolls, we went the easy route with this overnight Cinnamon Roll French Toast Casserole! It's the perfect breakfast casserole for a holiday morning.
Easy to toss together the night before, made with ingredients that you know the family is going to love (like canned cinnamon rolls), and you can bake it up whenever you're ready!
Pretty sure we're making this alongside our Amish breakfast casserole for Christmas morning this year. Then we're covering all bases with a sweet casserole and a savory casserole! Yum!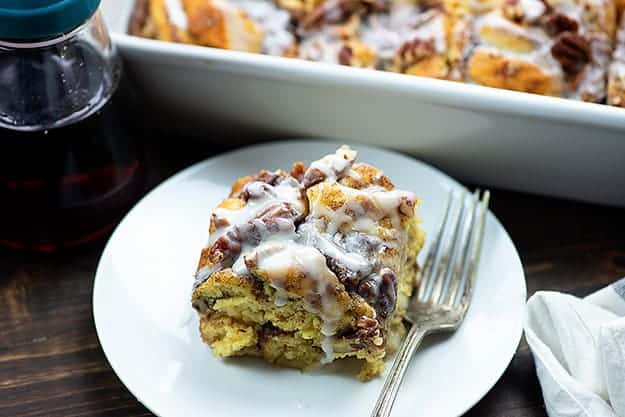 Ingredient Notes:
This post contains affiliate links. As an Amazon associate and member of other qualifying programs, I earn from qualifying purchases.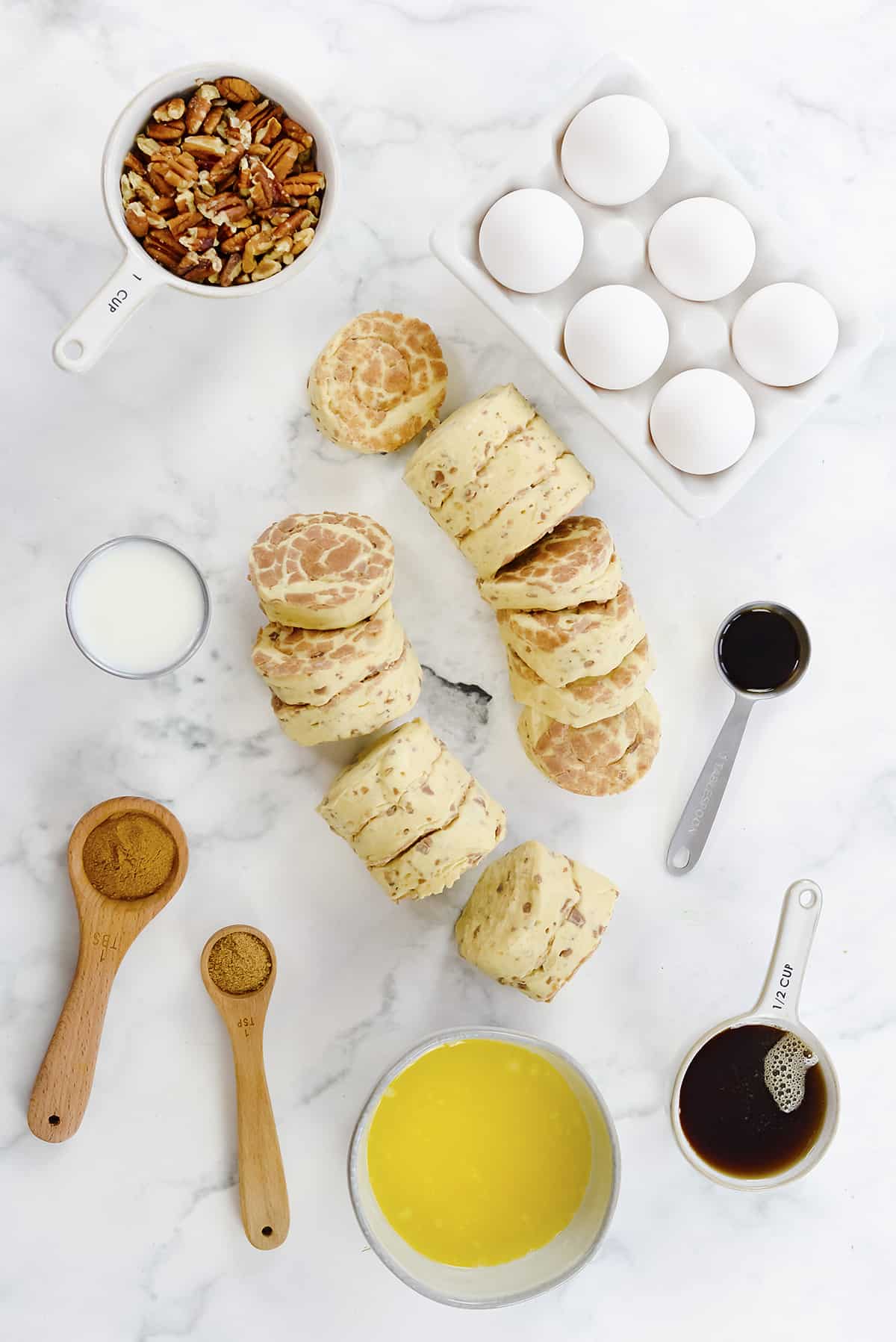 Cinnamon Rolls – You'll need 2 cans of refrigerated cinnamon rolls. Use the regular, smaller size – not the Grands big cinnamon rolls.
Icing – Save the little cup of icing that comes with the cinnamon rolls. You'll drizzle it over the top of the casserole before serving.
Butter – You'll need some melted butter to pour over the cinnamon roll dough.
Milk & Eggs – Milk and eggs are a must for French toast. You can use any variety of milk you like here.
Vanilla Extract – Extra flavor! We add vanilla to just about all baked goods.
Spices – We're adding in extra cinnamon and a touch of nutmeg to really amp up the flaovr.
Syrup – We drizzle the whole casserole with maple syrup before baking. Be sure to have a bit extra on the side for serving too!
Pecans – Some chopped pecans will add the perfect amount of crunch and nutty flavor to the cinnamon roll casserole!
What We Love About This Recipe:
This recipe takes your average cinnamon roll to the next level! You'll love it mixed up with the syrup, icing, and chopped pecans.
If you've got lots of hungry people for breakfast this casserole will feed a crowd.
You can easily assemble this the night before and just pop it in the oven when you're ready in the morning. Makes morning so simple.
How to Make French Toast Casserole:
Cinnamon Rolls: Chop the cinnamon rolls into quarters and then toss them in melted butter. Arrange them in a greased 9×13 baking dish.
Mix: Whisk together your eggs, milk, cinnamon, nutmeg, and vanilla until smooth.
Combine: Pour the egg mixture over the cinnamon rolls, drizzle with maple syrup, and sprinkle on the pecans.
Refrigerate: This gets covered tightly and placed in the fridge overnight so that the butter, milk, egg, and seasoning mix can soak into the dough!
Helpful Tip!
Skip the overnight step…
If you don't want to or just can't wait overnight, you can still go ahead and bake these right away! It'll take closer to 30 minutes to bake if it hasn't been refrigerated!
Bake: In the morning, pop it right in the oven at 375 degrees for about 35-40 minutes.
Icing: When the cinnamon roll French toast casserole has finished baking, remove it from the oven and drizzle with the containers of icing from the cans of cinnamon rolls!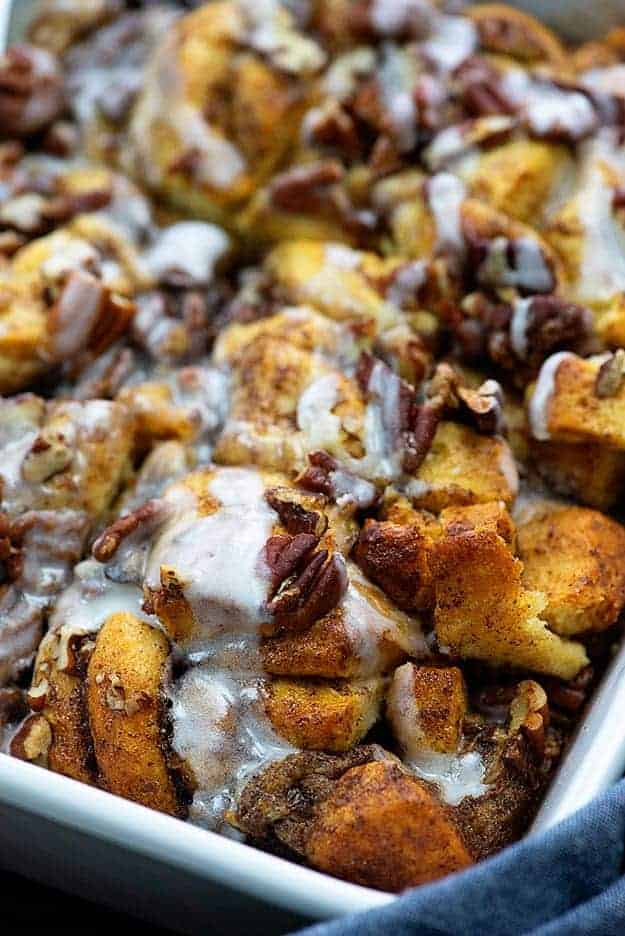 Serve: After icing the casserole you can go ahead and serve it up while it's still good and hot! This is just about perfect for any breakfast, but it's just as enjoyable any time of the day!
Your kids are going to FLIP for this cinnamon roll casserole.
FAQs:
How to store casserole?
You can keep any leftovers stored in an airtight container in the refrigerator for about 4 days. You can reheat them in the oven!
Can I use homemade cinnamon roll dough?
You could but I'm not sure how that would change this recipe. I'd probably stick with the canned stuff just because it is quick, easy, and tastes just as good. You'll need to experiment if using homemade.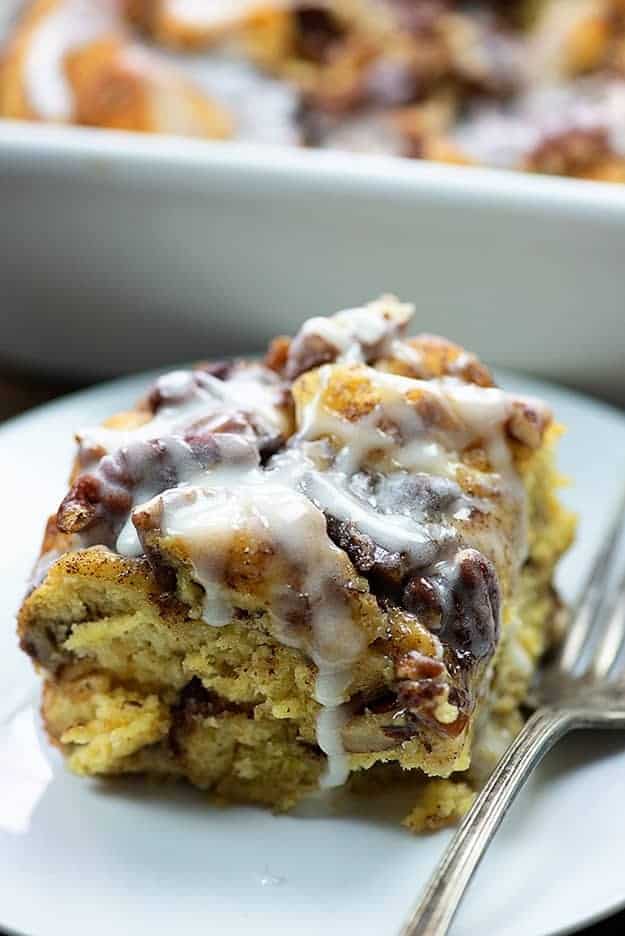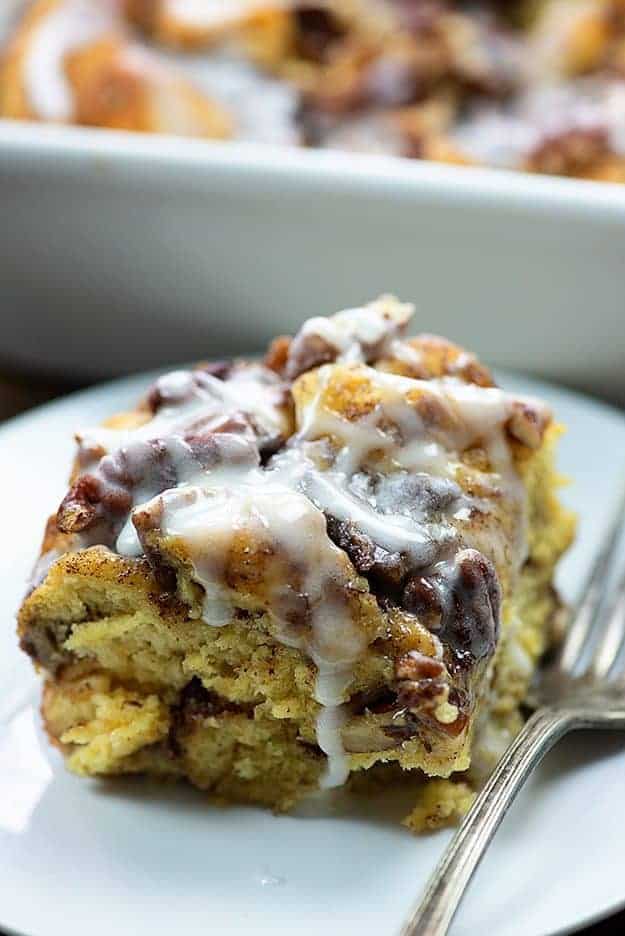 MORE FAVORITE BREAKFAST RECIPES!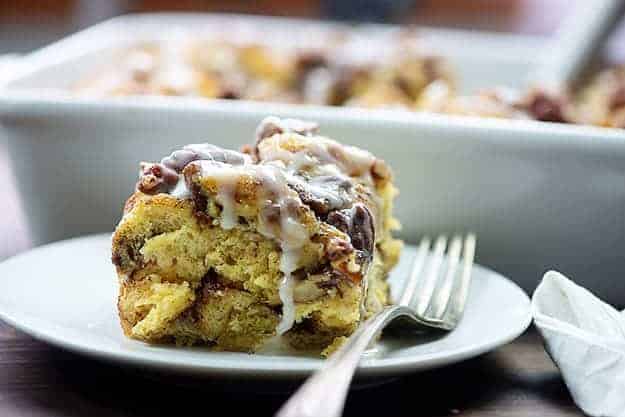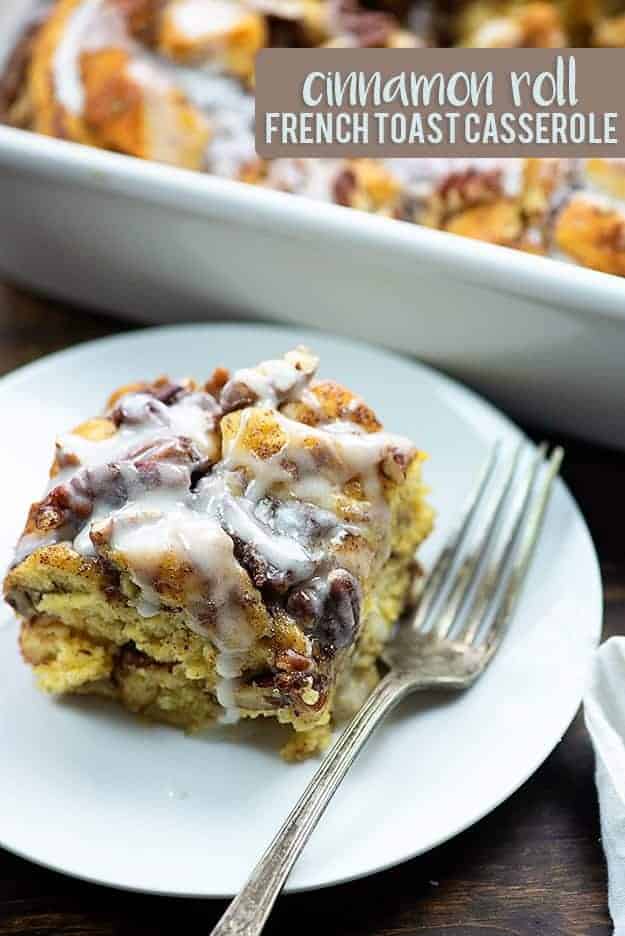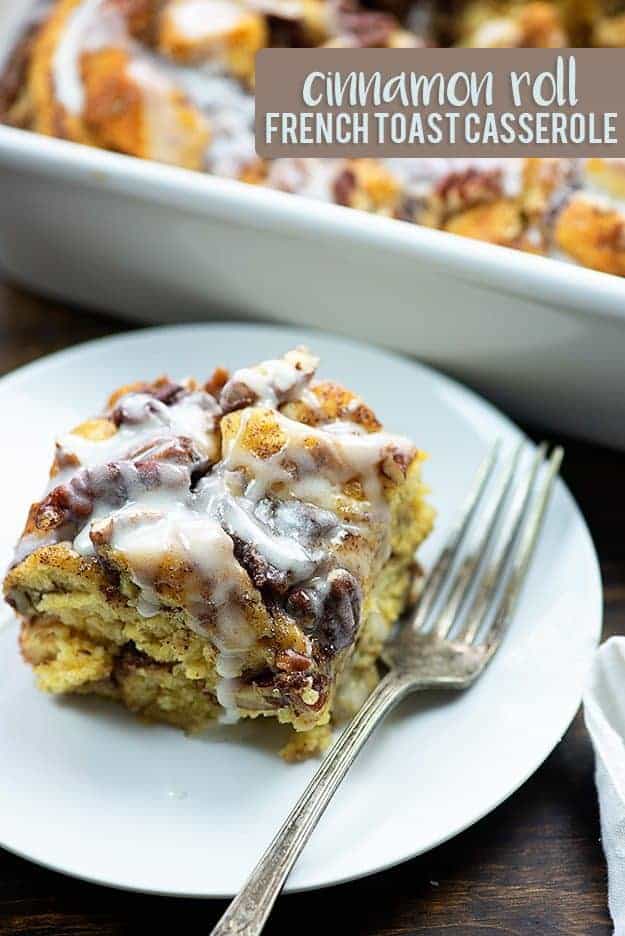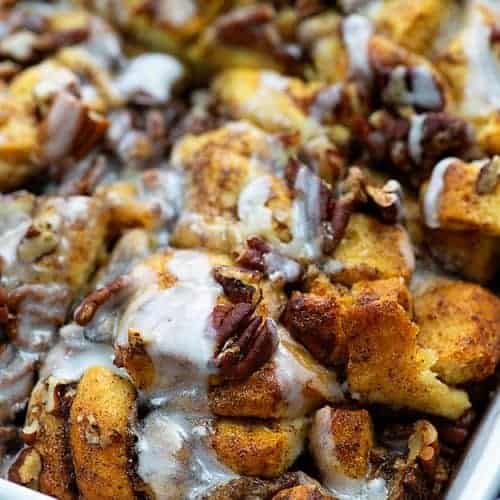 Cinnamon Roll French Toast Casserole
This cinnamon roll french toast casserole is easy to make the night before and then pop in a hot oven when you wake up! I like mine served with extra maple syrup on the side!
Prep10 minutes
Cook35 minutes
Resting Time8 hours
Total45 minutes
Ingredients
2 cans cinnamon rolls (18 ounces each)
½ cup butter melted
6 large eggs
¼ cup milk
2 teaspoons vanilla extract
2 teaspoons cinnamon
1 teaspoon nutmeg
½ cup maple syrup
1 cup chopped pecans
Instructions
Open the packages of cinnamon rolls and place the icing in the refrigerator. Break apart the cinnamon rolls and cut into 4 pieces each. Place rolls in a large mixing bowl.

Pour melted butter over the cinnamon rolls and stir to coat.

Dump cinnamon rolls into a greased 9×13 baking dish.

In a large bowl, whisk together the eggs, milk, vanilla, cinnamon, and nutmeg until well combined.

Pour egg mixture over the cinnamon rolls.

Drizzle with the syrup and sprinkle the pecans over the top.

Cover tightly and refrigerate overnight or for up to 12 hours.

Preheat oven to 375 degrees.

Remove cover from pan and bake for 35 minutes or until cooked through.

Remove from oven and cool for 10 minutes before drizzling with reserved icing.

Serve hot.
Tips & Notes:
If you're in a hurry, you can skip the overnight step. The cinnamon rolls will soak up the egg mixture a bit better if it has time to rest in the fridge, but it's not 100% necessary. We use the smaller sized cinnamon rolls – not the Grands! cinnamon rolls for this recipe. We prefer real maple syrup over pancake syrup for this recipe, though both will work. The nuts are optional. If there are allergies, just leave them off.
Nutrition Information:
Calories: 252kcal (13%)| Carbohydrates: 15g (5%)| Protein: 4g (8%)| Fat: 20g (31%)| Saturated Fat: 7g (44%)| Cholesterol: 123mg (41%)| Sodium: 131mg (6%)| Potassium: 89mg (3%)| Fiber: 1g (4%)| Sugar: 14g (16%)| Vitamin A: 440IU (9%)| Vitamin C: 0.1mg| Calcium: 38mg (4%)| Iron: 0.8mg (4%)