(Happy Valentine's Day! Let's talk about things my husband hates!)
The husband gets tired of all the Mexican food I try shoving in his face on a daily basis.
"We're American", he shouts! "Let's eat a cheeseburger!"
Then I smile politely and cook the man a taco. I mean, he just doesn't know good food when he sees it.
Anyway, he leaves for work at 0'dark thirty, so the kids and I are on our own for breakfast. He would die if he knew that I Mexican-ified his favorite meal.
These tostadas are pretty quick and easy to make, which is the way most breakfasts should be, in my opinion. Starting your day with a little bit of spice and a ton of flavor is just the perfect way to wake up! Not to mention, these things are packed full of nutrients and protein and all other manner of good for you stuff, like veggies. For breakfast. Weird, man.
My favorite part? These tostadas fill you right up and keep you full until lunch time!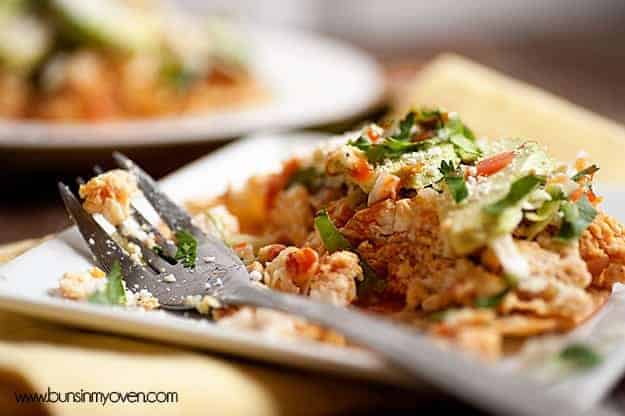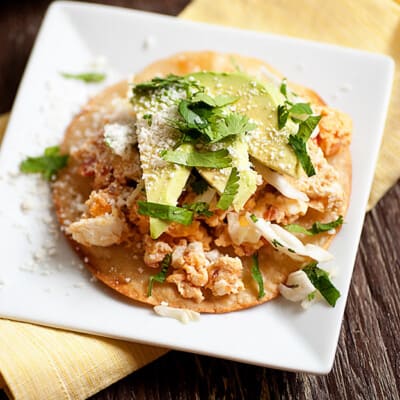 Breakfast Tostadas
Full of flavor and spice, these breakfast tostadas will start your morning off right and keep you full until lunch!
Prep10 minutes
Cook10 minutes
Total20 minutes
Instructions
In a small skillet, add 1/4 inch of oil to the pan and heat to 350 degrees over medium heat.

Place one tortilla in the oil and fry until edges are starting to turn golden and crisp. Flip tortilla and continue frying until crisp. Remove to a paper towel lined plate and repeat with the remaining tortilla.

In a small bowl, whisk together the eggs.

Pour into a medium skillet over low heat and scramble the eggs. When eggs are just about set, stir in the salsa and continue cooking until eggs are cooked through.

Place half of the eggs on each tortilla. Top with the slaw, slices of avocado, and cotija cheese.

Serve with Cholula or more salsa, if desired.
Nutrition Information:
Calories: 343kcal (17%)| Carbohydrates: 20g (7%)| Protein: 18g (36%)| Fat: 21g (32%)| Saturated Fat: 7g (44%)| Cholesterol: 388mg (129%)| Sodium: 598mg (26%)| Potassium: 552mg (16%)| Fiber: 6g (25%)| Sugar: 3g (3%)| Vitamin A: 850IU (17%)| Vitamin C: 12mg (15%)| Calcium: 192mg (19%)| Iron: 2.6mg (14%)
linked to Inside Bru Crew Life