Biscuits and Gravy casserole made with fresh potatoes, loads of sausage, and flaky biscuits! This breakfast casserole recipe will feed a crowd! Big thanks to Simply Potatoes for sponsoring this post.
It's safe to say that one of the first things I learned how to cook after getting married was biscuits and gravy.
My husband requests them every single weekend and I don't think he'd ever get tired of biscuits and gravy.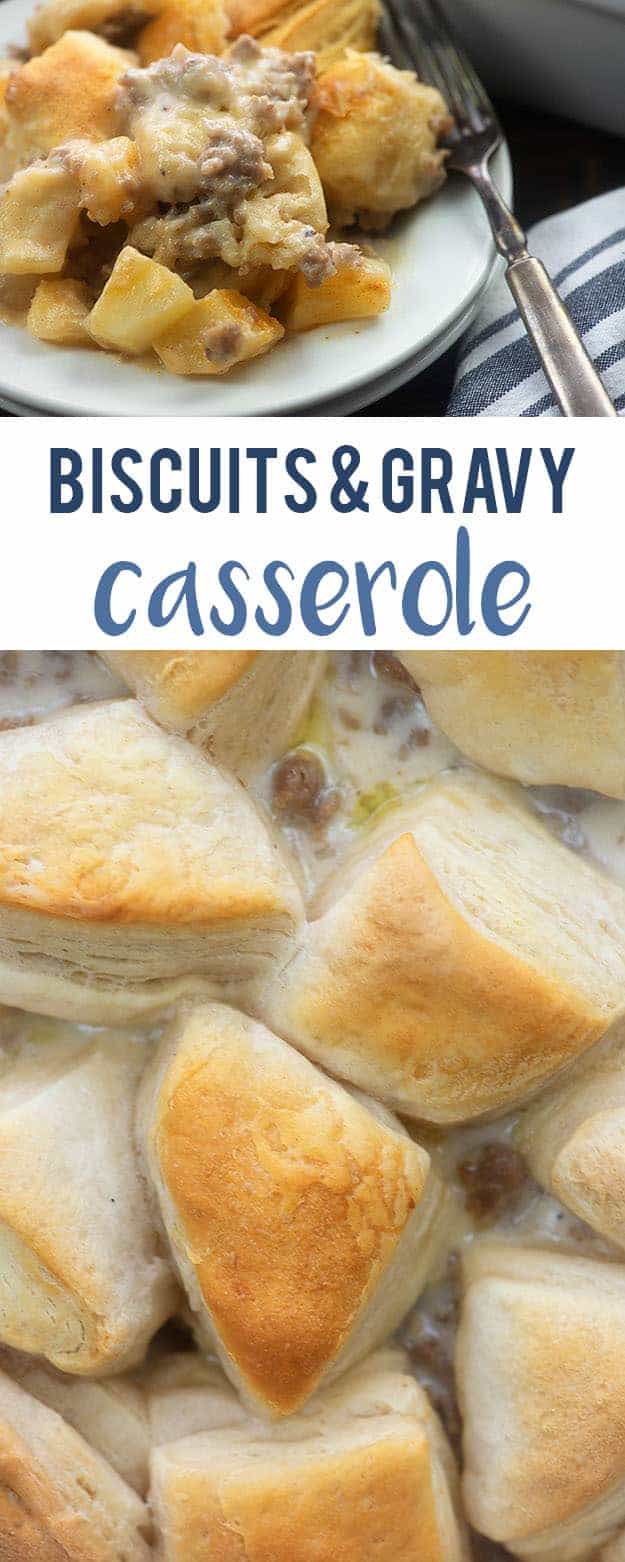 On days when I'm feeling ambitious, I like to use my homemade biscuits to serve up his favorite. Hard to go wrong with the combo of flaky biscuits and creamy sausage gravy, right?
Today, though, I've created this tasty breakfast casserole that has a layer of diced potatoes seasoned and roasted to perfection, a layer of sausage gravy, and it's all topped off with chunks of canned biscuits. Easy, quick, and oh so hearty and filling.
I'll be making this one on Christmas morning for sure! I hope you do too!
How to make biscuits and gravy casserole with potatoes:
First, we're going to start with a bag of Simply Potatoes Diced Potatoes. I love using Simply Potatoes because they're fresh potatoes, never frozen. I love to use these as a shortcut, because I know they're wholesome real potatoes without all the prep work. No washing, peeling, or chopping!
Add your diced potatoes to a 9×13 baking dish and drizzle with olive oil. Sprinkle on some garlic powder, onion powder, and paprika. This is going to give your potatoes a bit of flavor to hold up to the gravy.
Speaking of the gravy, pop your potatoes in the oven to roast while you work on that!
You'll need a pound of breakfast sausage. Brown it up in a big skillet and then sprinkle on a bit of flour. Stir that all around until the sausage looks a bit dry.
Pour in your milk and continue cooking and stirring until it starts to thicken up. We don't want this to thicken up too much on the stove since it's going to continue thickening as it bakes in the oven.
Pour the gravy over the roasted potatoes and then pop open a can of biscuits. Cut each biscuit into 4 pieces and arrange those over the gravy.
This bakes up in about 30 minutes. The biscuits should be golden brown and the gravy thickened and the potatoes tender and flavorful.
Don't you just want to dig into this one?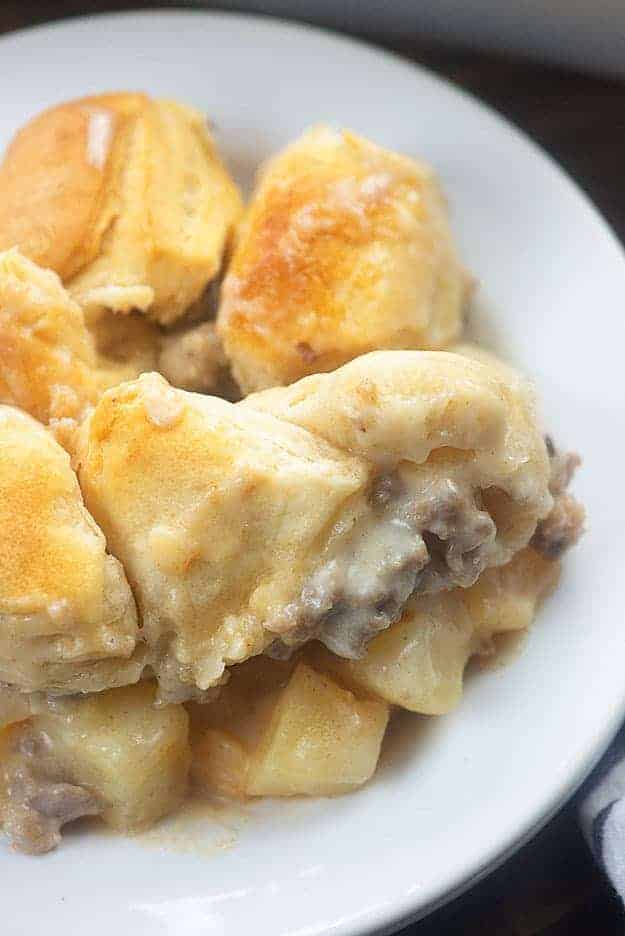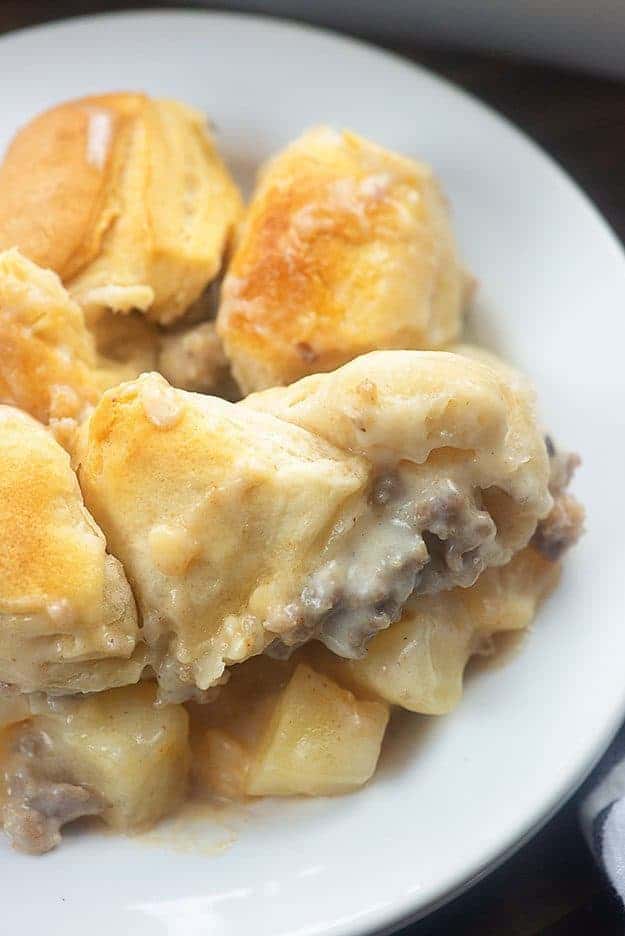 More Christmas morning breakfast favorites:
French Toast Casserole: It's made with cinnamon rolls!!
Applesauce Muffins: A favorite in our house!
Breakfast Casserole: Packed with eggs, meat, and cheese!
Old Fashioned Donut: My grandma's famous recipe!
English Muffin Bread: Spread with butter and jam!
Biscuits and Gravy Casserole
Layers of roasted potatoes, creamy sausage gravy, and flaky biscuits!
Prep10 minutes
Cook1 hour
Total1 hour 10 minutes
Ingredients
1 package (20 ounces) Simply Potatoes Diced Potatoes
1 teaspoon olive oil
1 teaspoon paprika
1 teaspoon onion powder
1 teaspoon garlic powder
1 teaspoon salt divided
1 teaspoon cracked pepper divided
1 pound breakfast sausage
¼ cup flour
3 cups whole milk
16 ounces refrigerated biscuits
Instructions
Preheat oven to 375 degrees.

Add diced potatoes to a 9x13 baking dish and drizzle with olive oil. Season with paprika, onion powder, garlic powder, and ½ teaspoon of salt and pepper. Stir to combine.

Roast potatoes for 25 minutes, stirring once halfway through.

About 15 minutes before potatoes are done, add the sausage to a large skillet over medium heat. Brown the sausage, breaking it up as it cooks.

When sausage is cooked through, sprinkle with flour and stir well to combine. Cook 1 minute.

Add milk and remaining salt and pepper to the skillet and cook, stirring constantly, for 6 minutes or until gravy has thickened slightly. The gravy should be thinner than a traditional breakfast gravy as it will thicken in the oven.

Remove potatoes from the oven and stir. Pour the gravy over the top.

Cut the biscuits into 4 pieces each and arrange evenly over the top of the gravy.

Return to the oven for 28-30 minutes or until biscuits are browned and cooked through.
Nutrition Information:
Calories: 687kcal (34%)| Carbohydrates: 64g (21%)| Protein: 22g (44%)| Fat: 37g (57%)| Saturated Fat: 11g (69%)| Cholesterol: 67mg (22%)| Sodium: 1654mg (72%)| Potassium: 800mg (23%)| Fiber: 2g (8%)| Sugar: 8g (9%)| Vitamin A: 420IU (8%)| Vitamin C: 8.3mg (10%)| Calcium: 191mg (19%)| Iron: 4.6mg (26%)