Our Blueberry Baked Oatmeal is packed with oats and blueberries and sweetened with brown sugar. It's a cozy and filling way to start the day.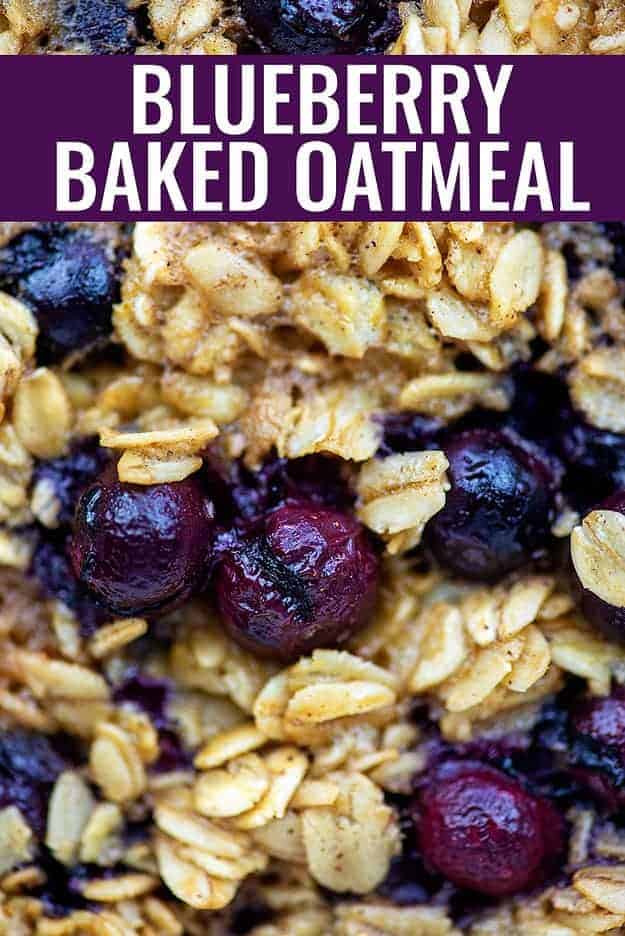 My brother used to eat instant oatmeal just about every morning when we were growing up and, truth be told, I thought it looked so weird that I never even tasted a bowl of oatmeal until I was an adult.
Weird, right?!
It's still not an every day food for me, but sometimes I just get a craving for a warm, cozy bowl of oats. And if there are berries involved? Well, the more the merrier.
I really love to make this baked oatmeal for breakfast once and then reheat it all week long. It makes mornings so easy and my kids are happy to take a break from their usual breakfast of cold cereal.
Making baked oatmeal is just as easy as making it on the stove, but we love the texture you get from baking. It turns out a bit cakey and who doesn't want cake for breakfast?!
Our baked apple oatmeal is another family favorite! Perfect in the fall, too.
Ingredient Notes:
This post contains affiliate links. As an Amazon associate and member of other qualifying programs, I earn from qualifying purchases.
Blueberries – You can use either fresh or frozen blueberries in this recipe though I definitely prefer them fresh. No need to thaw if frozen, they'll still bake up nicely!
Dry Ingredients – Pick out your favorite brand of rolled oats for this baked oatmeal recipe. You'll also need some brown sugar, baking powder, cinnamon, and a little salt. It's a pretty quick and easy mix!
Wet Ingredients – In addition to the dry ingredients you'll need some milk, melted butter, vanilla extract, and a couple large eggs which will help bind everything together and keep the oatmeal nice and fluffy. Plus, protein!
What Readers are Saying!
"This was such an easy and great tasting recipe!! I don't like oatmeal per se but baked oatmeal is another story!!!!!!! Thanks for sharing and I will definitely be making this again and again!" – Reenie
How to Make Blueberry Baked Oatmeal:
Mix: Add your oats, milk, sugar, butter, eggs, baking powder, vanilla, cinnamon, and salt to a mixing bowl and give it a good stir.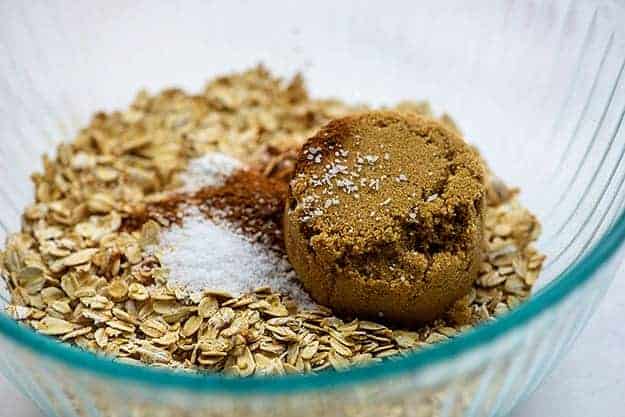 Blueberries: This is baked oatmeal with blueberries so you're going to need plenty of fresh or frozen blueberries. Fold those in with the oatmeal mix until just combined. Blueberries break apart easily so don't overly mix.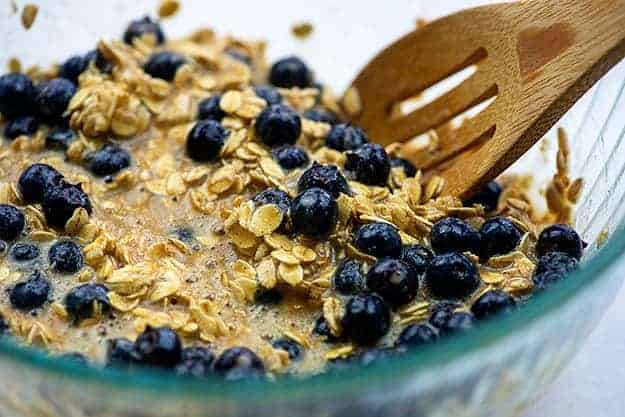 Bake: Spread the blueberry oatmeal mixture into a greased baking dish and pop it in the oven 30 minutes. That's it! This blueberry baked oatmeal recipe is beyond simple!
To Serve:
Top your blueberry baked oatmeal with a drizzle of heavy cream and maple syrup or dollop on a scoop of Greek yogurt.
More berries are always welcome on top of our baked oatmeal!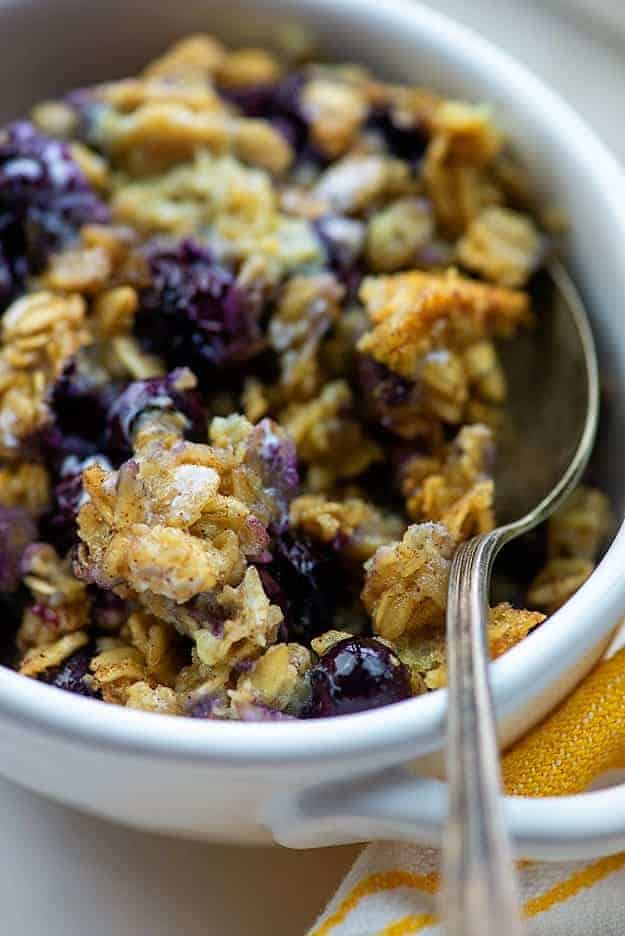 FAQs:
Can I make this recipe ahead?
This baked oatmeal with blueberries is perfect for making ahead! You'll get 6 servings out of one batch, but feel free to double the recipe if you think you'll eat more within 5 days. Wrap the oatmeal tightly and store in the refrigerator. Reheat individual servings in the microwave.
How to freeze baked oatmeal?
The blueberry baked oatmeal freezes beautifully! After baking, portion this into single serving sizes and package it up for the freezer. Reheat in the microwave for 2 minutes to reheat.
Why add eggs?
It does sound a little strange to be adding eggs in with oatmeal, but it works really well to help bind the oatmeal mix together and it adds even more fluffiness to the texture! It's almost cake like. And it's a good way to get a little extra protein in with your oatmeal at breakfast.
Can I use a milk substitute instead?
I've only tried this with real milk but readers have mentioned that almond milk works pretty well and I'd imagine that oat milk works great too!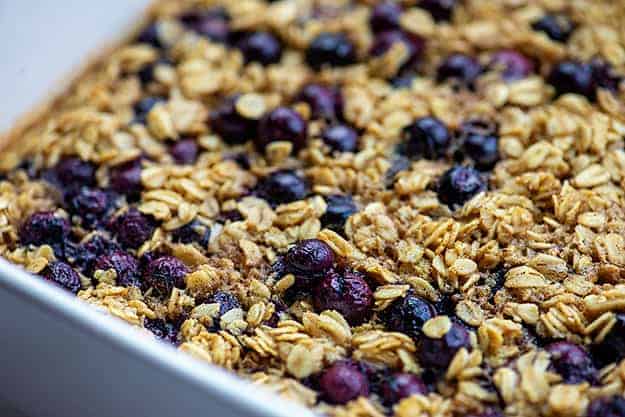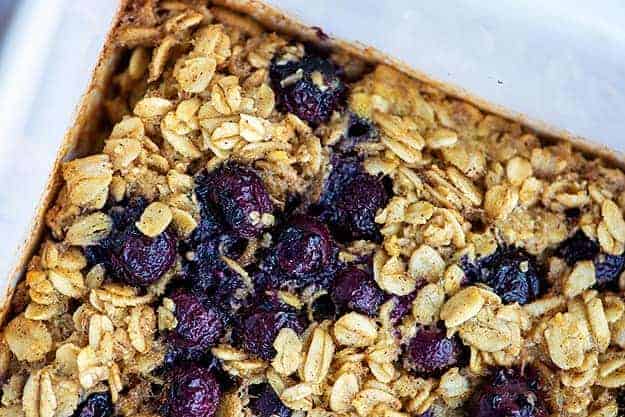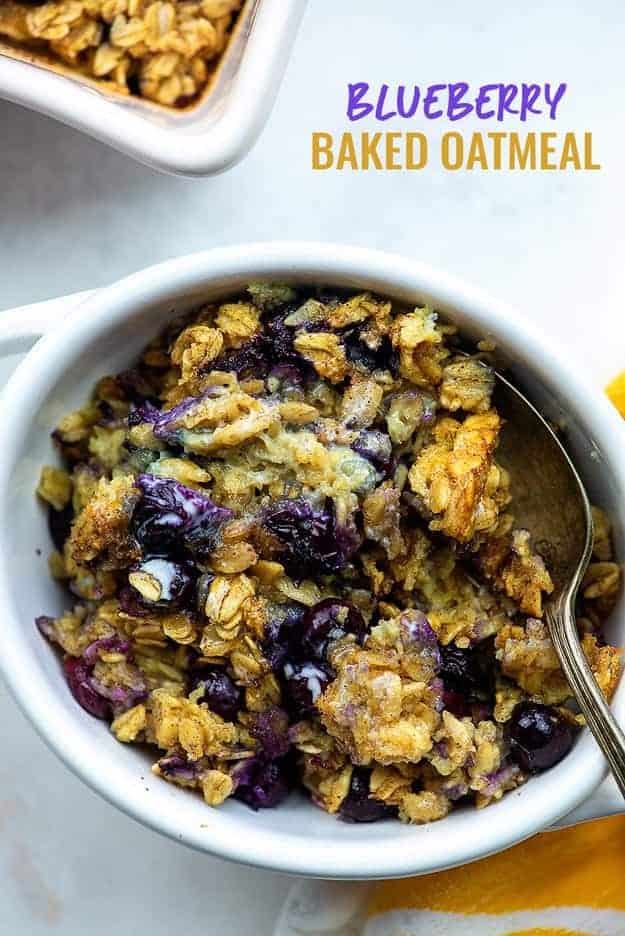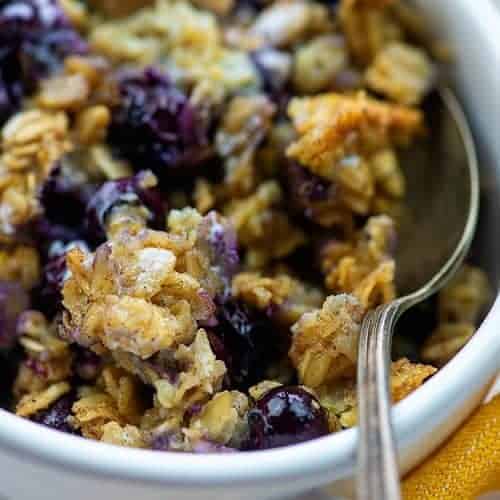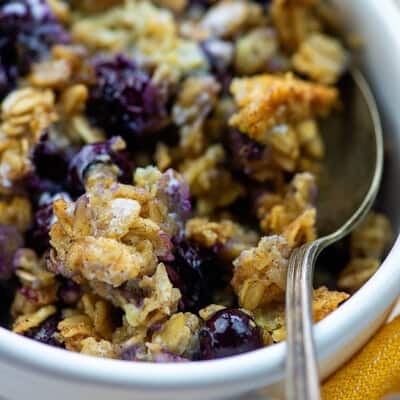 Blueberry Baked Oatmeal
Warm, cozy, and oh so filling! We love to start our day off with this simple baked oatmeal.
Prep5 minutes
Cook30 minutes
Total35 minutes
Ingredients
1 ½ cups rolled oats
½ cup milk
1/3 cup brown sugar
¼ cup melted butter
2 large eggs beaten
1 teaspoon baking powder
1 teaspoon cinnamon
1 teaspoon vanilla extract
¾ teaspoon salt
1 cup blueberries
Instructions
Preheat oven to 350 degrees. Spray an 8×8 baking dish with non-stick spray.

Add all of the ingredients except for the blueberries to a mixing bowl and stir well to combine.

Fold in the blueberries gently so as not to break them up too much.

Spread mixture into the prepared baking dish and bake for 30 minutes or until a knife comes out mostly clean with just a few moist crumbs.

Spoon into bowls and serve with additional blueberries and a drizzle of cream or syrup, if desired.
Tips & Notes:
You may use fresh or frozen blueberries in this recipe. Blackberries and raspberries are also tasty in oatmeal!
Nutrition Information:
Calories: 248kcal (12%)| Carbohydrates: 31g (10%)| Protein: 6g (12%)| Fat: 12g (18%)| Saturated Fat: 6g (38%)| Cholesterol: 93mg (31%)| Sodium: 399mg (17%)| Potassium: 229mg (7%)| Fiber: 3g (13%)| Sugar: 16g (18%)| Vitamin A: 385IU (8%)| Vitamin C: 2mg (2%)| Calcium: 89mg (9%)| Iron: 1mg (6%)