Baked Apple Oatmeal makes the perfect breakfast, especially on a chilly morning! This baked oatmeal recipe is baked with applesauce and fresh chopped apples to add in loads of flavor that's perfect for a Fall morning, but good all year long.
My brother used to eat instant oatmeal for breakfast almost every morning.
And you know what? I never even TASTED oatmeal until I was an adult.
It just looked like a bowl of mush. I was not interested in the least.
I finally got a little braver and gave it a try and oh man. The instant stuff is fine, but the real homemade stuff? Heaven.
We make our blueberry baked oatmeal quite often, but during the fall? Bring on the apples.
This apple cinnamon oatmeal is a serious favorite for chilly mornings. It has all the flavors of an apple pie baked right into the oatmeal.
Hearty, filling, and super cozy. You can't go wrong with this breakfast!
Ingredient Notes:
This post contains affiliate links. As an Amazon associate and member of other qualifying programs, I earn from qualifying purchases.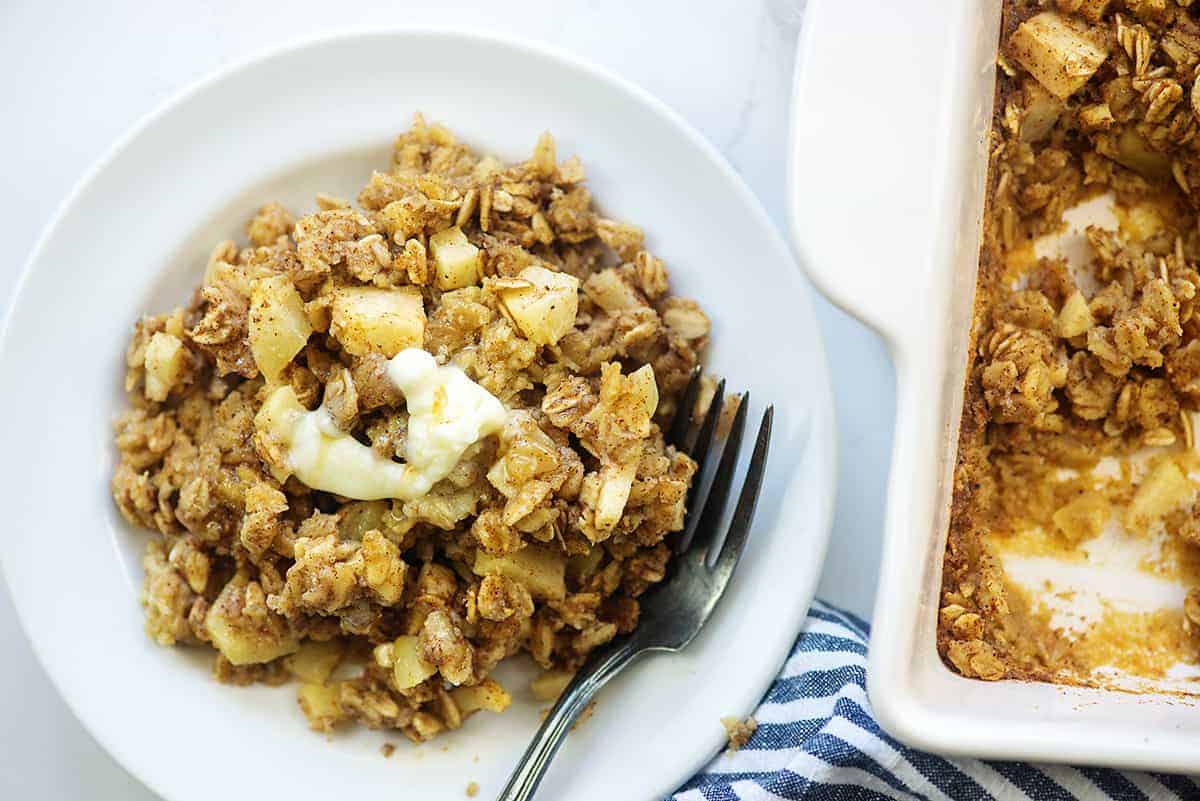 Oats – We're using old fashioned or rolled oats for this recipe. Instant oats will get a bit too mushy and steel cut oats won't quite work without some modifications to the recipe.
Eggs – Not the most traditional ingredient for oatmeal, but the eggs help bind the oatmeal together, giving it the cakey texture. And hey – bonus protein!
Apples – We'll be adding both applesauce and chopped apples to our baked apple oatmeal.
Milk – I'm using 2% milk in this recipe, but any variety of milk should work fine. Oatmilk is a great option as well!
Extras – We're sweetening things up with brown sugar, adding cinnamon and nutmeg (a must with apple recipes, if you ask me), and pouring in a bit of vanilla.
How to Make Apple Baked Oatmeal:
Stir together the ingredients: rolled oats, eggs, milk, brown sugar, applesauce, cinnamon, baking powder, vanilla, salt, and nutmeg.
Fold in chopped apples. Any variety you like works well here!
Pour the oats into a baking dish and bake for 30 minutes.
Scoop out the oatmeal onto a plate or into a bowl, top with a pat of butter, and a drizzle of real maple syrup.
This is one of those breakfast recipes that sticks with you. So cozy on a Fall morning – especially if you use apples that you picked from your local orchard!
Honestly, we have even been known to eat this for dessert…it's absolute heaven with a scoop of ice cream on top. Totally satisfies that apple pie craving and it's a bit healthier! 😉
Helpful Tip!
Substitutions:
Swap the cinnamon and nutmeg for 1 tablespoon of apple pie spice.
Use any variety of applesauce you have on hand. If it's sweetened, reduce the brown sugar to 1/4 cup.
We prefer honeycrisp apples, but any variety will work.
Leftover Hack!
This baked apple oatmeal reheats beautifully in the microwave for breakfast the next day! It even makes a great dessert – warm it up and top with a scoop of vanilla ice cream and caramel sauce!
FAQ's:
What is the difference between baked oats and oatmeal?
The main difference between baked oatmeal and traditional, stove top oatmeal is the texture! Our baked oatmeal recipe has eggs and baking powder, which binds the oatmeal together and gives it a bit of left. The texture has a bit of a cake-like vibe too, rather than a bowl of porridge.
How many days is baked oatmeal good for?
Our baked apple oatmeal will last in the fridge, in a sealed container, for 3-4 days. It reheats perfectly in the microwave for breakfast, or can be eaten as a dessert with a scoop of vanilla ice cream over the top.,
Baked Apple Oatmeal
This baked oatmeal recipe has both applesauce and chunks of fresh apples. It's so cozy on a chilling morning!
Prep5 minutes
Cook30 minutes
Total35 minutes
Ingredients
1 ½ cups rolled oats
2 large eggs beaten
½ cup milk
1/3 cup brown sugar
¼ cup unsweetened applesauce
2 teaspoons ground cinnamon
1 teaspoon baking powder
1 teaspoon vanilla
¾ teaspoon salt
½ teaspoon ground nutmeg
2 medium apples peeled and chopped, any variety
Instructions
Preheat oven to 350 degrees. Spray an 8×8 baking dish with non-stick spray.

Add all of the ingredients except for the apples to a mixing bowl and stir well to combine.

Fold in the apples.

Spread mixture into the prepared baking dish and bake for 30 minutes or until a knife comes out mostly clean with just a few moist crumbs.

Spoon into bowls and serve with a pat of butter and drizzle of maple syrup, if desired.
Tips & Notes:
We normally use 2% or whole milk in this recipe, but whatever you have on hand should work fine. Oatmilk works great, too! You may swap out the cinnamon and nutmeg for 1 tablespoon of apple pie spice, if preferred.
Nutrition Information:
Calories: 296kcal (15%)| Carbohydrates: 56g (19%)| Protein: 8g (16%)| Fat: 5g (8%)| Saturated Fat: 2g (13%)| Cholesterol: 85mg (28%)| Sodium: 490mg (21%)| Potassium: 415mg (12%)| Fiber: 6g (25%)| Sugar: 31g (34%)| Vitamin A: 217IU (4%)| Vitamin C: 4mg (5%)| Calcium: 137mg (14%)| Iron: 2mg (11%)