Our Monkey Bread Recipe is a classic breakfast treat that the kids (and adults!) absolutely go nuts over! Sweet, sticky biscuits coated in cinnamon and sugar and baked in a simple caramel sauce. We make this for holiday mornings, but it's a fun treat to sneak in anytime of the year.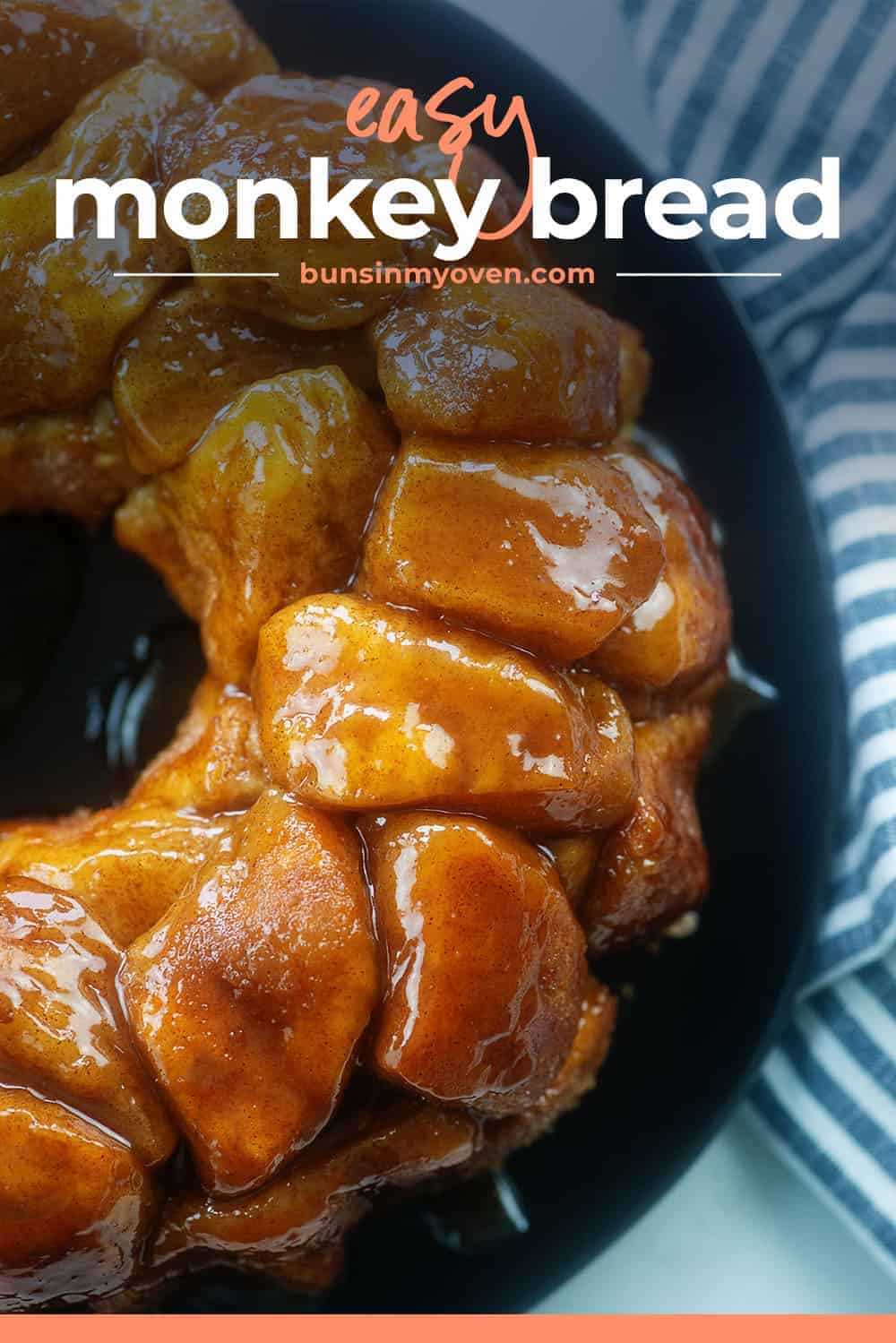 Pretty sure every American out there has at least heard of monkey bread, if not eaten it at least once.
I'm not sure about the rest of the world though. I don't believe canned biscuit dough is a hugely popular thing outside of the US, and that is the standard start to a quick monkey bread.
Of course, this is about the only time I use canned biscuits, because my dad's homemade biscuits are life-changing! I get comments and emails from readers almost daily about how that biscuit recipe is THE ONE TRUE BISCUIT. 😉
Anyway, this monkey bread with biscuits is a classic. We grew up on it and I wanted to share the recipe because 1) it's good stuff, 2) every kid needs this in their life, and 3) it's a holiday breakfast staple and there's always another holiday around the corner.
Update: We used this recipe to make Monkey Bread Muffins and they're a big hit too! Must try!
Ingredient Notes:
This post contains affiliate links. As an Amazon associate and member of other qualifying programs, I earn from qualifying purchases.
Biscuit Dough – We make our monkey bread with biscuits to keep things simple. Refrigerated canned biscuit dough works perfectly here. You'll cut the biscuit dough up into pieces.
Sugar – You're going to use a mix of granulated white sugar and brown sugar to coat the biscuit pieces, and then you'll make a caramel like sauce from butter and more brown sugar that'll get poured over the monkey bread!
Cinnamon – This will get mixed up with the white sugar and go on the biscuit pieces as a coating. The cinnamon and sugar flavors of monkey bread are what make it so irresistible!
What Readers are Saying!
"Amazing and so much better than store-bought. This recipe couldn't be any easier to make." – Deborah
How to Make Monkey Bread:
Dough: While pre-heating your oven to 350 degrees, grease a 9 cup Bundt pan. The Bundt pan works perfectly for monkey bread as it creates a lot of surface area for all that sticky sweet cinnamon and sugar glaze.
We're making monkey bread with biscuits, so to start, remove the refrigerated biscuits from the can, and cut each biscuit into 4 pieces.
Place the cut biscuits into a large zip top bag and add the granulated sugar and cinnamon. Shake the bag well to coat the the biscuits.
Add the cinnamon and sugar coated biscuit pieces to the Bundt pan.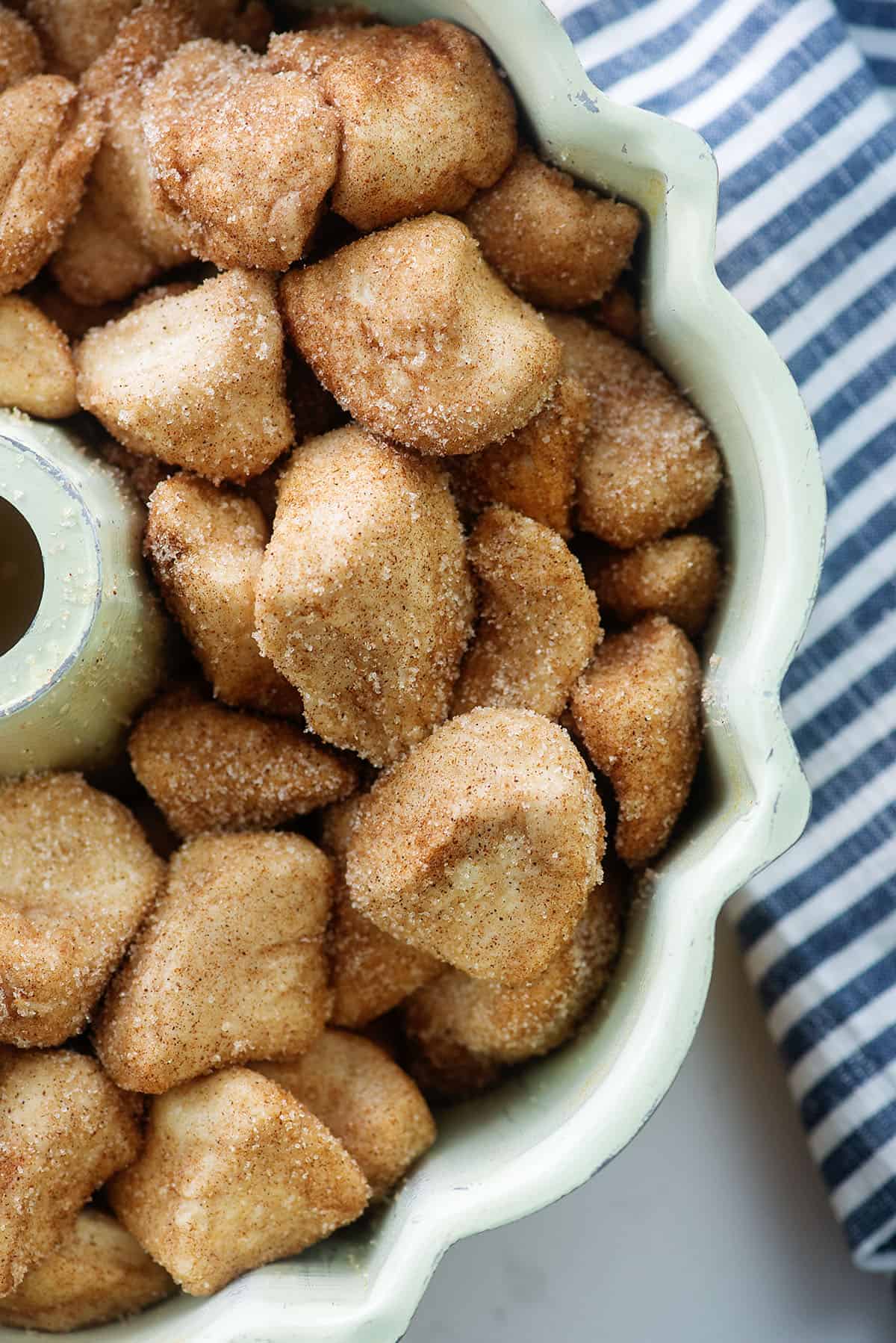 Butter and Brown Sugar Sauce: Now we are getting to the really good part! This sauce will combine with the cinnamon and sugar coated biscuit pieces to make that gooey, sticky soft texture that makes this easy monkey bread recipe taste so irresistible.
Add the butter and brown sugar to a small sauce pan over medium heat, stirring often. Once it has reached a smooth, almost caramel like consistency it will be ready.
Pour the mixture over the biscuit pieces in the Bundt pan.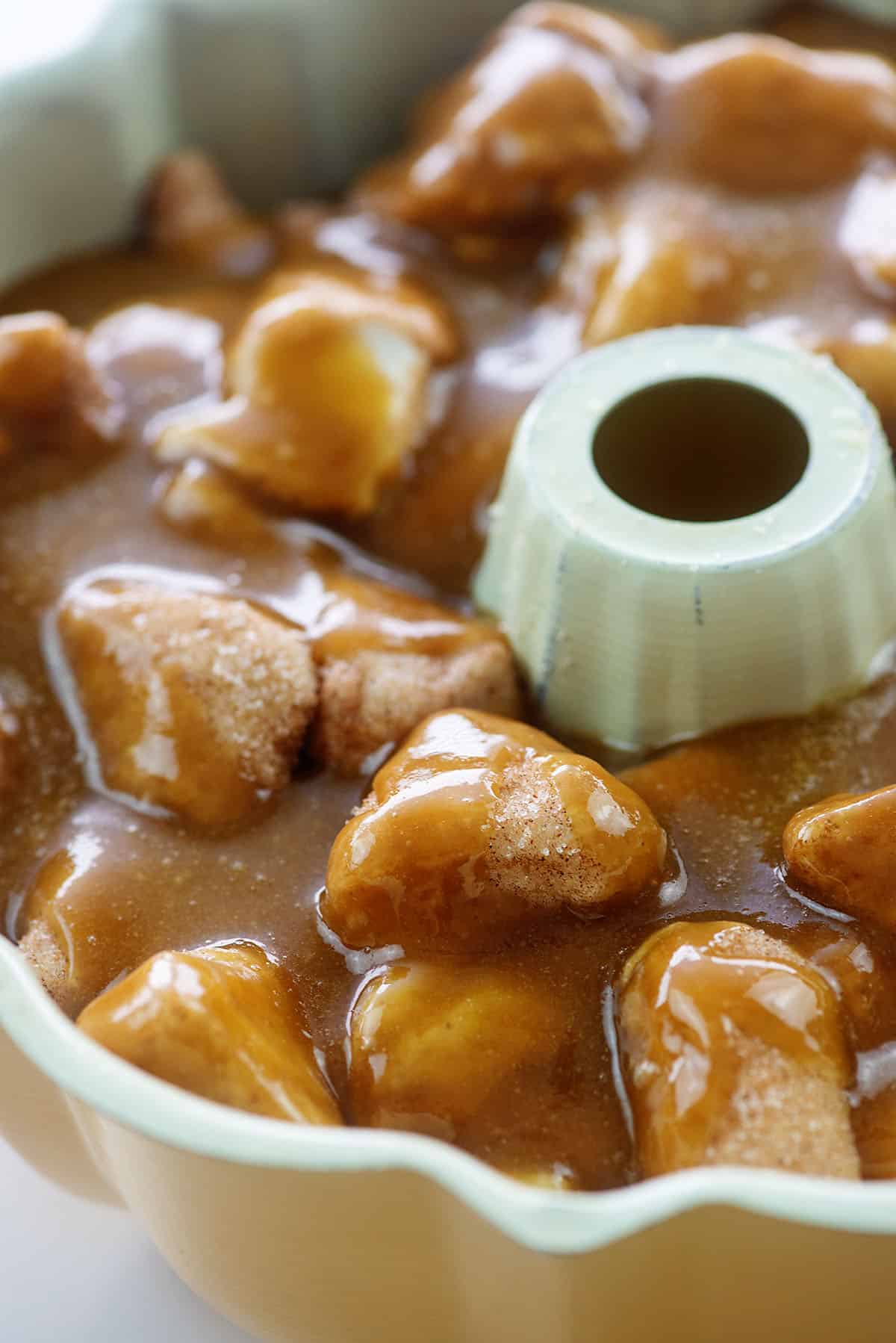 Bake: Once you have added the sauce you can begin baking the dough. It is helpful to place the Bundt pan on a baking sheet to prevent any of the mixture from spilling over into your oven.
Bake for 35 minutes at 350 degrees.
Allow to cool for 5 minutes before flipping onto a serving dish. Do not wait much longer or the mixture may begin to cool and stick to the pan.
Difficult as it may be, allow the bread to cool for up to 10 minutes before serving. You want the bread and sticky mixture to be warm, not lava hot.
Helpful TipS!
Pan Size: Make sure you use a 9 cup (or larger) Bundt pan for this recipe, anything smaller and it will overflow and create a sticky mess. Be sure to place the Bundt pan on a baking sheet just in case.
Cooling: Do not let it cool for too long before flipping it onto a serving dish or the mixture could cool and begin to stick to the Bundt pan.
Serve Warm: Monkey Bread is best when warm. It can be reheated! If you are going to eat it all within a couple of days, it can be stored at room temperature in a plastic zip top bag. You can also freeze monkey bread for up to a few months by tightly wrapping it in plastic wrap and foil.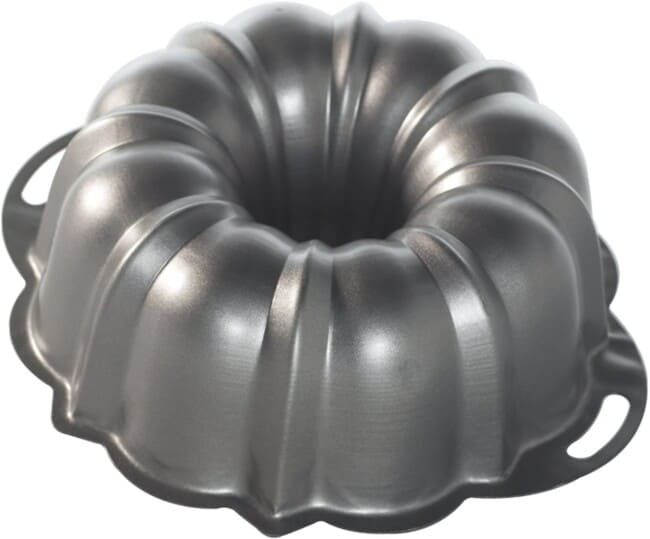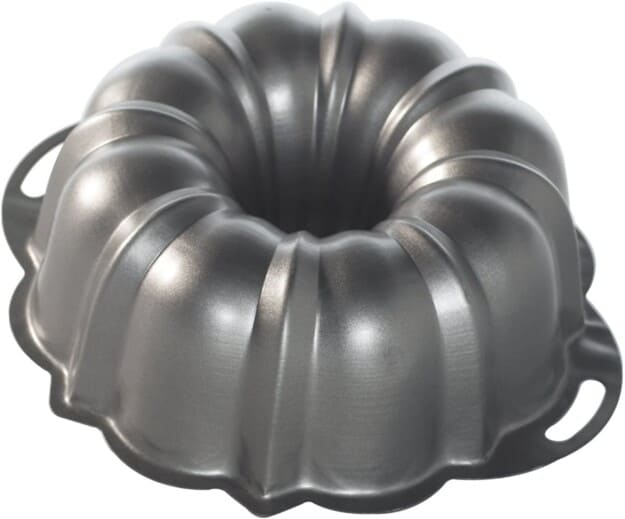 A quality bundt pan is essential! This one is non-stick, budget friendly, and gets used often in my home.
Additions!
Monkey Bread can be made in many ways, with many different ingredients. Some possible additions include:
Nuts – pecans and walnuts are a great choice.
Raisins – my family would revolt, but maybe this will work for you. 😉
Chocolate Chips – Not quite sweet enough for you? Try sprinkling in some chocolate chips.
Drizzle a simple vanilla glaze over the bread and sprinkle with sprinkles for a fun birthday breakfast.
Check out this maple bacon Monkey Bread!
Serving:
Monkey Bread is best served warm. This is one dish that the kids love to eat, because we pop it on a serving platter or cake stand, have everyone wash their hands (important step for what's to come next…), and then everyone picks apart the bread like little monkeys, pulling off bits of sweet, sticky dough and popping them onto their plate or into their mouths.
Monkey Bread makes a great brunch. Serve it with a fruit parfait, some scrambled eggs, or our air fryer sausage links.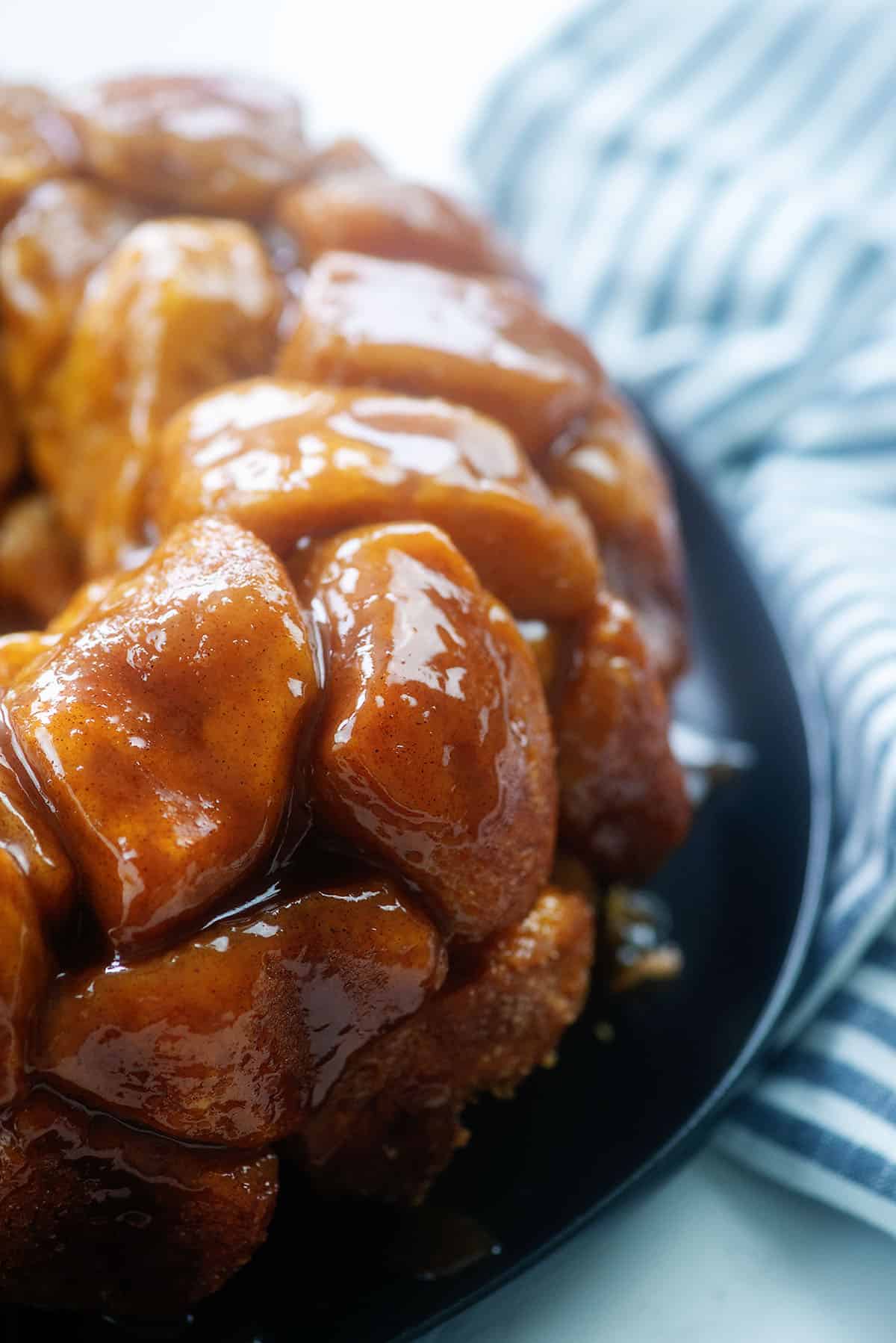 FAQs:
How to store monkey bread?
You can leave the monkey bread covered at room temperature for at least a couple of days. No need to refrigerate. You can re-heat the bread in portions in the microwave for about 20 seconds. Monkey bread is best enjoyed warm!
What is monkey bread?
It gets the name because of how you pick it apart with your hands to eat it like a monkey would. It is also known as plucking cake, pull-apart bread, or bubble bread!
Can I make this with homemade biscuits?
So, here's the million dollar question…do I think homemade biscuit dough would work in monkey bread?
The answer…yes, I THINK so, but I've not tried it.
If you want to attempt, double a batch of my dad's biscuits and pat the dough out into a large rectangle and then just cut into 1-inch squares. I would be a bit more liberal with the flour so that the dough is a bit sturdier and not quite as soft.
I have not tested this myself, but this is where I would start if I were going to.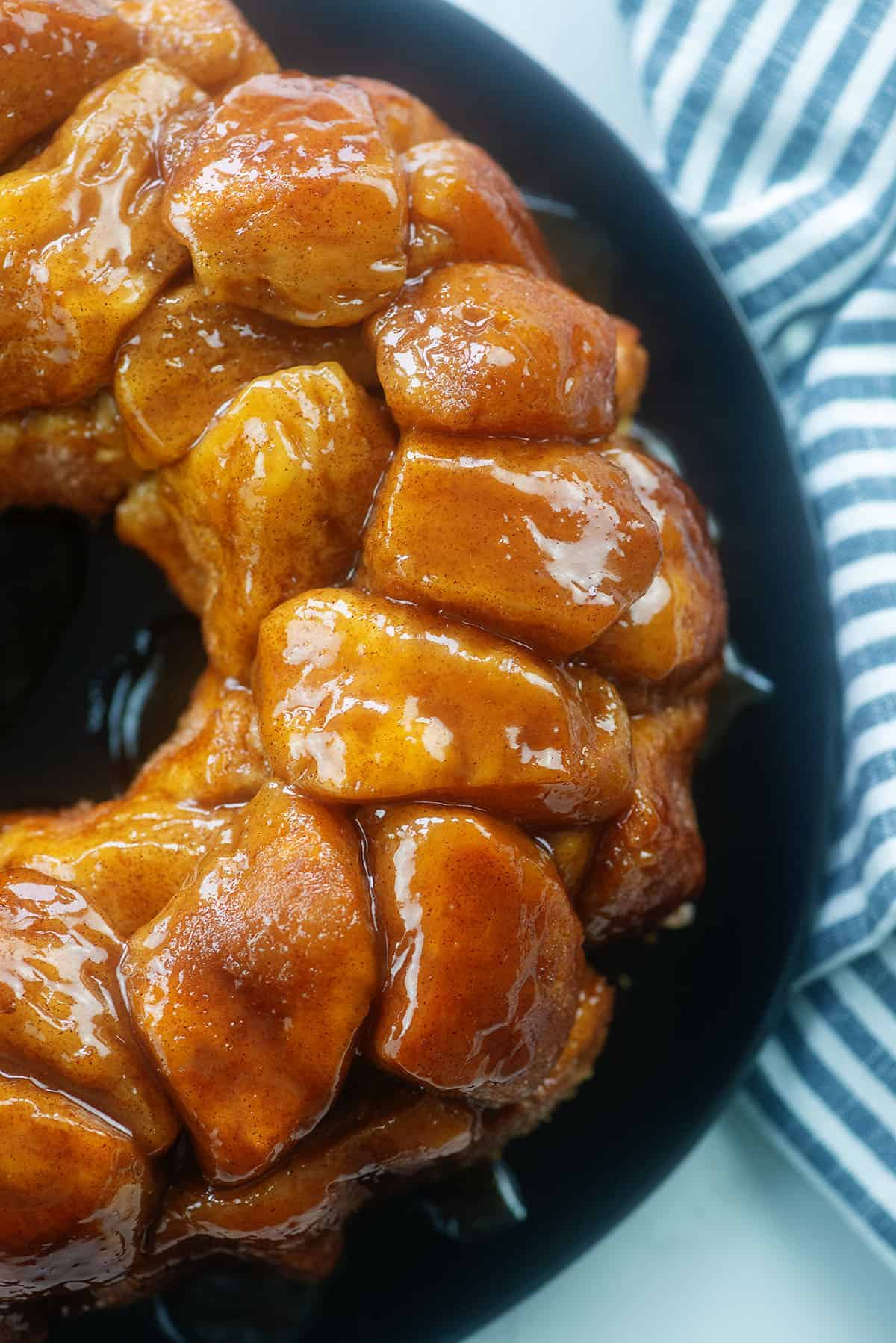 What We Love About Monkey Bread!
This is a kid-favorite, but it takes the adults right back to their childhood as well.
Sticky, sweet, and fun to eat, this makes any special day start off a bit more special and it's fairly simple to whip up with a bit of prep work and time.
More breakfast favorites!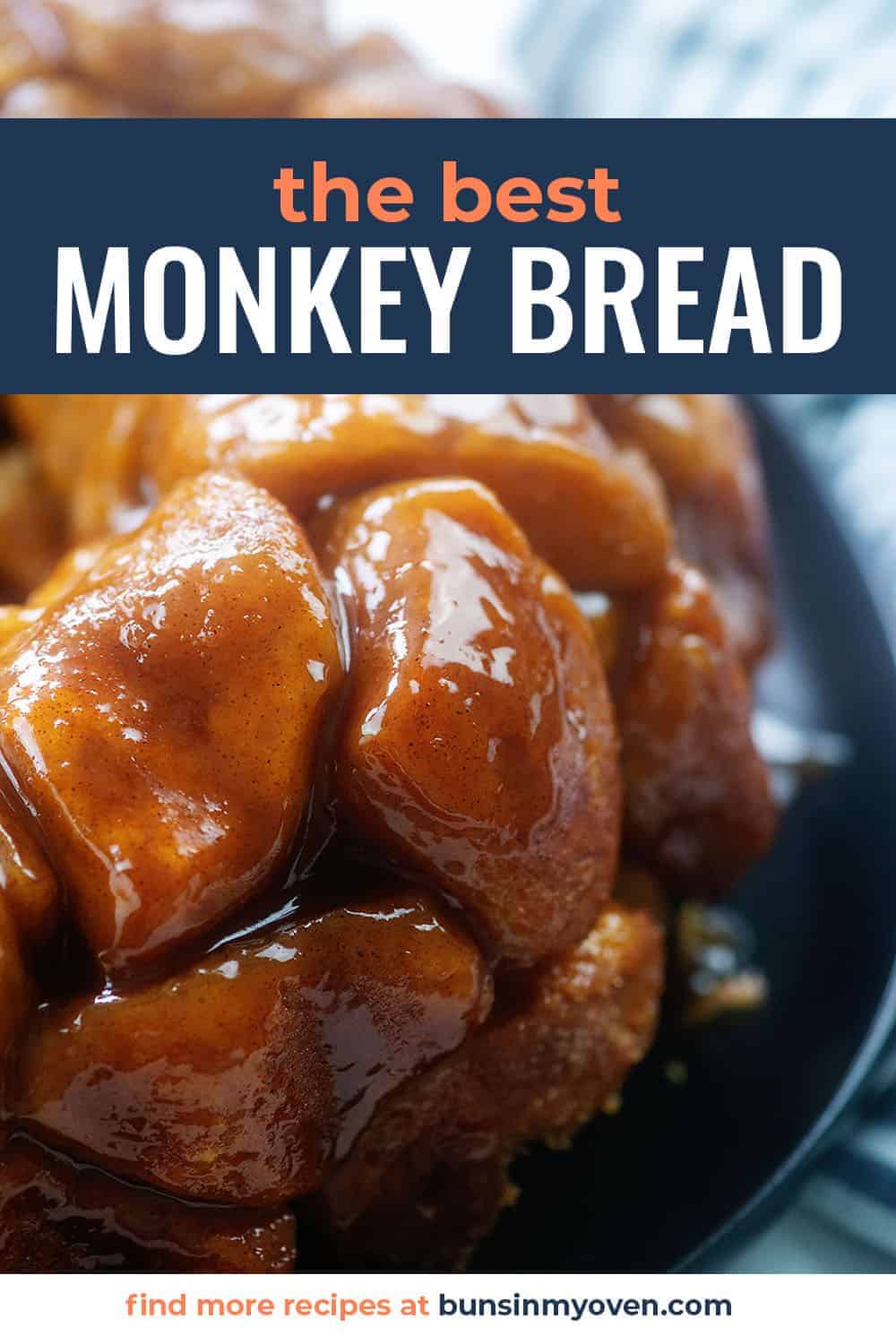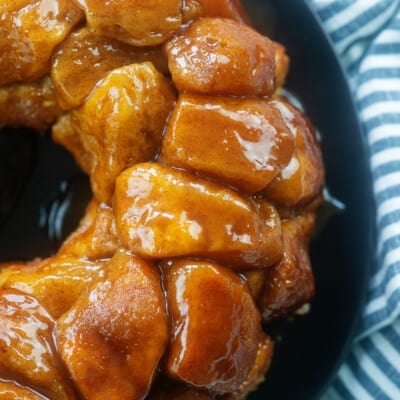 Monkey Bread
Sticky, sweet, and simple! Both the kids and the adults love this easy breakfast treat.
Prep20 minutes
Cook35 minutes
Total55 minutes
Ingredients
2 tubes refrigerated biscuit dough 8 biscuits each
3/4 cup granulated sugar
1 tablespoon ground cinnamon
¾ cup butter
1 cup brown sugar
Instructions
Preheat oven to 350 degrees. Liberally grease a 9 cup bundt pan.

Remove the biscuits from the can and cut each biscuit into 4 pieces.

Place biscuit pieces into a large zip top bag and add the granulated sugar and cinnamon. Seal the bag and shake to coat the biscuit pieces in the cinnamon and sugar.

Add the biscuit pieces to the prepared bundt pan.

Melt the butter and brown sugar in a small sauce pan over medium heat, stirring often. Once smooth and combined, pour the mixture over the biscuits.

Bake for 35 minutes or until no longer doughy in the center.

Let cool for 5 minutes and then carefully flip onto a serving dish.

Let cool for 10 minutes before serving.
Tips & Notes:
Test the size of your bundt pan, by measuring water and pouring it into the pan. A 9 cup bundt pan will hold 9 cups of water. A larger bundt pan will also work fine, but do not use a smaller pan with this recipe. We like to put our pan on a baking sheet before placing in the oven, just in case the caramel leaks over the edges. It's much easier to clean the baking sheet than the oven.
Nutrition Information:
Calories: 333kcal (17%)| Carbohydrates: 47g (16%)| Protein: 1g (2%)| Fat: 17g (26%)| Saturated Fat: 11g (69%)| Cholesterol: 46mg (15%)| Sodium: 162mg (7%)| Potassium: 42mg (1%)| Fiber: 1g (4%)| Sugar: 45g (50%)| Vitamin A: 532IU (11%)| Calcium: 38mg (4%)| Iron: 1mg (6%)