This pumpkin monkey bread is a fall twist on a classic dessert made easy with biscuit dough, canned pumpkin, and pumpkin pie spice!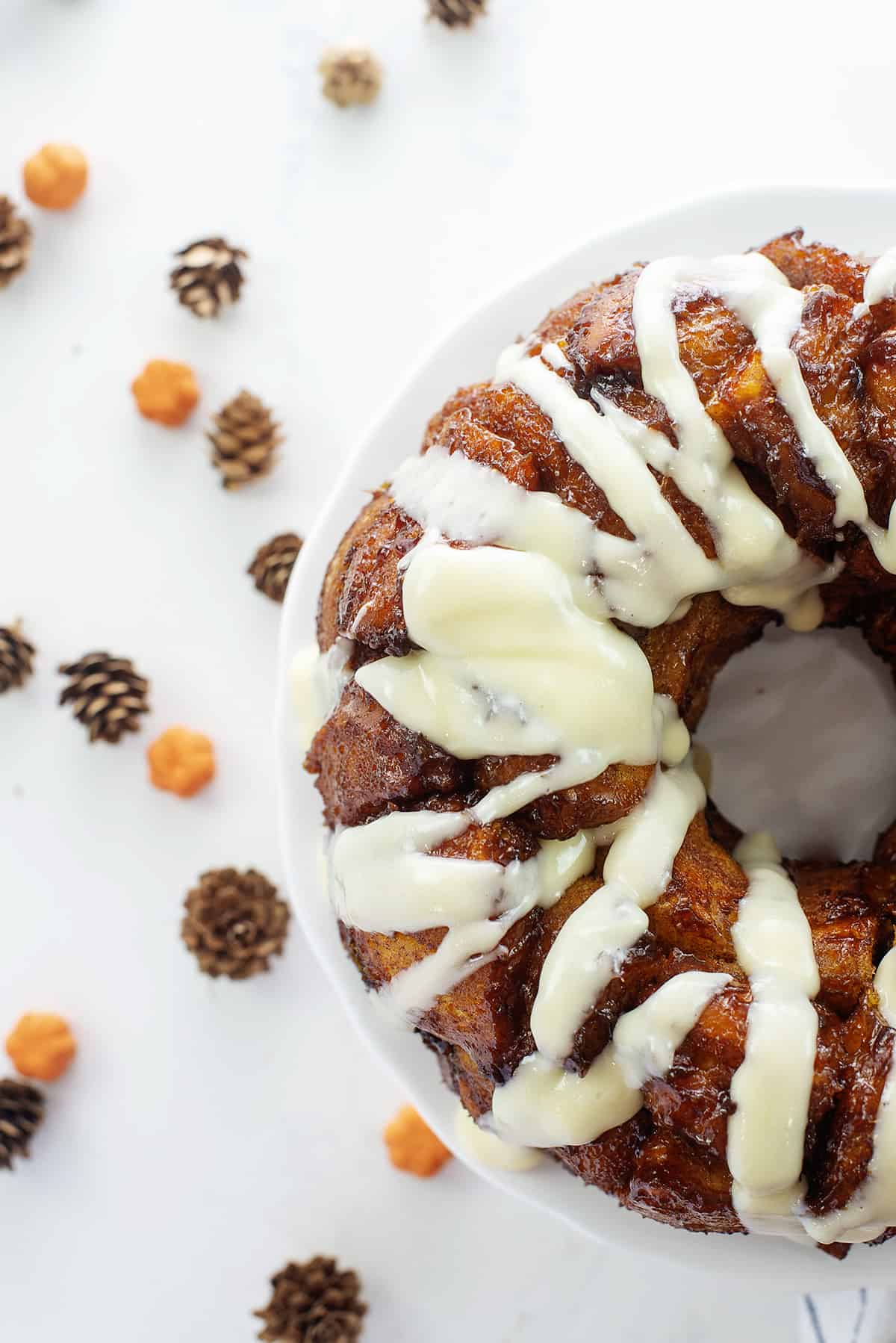 We love Saturday morning breakfast – the whole family in the kitchen, half asleep, and working together to create something tasty. It's my favorite morning of the week.
Fall is probably our favorite breakfast season, because we incorporate all kinds of pumpkin goodies into the breakfast routine, like this Pumpkin Monkey Bread. But also like our pumpkin coffee cake and our chocolate chip pumpkin bread.
This pumpkin monkey bread is a definite kid favorite – so ooey gooey, fun to eat with your hands, and there is a thick glaze/frosting drizzled over the top. <— No one can resist that combo!
Not into pumpkin? Our monkey bread recipe is a favorite we eat all year round.
Ingredient Notes:
This post contains affiliate links. As an Amazon associate and member of other qualifying programs, I earn from qualifying purchases.
For the monkey bread:
Pumpkin Puree – Be sure to use 100% pure pumpkin – not the pie filling that's mixed with other ingredients! You'll only need 1/3 cup, not a full can. Refrigerate the rest to use in our other pumpkin recipes (linked below).
Biscuit Dough – Keep things real simple and grab a couple of cans of biscuit dough from the store! Our homemade biscuits are a major favorite, but we've never tried them in monkey bread. Might be worth experimenting if you want a from scratch version.
Sugar – You'll need granulated white sugar and brown sugar.
Spice – The sugars will get mixed with cinnamon and pumpkin pie spice. Follow the link to check out my homemade pumpkin pie spice recipe!
Butter – You'll melt this with the brown sugar, pumpkin puree, and pumpkin pie spice to create a smooth pumpkin flavored caramel sauce to pour over the dough before baking!
What We Love About This Recipe:
Monkey bread is a classic dessert that is easy to make. It's a good one to have the kids help with.
The pumpkin puree and pumpkin pie spice make for a great seasonal twist to the usual monkey bread recipe.
The cream cheese glaze! It's good enough to put on all kinds of desserts.
For the glaze:
Cream Cheese – This simple cream cheese glaze recipe is perfect for pumpkin monkey bread! You'll need softened, room temp cream cheese.
Butter – For mixing with the cream cheese and adding flavor to the glaze.
Powdered Sugar – For a nice smooth glaze you'll want to use confectioners sugar.
Vanilla Extract – For flavor!
How To Make Monkey Bread:
Prepare: To get started you'll preheat your oven to 350 degrees. While it's heating remove the biscuits from the cans and chop each biscuit into 4 pieces. With 16 biscuits, that should be 64 pieces of dough!
Sugar & Spice: Add the white sugar, cinnamon, and one teaspoon of pumpkin pie spice to a large zip top bag and shake until well combined.
Coat: Add the pieces of biscuit dough to the zip top bag with the sugar and spice mix and shake well until you get the dough as well coated as possible.
Pumpkin Sauce: To get all that wonderful pumpkin flavor into this monkey bread you'll make a sweet caramel like sauce with pumpkin puree!
Add the brown sugar, butter, pumpkin puree, and one teaspoon of pumpkin pie spice to a small sauce pan over medium heat. Stir often while it heats until the mixture has melted and forms into a smooth sauce.
Assemble: Add half of the cinnamon sugar coated biscuit dough to a greased bundt pan.
Next, pour half of the sweet pumpkin butter sauce over the dough in the pan. Finally, add in the remaining half of the dough and top it again with the remaining half of the pumpkin sauce.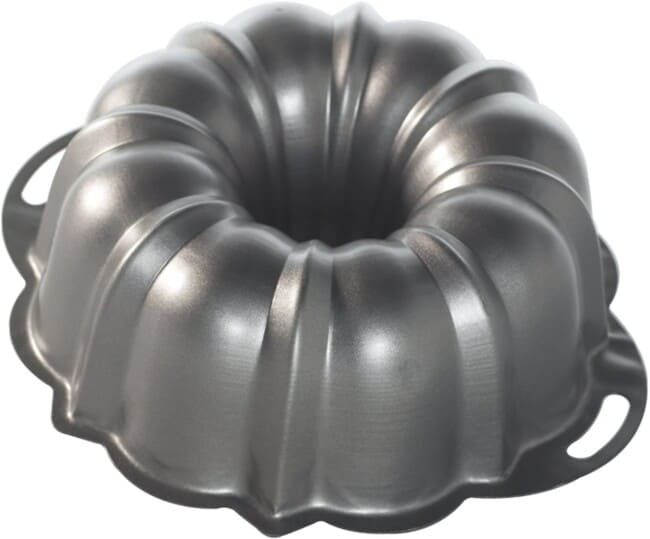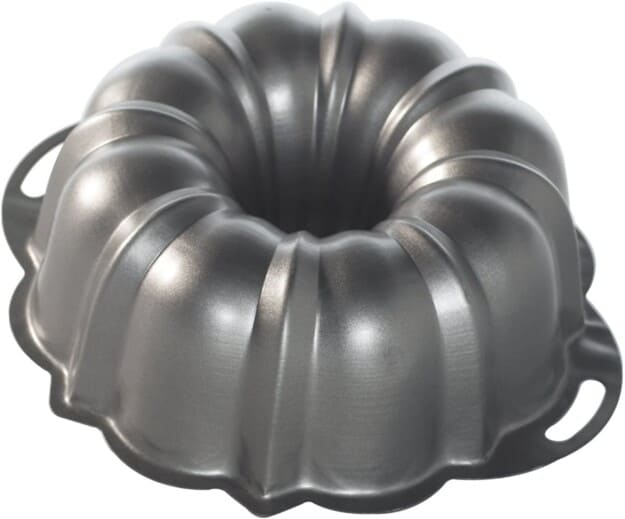 A quality Bundt pan is essential! This one is non-stick, budget friendly, and gets used often in my home.
Bake: Pop your pan in the hot oven and bake for around 40 minutes. It'll be nicely browned on top.
You'll want to let it cool for 10 minutes in the pan before inverting it onto a plate and finishing with the cream cheese glaze! You can start making the glaze while the pumpkin monkey bread cools.
How To Make Cream Cheese Glaze:
Mix: This glaze is easy to make and useful in lots of recipes! Start by adding the cream cheese and butter to a mixing bowl and beat together until smooth and creamy. An electric hand mixer is useful here!
Add the vanilla extract and powdered sugar and continue mixing on low speed until combined.
It's so easy to whip up dessert with this cute hand mixer. It doesn't take up much space and is a must for any kitchen!
Warm: To get this cream cheese glaze to a pourable consistency you'll want to heat it briefly in the microwave. Only about 15-20 seconds, or in short bursts until it is pourable. Don't overheat the glaze!
Finish: When the pumpkin monkey bread has finished cooling and the cream cheese glaze is ready you know what to do! Pour the glaze over the monkey bread and serve it while it's still warm for best results.
Helpful Tip!
If you like a little crunch with your monkey bread feel free to top it with some chopped pecans or walnuts!
FAQs:
How to store monkey bread?
Most monkey bread recipes can be stored at room temperature, but with the cream cheese glaze this needs to be refrigerated. This should last for about 3 days in the fridge.

One option if you know you'll have extra is to just avoid adding the glaze to that portion. You can store the monkey bread at room temp, and then prepare the glaze just before serving so it's all nice and warm!
What is monkey bread?
It gets the name because of how you pick it apart with your hands to eat it like a monkey would. It is also known as plucking cake, pull-apart bread, or bubble bread!
Can I use fresh pumpkin?
Fresh pumpkin will work fine, so well as you strain it well to release as much moisture as possible. The texture should be similar to that of canned pumpkin.
MORE PUMPKIN DESSERT RECIPES!
Pumpkin Monkey Bread
This pumpkin monkey bread has all the same ooey gooey fun of traditional monkey bread, but with the addition of real pumpkin and pumpkin spice! It makes a fun fall breakfast and the whole family loves it.
Prep15 minutes
Cook50 minutes
Cooling Time10 minutes
Ingredients
For the monkey bread:
2 cans refrigerated biscuit dough 16 biscuits total
½ cup granulated sugar
2 teaspoons pumpkin pie spice divided
1 teaspoon cinnamon
1 cup brown sugar
½ cup butter
1/3 cup pumpkin puree
For the glaze:
4 ounces cream cheese room temperature
2 tablespoons butter
¾ cup powdered sugar
½ teaspoon vanilla
Instructions
To make the monkey bread:
Preheat oven to 350 degrees. Liberally grease a 12 cup bundt pan with butter, oil, or cooking spray.

Chop the biscuits into 4 pieces each, making a total of 64 pieces of dough.

Add the sugar, 1 teaspoon of pumpkin spice, and cinnamon to a large zip top bag and shake to combine.

Add the biscuit pieces to the sugar mixture and shake to coat.

Place half of the biscuit dough in the prepared pan.

Add the brown sugar, butter, pumpkin puree, and remaining teaspoon of pumpkin pie spice to a small sauce pan over medium heat and cook, stirring often, until the mixture has melted and comes together to form a smooth sauce.

Pour half of the butter mixture over the biscuits in the pan.

Add the remaining biscuits to the bundt pan and top with the remaining butter mixture.

Bake for 40 minutes or until golden brown and cooked through.

Let cool in the pan for 10 minutes before inverting onto a plate.
To make the glaze:
While the monkey bread is cooling in the pan, add the cream cheese and butter to a mixing bowl and beat with an electric mixer until smooth and creamy.

Add the powdered sugar and vanilla and mix on low speed until combined.

Warm the glaze in the microwave for 15-20 seconds or until glaze is a pourable consistency.

Pour over the monkey bread.

Serve monkey bread while still warm.
Tips & Notes:
We use Grand's buttermilk biscuits in this recipe. Be sure to use pure pumpkin puree and not the canned pumpkin pie filling in this recipe. When testing for doneness, we like to carefully pick off one of the pieces of dough to see how it looks underneath and if the pieces still look raw inside or if they're cooked through. The top gets fairly browned by the time it's down, but should not be burnt at all.
Nutrition Information:
Calories: 641kcal (32%)| Carbohydrates: 87g (29%)| Protein: 7g (14%)| Fat: 31g (48%)| Saturated Fat: 12g (75%)| Polyunsaturated Fat: 6g| Monounsaturated Fat: 10g| Trans Fat: 0.5g| Cholesterol: 43mg (14%)| Sodium: 1004mg (44%)| Potassium: 276mg (8%)| Fiber: 2g (8%)| Sugar: 44g (49%)| Vitamin A: 1780IU (36%)| Vitamin C: 0.4mg| Calcium: 85mg (9%)| Iron: 3mg (17%)