These Pumpkin Rice Krispies Treats are ooey gooey perfection and loaded with all that pumpkin spice flavor that you can't get enough of!
Tis the season for pumpkin spice everything and I think I've finally outdone myself.
Pumpkin Rice Krispies Treats – can you handle it? I hope so, because these. are. good.
I got the idea for Pumpkin Rice Krispies Treats awhile back and I've had a grand old time testing the perfect recipe…but it was actually harder than you might think.
All of the rice krispies treats with ACTUAL pumpkin in them came out…funky. Wet or mushy or just not what I was expecting.
I finally tested these guys, with all of the traditional Rice Krispies Treats components, plus a heavy sprinkle of pumpkin spice and some orange food coloring…and here we are with perfect pumpkin cereal bars that you will seriously not be able to stop eating!
We're huge RKT fans in this house and have shared our recipes for Christmas rice krispies treats (so festive) and browned butter rice krispies treats again and again. So good.
Ingredient Notes:
This post contains affiliate links. As an Amazon associate and member of other qualifying programs, I earn from qualifying purchases.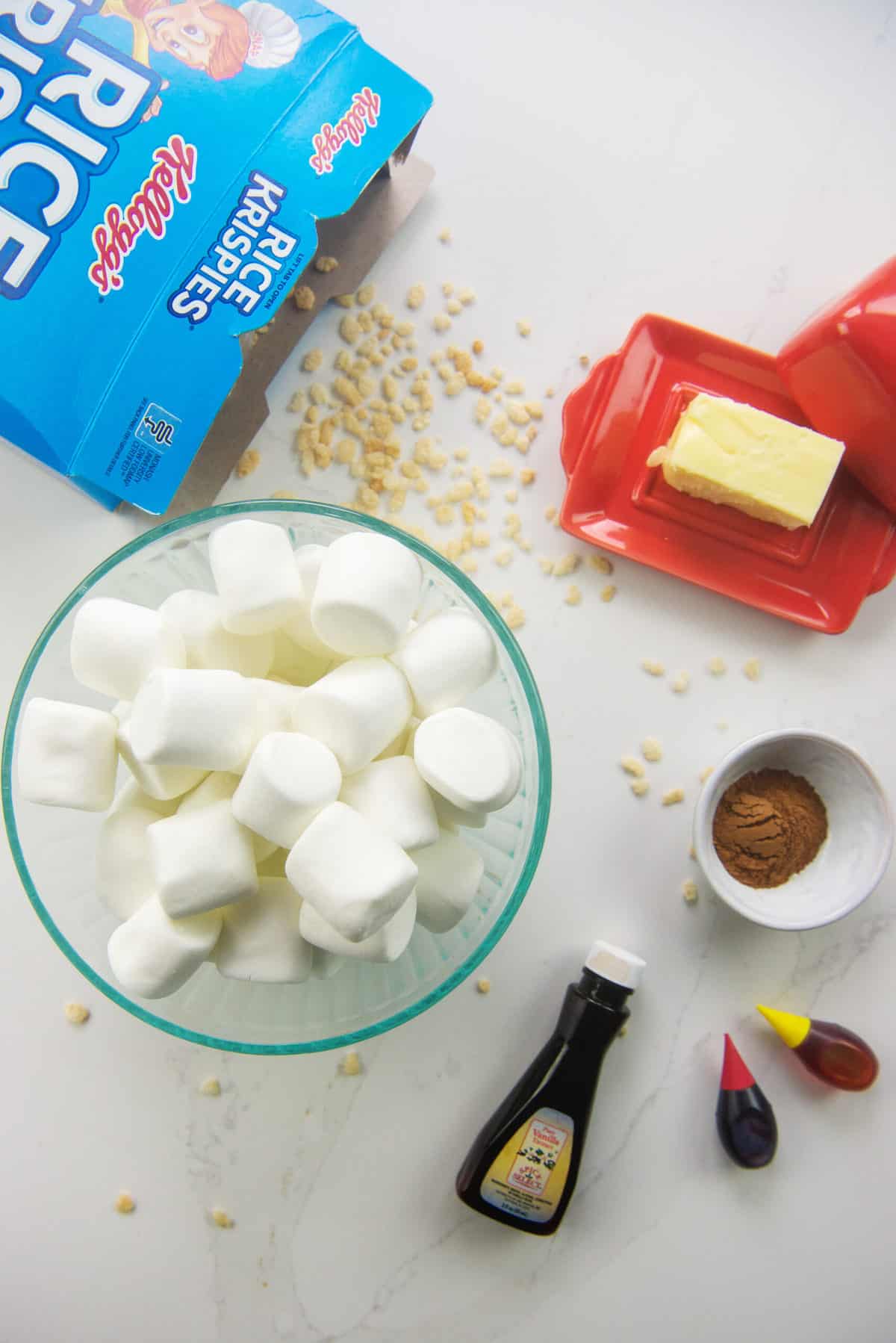 Rice Krispies – This is pretty much the key ingredient here. You'll need some Rice Krispies cereal to make these classic treats. Of course, Chex cereal makes some great cereal treats too!
Marshmallow – Another key component of a Rice Krispies treat is the sticky melted marshmallow that binds everything together. You'll need both mini marshmallows and regular full sized marshmallows.
Flavoring – We're skipping the wet mush that happens when you add pumpkin to Rice Krispies Treats and just adding in the flavor with pumpkin pie spice. Trust me – it works! You'll also add in vanilla extract.
Coloring – I just mixed together 10 drops each of red and yellow food coloring to create the orange color for the pumpkin theme. If you have orange food coloring, that would work too.
What We Love About This Recipe!
These Pumpkin Rice Krispies Treats are easy to make and are a good one to have the kids help you with. The food coloring gives it the look and the spice adds the pumpkin flavors! They're ready in no time and are perfect for Halloween or Thanksgiving treats. Super easy way to make a classic treat just a bit festive and fun!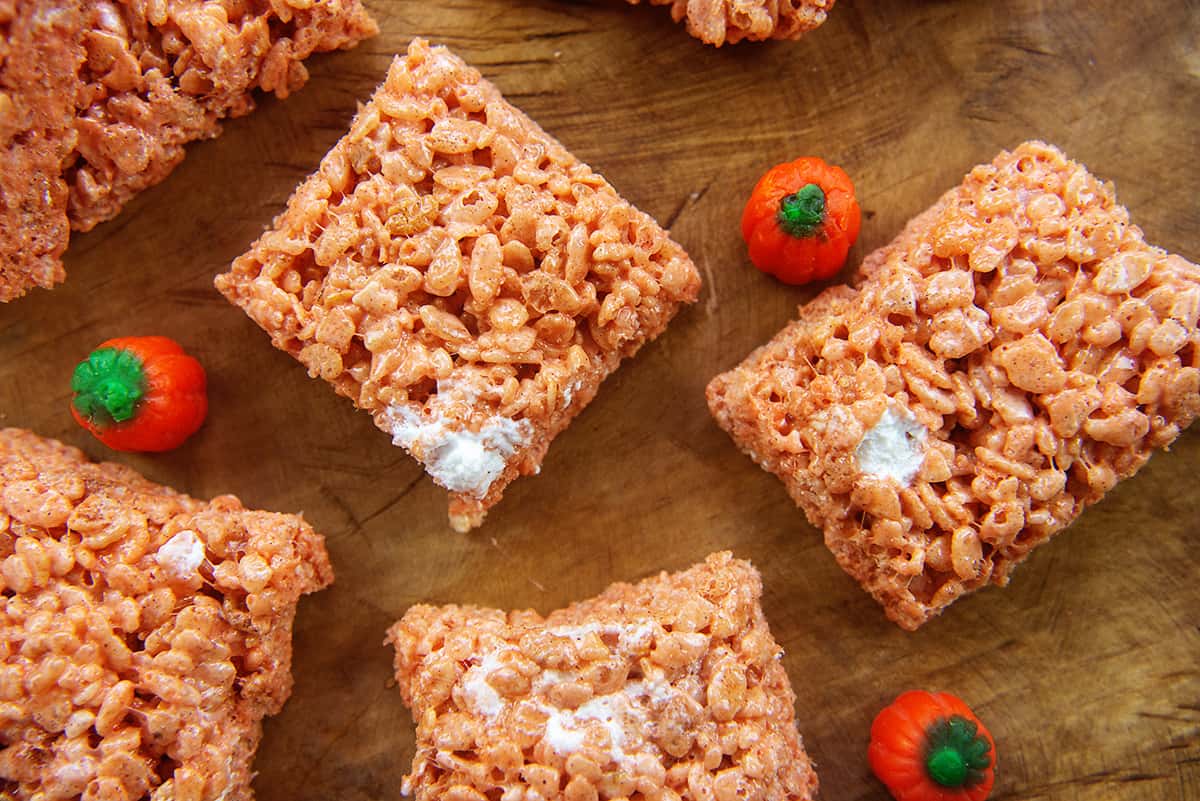 How to Make Pumpkin Rice Krispies:
Melt: First up you'll prepare the sticky melted marshmallow and butter mixture that will hold all the Rice Krispies together. Start melting some butter in a large pot and then add in the normal sized marshmallows.
Stir constantly while it heats until the marshmallow and butter are fully melted together. Make sure you do not overcook or the marshmallow will be crunchy instead of chewy!
Mix: Next up you'll turn these into pumpkin themed treats by mixing in the pumpkin pie spice along with the vanilla and the food coloring. Stir it well until it is fully combined and the marshmallow mixture takes on an orange color.
Cereal: Now you can go ahead and start adding in the Rice Krispies! Begin mixing those in along with the mini marshmallows and stir until the cereal has been fully coated in the marshmallow mixture.
The mini marshmallows are completely optional here, but we love the little bits of gooey marshmallow throughout the bars. It really adds something special and makes these feel a bit more gourmet than your standard rice krispies treat!
Serve: Start spreading the pumpkin Rice Krispies treat mixture into a greased 9×13 baking dish and press down to flatten the top. You'll need to let them cool for about 30 minutes before they'll have set enough to slice into bars and serve!
Helpful Tip!
Spray a piece of wax paper with non-stick spray and use that to press the cereal mixture into place. The cereal won't stick to your hands or the wax paper!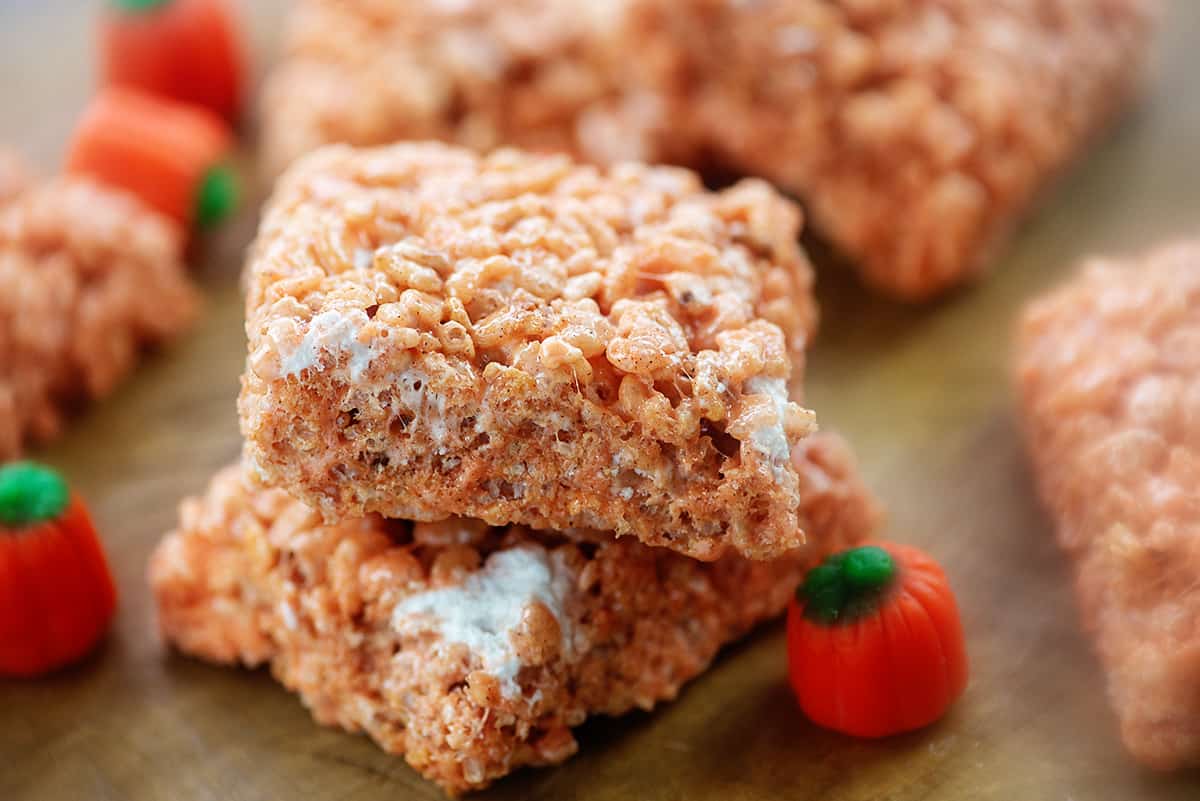 FAQs:
How long do Rice Krispies treats last?
For the best taste and freshness, Rice Krispies Treats should be eaten within a couple of days. Store them tightly covered at room temperature. .
Can you freeze Rice Krispies treats?
You can freeze these pumpkin Rice Krispie treats for about two to three months. First slice the treats into bars or squares and wrap each one in plastic wrap or wax paper before sealing in a freezer bag.
Are Rice Krispies Treats gluten free?
Rice is gluten free but many brands of cereal, including Kellog's, contain gluten, so you would need to find a gluten free brand of cereal and make sure that the marshmallows you are using are also gluten free.
MORE FALL DESSERT RECIPES!
Pumpkin Rice Krispies Treats
These cereal bars are extra ooey gooey thanks to the mini marshmallows we stir in with the cereal. The pumpkin flavor all comes straight from the pumpkin pie spice, so these are super easy and the texture is the same as the classic Rice Krispies Treats!
Prep15 minutes
Cooling Time30 minutes
Total45 minutes
Ingredients
¼ cup butter
10 ounces marshmallows any size
2 teaspoons pumpkin pie spice
1 teaspoon vanilla
10 drops red food coloring
10 drops yellow food coloring
6 cups Rice Krispies cereal
1 cup mini marshmallows
Instructions
Heat the butter in a large pot over medium heat until melted.

Add 10 ounces of marshmallows to the pot and stir constantly until the marshmallows are fully melted. Do not overcook the marshmallows or the final product will be crunchy instead of chewy.

Add the pumpkin spice, vanilla, and food coloring and stir well to combine.

Add the cereal and mini marshmallows and stir until all of the cereal is coated in the marshmallow mixture.

Press mixture into a greased 9×13 baking dish and flatten the top. We find it easiest to use a piece of wax paper sprayed with non-stick spray to press the Rice Krispies Treats into the dish.

Let set for 30 minutes to cool and then cut into squares and serve.
Tips & Notes:
We do not recommend adding actual pumpkin to this recipe as it makes the cereal less crispy. The pumpkin pie spice adds plenty of pumpkin flavor. You may use orange food coloring in place of red and yellow, if you have it available. Add as much as you like to reach your desired color. The mini marshmallows aren't necessary, but do add a bit of a gourmet flair to the finished product and make them look and taste like they came from a nice bakery.
Nutrition Information:
Serving: 1bar| Calories: 178kcal (9%)| Carbohydrates: 35g (12%)| Protein: 2g (4%)| Fat: 4g (6%)| Saturated Fat: 3g (19%)| Polyunsaturated Fat: 1g| Monounsaturated Fat: 1g| Trans Fat: 1g| Cholesterol: 10mg (3%)| Sodium: 130mg (6%)| Potassium: 23mg (1%)| Fiber: 1g (4%)| Sugar: 17g (19%)| Vitamin A: 1050IU (21%)| Vitamin C: 9mg (11%)| Calcium: 5mg (1%)| Iron: 4mg (22%)