My M&M Rice Krispies Treats are ooey gooey cereal bars, studded with m&m's, topped with chocolate, and topped with mini m&m's! This one is for candy lovers only!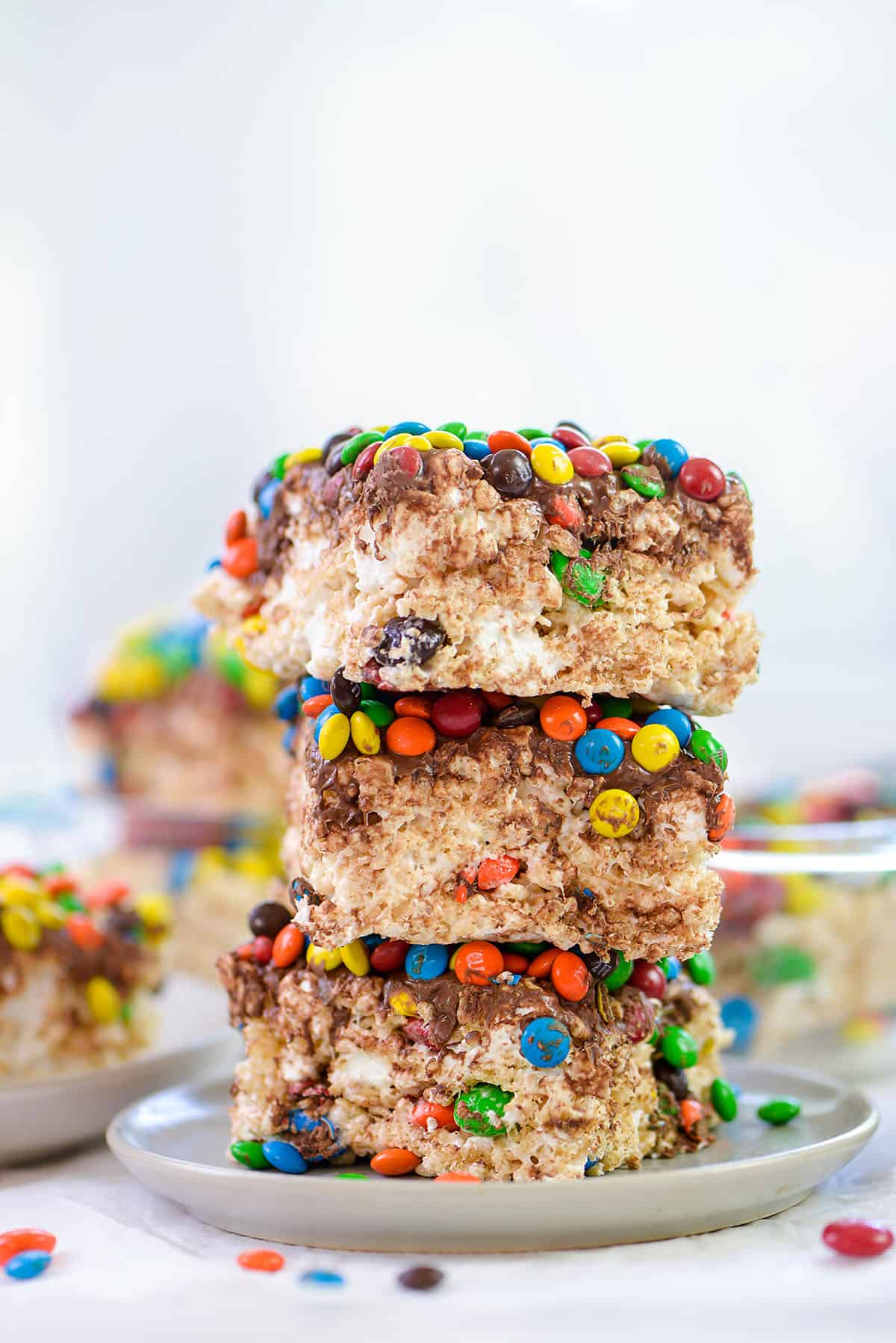 You know those gourmet rice krispies treats you can buy at the bakery? They cost like $5 for a thick, chewy cereal bar and honestly, they're hard to resist. But resist I will! No way can I justify $5 for a rice krispies treat. I just refuse.
So, we're making a whole pan at home and the cost is most definitely not $5 per treat. Unless you eat half the pan, which look at them. Could anyone blame you?!
We've done lots of fun cereal treats, like our Oreo Rice Krispies Treats and our Christmas Rice Krispies Treats. Of course, we've also made Fruity Pebbles Cookies and Lucky Charm Bars!
We packed as many marshmallows as possible into these M&M Rice Krispies Treats. No dry, crunchy treats for us – we want them ooey gooey and hard to resist!
Ingredient Notes:
This post contains affiliate links. As an Amazon associate and member of other qualifying programs, I earn from qualifying purchases.
Rice Krispies – The obvious choice, but pro tip – try swapping in Chex cereal sometime. 😉
Marshmallow – We prefer mini marshmallows in these treats. Some get melted, some get stirred in towards the end to create chewy bites throughout.
M&M Candies – You'll need some regular M&M candies along with M&M Minis. The regular sized M&Ms get mixed into the treats, and the minis will go on top! They're small which makes it easy to fit lots of them on each treat!
Milk Chocolate Chips – You can use any brand of chocolate chips for this. You'll melt the chocolate to drizzle over the treats. All that gooey chocolate will hold the M&M minis in place!
Helpful Tip!
Use the right sized dish…
In my other RKT recipes I use a 9×13 baking dish. For this recipe it's important to use a 9×9 dish. We're making these treats extra thick! If using a 9×13 you'll probably need more chocolate and candy for topping.
How to Make Rice Krispies Treats:
Melt: To get started you'll melt all but two cups of the marshmallows with some butter. Heat the butter in a sauce pan then stir in the marshmallows until they've melted. Remove the pan from the heat just after melting.
Note: It's important that you don't overheat the marshmallow mixture or you will end up with hard and crunchy treats instead of soft and chewy cereal bars!
Rice Krispies: Next you can start stirring in the Rice Krispies cereal along with the remaining two cups of the mini marshmallows. They'll get a little melty but will mostly retain their shape in the treats.
M&Ms: Now for the candy! Add a cup of the regular sized M&M candies to the Rice Krispies treat mixture and stir those up until it's all well combined.
Spread: These are meant to be extra thick M&M Rice Krispies treats so use a greased 9×9 baking dish here. Spread the RKT mixture into the dish by pressing down gently with a greased piece of parchment paper.
Chocolate: We're going all out and topping these treats with some melted chocolate! It'll also act as the glue that'll hold all those M&M minis in place.
Finish: Almost done. We're not stopping with the melted chocolate! While it's still melty, start topping the treats with M&M minis. Push them down lightly into the chocolate. Go all out and cover the treats in M&M minis!
You'll have to resist eating these for at least two hours! They'll need time to cool down until they are proper Rice Krispies Treats that can be easily sliced into squares.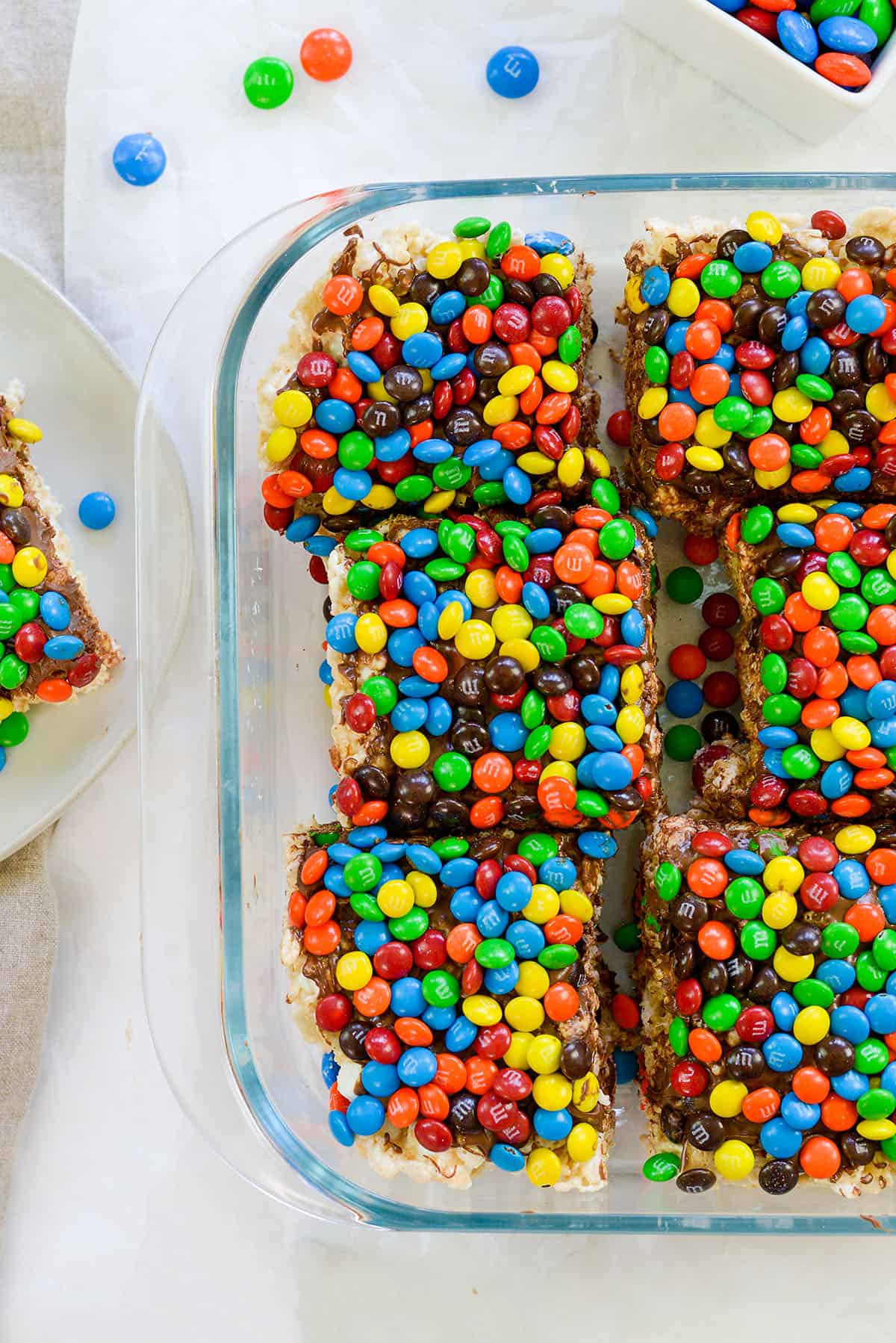 FAQs:
How to store Rice Krispies Treats?
These M&M Rice Krispies Treats can be stored at room temperature in a sealed container for 2-3 days. We often go longer, but the texture does change a bit the longer they sit.
How to freeze Rice Krispies Treats?
You can freeze these M&M Rice Krispies Treats for about two to three months. First slice the treats into bars or squares and wrap each one in plastic wrap or wax paper before sealing in a freezer bag.
Are Rice Krispies Treats gluten free?
Rice is gluten free but many brands of cereal, including Kellog's, contain gluten, so you would need to find a gluten free brand of cereal and make sure that the marshmallows and candies you are using are also gluten free.
M&M Rice Krispies Treats
These rice krispies treats remind me of the ones you find in a gourmet bakery! So thick and chewy, absolutely loaded with marshmallows, and topped with a ridiculous amount of mini m&m's! Kids and adults both go nuts for these cereal treats.
Prep5 minutes
Cook5 minutes
Cooling Time2 hours
Ingredients
¼ cup butter
8 cups mini marshmallows about 14 ounces divided
6 cups Rice Krispies cereal
1 cup m&m candies
½ cup milk chocolate chips
1 cup mini m&m candies
Instructions
Heat the butter in a large pot over low heat until melted.

Add 6 cups of marshmallows to the pot and melt, stirring constantly.

Once the marshmallows are melted, immediately remove the pot from the heat and stir in the Rice Krispies and remaining 2 cups of marshmallows. Stir to coat.

Add in the regular sized m&m's and stir to combine.

Spread the mixture into a greased 9×9 baking dish. Use a piece of greased wax paper to press lightly into the pan.

Melt the chocolate chips in a small bowl in short bursts about 15 seconds each, stirring each time, until chocolate has melted and is smooth.

Drizzle the melted chocolate over the rice krispies treats and spread out to form an even layer of chocolate over the top.

Sprinkle with the mini m&m's and lightly press them down to ensure they stick to the bars.

Let sit for at least 2 hours before cutting and serving.
Tips & Notes:
We normally make Rice Krispies Treats in a 9×13 pan, but we wanted these to be extra thick and gooey. If you'd like more bars that are a bit thinner, you can use a 9×13. You may need more melted chocolate and m&m's for topping the bars.
Nutrition Information:
Serving: 1bar| Calories: 607kcal (30%)| Carbohydrates: 102g (34%)| Protein: 5g (10%)| Fat: 21g (32%)| Saturated Fat: 13g (81%)| Polyunsaturated Fat: 0.4g| Monounsaturated Fat: 2g| Trans Fat: 0.3g| Cholesterol: 25mg (8%)| Sodium: 239mg (10%)| Potassium: 30mg (1%)| Fiber: 2g (8%)| Sugar: 70g (78%)| Vitamin A: 1716IU (34%)| Vitamin C: 14mg (17%)| Calcium: 78mg (8%)| Iron: 7mg (39%)