Snickerdoodle Rice Krispies Treats have all the soft, chewy, gooey flavors of classic Rice Krispies Treats but with a cinnamon sugar topping!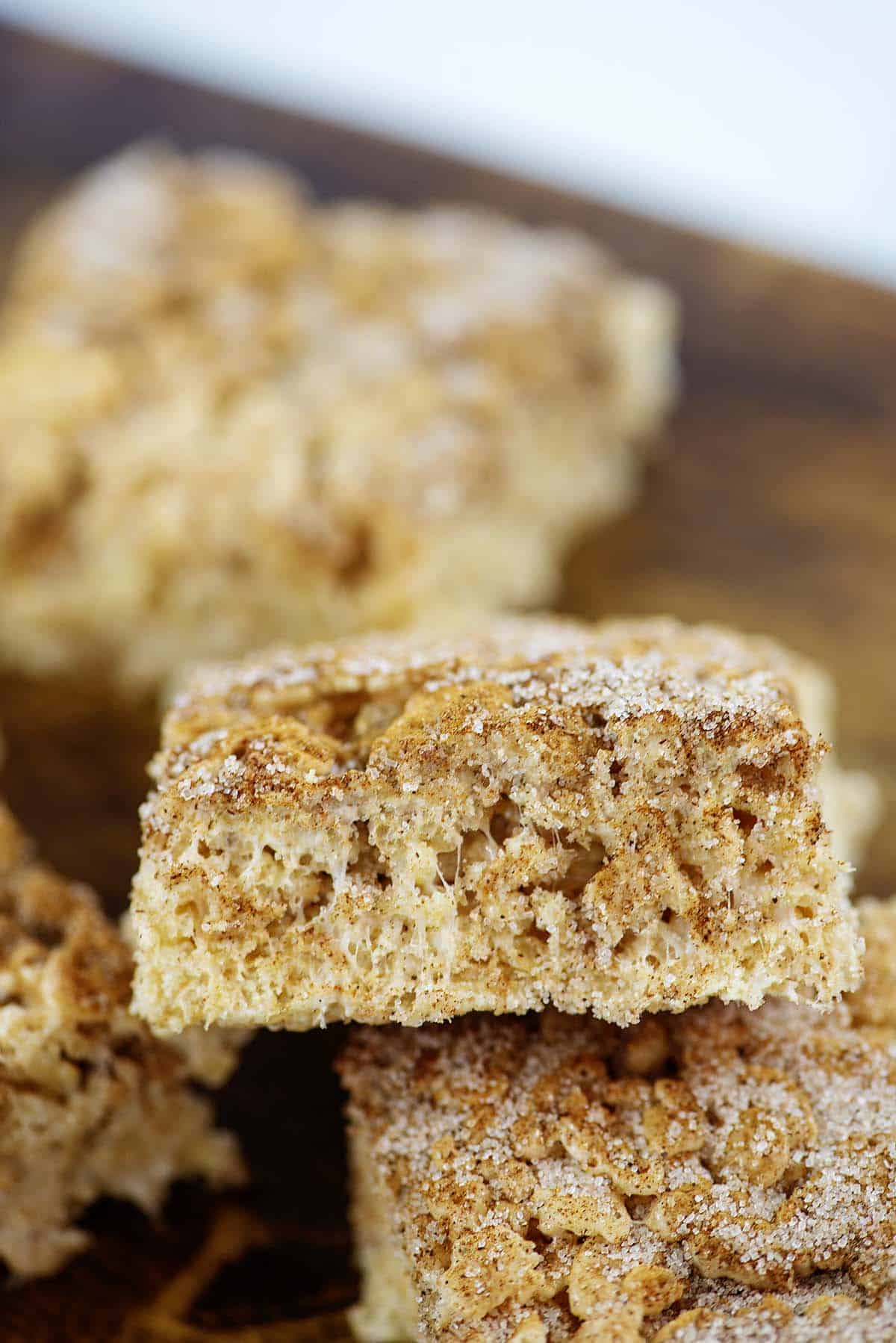 It should come as no surprise to anyone that I'm an absolute sucker for Rice Krispies Treats!
I mean, we've got quite the variety here on this site, ranging from our Oreo Rice Krispies Treats to Pumpkin Rice Krispies Treats! Heck, we've even made Lucky Charms Treats. The combo of marshmallow and butter and cereal is always good, if you ask me!
We took one of our favorite cookies – snickerdoodles without cream of tartar – and turned it into a no bake cereal treat by simply sprinkling cinnamon and sugar over the top and mixing just a pinch of cinnamon into the marshmallow goo.
Easy, yes. Also totally delicious!
Ingredient Notes: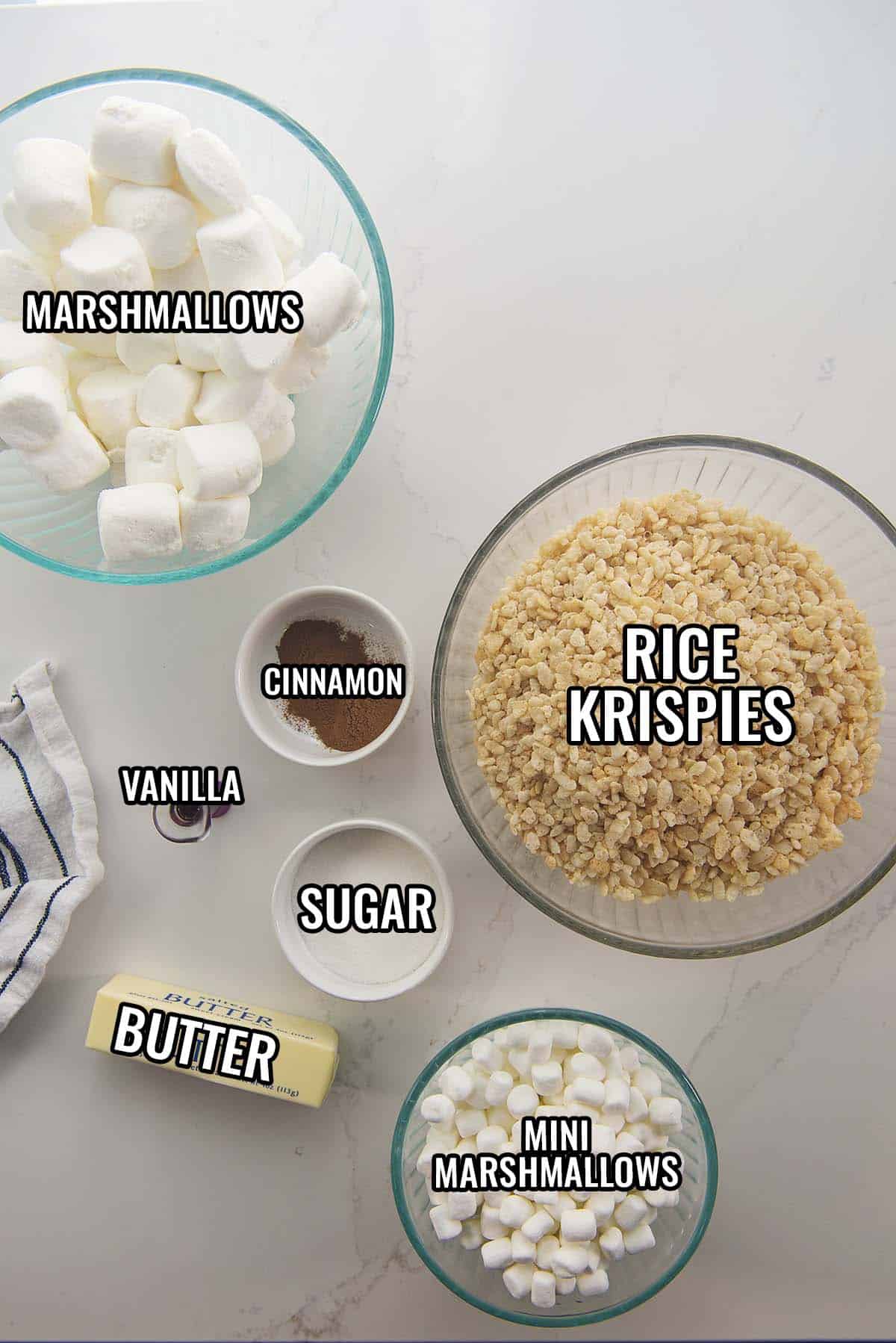 Rice Krispies Cereal – A must, although we also love cereal treats with Chex cereal!
Marshmallow Goo – Mini or full sized marshmallows work well, but we prefer mini marshmallows – you'll see why in the how to! You'll melt these with some butter and mix in some vanilla extract for extra flavor.
Cinnamon/Sugar – Just like a snickerdoodle, these get a hefty sprinkling of cinnamon and sugar over the top.
What Readers are Saying!
Ooey gooey, just like the classic – but with a delicious cinnamon sugar twist! These are always a hit and we love that they're no bake and only take about 10 minutes!
How to Make Rice Krispies Treats:
Melt: Melt the butter and all but two cups of the marshmallows in a sauce pan until just melted.
Helpful Tip!
It's important to not over cook the marshmallow, or you'll end up with crunchy, hard Rice Krispies Treats instead of soft and chewy! Only cook the marshmallow until it has just melted, then remove from heat.
Mix: Once the marshmallows are goo, stir in the remaining 2 cups of mini marshmallows, along with the vanilla, and a sprinkle of cinnamon. Stir until the extra marshmallows have softened up a bit, but aren't completely melted and then add your cereal.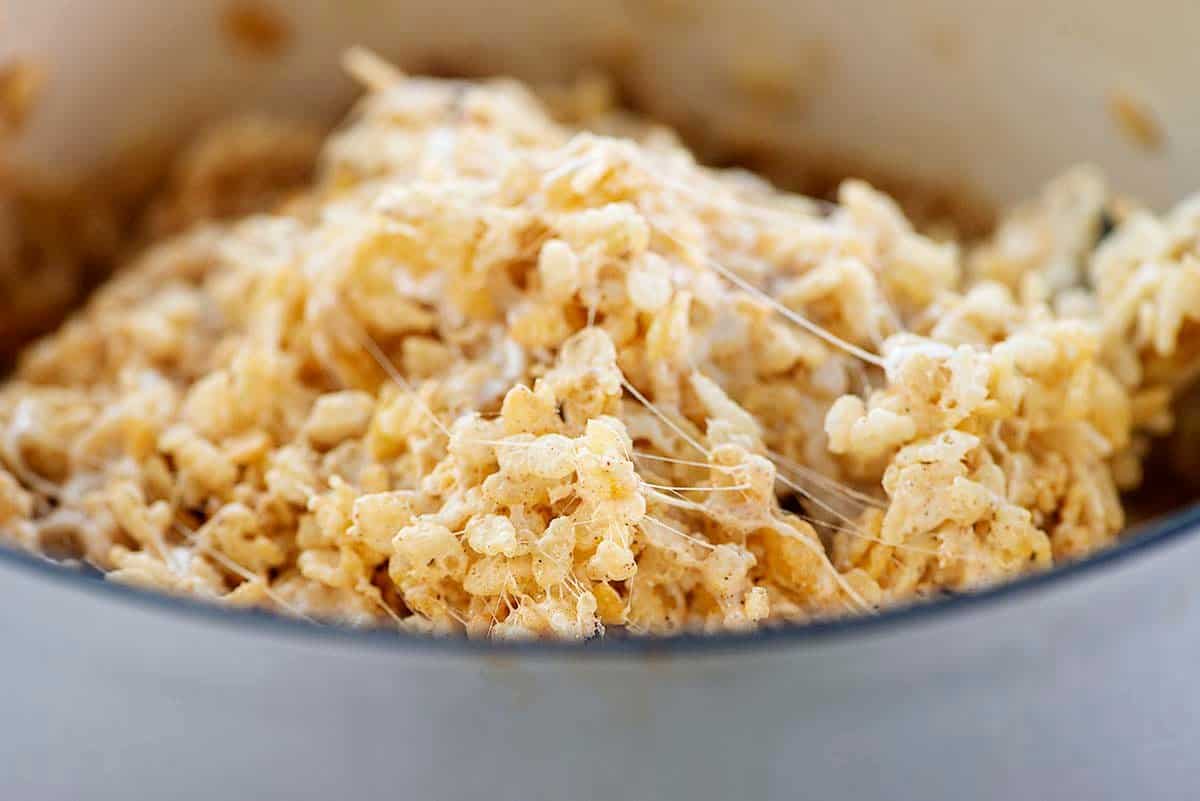 Spread: Pour the gooey cereal mixture into a greased 9×13 and then press it flat.
Helpful Tip!
Spray a piece of wax paper with non-stick spray and use that to press the cereal mixture into place. The cereal won't stick to your hands or the wax paper!
Sprinkle: Combine the cinnamon and sugar and sprinkle it evenly over the top.
Cool: The hardest part of the process is waiting for the Snickerdoodle Rice Krispies Treats to cool. Let them set for an hour and then slice and serve!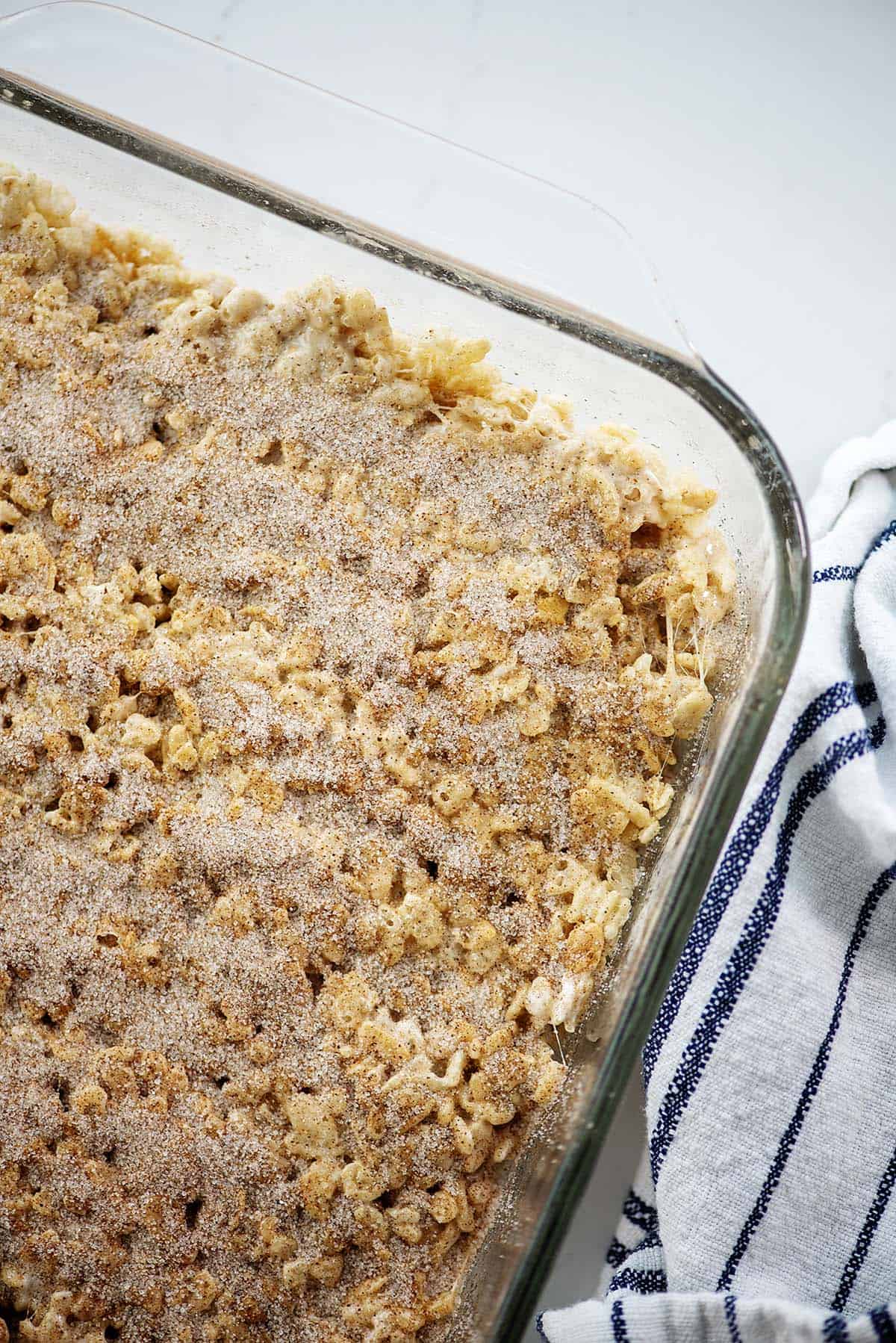 Mini Marshmallows vs. Full Sized:
We often use a 10 ounce bag of full sized marshmallows plus 2 cups of mini marshmallows in this recipe.
We don't recommend using only full sized marshmallows, because we like to stir in a handful of mini marshmallows after melting – it adds delicious little bits of soft (but not melted) marshmallow throughout the treats. If you only have full size, you can skip that step or you can cut the marshmallows into small pieces.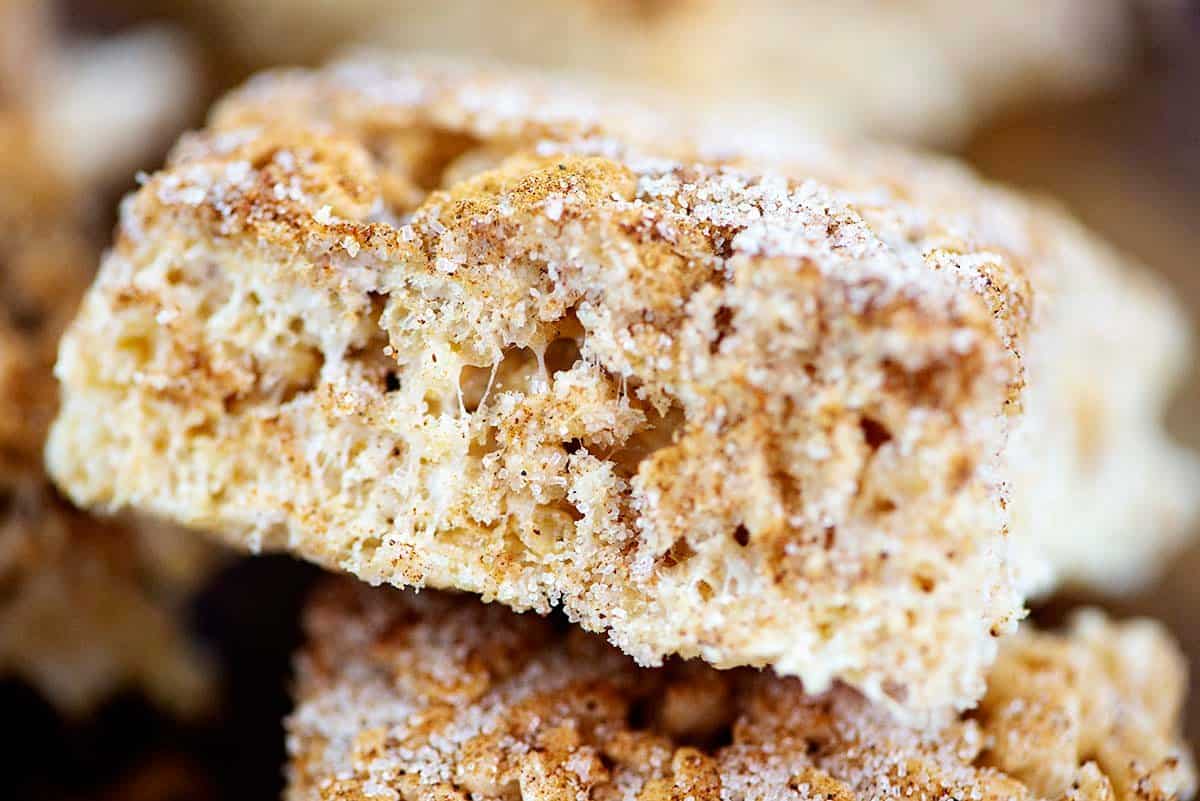 FAQs:
How to store Rice Krispies Treats?
These Snickerdoodle Rice Krispies Treats can be stored at room temperature in a sealed container for 2-3 days. They'll last longer but the texture will change the more they sit!
How to freeze Rice Krispies Treats?
You can freeze the Snickerdoodle Rice Krispies Treats for about two to three months. First slice the treats into bars or squares and wrap each one in plastic wrap or wax paper before sealing in a freezer bag.
Why are my Rice Krispies Treats sticky?
You may have added too much butter or marshmallow, which can result in a soggy and/or sticky cereal treat. If you add too little they'll turn out hard and crunchy. We've tested the ratios here for the ultimate Rice Krispies Treats with just the right amount of gooey goodness.
MORE CINNAMON & SUGAR TREATS!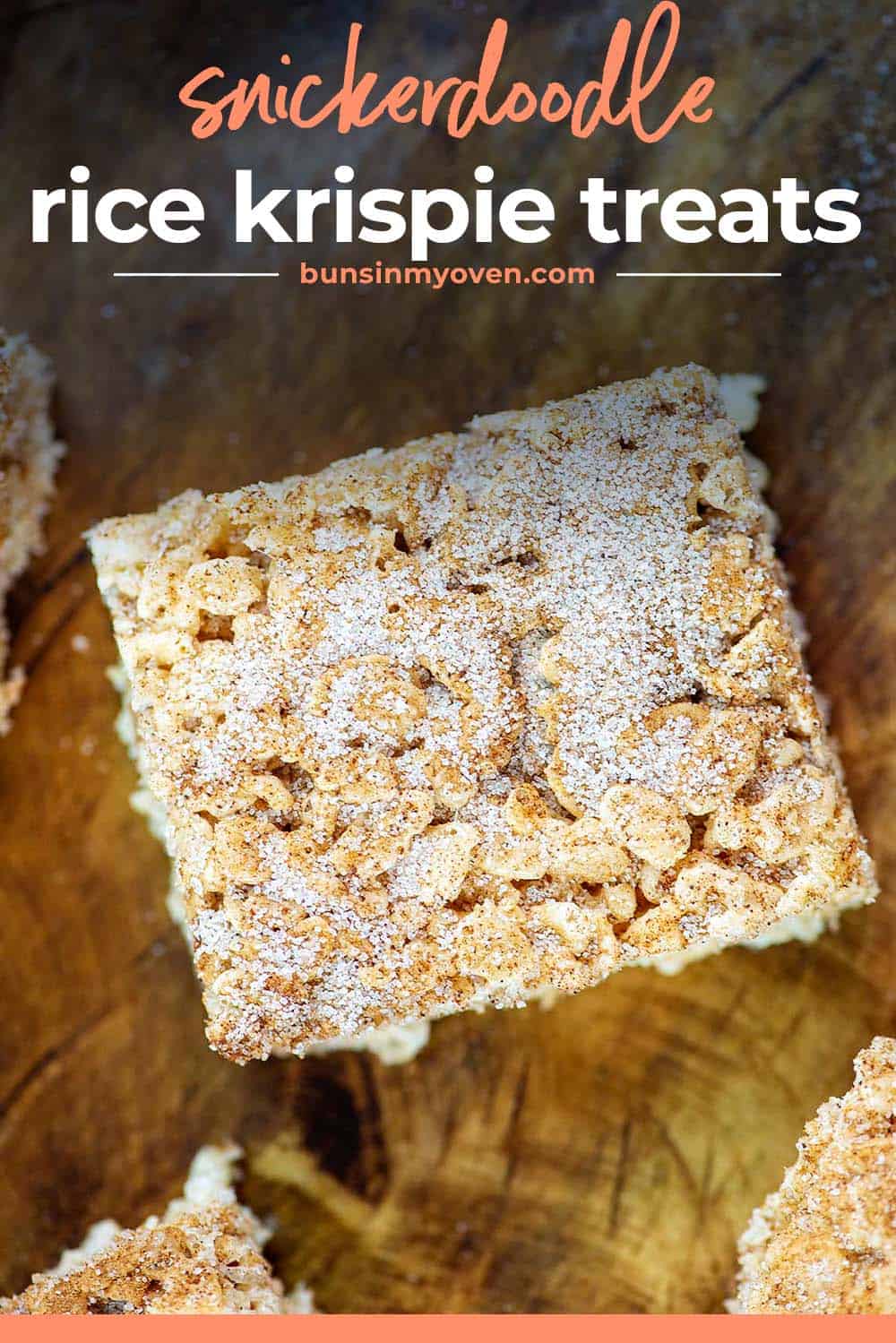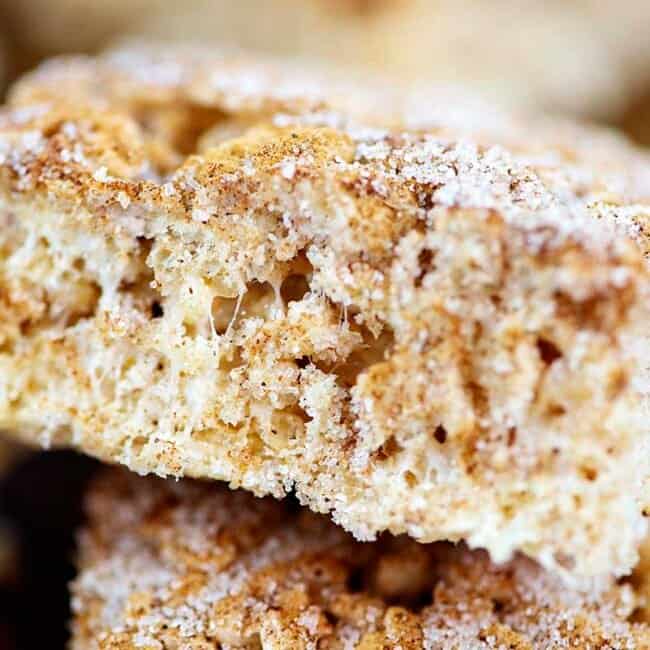 Snickerdoodle Rice Krispies Treats
We took the classic Rice Krispies Treats to a whole new level by adding a bit of cinnamon into the marshmallow mixture and sprinkling cinnamon sugar over the top. These no bake bars are irresistible!
Prep5 minutes
Cook5 minutes
Cooling Time1 hour
Total1 hour 10 minutes
Ingredients
¼ cup butter
8 cups mini marshmallows about 14 ounces, divided
1 teaspoon vanilla
2 teaspoons cinnamon divided
7 cups Rice Krispies cereal
3 tablespoons granulated sugar
Instructions
In a large stock pot, melt the butter over medium heat.

Immediately add 6 cups of marshmallows to the pot and stir constantly until melted.

Remove the pot from the heat and add the remaining 2 cups of marshmallows, vanilla, and 1 teaspoon of cinnamon. Stir to combine.

Stir in the cereal to coat.

Pour the cereal mixture into a greased 9×13 baking dish and use a piece of greased wax paper to press lightly into the pan.

Combine the granulated sugar and remaining teaspoon of cinnamon and sprinkle evenly over the top of the cereal treats.

Let sit for 1 hour before cutting and serving.
Tips & Notes:
You can use a mixture of full sized and mini marshmallows, if you like. You'd need a 10 ounce bag of full sized marshmallows and then 2 cups of mini marshmallows for stirring in towards the end. We prefer to use mini marshmallows vs. full sized when adding them in step 3. If you only have full size, you'll want to cut them into small pieces before adding them in step 3.
Nutrition Information:
Serving: 1bar| Calories: 215kcal (11%)| Carbohydrates: 44g (15%)| Protein: 2g (4%)| Fat: 4g (6%)| Saturated Fat: 3g (19%)| Polyunsaturated Fat: 1g| Monounsaturated Fat: 1g| Trans Fat: 1g| Cholesterol: 10mg (3%)| Sodium: 143mg (6%)| Potassium: 25mg (1%)| Fiber: 1g (4%)| Sugar: 24g (27%)| Vitamin A: 1206IU (24%)| Vitamin C: 10mg (12%)| Calcium: 6mg (1%)| Iron: 5mg (28%)