Our Snickerdoodle Pumpkin Cheesecake Bars are made with a creamy layer of pumpkin cheesecake over a simple graham cracker crust. It's all topped off with a thick layer of cinnamon and sugar that gives the bars an irresistible crackly topping!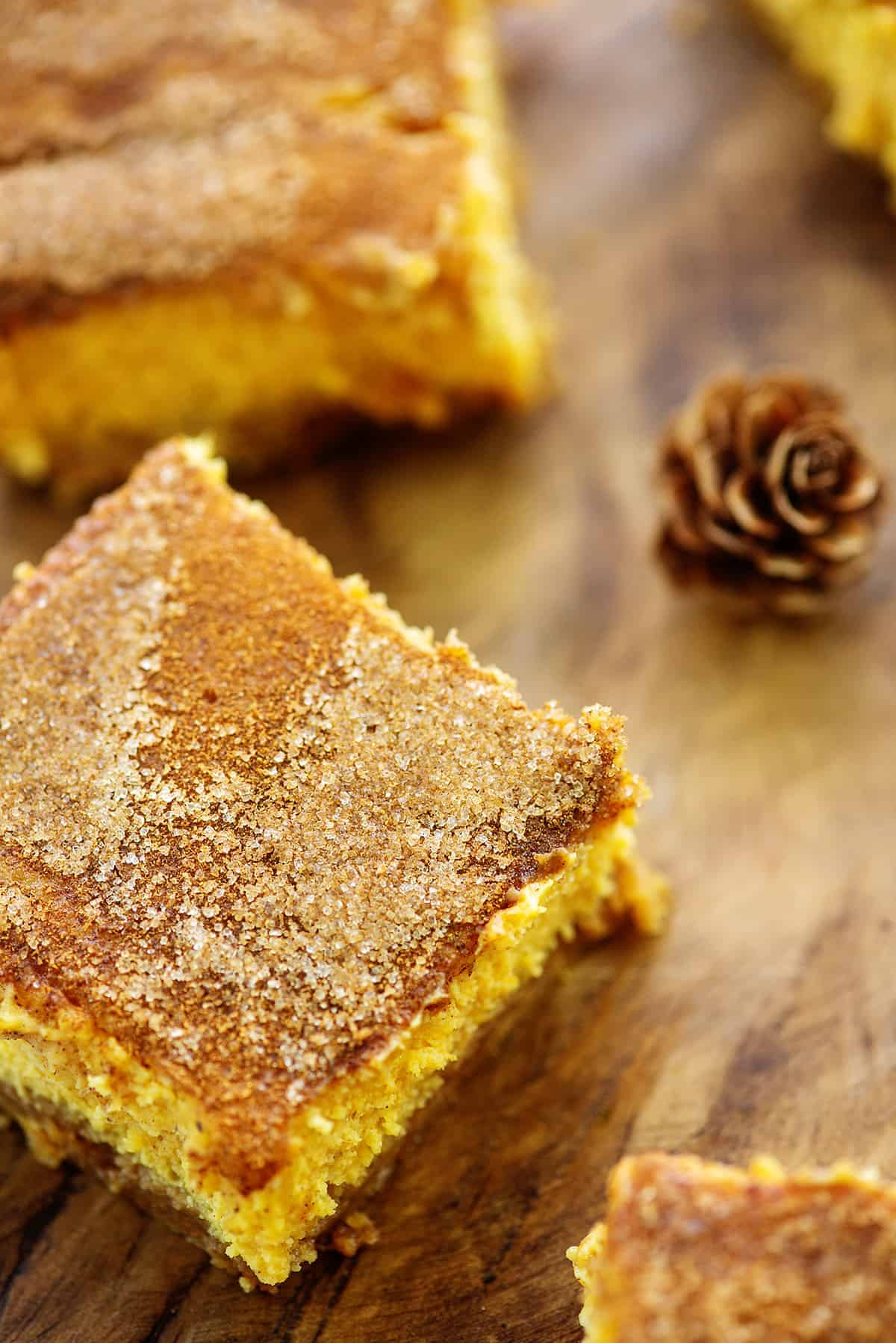 There are two things that we're obsessed with in this house and that's pumpkin and cinnamon sugar!
Combine the two and you have a dessert that is just irresistible!
We shared our layered pumpkin cheesecake bars and our best snickerdoodle recipe awhile back…it was time to merge the two into these easy cheesecake bars!
As you might imagine, I often give away most of our treats on days we're recipe testing and/or shooting photos. No one household can eat the amount of desserts a food blogger puts out. 😉
Well, let me tell you…I gave a couple of pieces of this to my parents and aunt and then I hid the rest of it in the back of the fridge for myself.
Pretty sure I ate about 15 pumpkin cheesecake bars over the course of 3 or 4 days. I'm not proud of it, but also it was the best 3 or 4 days of my life, so… 😉
Why You'll Love This Recipe:
These pumpkin cheesecake bars are not at all fussy – just beat together the filling, pour over a standard graham cracker crust, sprinkle on cinnamon sugar, and bake! The cheesecake is ultra creamy, loaded with pumpkin flavor, and that crackly cinnamon sugar topping always leaves people asking for the recipe!
Graham Cracker Crust Ingredients:
This post contains affiliate links. As a member of Amazon and other affiliate programs I earn from qualifying purchases.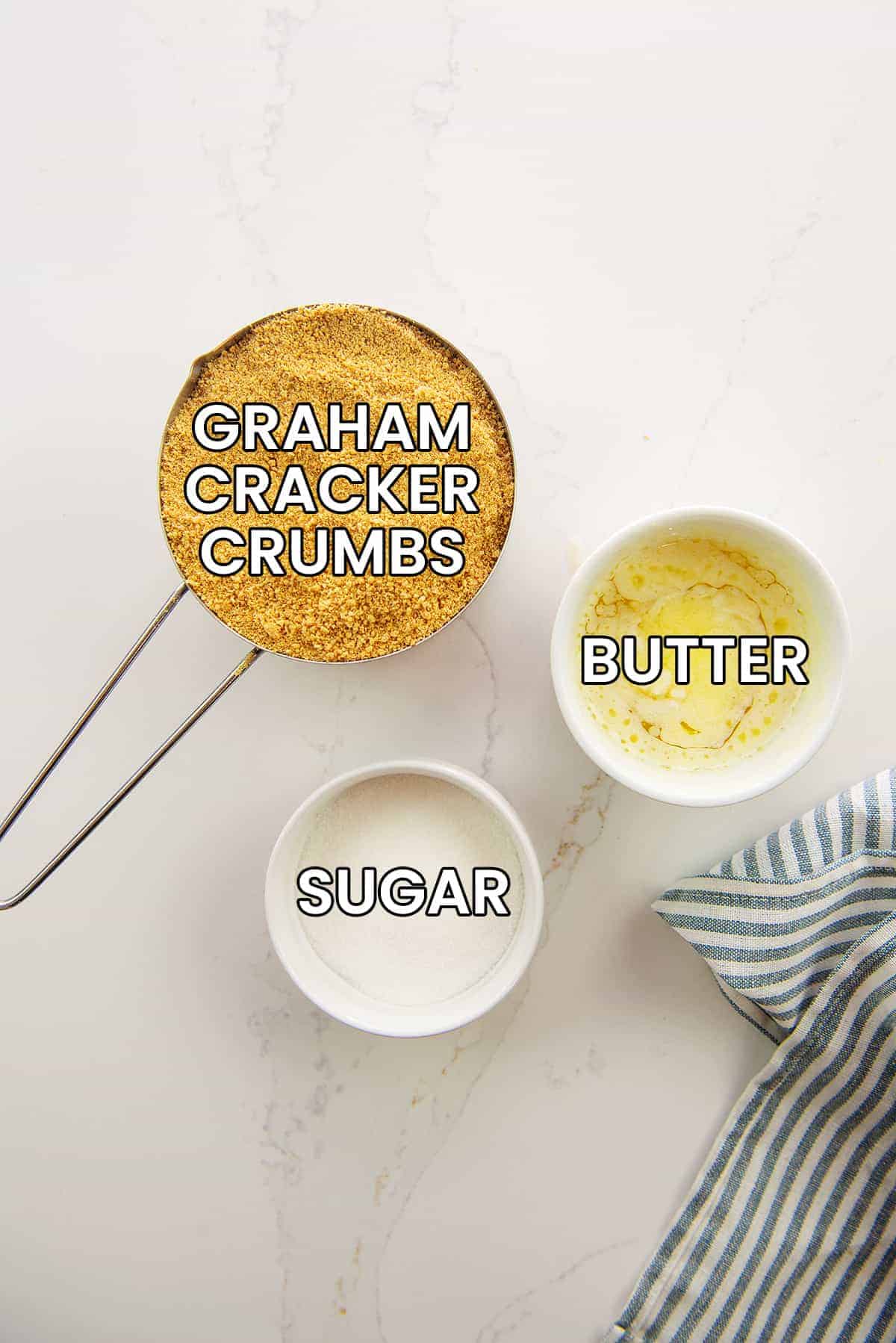 Our graham cracker crust is beyond simple and is just perfect for a cheesecake!
You'll need: melted butter, sugar, and graham cracker crumbs!
Helpful Tip!
Crushing Graham Crackers:
Place graham crackers into a food processor fitted with the blade attachment and process until you have fine crumbs.
Place graham crackers in a plastic bag. Seal the bag, and beat the graham crackers with a meat mallet or rolling pin until finely crushed.
Purchase a box of graham cracker crumbs and skip the manual labor!
Gluten Free Graham Cracker Crust:
Want to make our pumpkin cheesecake bars gluten free? No problem!
Just swap out the regular graham crackers for these gluten free cracker crumbs!
Pumpkin Cheesecake Ingredients: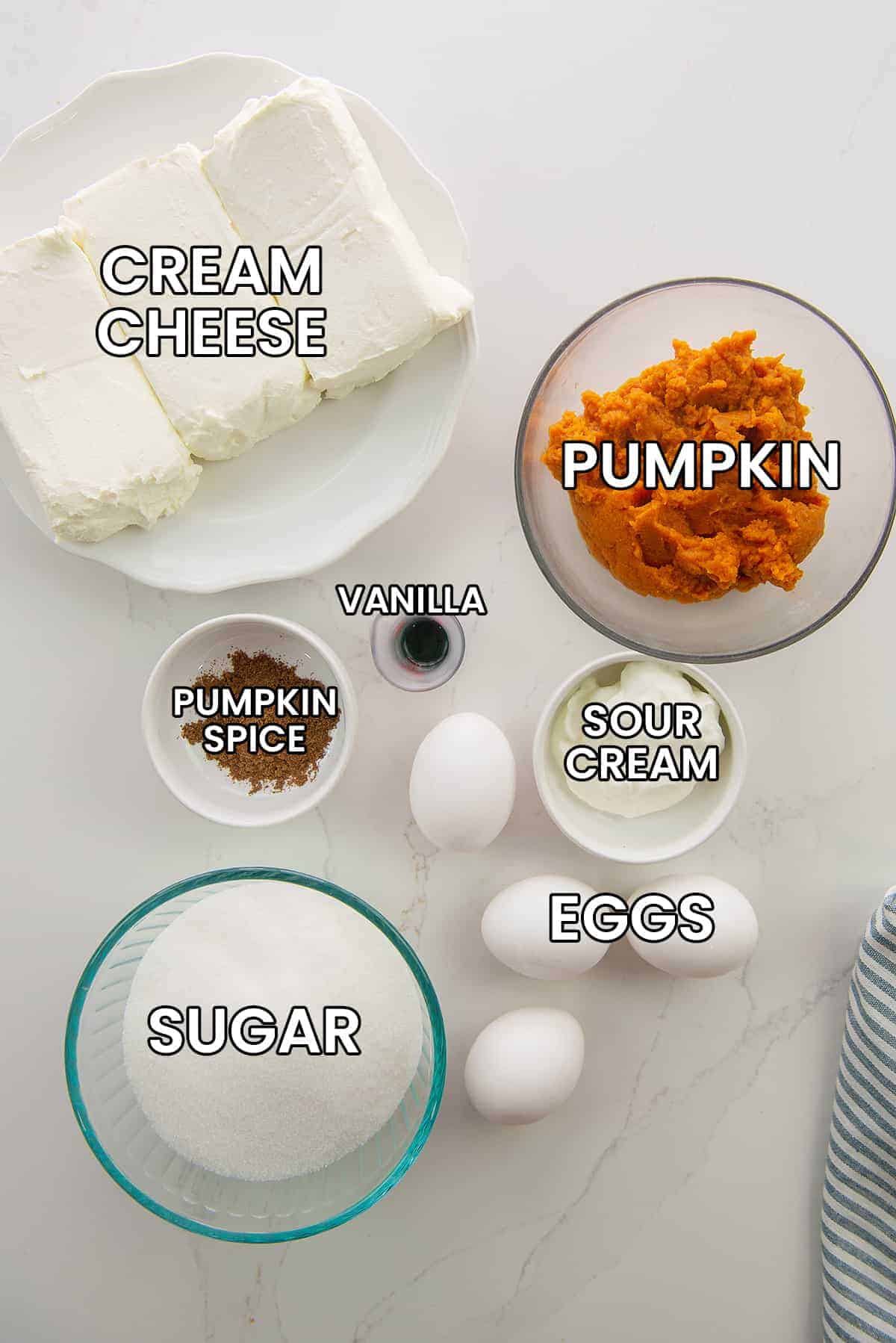 Cheesecake Filling – The filling is made from cream cheese, pumpkin puree, sour cream, eggs, sugar, vanilla, and pumpkin pie spice.
Cheesecake Topping – The topping is a quick and easy mix of cinnamon and sugar.
Helpful Tip!
Smooth Cheesecake!
If your cream cheese is not fully at room temperature, you'll end up with lumps in your cheesecake batter that are impossible to get out. Make sure to let your cream cheese come to room temp before you start mixing.
It's so easy to whip up dessert with this cute hand mixer. It doesn't take up much space and is a must for any kitchen!
How to Make:
Prepare the Crust: Add melted butter, graham crackers, and sugar to a small bowl and stir to moisten the cracker crumbs. It'll look like coarse, wet sand.
Press the crumbs into a 9×13 baking dish and pop in the oven for 5 minutes.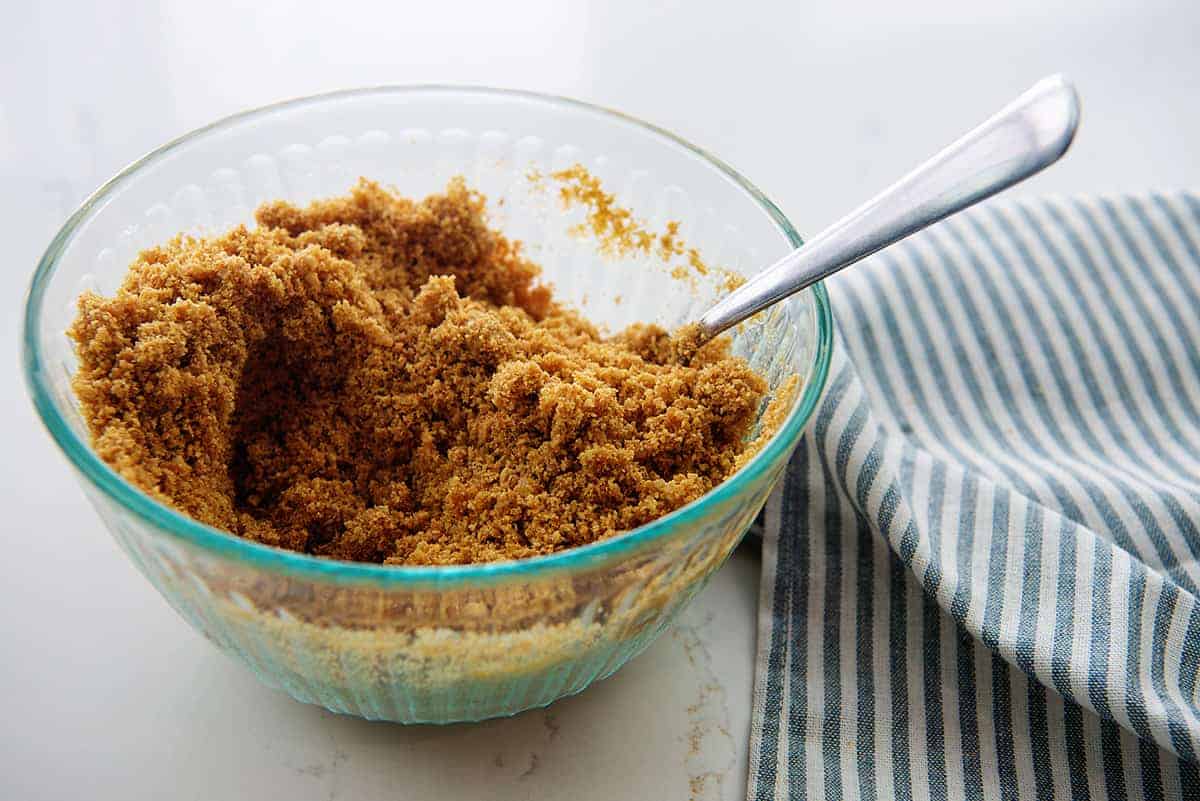 Prepare the Filling: Use a hand mixer or stand mixer to beat together the cream cheese, sugar, and sour cream.
When these are well combined you can add in the pumpkin puree.
Next, beat in the eggs one at a time, until just incorporated. You don't want to overmix the cheesecake filling.
Stir in the vanilla and pumpkin spice and your filling is done!
Pour the filling over the graham cracker crust. Use a rubber spatula to smooth the filling out evenly in the dish over the crust.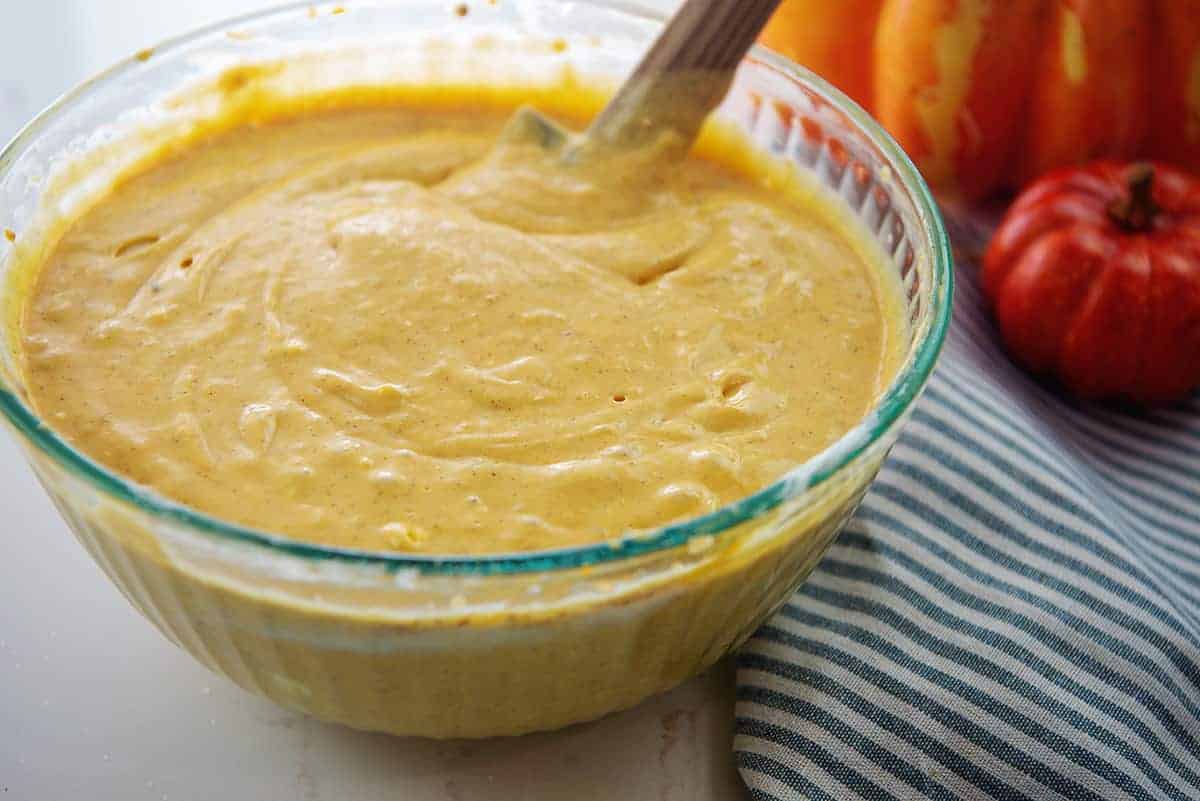 Top & Bake: Mix the cinnamon and sugar together in a small bowl and then generously sprinkle it over the top of the filling.
Once that's done you can start baking. It'll take about 45 minutes or until the center is slightly jiggly. At this point you turn the oven off and leave the dish in the warm oven for another 45 minutes with the door cracked open.
Let it cool completely before transferring to the refrigerator. Serve cold!
Helpful Tip!
No More Cracks!
We avoid cracks in our cheesecake by allowing the cheesecake to sit in the hot oven with the door cracked open for 45 minutes after it's done baking. This allows it cool slowly which helps prevent those cracks.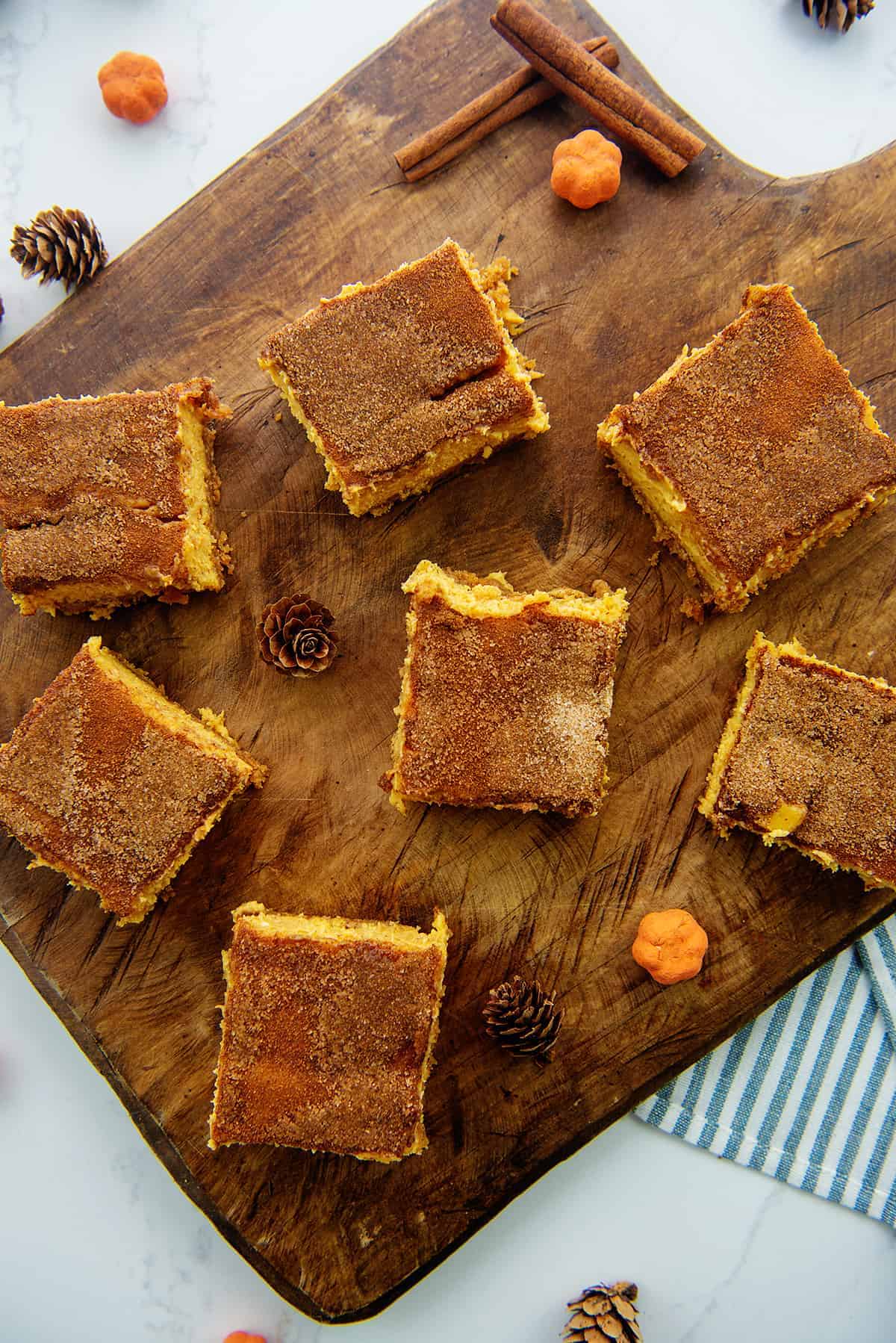 FAQs:
What makes this a "snickerdoodle" cheesecake?
The cinnamon sugar topping gives this cheesecake that snickerdoodle vibe!
How long does cheesecake last in the fridge?
Homemade cheesecake will last in the fridge for about 5 days.
Can I bake this in a springform pan?
You probably can, but we haven't tested it ourselves. There will likely be a bit more graham cracker crust and cinnamon sugar topping than you'll need if you bake this in a springform pan. You'll also want to increase the bake time and cook until the cheesecake is just slightly jiggly in the center.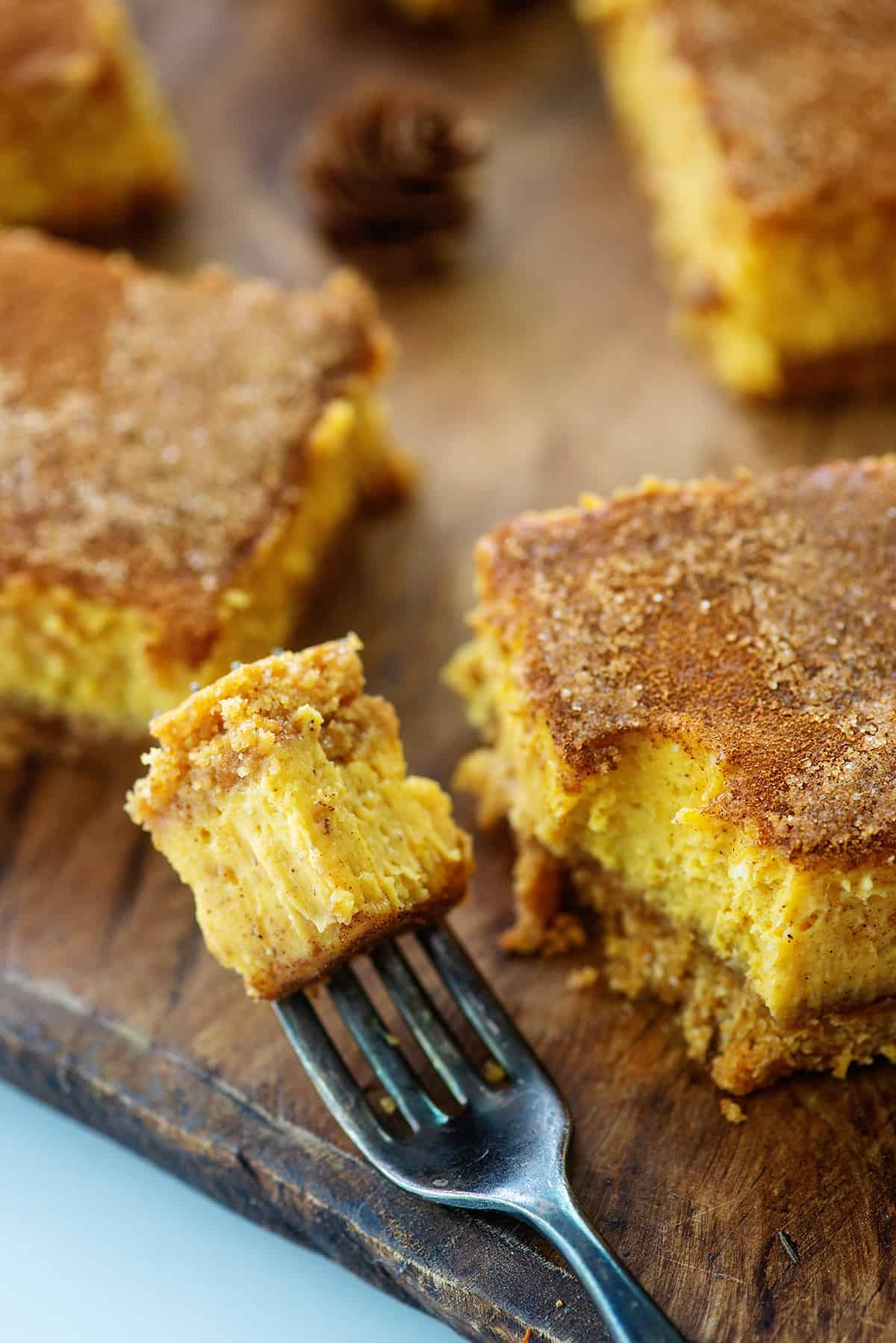 MORE PUMPKIN RECIPES!
MORE CHEESECAKE RECIPES!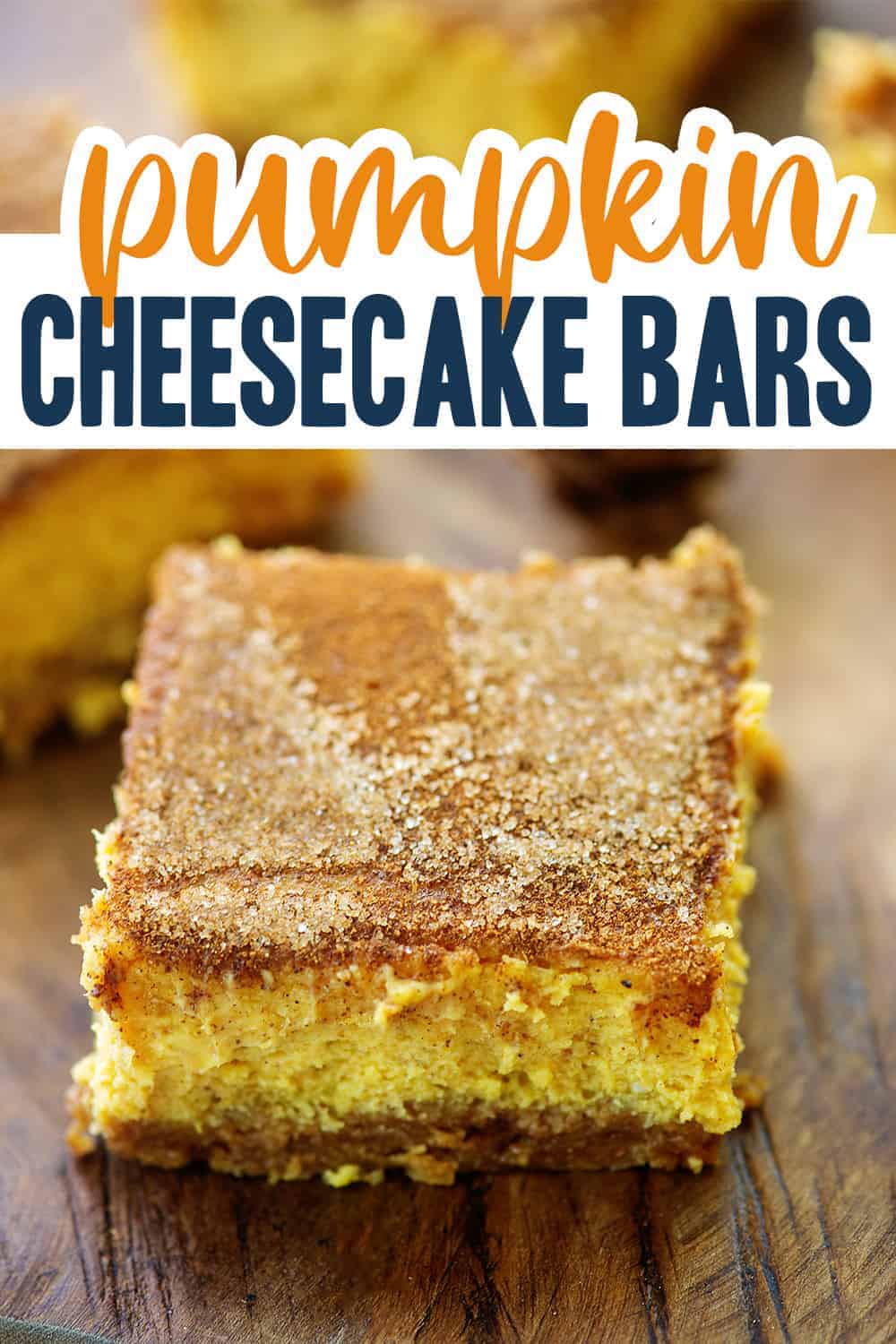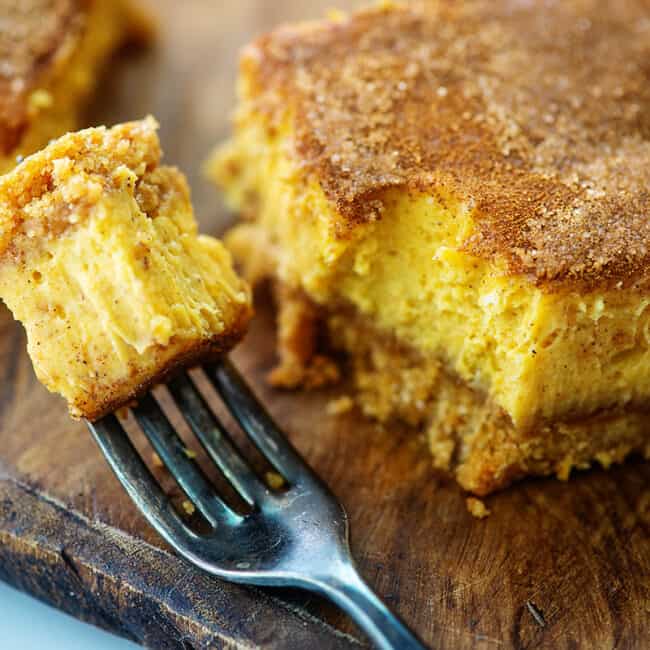 Snickerdoodle Pumpkin Cheesecake Bars
This smooth and creamy pumpkin cheesecake is baked with a butter graham cracker crust, but the real star of the show is that crackly cinnamon sugar topping!
Prep20 minutes
Cook45 minutes
Chill Time4 hours
Ingredients
For the crust
2 cups graham cracker crumbs
6 tablespoons melted butter
3 tablespoons sugar
For the cheesecake filling
24 ounces cream cheese room temperature
1 1/2 cups sugar
1/3 cup sour cream
4 large eggs room temperature
1 teaspoon vanilla
1 cup pumpkin puree
2 teaspoons pumpkin pie spice
For the topping:
1/4 cup sugar
1 tablespoon cinnamon
Instructions
Preheat the oven to 325 degrees. Spray a 9×13 baking dish with non-stick cooking spray.

In a small bowl, mix together the graham cracker crumbs and melted butter. Press firmly into the bottom of the prepared baking dish and bake for 5 minutes.

Remove from the oven and set aside.

Use an electric mixer to beat together the cream cheese, sugar, and sour cream in a large bowl until well combined.

Beat in the eggs one a time, mixing each egg until just combined and being careful not to overmix the batter.

Beat in the vanilla, pumpkin puree, and pumpkin spice until just combined. Stir well with a rubber spatula to scrape down the sides of the bowl and ensure everything is mixed together.

Pour the pumpkin mixture evenly over the crust, spreading the batter to the edges.

Combine the sugar and cinnamon for the topping and sprinkle liberally over the cheesecake.

Bake for 40 minutes at 325 degrees or until the center is just slightly jiggly. Turn the oven off and crack the door. Let the cheesecake sit in the warm oven for 45 minutes.

Remove to the counter to cool completely before transferring to the refrigerator to chill completely.

Slice the cheesecake into 20 bars and serve cold.
Tips & Notes:
For best results, cream cheese and eggs should be fully at room temperature. You'll end up with a lumpy cheesecake if your cream cheese is not soft enough. Mix the batter thoroughly until just combined. Over mixing will add too much air to your cheesecake which may cause it to rise, sink, and crack after baking. Letting the cheesecake set in the oven after baking with the door cracked is an easy way to help prevent the cheesecake from cracking as it cools. Store tightly covered in the refrigerator for up to 5 days. Serve with whipped cream, if desired.
Nutrition Information:
Calories: 285kcal (14%)| Carbohydrates: 29g (10%)| Protein: 4g (8%)| Fat: 18g (28%)| Saturated Fat: 10g (63%)| Polyunsaturated Fat: 1g| Monounsaturated Fat: 5g| Trans Fat: 1g| Cholesterol: 86mg (29%)| Sodium: 213mg (9%)| Potassium: 111mg (3%)| Fiber: 1g (4%)| Sugar: 23g (26%)| Vitamin A: 2548IU (51%)| Vitamin C: 1mg (1%)| Calcium: 60mg (6%)| Iron: 1mg (6%)