Hello. My name is Karly and I'm a cream cheese addict. It's been…13 seconds since I last stuck my finger in the tub of whipped cream cheese and licked it clean.
Forgive me.
I know that some people are just thoroughly disgusted by cream cheese. I know this, because I add it to ev.er.y.thang and I always get little comments like, "It'd be better without cream cheese." Or, "I'll make this and substitute Greek yogurt for cream cheese." Or, the ever insightful, "Gross. Cream cheese is nasty!"
To which I always say, you're wrong. Cream cheese is life and if you don't know that, I'm really quite sorry.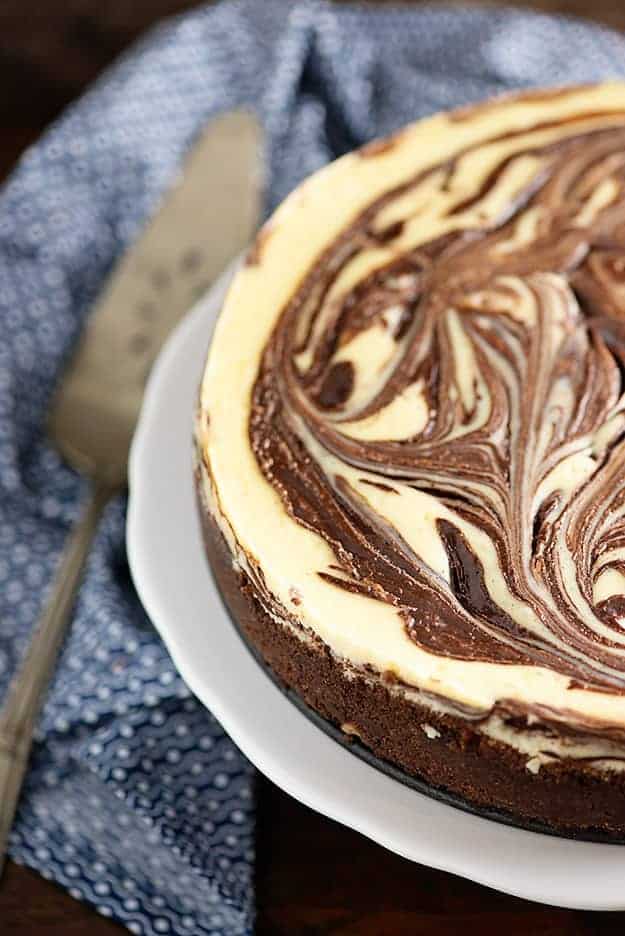 Anyway, here I am today with a PERFECTLY NORMAL recipe featuring cream cheese. I did not sneak it into my cheeseburger casserole and cause a riot. I just politely said, look, this is cheesecake and cheesecake requires cream cheese and then I put all of the cream cheese into the cheesecake like a normal human being.
Got it?
I also went ahead and made this cheesecake with a chocolate swirl, because obviously chocolate makes everything better. The crust is made out of crushed up graham flavors with a hit of cocoa powder for good measure.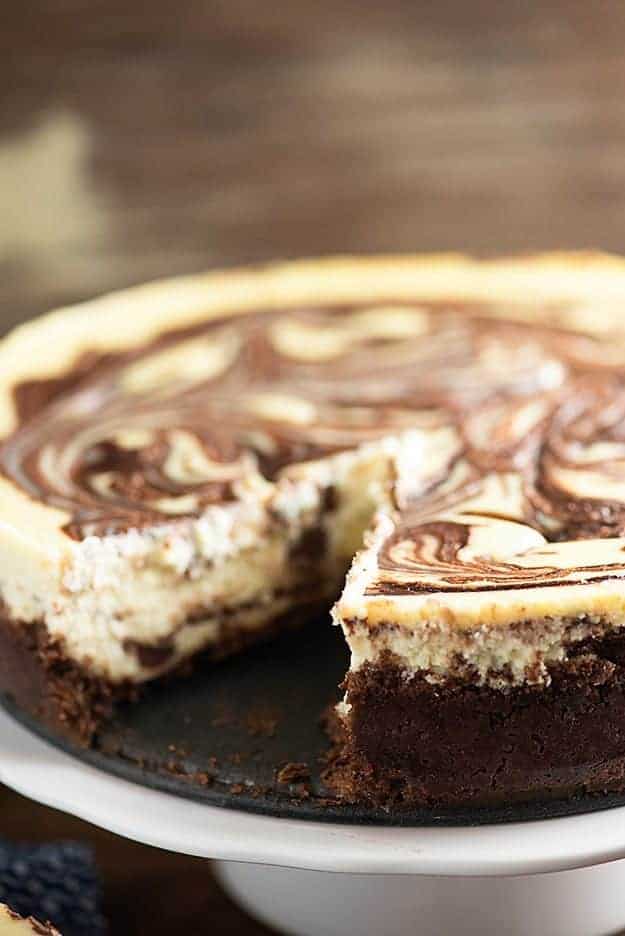 The only special equipment you should need is a springform pan, which Amazon sells at a great price. Here's the one I have! Don't worry about it being a one-dish wonder, because you can also use it to make my Taco Pie (a serious crowd pleaser), my raspberry buttermilk cake, or my caramel pecan brownie cake! Lots of uses!
Hope you enjoy this one! It's pretty easy, but it looks so impressive.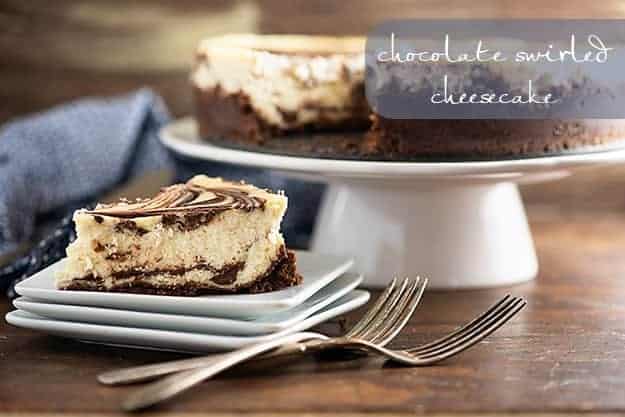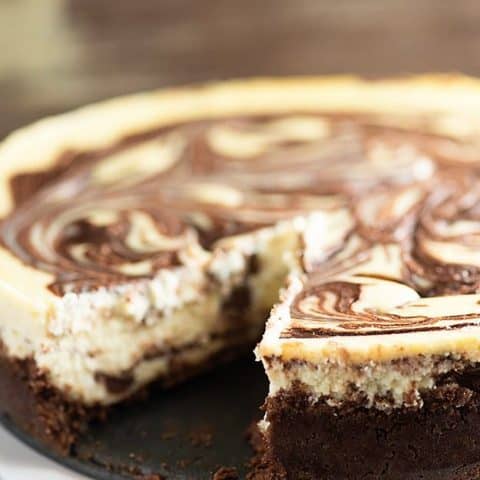 Chocolate Swirl Cheesecake
This cheesecake is simple to make, but that chocolate swirl makes it look very impressive!
Prep10 minutes
Cook1 hour 10 minutes
Total1 hour 20 minutes
Ingredients
1 1/2 cups graham cracker crumbs
1/3 cup sugar
1/3 cup cocoa powder
1/3 cup melted butter
3 8- ounce packages cream cheese room temperature
14 ounce can sweetened condensed milk
3 eggs
1 tablespoon vanilla extract
1 cup semi-sweet chocolate chips
2 teaspoons vegetable shortening
Instructions
To make the crust, preheat the oven to 300 degrees. Wrap the outside of a 10-inch springform pan in a double layer of foil. Spray pan with non-stick cooking spray.

Combine the graham cracker crumbs, sugar, cocoa powder, and butter in a small bowl and stir to combine.

Press the crust into the pan to form a crust.

Prepare the filling by adding the room temperature cream cheese to the bowl of a stand mixer fitted with the whisk attachment.

Beat until creamy. Beat in the condensed milk. Add the vanilla and eggs, one at a time, and beat until smooth and creamy.

Pour half of the batter into the prepared pan.

Prepare the chocolate swirl by melting the chocolate chips and shortening in a small, microwaveable bowl for 30 seconds on low speed. Stir until melted.

Drizzle half of the chocolate over the batter and use a wooden skewer to swirl it through the batter.

Gently pour the remaining cheesecake batter over the chocolate swirl. Repeat with the remaining chocolate.

Bake for 1 hour. Turn the oven off and leave the door closed. Let sit for 1 hour. Allowing the cheesecake to cool slowly in the warm oven will help prevent it from cracking.

Remove from the oven to the counter top to cool completely. Refrigerate for 4 hours or more before serving.
Nutrition Information:
Serving: 8slices| Calories: 767kcal (38%)| Carbohydrates: 67g (22%)| Protein: 14g (28%)| Fat: 52g (80%)| Saturated Fat: 29g (181%)| Cholesterol: 191mg (64%)| Sodium: 473mg (21%)| Fiber: 3g (13%)| Sugar: 54g (60%)