I apologize. This recipe is just ridiculous. Absurd. Outrageous. Preposterous. And, uh, totally incredible.
Okay, I'll put my thesaurus away now and tell you about this crazy concoction.
First of all, let me just mention that this recipes uses a box mix of brownies. Don't hate. It all works out in the end. It works out beautifully, in fact.
Alright, now that we've got the whole box mix thing out of the way, let's just get to the good stuff.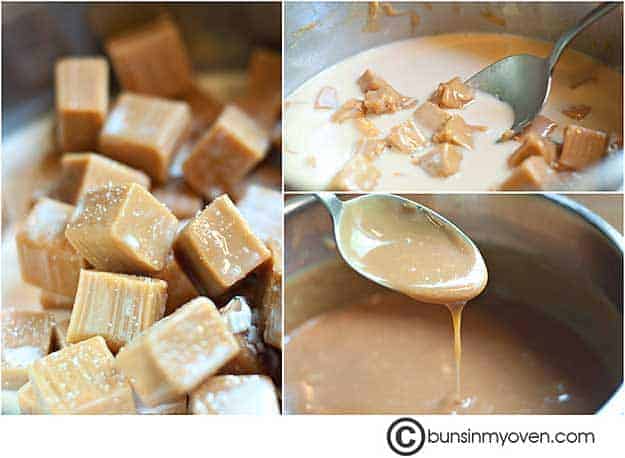 The first thing you want to do is unwrap 80 bajillion caramels. Or just cheat and use a jar of caramel ice cream topping. I certainly won't tell anyone. If you do go the homemade caramel sauce route, just melt the caramels with a bit of evaporated milk over low heat until you get a creamy, thick, delicious sauce.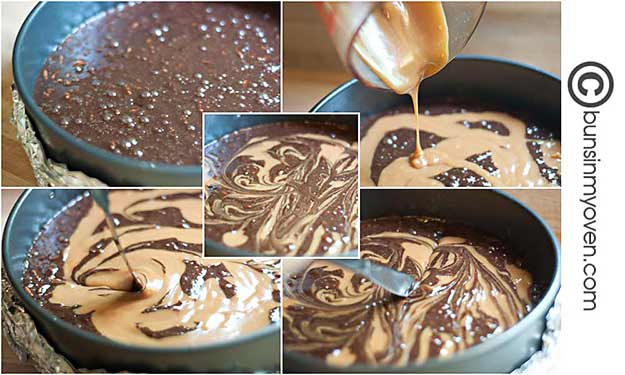 Next up, you mix up the brownie mix and pour it into a springform pan. The recipe says to wrap the pan in extra strength aluminum foil, but I like to live dangerously. I used regular foil. The world, surprisingly, did not end.
Pour that ooey, gooey caramel sauce over your brownies and run a knife around it to give it a pretty swirl before popping that delicious pan full of magic into the oven.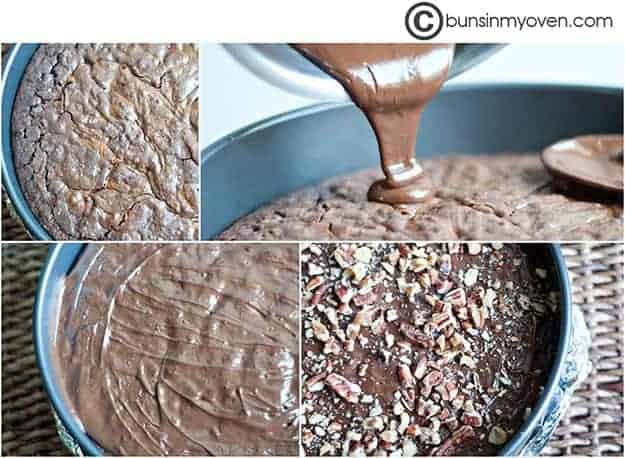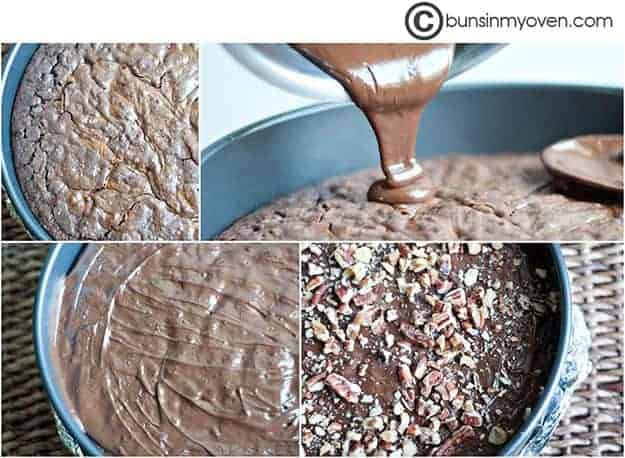 We aren't done yet. Far from it. You thought brownie mix and caramel sauce was crazy. You don't know crazy.
Next we melt some chocolate chips and pour that over the top of the brownie cake. Sprinkle on some nuts. Don't skimp.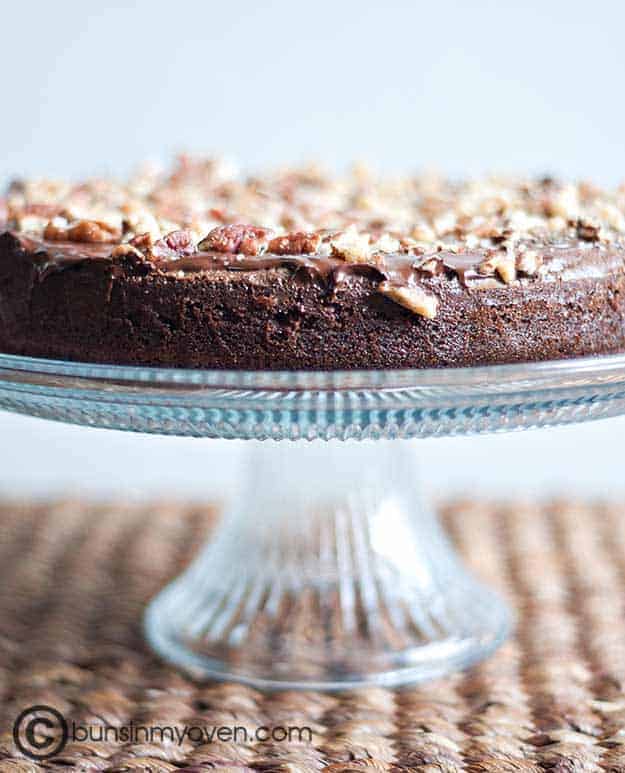 Oh, Lord. Someone send in backup.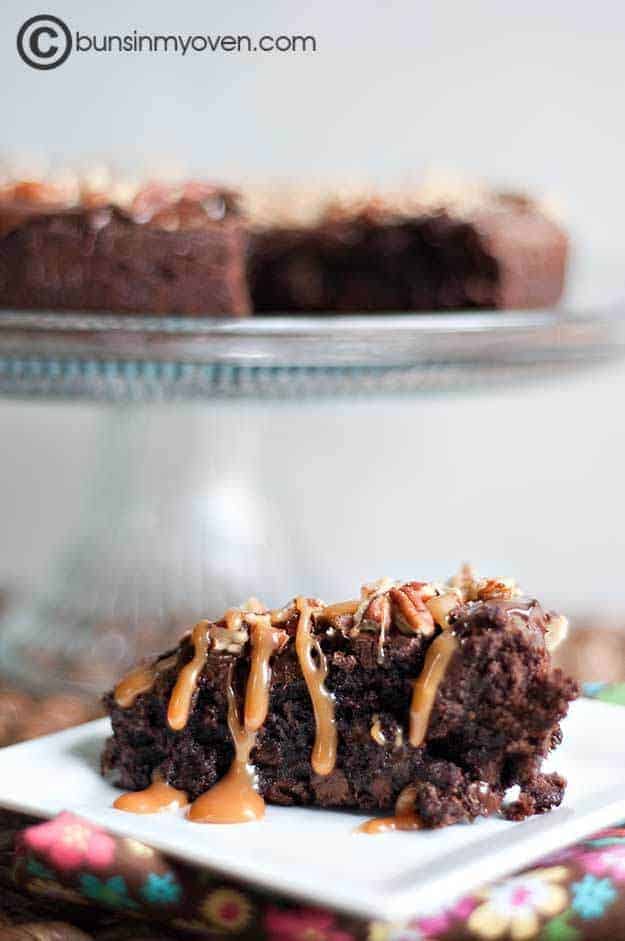 Is that…did I…surely not…but, yes! That is more caramel sauce drizzled right on top. Someone save me.
This dessert is seriously just out of this world. It's rich and chocolately and caramely. It's divine. And, even though it started out as a box mix, I wouldn't think twice about serving this to guests. Heck, I'd even serve it to President Obama. If he ever came to visit. And, hey, it could happen. I'm sure of it. If he doesn't, maybe the Queen of England will drop by. I'll have to brush up on my tea-making skills, just in case.
Caramel Pecan Brownie Cake
Recipe from Betty Crocker
75 caramels (from two 14 oz. bags)
3/4 cup evaporated milk
1 box mix fudge brownies (1lb 3oz. box)
2/3 cup vegetable oil (I use canola)
1/4 cup water
3 eggs
1 1/2 cups semi-sweet chocolate chips
1 cup finely chopped pecans
1 teaspoon vegetable oil (or canola)
Begin by pre-heating the oven to 350 degrees. Wrap outside of 9 inch springform pan with heavy duty foil and spray inside of pan with cooking spray.
In a small saucepan, melt together the caramels and evaporated milk over low heat, stirring frequently. Remove from heat and set aside.
In a mixing bowl, mix together the brownie mix, oil, eggs, and water until well blended. Stir in 1 cup of chocolate chips and 1/2 cup of pecans. Pour mixture into the springform pan. Drizzle the batter with 3/4 cup of caramel sauce. Run a knife through the batter to swirl the caramel throughout. Cover and refrigerate remaining caramel sauce to serve with the cake.
Bake the cake for 1 hour to 1 hour and 10 minutes. The top should spring back when lightly touched in the center.
In a small saucepan, melt together the remaining 1/2 cup of chocolate chips and teaspoon of oil over low heat, stirring constantly. Pour over the pan of warm brownies and spread to cover. Sprinkle with remeaning 1/2 cup of pecans. Allow to cool for 30 minutes and then run a knife around the edges of the cake to loosen in from the pan. Place the cake (still in the pan) in the refrigerator for about 2 hours or until the chocolate is set.
Remove sides of pan and serve cake with warmed caramel sauce drizzled on top.