August 8, 2018
Chocolate Caramel Pecan Shortbread Bars & GE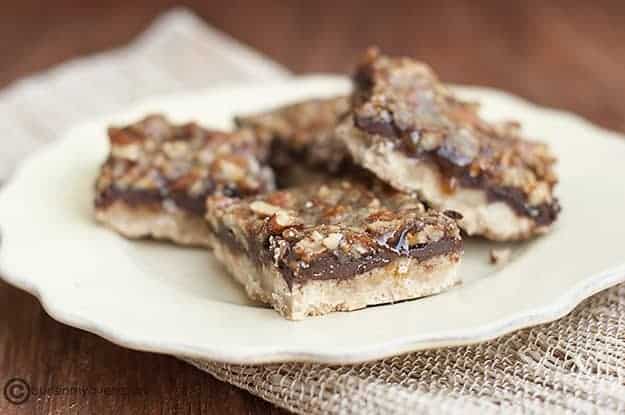 I'm often found in the kitchen talking to myself. I like to think it makes me "cute" instead of "crazy." My husband, however, doesn't let me hold on to that illusion for long. I get some pretty strange looks and, if we're being honest, a few eye-rolls every now and then.
I can't help it. I talk when I cook. If no one else is around, then I'll just talk to myself. I'm a pretty cool girl! I say interesting things! I have some great conversations with me!
I'm sorry. I think my weird may be starting to show. Whoops!
Anyway, one of the things I often converse with myself about is my need for a double oven. This conversation (between me and me) definitely happens more frequently around the holidays. Yes, I'd like a double oven all year round, but at the holidays, it really turns from a want to a need.
Let's talk food. This Thanksgiving, I'm sure I'll be making quite a bit of food; while I don't know for sure what all I'll make, I do know that these will be on the menu.
Traditional pecan pie is total Thanskgiving food, right? This year, I'm changing things up. Traditional is boring. Let's live a little.
These bars have a simple shortbread crust, a layer of melted chocolate, and the yummiest, most gooey, caramel pecan topping you can imagine. They pretty much taste like heaven and are beyond simple to make. These took me about 5 minutes to prepare and are just about impossible to screw up. The recipe doubles easily, too!
Chocolate Caramel Pecan Shortbread Bars
Servings: 12
Calories: 318 kcal
Layers of shortbread, chocolate, pecans, and caramel! So easy and so good!
Ingredients
For the shortbread:
1 cup all-purpose flour
1/3 cup brown sugar
1/2 cup butter, softened
For the pecan topping:
1 cup semi-sweet chocolate chips
1 egg
1/3 cup brown sugar
1/4 cup caramel sauce ice cream topping
1 cup chopped pecans
Instructions
In the bowl of your stand mixer beat together the flour, sugar, and butter until it is a coarse, crumbly mixture.

Dump the mixture into an ungreased 8x8 baking dish and press to form the bottom crust.

Bake at 350 degrees for 20 minutes.

While the shortbread is baking, beat together the egg, brown sugar, caramel sauce, and pecans. Set aside.

After 20 minutes remove the shortbread from the oven and sprinkle on the chocolate chips. Wait 1-2 minutes for the chocolate chips to soften and then spread them gently with an off-set spatula to cover the shortbread crust.

Pour the pecan mixture on top of the chocolate.

Return to the oven and bake for 12-15 minutes or until the pecan mixture is set.

Remove from the oven and immediately run a knife around the edges to prevent the bars from sticking to the side of the baking dish. Let cool completely before cutting and serving.
Nutrition Facts
Chocolate Caramel Pecan Shortbread Bars
Amount Per Serving (1 bar)
Calories 318 Calories from Fat 180
% Daily Value*
Fat 20g31%
Saturated Fat 8g50%
Cholesterol 34mg11%
Sodium 94mg4%
Potassium 158mg5%
Carbohydrates 32g11%
Fiber 2g8%
Sugar 17g19%
Protein 3g6%
Vitamin A 275IU6%
Vitamin C 0.1mg0%
Calcium 34mg3%
Iron 1.8mg10%
* Percent Daily Values are based on a 2000 calorie diet.
Nutrition Disclaimer: All information presented on this site is intended for informational purposes only. I am not a certified nutritionist and any nutritional information shared on bunsinmyoven.com should only be used as a general guideline.