This taco pie recipe is such a fun twist on pasta and tacos!

I admittedly have a lot of "favorites" when it comes to food, but one constant favorite of mine is Mexican food.
I could eat at our local Mexican restaurant every night for dinner and I'd be delighted to have Taco Bell for lunch each day. Yes, yes I did just admit to loving Taco Bell on a food blog.
I kinda have a thing for drive thru food. Don't hate.
Anyway, my love of Mexican food is deep and never-ending. I once told my husband that I wanted a divorce so that I could instead find an old Mexican grandma to marry.
It would have been a match made in heaven.
However, I also have a love of pasta. It's so carby and delicious. You can dress it up any way you like and one of my favorite ways to dress it up is with my other favorite…tacos. Hello, taco pie.
And, okay, I probably shouldn't call this Mexican food, but it's my American version of Mexican food and man, is it ever tasty.
My daughter who routinely declares that she hates Mexican food, doesn't want tacos, won't eat that quesadilla, and WHERE IS MY CHEESEBURGER, MOTHER? ate this for lunch today. It's all about presentation and this one is quite impressive.
You need a bit of extra time to prepare this as the pasta doesn't just stand up in the pan all by itself, but it was much simpler than I anticipated.
Smooshing the meat down into the tubes of pasta was pretty simple as well and the sound it made as it was sucked in was quite entertaining.
If, however, you are a normal person with a busy life who does not have the time to stand a pound of rigatoni noodles at attention, then just go ahead and toss this all together in a baking dish (9×13 would be good) and then cover with cheese and bake it that way. It'll still taste good…it just won't be as entertaining.
Y'all are gonna love this taco pie.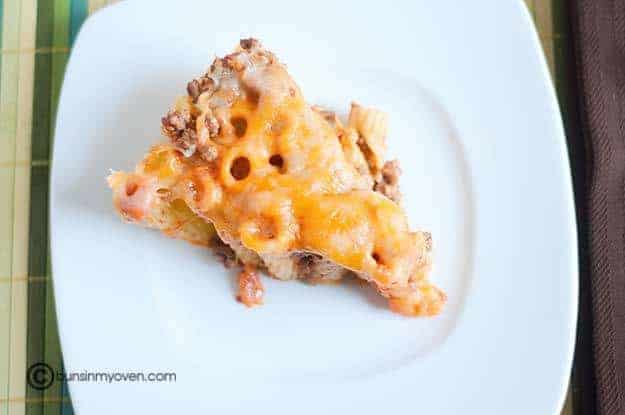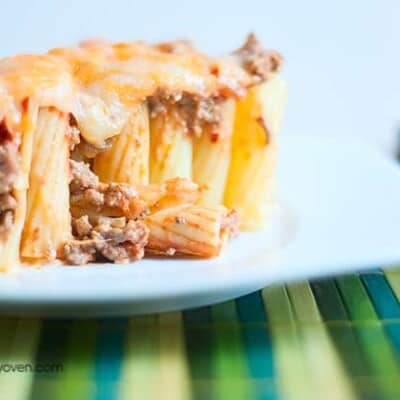 Taco Pie
This taco pie recipe is such a fun twist on pasta and tacos!

Prep15 minutes
Cook30 minutes
Total45 minutes
Ingredients
1 pound rigatoni
1 pound ground beef
1 package taco seasoning or your own recipe
4 ounces cream cheese
1 1/2 cups salsa
1 cup cheddar cheese
1 1/2 cups monterey jack cheese
Instructions
Bring a large pot of water to a boil. Boil the pasta until not quite al dente. I let mine boil for 2 minutes less than the package suggested for al dente.

When the pasta is done, drain and rinse.

Toss the pasta with 1/2 cup of monterey jack cheese.

While the pasta is boiling, brown the ground beef and drain.

Add the taco seasoning and however much water is needed, per the directions on the taco packet.

Cook for a few minutes over low heat and then add in the cream cheese. Allow the cream cheese to fully melt into the meat mixture.

Remove from heat and stir in 1 cup of salsa.

Grease a springform pan and stand the rigatoni noodles up tightly in the pan. It may help to hold the pan at an angle to get them to stand when you're first standing them up. This step really is easier than you would think!

Spread the meat mixture on top of the noodles and use a straw to poke the meat down into the holes of the noodles.

Pour the remaining half cup of salsa over the top.

Sprinkle the top with the remaining 2 cups of cheese.

Bake at 350 degrees for 20 minutes.

Remove from oven and let stand for 10 minutes before removing the sides of the pan and cutting. Enjoy!
Nutrition Information:
Calories: 748kcal (37%)| Carbohydrates: 65g (22%)| Protein: 36g (72%)| Fat: 37g (57%)| Saturated Fat: 19g (119%)| Cholesterol: 119mg (40%)| Sodium: 1313mg (57%)| Potassium: 625mg (18%)| Fiber: 4g (17%)| Sugar: 6g (7%)| Vitamin A: 1520IU (30%)| Vitamin C: 3.9mg (5%)| Calcium: 414mg (41%)| Iron: 3.5mg (19%)