Don't ask me why, but I was feeling a little lovey-dovey about my husband the other day.
He must have been looking extra cute in his jeans and flannel with his scruffy beard. I'm such a sucker for scruffy beards.
So, while he was off doing boy things all day, I stayed home and baked him his favorite dessert. Cheeeeeeeesecake. He loves the stuff. (He especially loved the Reese's Cheesecake Bars I made him last year! So good!)
Obviously, I went and one-upped myself in the cheesecake department and used crushed Biscoff cookies for the crust instead of graham crackers. The husband loves Biscoff cookies. He usually eats them dipped in Biscoff spread, which let's be honest, is kind of weird. Weird, but delicious. Whenever he starts dipping his cookies in his cookie butter, you better believe I make him share with me.
Anyway! I made cheesecake! I loaded it up with cinnamon for a perfect Fall treat that paired great with the spiced cookie crust. The cheesecake is perfectly creamy and the cookie crust adds the perfect crunch to compliment it.
I used my favorite eggs in this recipe – Safest Choice Eggs. They're pasteurized which means that eating them raw is totally safe. You don't need to worry about salmonella and they taste and cook just like any other egg. I think they're great for baked goods, because I like to taste my food before sticking it in the oven. (Hello, cookie dough!)
I slowly added cinnamon to this recipe to find the perfect amount. Had I not used Safest Choice Eggs, I might not have felt so safe taste testing this cheesecake batter! But, I had no worries which led to me adding just the right amount of cinnamon for a perfectly flavored cake that I totally can not get enough of. Cheesecake makes an excellent breakfast, you guys!
When I bake cheesecake I like to bake them until they are just about set, then turn the oven off and crack the door for about 45 minutes. This ensures that they'll be perfectly set without overbaking. After that I let them cool completely on the counter before sticking them in the fridge. It takes longer this way, but my cheesecakes come out perfectly creamy every time.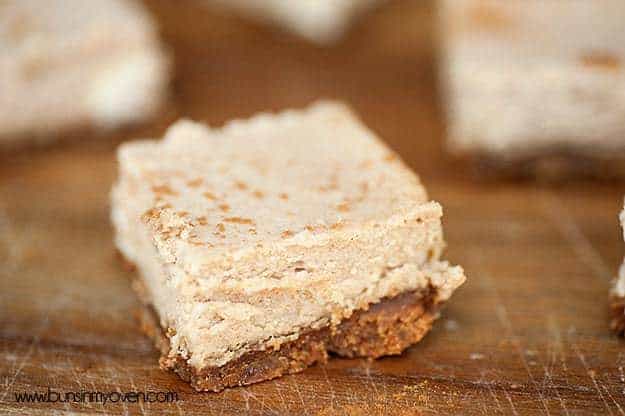 Cinnamon Cheesecake with Biscoff Cookie Crust
Obviously, I went and one-upped myself in the cheesecake department and used crushed Biscoff cookies for the crust instead of graham crackers.

Prep10 minutes
Cook40 minutes
Total50 minutes
Ingredients
For the crust:
1 package Biscoff cookies finely ground (2 cups crumbs)
6 tablespoons butter melted
For the cheesecake:
16 ounces cream cheese, room temperature
1 cup sugar
1/4 cup sour cream
3 large eggs
1 tablespoon cinnamon
2 teaspoons vanilla extract
Instructions
Preheat the oven to 325 degrees. Spray a 7x11 baking dish with non-stick cooking spray.

In a medium bowl, mix together the cookie crumbs and melted butter. Press into the bottom of the prepared baking dish and bake for 5 minutes.

Remove from the oven and set aside.

In the bowl of a stand mixer, beat together the cream cheese, sugar, sour cream, eggs, cinnamon, and vanilla until well combined. Pour batter into the prepared crust.

Bake for 40 minutes at 325 degrees or until the center is just slightly jiggly. Turn the oven off and crack the door.

Let the cheesecake sit in the warm oven for 45 minutes. Remove to the counter to cool completely before chilling in the fridge.

Cut into small bars to serve.
Nutrition Information:
Calories: 334kcal (17%)| Carbohydrates: 29g (10%)| Protein: 4g (8%)| Fat: 22g (34%)| Saturated Fat: 12g (75%)| Cholesterol: 105mg (35%)| Sodium: 285mg (12%)| Potassium: 100mg (3%)| Sugar: 21g (23%)| Vitamin A: 780IU (16%)| Calcium: 69mg (7%)| Iron: 1mg (6%)
This is sponsored by Davidson's Safest Choice. As always, all opinions are my own.