September 10, 2018
Reese's Peanut Butter Cup Cheesecake Bars
Ugh. Do you hear that?
It's the sound of my pant seams ripping apart.
My buttons popping.
My stretchmarks stretching.
My…wait. What? That last one? It was too much for you? Okay. I'll stop now.
The thing is, I ate a lot of cheesecake. But, not just any cheesecake. Peanut butterrrrrrrrr cheesecake. With peanut butter. And more peanut butter. And also, some peanut butter.
We're talking about a peanut butter crust, made from Nutter Butters, natch, a peanut butter cheeecake, stuffed with peanut butter cups. One can not have too much peanut butter. That's a fact. Unless you're allergic, in which case, I'm sorry and you should probably not come anywhere near me and my peanut butter fumes for the next little while.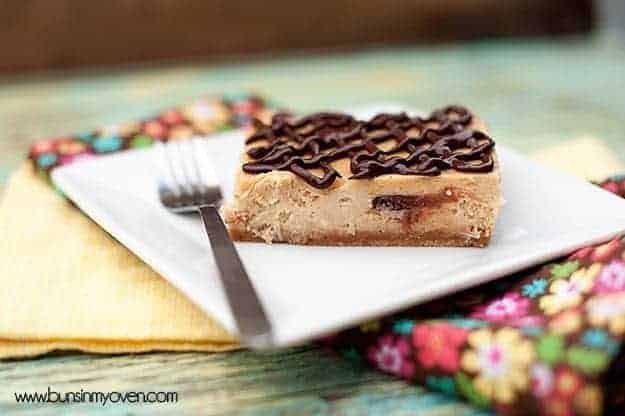 Reese's Peanut Butter Cheesecake Bars
Servings: 12 servings
Course: Dessert
Cuisine: American
Keyword: easy bar recipes, easy dessert recipes, holiday recipes, party recipes
Calories: 529 kcal
This recipe is full of peanut butter, from the crust, to the filling, to the peanut butter cups hiding inside!
Ingredients
For the crust:
15 Nutter Butter cookies
1/4 cup butter melted
For the Peanut Butter Cheesecake
16 ounces cream cheese softened
1 cup white sugar
1/2 cup creamy peanut butter
3 tablespoons all-purpose flour
4 large eggs
1/2 cup milk I used 1%, but 2% or whole milk would be great too
12 full size Reese's peanut butter cups
For the topping:
1/2 cup chocolate chips
1 teaspoon shortening
Instructions
To make the crust, combine the Nutter Butters and melted butter in the bowl of a food processor or blender and pulse until you have fine crumbs. Alternately. crush the cookies in a sealed baggie with a rolling pin and then mix with the butter.

Press the crust into the bottom of a greased 9x13 pan.

To make the cheesecake, preheat oven to 325 degrees.

Beat together the cream cheese, peanut butter, sugar, and flour until light and smooth and creamy. Beat in the eggs one at a time. Stir in the milk.

Pour batter onto the prepared crust.

Place the 12 Reese's peanut butter cups in the batter, lined up so that there will be one cup in each piece of cheesecake when cut, and gently press them in to cover them in the batter.

Bake for 10 minutes at 325 degrees.

Reduce heat to 260 and bake for 40 minutes or until just the center is slightly jiggly.

Let cool on the counter top for 30 minutes before placing in the refrigerator to cool for another 4 hours.

To top the cheesecake, melt the chocolate chips and shortening together in a microwave safe bowl on low heat. Alternately, melt in a double broiler.

Place the melted chocolate in a piping bag (or baggie with the tip cut off) and pipe on the melted chocolate.

You can also drizzle it on with a spoon, if preferred.

When serving, cut the bars so that each piece has a peanut butter cup in the center.
Nutrition Facts
Reese's Peanut Butter Cheesecake Bars
Amount Per Serving
Calories 529 Calories from Fat 306
% Daily Value*
Fat 34g52%
Saturated Fat 15g94%
Cholesterol 116mg39%
Sodium 350mg15%
Potassium 230mg7%
Carbohydrates 47g16%
Fiber 1g4%
Sugar 38g42%
Protein 10g20%
Vitamin A 760IU15%
Calcium 90mg9%
Iron 1.4mg8%
* Percent Daily Values are based on a 2000 calorie diet.
Nutrition Disclaimer: All information presented on this site is intended for informational purposes only. I am not a certified nutritionist and any nutritional information shared on bunsinmyoven.com should only be used as a general guideline.
I created this recipe as part of my partnership with Hershey's this holiday season.
linked up to Tidy Mom's I'm Lovin' It Link Party & Taste & Tell Thursday