My husband has always been a big fan of cookies and cream ice cream and cheesecake, and I've always been a big fan of making him food that he loves. It's only taken me nine years of marriage to come up with the idea of combining his favorite ice cream with his favorite dessert.
I was both pleasantly surprised and quite dismayed to realize that Oreo cheesecake is quite possibly the best dessert out there. Pleasantly surprised because I'm normally not a fan of cookies and cream unless it's just a plain ol' Oreo dunked in a big glass of icy cold milk, and dismayed because I couldn't stop sneaking into the kitchen to take just one more bite.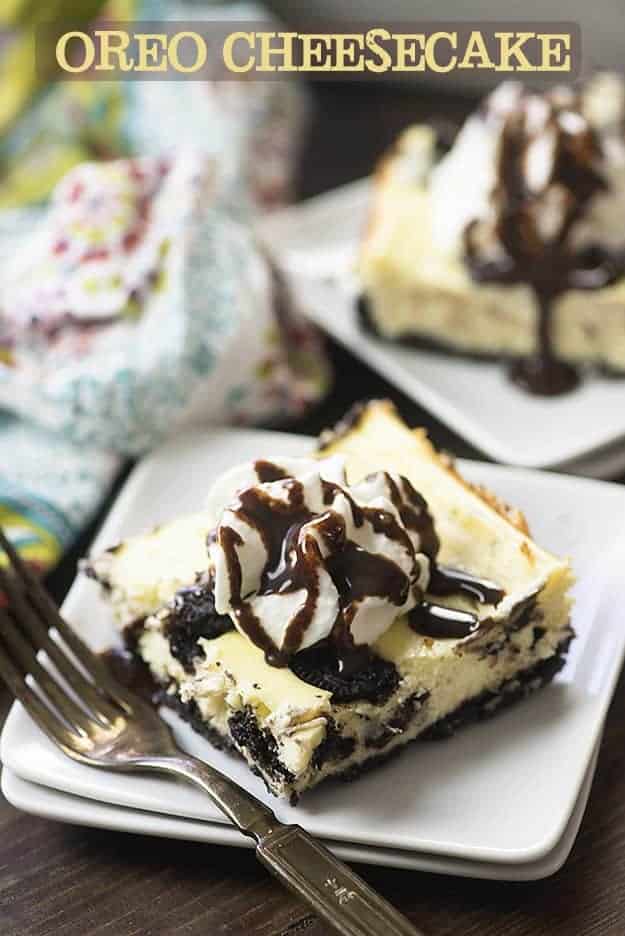 This cheesecake is dangerous. That's okay though, because life is pretty boring without a bit of danger.
The Oreo cookie crust is made out of Oreo crumbs and melted butter. I won't judge you if you feel the need to double the crust recipe and eat the extra half with a spoon. Oreos and butter go together surprisingly well, not that I would ever know anything about something like that. No, not me.
You'll love this Oreo Cheesecake recipe!
This is a really easy cheesecake recipe and the cheesecake batter whips up quickly. Then you'll just crumble up some more Oreos and stir them in.
Pour the batter onto your crust and imagine how many points you are earning by making your husband such a yummy dessert.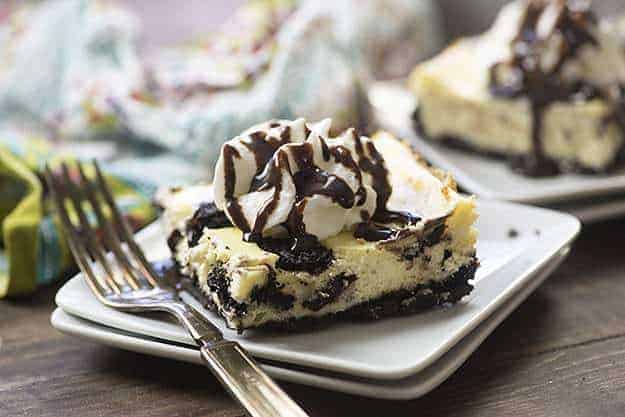 After you smooth the batter over the crust, it bakes in just 30-40 minutes. The hard part is waiting the 3 plus hours for it to cool in the fridge. I left mine in the fridge overnight to be sure it was completely set and chilled through. There's nothing worse than warm cheesecake, am I right?
I made you a video up top to show you how easy this Oreo cheesecake recipe really is! I hope you guys give this one a try and report back!
You'll love my chocolate chip cheesecake bars and sopapilla cheesecake bars too!
Give this easy cheesecake recipe a try and let me know what you think!
(Post originally published 12/2009, updated with new video and photos 2/2017! Man, I've been blogging a long time!)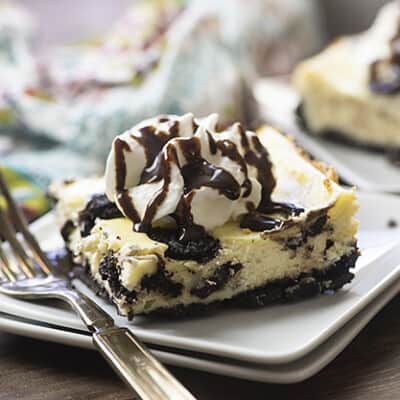 Oreo Cheesecake
This Oreo Cheesecake recipe is creamy perfection and it's one of the easiest cheesecakes you'll ever make! Check out that Oreo cookie crust hiding out under the creamy goodness, too!

Prep15 minutes
Cook50 minutes
Total1 hour 5 minutes
Ingredients
1 package Oreo cookies divided
4 tablespoons butter melted
24 ounces cream cheese room temperature
3/4 cup sugar
1 teaspoon vanilla
3 large eggs
Instructions
Pre-heat oven to 350 degrees.

Using a food processor, blender, or rolling pin, crush 28 Oreo cookies into crumbs. Pour into parchment paper lined 9 x 13 pan and pour melted butter on top of cookie crumbs.

Stir to coat all the cookie crumbs with butter and press into the pan to form the crust.

Bake the crust for 10 minutes.

Beat cream cheese, sugar, and vanilla until well blended. Beat in the eggs one at a time, mixing just until blended.

Crumble remaining Oreos with your fingers and add to cheesecake mixture. Stir together to combine and pour over cookie crust.

Smooth the batter and place in the oven for 30-40 minutes, until the edges are set but the center is still slightly jiggly.

Cool on a wire rack and then refrigerate for 3 hours or overnight.
Nutrition Information:
Calories: 471kcal (24%)| Carbohydrates: 41g (14%)| Protein: 7g (14%)| Fat: 31g (48%)| Saturated Fat: 16g (100%)| Cholesterol: 118mg (39%)| Sodium: 406mg (18%)| Potassium: 176mg (5%)| Fiber: 1g (4%)| Sugar: 29g (32%)| Vitamin A: 945IU (19%)| Calcium: 72mg (7%)| Iron: 3.7mg (21%)