No cream of tartar? No problem! Our SNICKERDOODLES WITHOUT CREAM OF TARTAR bake up so soft and perfectly chewy, loaded with cinnamon sugar. These aren't quite as tangy as a traditional snickerdoodle and we actually like them even better!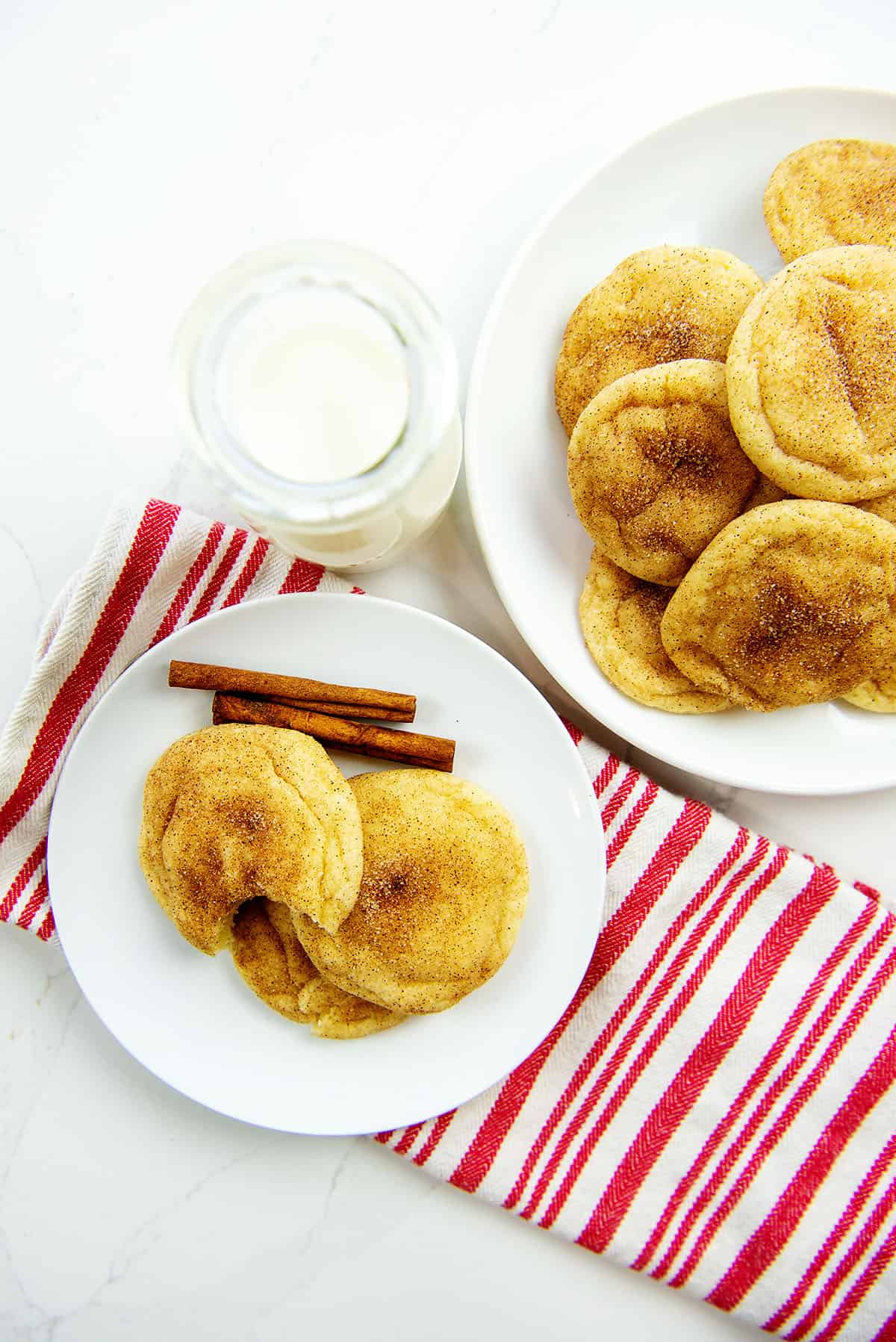 I'm definitely something of a cookie connoisseur and going to a bakery with me is a bit of an event, because I want one of everything. Like, everything. Give me one of each. I'm not kidding.
My husband loves spending all of our hard earned money on the single bite I will take from every single cookie at every single bakery we visit. Loves it. 😉
And one thing I've learned is that snickerdoodles are either my favorite or I hate them. It 100% depends on how much cream of tartar is used.
So, we came up with a snickerdoodle recipe without cream of tartar, mostly because I was out the day I wanted to bake snickerdoodles, but also because I was curious how they'd taste without any at all.
Hello – I think I like these better than the ones made with cream of tartar and that's nice because now I don't have to keep that little jar in my spice drawer solely for snickerdoodle cookies!
Ingredient Notes:
Cinnamon & Sugar – It's not a snickerdoodle if it's not rolled in cinnamon and sugar.
Cornstarch – This helps make for an ultra soft cookie.
Baking Powder – This is the key ingredient replacing the Cream of Tartar!
Helpful TipS!
Still want that tangy taste but don't have the Cream of Tartar? Try using a teaspoon of lemon juice!
The white sugar can be replaced with brown sugar for a slightly different flavor and a chewier texture.
Love cinnamon? Add a bit to your dough to add extra spice.
How to Make Snickerdoodles:
This post contains affiliate links. As an Amazon associate and member of other qualifying programs, I earn from qualifying purchases.
Mix: This is a classic cookie dough – beat the butter and sugar with a mixer, add in the eggs and vanilla, and then beat in the dry ingredients. T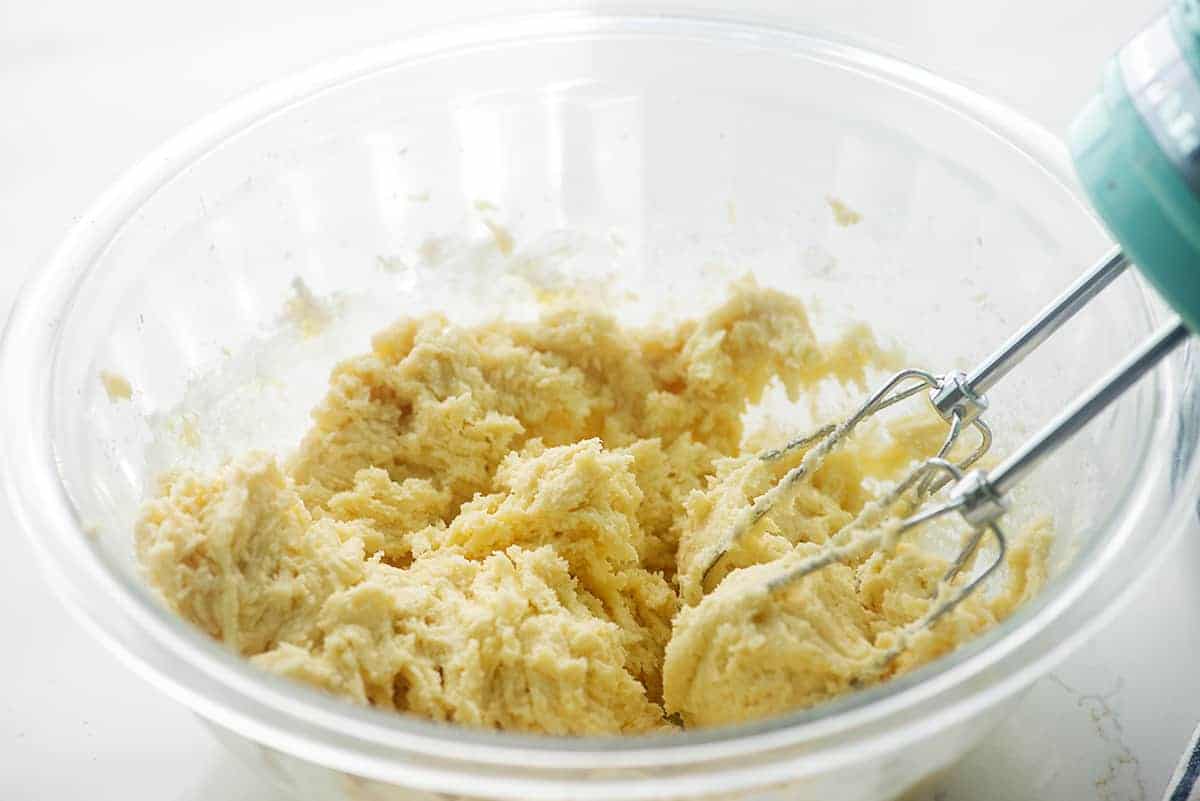 Roll the Dough: Use a cookie scoop to evenly portion your dough and then roll it into a ball. Roll each bit of dough through some cinnamon and sugar to coat. ! This will ensure that each cookie is the same size, which means they should all be finished at the same time.
In a small bowl mix together the sugar and cinnamon, then roll the balls of dough in the mixture until they are well coated. This will give the exterior of the cookies the sweet, cinnamon taste they are known for.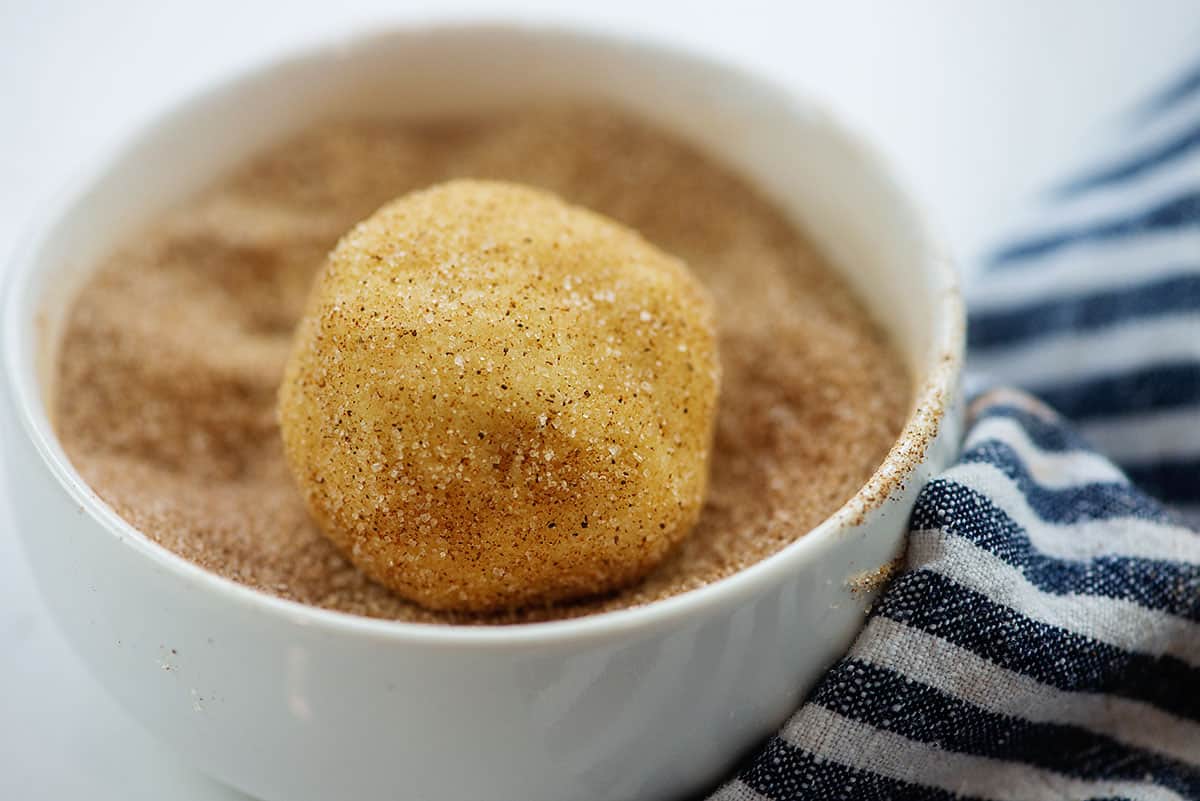 Bake: Pop on a parchment lined baking sheet, leaving space for the cookies to spread a bit. They'll take about 10 minutes in the oven and should have puffy centers and crisp edges.
COOKIE ACCESSORIES!
Here are a couple helpful tools that every baker could use when making these or any other cookies!
Check out this set of cookie scoops!
This three-tiered cooling rack has plenty of room and folds up for easy storage!
FAQ's:
What is the difference between snickerdoodles and sugar cookies?
Snickerdoodles are rolled in cinnamon and sugar with a gorgeous crinkled appearance. They're traditionally made with cream of tartar, which gives them a bit of tang.
Why do you need cream of tartar in snickerdoodles?
Traditional snickerdoodles use baking soda and cream of tartar to help the cookies puff up and rise in the oven. Our recipe skips the cream of tartar in favor of baking powder, making it
More Favorite Cookies!
Snickerdoodle Cookies without Cream of Tartar
Cream of Tartar isn't one of those ingredients we always keep on hand, which makes a sudden craving for snickerdoodles a little tricky! This recipe skips the cream of tartar and uses baking powder instead.
Prep20 minutes
Cook10 minutes
Total30 minutes
Ingredients
For the cookies:
½ cup butter room temperature
¾ cup granulated sugar
1 large egg
2 teaspoons vanilla
1 1/2 cups flour
2 tablespoons cornstarch
1 teaspoon baking powder
½ teaspoon baking soda
¼ teaspoon salt
For topping:
¼ cup granulated sugar
2 teaspoons cinnamon
Instructions
Preheat oven to 375 degrees. Line a baking sheet with parchment paper.

Add the butter and sugar to a mixing bowl and mix with an electric mixer until light and fluffy.

Beat in the egg and vanilla until combined.

Add the flour, cornstarch, baking powder, baking soda, and salt to the butter mixture and beat until well combined.

Use a medium cookie scoop to scoop out dough. Roll the dough into balls in the palm of your hands.

Whisk the topping ingredients together in a small bowl and roll each cookie dough ball in the topping to coat.

Place cookies on the prepared baking sheet about 3 inches apart.

Bake cookies for 10 minutes. Cookies should be thick and puffy and sink a bit as they cool.

Cool for 5 minutes on the baking sheet and then transfer to a cooling rack to finish cooling.
Tips & Notes:
The cream of tartar is what adds that classic tang to snickerdoodle cookies. We actually like them better without it, but that's personal preference. Add in 1 teaspoon of lemon juice with the egg and vanilla, if you'd like to add that classic flavor back in. For extra spice, add 1/2 teaspoon (or more, to taste) of cinnamon directly to the cookie dough.
Nutrition Information:
Serving: 1cookie| Calories: 136kcal (7%)| Carbohydrates: 20g (7%)| Protein: 1g (2%)| Fat: 5g (8%)| Saturated Fat: 3g (19%)| Cholesterol: 24mg (8%)| Sodium: 112mg (5%)| Potassium: 42mg (1%)| Fiber: 1g (4%)| Sugar: 11g (12%)| Vitamin A: 173IU (3%)| Calcium: 7mg (1%)| Iron: 1mg (6%)