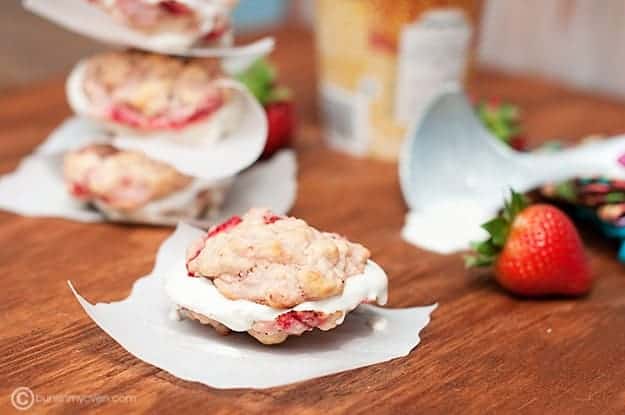 I planted something like 15 strawberry plants this year. One of them is even still alive! And it has a single red berry on it! Clearly, I'm a master gardener and should be showered with praise.
(Also growing in my container garden, but totally not at all relevant to this recipe, are jalapenos [three of them so far!], squash, zuchinni, cilantro, chives, and tomatoes. Lots and lots of tomatoes.)
I had grand plans for those dead strawberry plants, however all of my plans were based on the strawberry plants not only living, but thriving. I'm not sure why I set myself up for failure like that. I mean, I know that I'm a horrible gardener. I know that I kill everything I look at. Just ask the rose bush in my backyard. I asked it if it was thirsty, it poked me with a thorn, and then it fell over dead. It deserved that death, if you ask me. Being poked with rose thorns hurts, man.
Anyway, I made you cookies. Strawberry shortcake cookies. Then I sneaked some ice cream in there and made everything extra super delicious. Messy, yes. Still delicious, though.
Please forgive me if blog posting is a bit light this week. My husband's grandpa passed away on Sunday, so I'm taking a bit of time to be with family, love on my hubby, and give my little ones extra hugs and kisses.
Strawberry Shortcake Cookies & Ice Cream Sandwiches
Skip the strawberry shortcake and make these ice cream sandwiches instead!
Prep15 minutes
Cook24 minutes
Total39 minutes
Ingredients
2 cups 12 ounces hulled and diced strawberries
1 teaspoon fresh lemon juice
1/2 cup plus 1 tablespoon granulated sugar
2 cups all-purpose flour
2 teaspoons baking powder
1/2 teaspoon kosher salt
6 tablespoons cold unsalted butter cut into small pieces
2/3 cup heavy cream
vanilla ice cream optional
Instructions
Preheat the oven to 375 degrees.

Combine the strawberries, 2 tablespoons sugar, and lemon juice and set aside.

Whisk together the flour, baking powder, salt, and remaining 1/2 cup of sugar. Cut in the butter with a pastry cutter until mixture resembles coarse crumbs. Stir in the cream until the dough begins to come together and then stir in the strawberries.

Use a large cookie scoop to drop cookie dough onto baking sheet lined with parchment.

Bake until golden brown, about 24 minutes. Cool completely on a wire rack.

If making into ice cream sandwiches, flip half of the cookies over and top with a tablespoon or so of vanilla ice cream. Place the remaining cookies on top and press down lightly. Freeze for 30 minutes to allow the ice cream to firm back up before serving.
Nutrition Information:
Serving: 1sandwich| Calories: 235kcal (12%)| Carbohydrates: 29g (10%)| Protein: 3g (6%)| Fat: 12g (18%)| Saturated Fat: 7g (44%)| Cholesterol: 38mg (13%)| Sodium: 162mg (7%)| Potassium: 158mg (5%)| Fiber: 1g (4%)| Sugar: 11g (12%)| Vitamin A: 415IU (8%)| Vitamin C: 14.4mg (17%)| Calcium: 60mg (6%)| Iron: 1.1mg (6%)
recipe from Martha Stewart