Just 5 ingredients to make our no churn Cookies and Cream Ice Cream! Ready in about 3 hours and perfect for a hot summer day!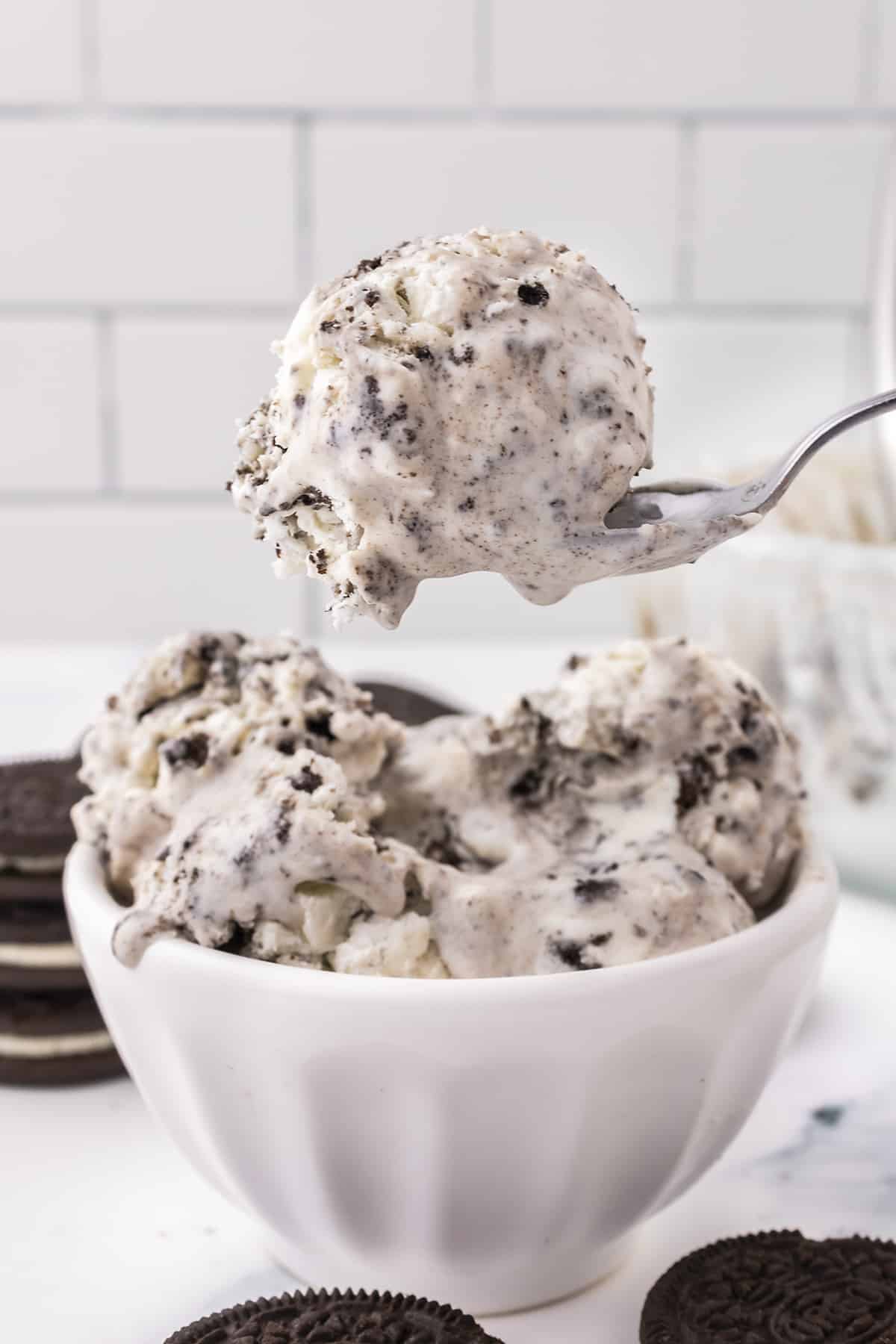 My kids LOVE when we make homemade ice cream, and this cookies and cream ice cream ranks up there as a favorite!
This is a no churn recipe, which means that you DON'T need an ice cream maker!
The only special tools you'll need are a hand mixer or stand mixer. This recipe couldn't be easier and it freezes in about 3 hours – meaning you can get ice cream on the table for dessert tonight with minimal planning and prep! Love that!
Our s'mores ice cream is another no-churn favorite that's perfect for summer. But, if you have an ice cream maker and love the churned stuff, you might want to try our peanut butter fudge ripple ice cream too!
Either way, we've got you covered for summer! I know you're going to want to make this cookies and cream ice cream recipe all season long.
Ingredient Notes:
This post contains affiliate links. As an Amazon associate and member of other qualifying programs, I earn from qualifying purchases.
Heavy Whipping Cream – There are no substitutes for heavy cream in this recipe. It's needed to give the ice cream the correct texture.
Sweetened Condensed Milk – It'll add sweetness but more importantly it helps give the ice cream a soft, scoopable texture and more creamy flavor.
Sugar – Just a couple tablespoons!
Vanilla Extract – We always recommend using pure vanilla extract rather than the imitation stuff.
Oreo Cookies – I'm using regular chocolate Oreo cookies for this ice cream but you could switch it up and use Golden Oreo's or another variety. You'll need to crumble them into small pieces, but not finely crush them.
What We Love About This Recipe:
Soft, creamy, and scoopable – no ice cream maker needed!
We love to customize this with any of the varieties of Oreos! There are so many flavors to try.
You only need about 15 minutes of hands on time to make this homemade cookies and cream ice cream. Easy peasy!
How to Make Oreo Ice Cream:
Mix: Add the heavy cream and sugar to a chilled mixing bowl and beat it with a hand mixer or stand mixer until you have whipped cream. Then stir in the sweetened condensed milk and vanilla and mix again.
Oreo Cookies: If you haven't already crushed the cookies you'll need to do so now. Remember, you want small to medium sized pieces, not fine powder.
Stir the crumbled cookies into the ice cream mixture by hand with a spoon, not a mixer, or the ice cream may turn a grayish color from the cookies.
Freeze: When it's all combined pour the mixture into a loaf pan and place it in the freezer to chill. Let it chill for 3 hours. The longer the Oreo ice cream chills, the harder it will turn.
Be sure to cover the Oreo ice cream if you're freezing for more than a day.
Serve: If you leave the ice cream in the freezer for longer than 3 hours, you may want to let it sit out for a few minutes before scooping and serving. At 3 hours, you'll have a nice soft serve like texture.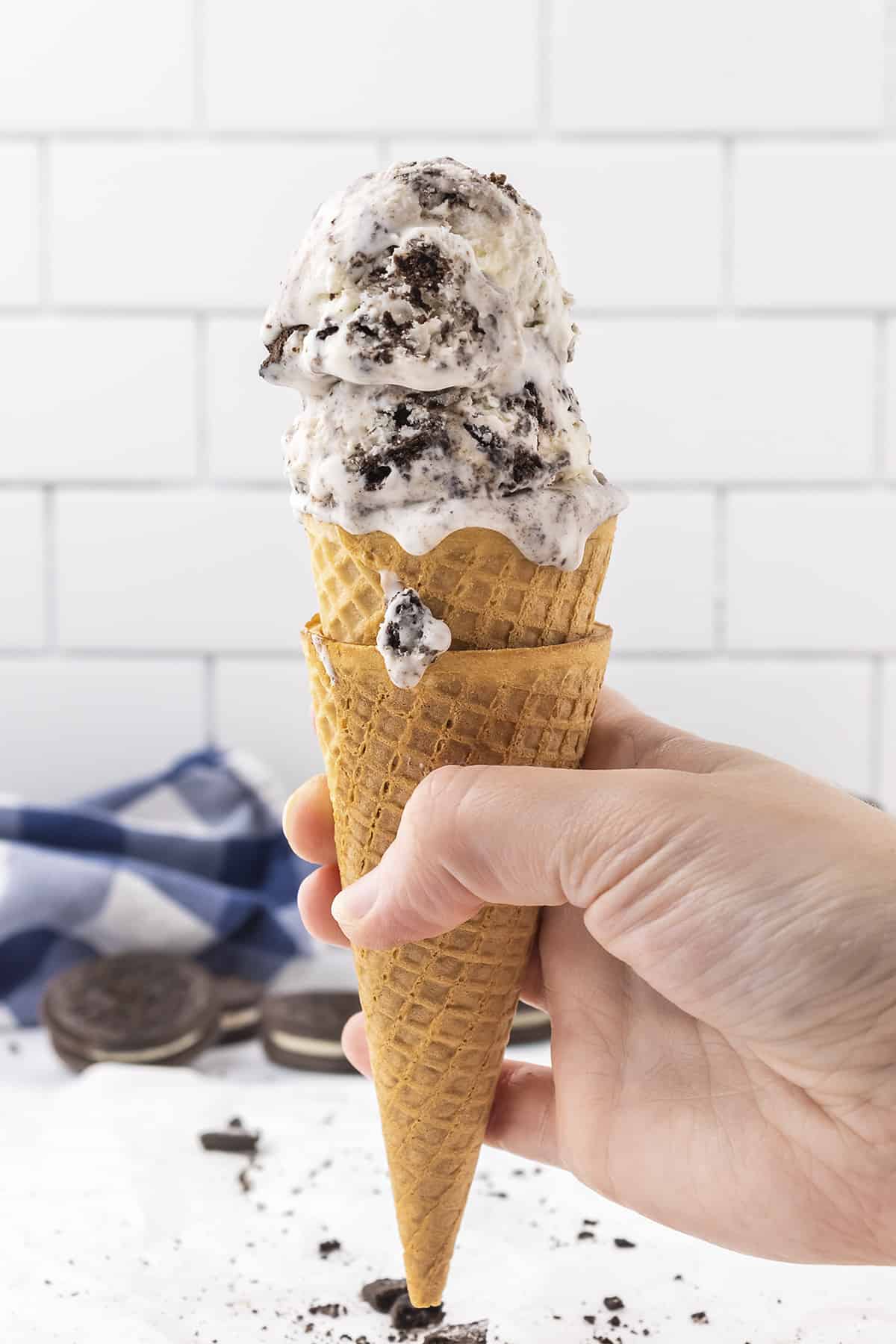 Helpful Tools:
Metal Mixing Bowl – For best results you want to use a mixing bowl. You'll chill it in the freezer before mixing so it will stay nice and cold while you work!
Mixer – You'll need either an electric hand mixer or a stand mixer to whip together the cream and sugar. Either one should work well. You'll also need to chill the mixer attachment in your freezer before beginning.
Rolling Pin – When it comes to crushing the Oreo cookies, you don't want to turn them into a fine powder. They should instead be small to medium sized pieces. Place them in a plastic bag and crush them with a rolling pin.
You can use a food processor to do this if it has a pulse feature, that way you can make sure it does not turn the cookies into fine crumbs.
Ice Cream Container – There's no need to buy a special container, but we LOVE these! The shape is nice for our freezer and you can easily label them.
Ice Cream Scoop – We love this Gorilla Grip ice cream scoop! Makes easy work of scooping ice cream.
FAQs:
How to store ice cream?
There's only one way to store ice cream and that's in the freezer! This Oreo ice cream will last for about 2 weeks in a covered container.
How long to freeze?
It needs to freeze for at least 3 hours to have a soft serve like texture. The longer it freezes, the harder it will get. You may need to let it set on the counter for 5-10 minutes to soften up before scooping and serving, just like with store bought ice cream.
MORE OREO COOKIE RECIPES!
Cookies and Cream Ice Cream
This no churn ice cream recipe has a creamy vanilla base that's loaded with Oreo cookies. Ready in about 3 hours and perfect for a hot day!
Prep15 minutes
Chill Time3 hours
Total3 hours 15 minutes
Ingredients
15 Oreo cookies
1 ¾ cup heavy whipping cream
2 tablespoons granulated sugar
1 teaspoon vanilla extract
14 ounces sweetened condensed milk
Instructions
Place your mixing bowl and mixer attachment(s) in the freezer for at least 20 minutes before beginning to allow them to chill.

While the mixing bowl is in the freezer, place the cookies in a zip top bag and crush them with a rolling pin until you have small to medium pieces. Do not turn them to crumbs or your ice cream will be gray.

Add the heavy whipping cream and sugar to the cold mixing bowl and mix with a hand (or stand) mixer until it becomes the consistency of whipped cream.

Add in the vanilla and sweetened condensed milk. Mix again until smooth.

Stir in the crushed oreos by hand and then pour into a 9×5 loaf pan.

Set the loaf pan in the freezer and allow to freeze for 3+ hours. 3 hours will give you a nice, almost soft serve texture, freezing longer will give you a 'harder' ice cream.

If freezing longer than 3 hours, let ice cream set out at room temperature for 5 minutes to soften up until easy to scoop and serve.
Tips & Notes:
The oreos should be crushed, in small to medium sized pieces, not turned into crumbs. They should also be stirred in with a spoon, not using a mixer, otherwise you run the risk of the ice cream turning a gray color from the Oreos. Store ice cream in a covered dish for up to 2 weeks in the freezer. We like the classic Oreo flavor best, but you can use any variety you prefer.
Nutrition Information:
Calories: 454kcal (23%)| Carbohydrates: 47g (16%)| Protein: 7g (14%)| Fat: 27g (42%)| Saturated Fat: 16g (100%)| Polyunsaturated Fat: 2g| Monounsaturated Fat: 8g| Trans Fat: 0.01g| Cholesterol: 76mg (25%)| Sodium: 164mg (7%)| Potassium: 287mg (8%)| Fiber: 1g (4%)| Sugar: 41g (46%)| Vitamin A: 898IU (18%)| Vitamin C: 2mg (2%)| Calcium: 180mg (18%)| Iron: 3mg (17%)