August 8, 2018
Hot Fudge Sundae Oreo Brownies
For the love of all that is good.  Somebody, please take away these Oreo brownies.  Too freaking delicious!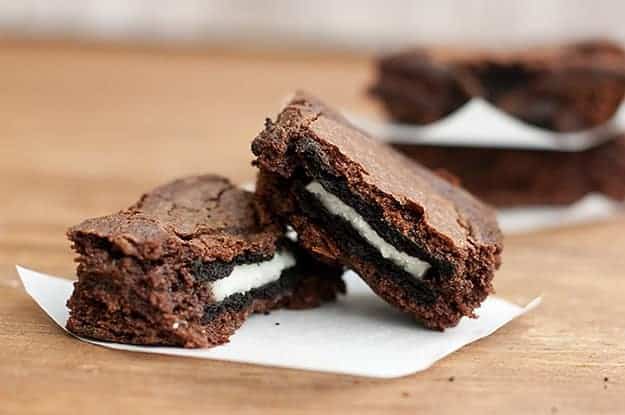 My husband came home from a week of fishing with the boys and one of the first things he said to me was, "Did you know that Oreo Brownies are disgusting?"
I blinked at him for a second or two. I tried to process the words he was saying. I scratched my head in confusion. Finally, I got it. He wanted me to bake him a treat.
"Fine," I said. "I accept."
"Accept what?"
"Your challenge! To create an oreo brownie that you like. I accept."
This Oreo brownie recipe is beyond easy!
Sure, he might not have known he was asking me to make him a yummy treat, but subconsciously, deep down, that's what he wanted.
The brownie that I had to beat was just a prepackaged Oreo brownie from the gas station. I wasn't scared, but I decided to pull out the big guns anyway.
Brownie mix, cookies 'n cream ice cream, hot fudge sauce, and Oreos. All mixed up and then baked.
My husband had a stroke when he discovered that the ice cream was in the baked brownie. "But…but…isn't that just milk then? I mean, it melted!"
Just milk? No. Ice cream is milk and sugar and cream and eggs and all manner of rich, delicious things.
It shared that richness with the brownies and the hot fudge added this extra chocolatey burst and the Oreo cookies stayed right where I put them with a softened cookie and that delicious layer of cream filling.
So, yeah. I totally won that challenge.  You will too if you give this Oreo brownie recipe a go!
If you're not feeling the brownie mix, try my homemade brownies.
And if you love brownie recipes, be sure to check out my Reese's brownies. They're outrageous.
Hot Fudge Sundae Oreo Brownies
Servings: 16 brownies
Calories: 250 kcal
Baking ice cream right into your brownies sounds insane, but wait til you get a taste of these!
Ingredients
1 box Brownie Mix for a 9x13 pan
eggs & oil as called for by the brownie mix
6 oz. Cookies & Cream ice cream
1/4 Cup hot fudge sauce
12-15 Oreo cookies
Instructions
Preheat oven to 350 degrees.

Prepare the brownie mix as directed on the back of the package, omitting the water or milk called for on the box. Mix in the ice cream and hot fudge sauce.

Spread half of the brownie batter in a parchment lined 9x13 baking dish. The mixture will be very thick. Lay out the Oreos to cover the brownie batter. Pour remaining batter over the top of the Oreo cookies carefully so that you are covering each Oreo cookie.

Bake for 40-45 minutes or until a toothpick comes out mostly clean. These will stay nice and chewy for up to a week if you keep them tightly covered.
Nutrition Facts
Hot Fudge Sundae Oreo Brownies
Amount Per Serving (1 brownie)
Calories 250 Calories from Fat 144
% Daily Value*
Fat 16g25%
Saturated Fat 4g25%
Cholesterol 3mg1%
Sodium 66mg3%
Potassium 59mg2%
Carbohydrates 33g11%
Sugar 36g40%
Protein 3g6%
Vitamin A 45IU1%
Vitamin C 0.1mg0%
Calcium 16mg2%
Iron 0.9mg5%
* Percent Daily Values are based on a 2000 calorie diet.
Nutrition Disclaimer: All information presented on this site is intended for informational purposes only. I am not a certified nutritionist and any nutritional information shared on bunsinmyoven.com should only be used as a general guideline.
Recipe from Kevin & Amanda.