These Oreo Rice Krispies Treats are loaded with marshmallows and our favorite cookies. Level up the classic Rice Krispies Treat by adding in chunks of Double Stuf Oreo cookies!
I'm a sucker for Rice Krispies Treats, like most people that live on planet Earth. 😉
We leveled things up a bit by adding in chunks of Oreo cookies and extra marshmallows.
These turn out sweet and gooey with little pops of crunchy chocolate and creamy Oreo filling hiding throughout.
Basically, these are a dream come true for Oreo lovers!
We have a few Rice Krispies treats recipes on the site, including Pumpkin Rice Krispies Treats, Christmas Rice Krispies Treats, and Browned Butter Rice Krispies Treats. And I'm not done yet…there are a few more variations planned for the coming months. Hope you're as excited about that as I am.
Ingredient Notes:
This post contains affiliate links. As an Amazon associate and member of other qualifying programs, I earn from qualifying purchases.
Rice Krispies Cereal – The classic, but if you haven't tried making cereal treats with Chex, you're missing out!
Marshmallow – You can use mini marshmallows or full sized.
Oreos – This should come as no surprise, but we prefer the Double Stuf Oreo Cookies. You can't go wrong with extra filling, but regular Oreos are fine too.
Vanilla – We like to add vanilla extract to our RKT's to amp up that flavor, but it's fine to skip it.
What We Love About This Recipe!
Rice Krispies? Check. Marshmallow? Check. Double Stuf Oreos? Check.
Yep, we love all those things. Put them all together and you've got a sweet and easy no bake treat that pretty much everyone is guaranteed to enjoy and they only take about 15 minutes to whip up.
How to Make:
Marshmallow: Start by melting the butter in a large saucepan, and go ahead and dump in all but one cup of the mini marshmallows. Stir it up as it heats and mix in the vanilla extract until it is all fully melted together.
Helpful Tip!
Soft and chewy treats every time!
Have you ever gone to the trouble of making Rice Krispies Treats only to have them turn out crunchy and hard instead of soft and gooey? I can help!
Be sure to cook the marshmallow mixture until it's JUST melted. Overcooking the marshmallows is what causes it to harden up and causes a crunchy final product.
Cereal: Next up you can pour in all the Rice Krispies cereal (or Chex, if that's your thing) and start stirring it all together. A rubber spatula works well here! Stir until the cereal and marshmallow is all perfectly combined.
Cookies: Now for the best part! Break up the Double Stuf Oreo Cookies into small pieces and add those in along with the remaining cup of mini marshmallows. Start mixing all that together with the cereal and melted marshmallow until you've got a well combined Oreo Rice Krispies mixture!
Finish: All that's left now is to add the Oreo Rice Krispies Treat mixture into a greased baking dish and press down until it forms an even layer. That's the hard part all done!
Or maybe not. You'll need to resist eating the treats for an hour while they cool completely. Then they can be sliced into bars and served!
Helpful Tip!
Spray a piece of wax paper with non-stick spray and use that to press the cereal mixture into place. The cereal won't stick to your hands or the wax paper!
FAQs:
How to store Rice Krispies Treats?
These Oreo Rice Krispies Treats can be stored at room temperature in a sealed container for 2-3 days. We often go longer, but the texture does change a bit the longer they sit!
How to freeze Rice Krispies Treats?
You can freeze the Oreo Rice Krispies Treats for about two to three months. First slice the treats into bars or squares and wrap each one in plastic wrap or wax paper before sealing in a freezer bag.
Why are my Rice Krispies Treats sticky?
Adding too much butter or marshmallow can result in a soggy and/or sticky cereal treat. Adding too little will result in a hard and crunchy treat. We've tested the ratios here for the ultimate Rice Krispies Treats with just the right amount of gooey goodness.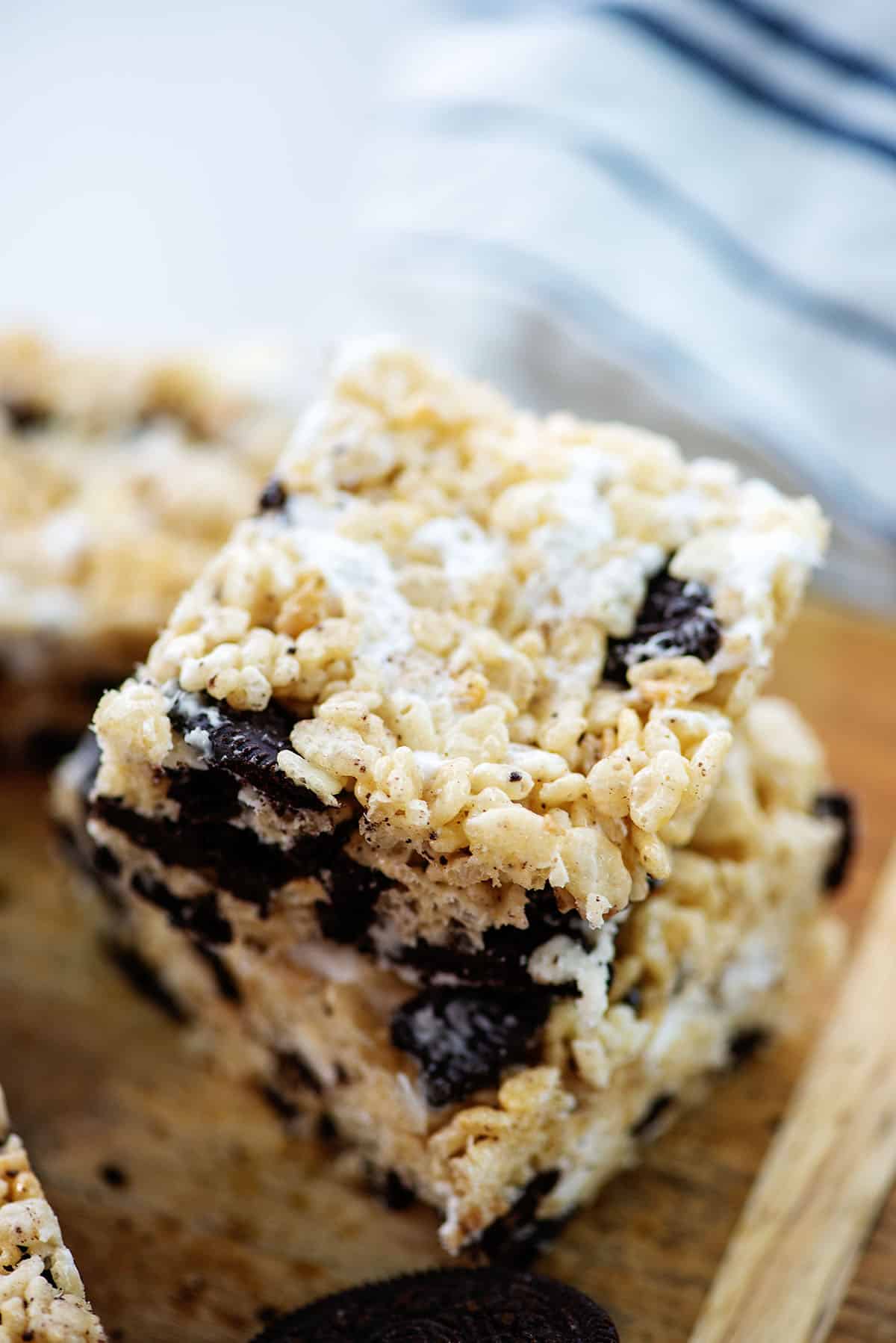 MORE SWEET TREAT RECIPES!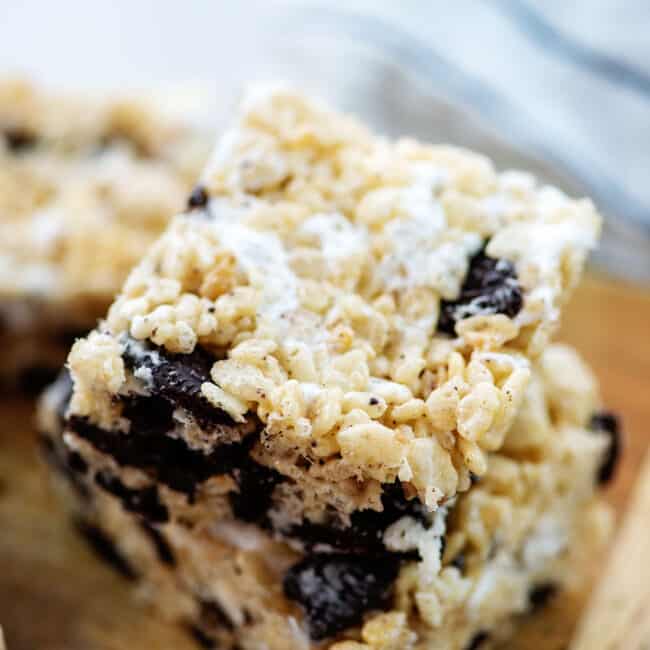 Oreo Rice Krispies Treats
Gooey and chewy Oreo Rice Krispies Treats are one of our favorite no bake desserts to share with friends and family. Easy enough that the kids can make them and they're ready in about an hour!
Prep5 minutes
Cook5 minutes
Cooling Time1 hour
Ingredients
1/3 cup butter
20 ounces mini marshmallows
1 teaspoon vanilla extract
6 cups Rice Krispies cereal
20 Double Stuf Oreo Cookies broken into small pieces
Instructions
Heat the butter in a large sauce pan over low heat until melted.

Stir in all but 1 cup of mini marshmallows and melt over low heat, stirring constantly, until fully melted. Remove from the heat.

Stir in the vanilla.

Add the Rice Krispies and stir to combine.

Stir in the Oreo cookies and remaining cup of marshmallows and stir well to combine.

Press mixture into a greased 9×13 baking dish and let cool completely for 1 hour.
Tips & Notes:
You may use full size marshmallows if preferred, but cut them into small chunks when stirring them in at the end. Make sure to use fresh marshmallows and do not overcook the mixture or you'll end up with hard and crunchy treats instead of soft and gooey. To smooth the surface of the bars, spray a piece of wax paper or parchment with nonstick spray and press into the pan. This will help keep the mixture from sticking to your hands and makes the job go quick.
Nutrition Information:
Serving: 1bar| Calories: 344kcal (17%)| Carbohydrates: 65g (22%)| Protein: 3g (6%)| Fat: 9g (14%)| Saturated Fat: 5g (31%)| Polyunsaturated Fat: 1g| Monounsaturated Fat: 3g| Trans Fat: 1g| Cholesterol: 14mg (5%)| Sodium: 249mg (11%)| Potassium: 65mg (2%)| Fiber: 1g (4%)| Sugar: 37g (41%)| Vitamin A: 1089IU (22%)| Vitamin C: 9mg (11%)| Calcium: 8mg (1%)| Iron: 6mg (33%)