September 13, 2018
Homemade Oreo Cookies

Much to the disappointment of my children, I don't buy prepackaged cookies at the grocery store.
I don't want to be all braggy or anything, but I can usually knock the pants off of a store-bought cookie with my own homemade version.
This true in almost all instances. The exceptions? Girl Scout cookies and Oreo cookies. Oreo cookies are pretty much my nemesis. They are perfectly crunchy and that cream filling? Why don't they sell buckets of that? I would buy it. I would bathe in it. I would use it as toothpaste. Then I would smear it on my living room walls and call it paint.
I love Oreo cream.
I attempted to recreate those fabulous cookies at home and I failed. These cookies you're looking at really aren't Oreo cookies. They are similar. They are intensely chocolate with a creamy, sweet filling. They are crunchy and yummy. I like them a lot.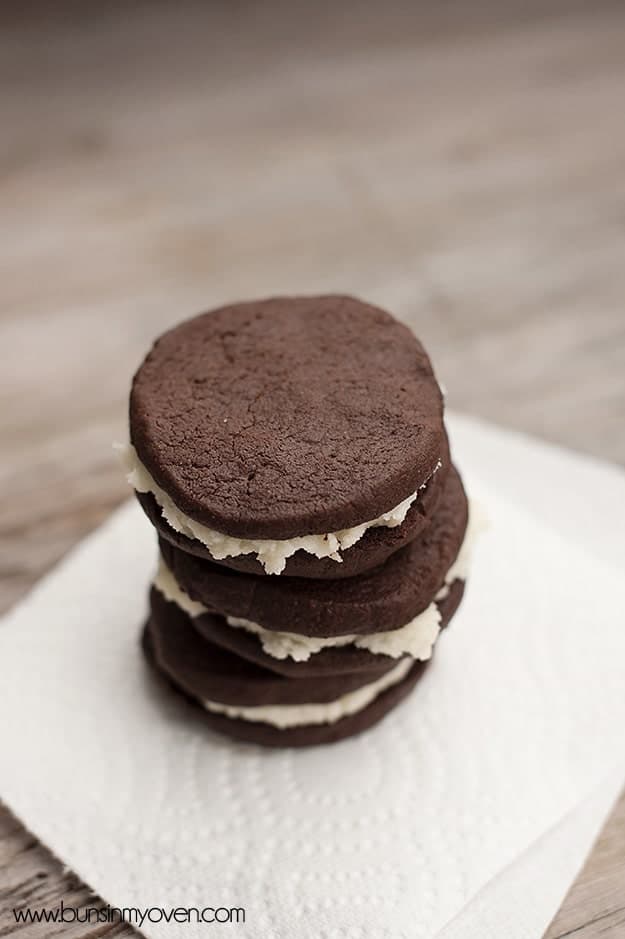 Will they replace my package of Oreo cookies that I keep stashed on a high shelf far above the children's eye level? Never. But if you're seriously against processed foods and packaged baked goods, these are for you.  If you just want to feel all super-mom-ish and create a childhood favorite in your own kitchen for your babies, these are for you. If you just like cookies a lot, these are for you.
Just don't forget the glass of icy cold milk!
Homemade Oreo Cookies
Servings: 20 cookies
Course: Dessert
Cuisine: American
Keyword: classic recipes, easy cookie recipes, easy dessert recipes
Calories: 288 kcal
These cookies you're looking at really aren't Oreo cookies. They are similar. They are intensely chocolate with a creamy, sweet filling. They are crunchy and yummy. I like them a lot.

Ingredients
For the cookies:
1 cup butter, melted and cooled slightly 2 sticks
3/4 cup sugar
1 teaspoon vanilla
1 cup semisweet chocolate chips melted and cooled slightly
1 large egg
1 1/2 cups flour
3/4 cup cocoa powder
1 teaspoon salt
1/2 teaspoon baking soda
For the filling:
1/2 cup butter soft
1 2/3 cup powdered sugar
1 teaspoon vanilla
1 tablespoon milk
Pinch of salt
Instructions
To make the cookies:
Beat together the butter and sugar until well combined. Whisk in the vanilla and chocolate. Add the egg and mix until thoroughly incorporated.

In another medium bowl, whisk together the flour, cocoa powder, salt, and baking soda until well mixed.

Add the flour mixture to the butter mixture and mix until it comes together. It will be thick and floury. Use your hands to really mix it together. It should have the consistency of play-doh.

Let the dough sit at room temperature for about 1 hour.

Transfer the dough to a 15 inch square sheet of parchment or wax paper. Use your hands to shape the dough into a log about 10 inches long and 2 1/2 inches in diameter. Place the log at the edge of the sheet of parchment paper and roll the parchment around the log. Twist the ends close, keeping the log fully encased in the parchment. Roll it into a smooth log and refrigerate for at least 2 hours, or until firm.The log may settle and sink a bit, so reroll it every 15 minutes or so to maintain the shape.

Heat oven to 325 degrees and line a baking sheet with parchment paper.

Cut the dough log into 1/4 inch thick slices. Place the slices about 1 inch apart on the baking sheet.

Bake for 20 to 25 minutes or until the cookies are firm to the touch. Check them frequently after 16 minutes, poking them in the center. As soon as they feel firm to the touch remove them from the oven.

Let cool on the baking sheet to warm or room temperature.
To make the filling:
While the cookies are cooling, beat the butter for 30 seconds or until completely smooth. Add the powdered sugar and vanilla and beat until the mixture is perfectly smooth. Add the milk and salt and beat again. The mixture should feel a bit like putty.

Scoop 1 rounded tablespoon of the filling on the bottom of half of the cookies and top with the remaining cookies.
Nutrition Facts
Homemade Oreo Cookies
Amount Per Serving
Calories 288 Calories from Fat 162
% Daily Value*
Fat 18g28%
Saturated Fat 11g69%
Cholesterol 46mg15%
Sodium 271mg12%
Potassium 116mg3%
Carbohydrates 31g10%
Fiber 2g8%
Sugar 20g22%
Protein 2g4%
Vitamin A 445IU9%
Calcium 17mg2%
Iron 1.5mg8%
* Percent Daily Values are based on a 2000 calorie diet.
Nutrition Disclaimer: All information presented on this site is intended for informational purposes only. I am not a certified nutritionist and any nutritional information shared on bunsinmyoven.com should only be used as a general guideline.
Recipe from Flour