I took two of my favorite things and made Oreo donuts! You guys are going to love this baked donut recipe!
It's been such a long time since I posted a baked donut recipe, you guys! I'm sorry. What the heck was I thinking?
These Oreo donuts are a riff on my chocolate glazed donuts that the entire Internet fell head over heels in love with! They were one of my most popular recipes for a long time. I mean, who doesn't love chocolate glazed donuts!
Well, I took things a step or two further with a fudgy chocolate frosting and a whole boatload of Oreo cookies. Because the more chocolate the better, if you ask me.

I used my mama's chocolate icing recipe to frost these and you guys. If you haven't tried this yet, you absolutely have to. It was a family favorite growing up and we'd all fight over who got to lick the pan after pouring the frosting over our favorite brownie recipe.
Do you already have a donut pan? If not, I suggest you pick one up from Amazon. They're generally less than $10 and absolutely worth every penny – I use mine way more than I ever though I would. Buy one here! And check out all of my other donut recipes to see just how much use you'll get out of that pan!
These donuts make a great celebration breakfast – the end of school, a special birthday, or any special occasion! We generally consider this one a dessert donut, though. It's just as much fun to have donuts after dinner as it is to have them for breakfast and these are perfect for that! You could even add a scoop of ice cream on top if you wanted to get really crazy! 🙂
Hope you guys enjoy!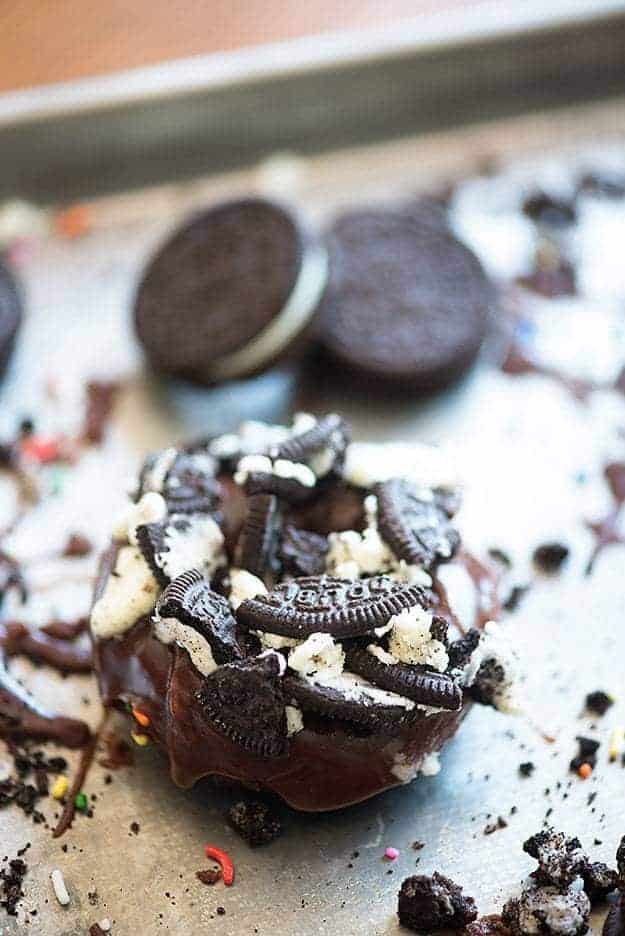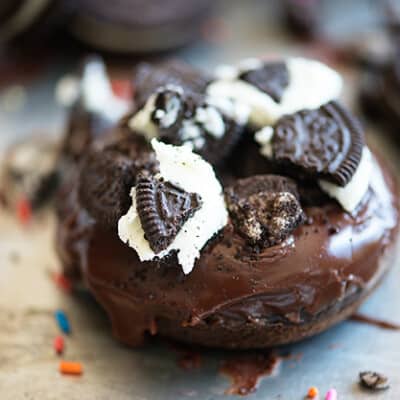 Cookies and Cream Donuts
I took two of my favorite things and made Oreo donuts! You guys are going to love this baked donut recipe!
Prep10 minutes
Cook8 minutes
Total18 minutes
Ingredients
1 cup flour
1/2 cup sugar
1/4 cup cocoa powder
1/2 teaspoon baking soda
1/2 teaspoon espresso powder
1/2 teaspoon vanilla extract
1 large egg
6 tablespoons sour cream
1/4 cup milk
1/4 cup vegetable oil
1/2 cup white sugar
3 tablespoons butter
3 tablespoons milk
1/3 cup semi-sweet chocolate chips
1/2 cup crumbled Oreo cookies
Instructions
To make the donuts, preheat oven to 375 degrees.

In a medium mixing bowl, combine the flour, sugar, cocoa powder, baking soda, and espresso powder.

In a small bowl, beat together the vanilla, egg, sour cream, milk, and oil.

Stir the wet ingredients into the dry until just combined. Spoon in a greased donut pan.

Bake for 8 minutes or until the tops spring back when you touch them. Let the donuts cool in the pan before frosting.

To make the frosting, add sugar, butter, and milk to a small saucepan over medium heat and bring to a boil. Boil for exactly 60 seconds and remove from heat.

Stir in chocolate chips and continue stirring until the chocolate has melted. Use frosting immediately as it will harden quickly.

Dip the tops of the donuts into the frosting and remove to a cooling rack.

Immediately sprinkle with the crumbled cookies.

Let sit for 10 minutes before serving.
Nutrition Information:
Calories: 509kcal (25%)| Carbohydrates: 67g (22%)| Protein: 6g (12%)| Fat: 25g (38%)| Saturated Fat: 16g (100%)| Cholesterol: 54mg (18%)| Sodium: 234mg (10%)| Potassium: 214mg (6%)| Fiber: 2g (8%)| Sugar: 43g (48%)| Vitamin A: 325IU (7%)| Calcium: 56mg (6%)| Iron: 3.4mg (19%)