These Lucky Charms Treats are a quick and easy cereal bar recipe made with your favorite Lucky Charms cereal and marshmallows! They're magically delicious!
We have been on a major no bake cereal bar treat kick around these parts lately. You should see my cereal cabinet and marshmallow stash – I'm literally always ready to feed a crowd with cereal treats at a moment's notice. 😉
These Lucky Charms Rice Krispies Treats are a fun little concoction that are really perfect for any time of the year, but extra fun around St. Patrick's Day!
We used a full box of Lucky Charms cereal (I hate the little bits of cereal leftover taking up space and going stale in my cabinets!) and packed in as many marshmallows as is humanly possible for an ultra gooey cereal bar that's bursting with festive colors.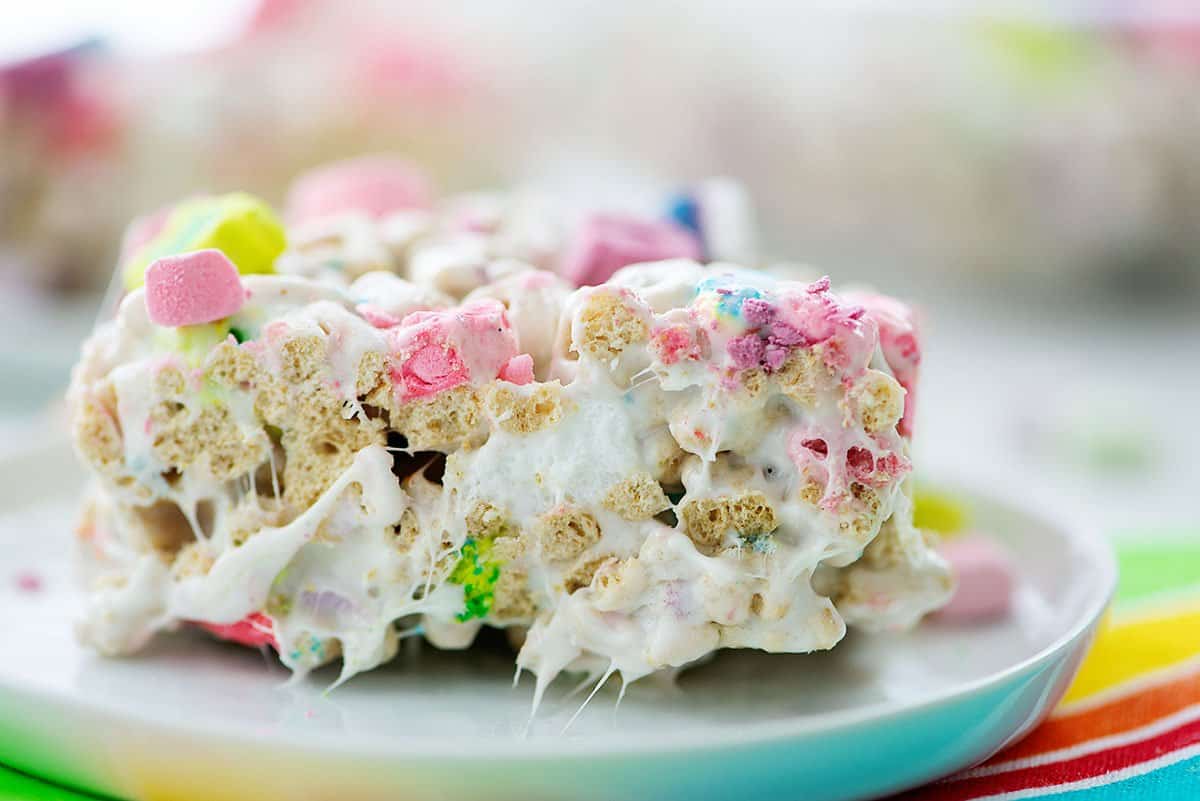 Pretty sure that the dehydrated cereal marshmallows are what makes this recipe so freakin' delicious. They're just irresistible and you're going to love our little secret for maximizing those bits! Keep on reading…
Ingredient Notes:
This post contains affiliate links. As an Amazon associate and member of other qualifying programs, I earn from qualifying purchases.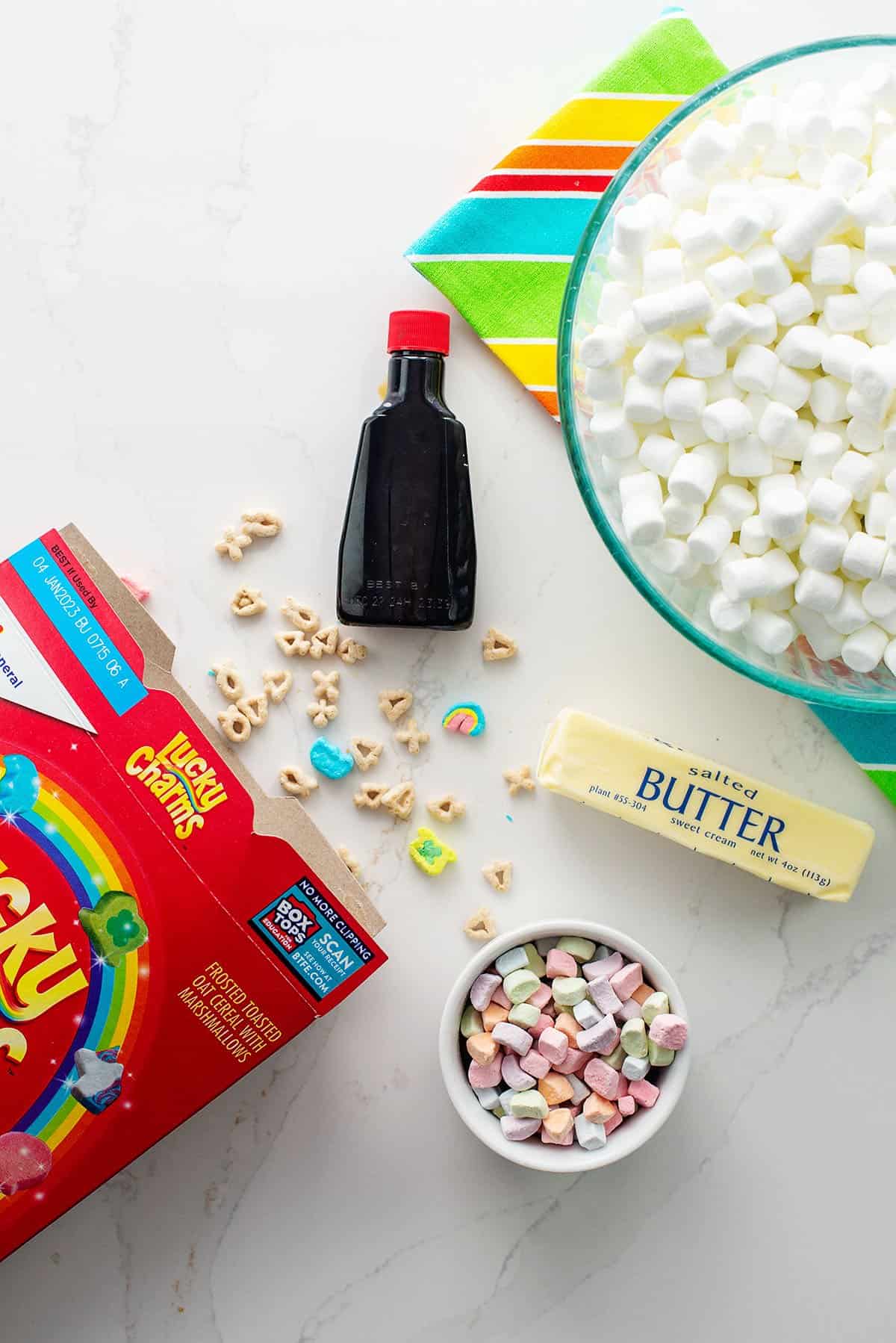 Lucky Charms – I know these are called Lucky Charms "Rice Krispies" Treats, but no Rice Krispies are needed! Lucky Charms add the perfect texture and those pops of dehydrated marshmallow are (I'm sorry, I have to…) magically delicious.
Marshmallows – Like most cereal bars, you'll need regular marshmallows. We'll also have the marshmallows that come in the box of cereal. But the SECRET INGREDIENT that makes these so fun is to add in extra dehydrated cereal marshmallows. They're just like the kind in the cereal but this way you have even more of the good stuff!
Butter & Vanilla – You'll also need some butter, and some vanilla extract! The butter will get melted together with the mini marshmallows to create the sweet, sticky binding that holds these Lucky Charms bars together!
These dehydrated marshmallows really add something special to these cereal bars, but you can also add them to a bowl of cereal, use them in baking, or just eat them by the handful. We've even stuck a bag in Easter baskets for a fun treat.
What We Love About This Recipe!
These bars are loaded with marshmallows for the ultimate gooey cereal treat, but the dehydrated cereal marshmallows are the real star of the show! That crunchy sweetness that they add is just so fun and absolutely impossible to resist. Plus, this is a no bake recipe that doesn't require much work or time, making them perfect for last minute treats.
How to Make Lucky Charms Rice Krispies Treats:
Marshmallow Mixture: To get started begin melting the butter in a large saucepan, and then dump in the mini marshmallows! Keep stirring until it has just melted then remove from heat and mix in the vanilla extract.
Helpful Tip!
Soft and chewy, not hard and crunchy!
If you've ever made Rice Krispies Treats or cereal bars with marshmallow and they've turned out hard and crunchy rather than soft and chewy, you may have overcooked the marshmallow!
Melt it over medium heat, but only do so until it is JUST melted! Remove from heat as soon as it has so you end up with perfectly soft and gooey treats!
Cereal: When you've prepared the marshmallow mixture you can pour in the Lucky Charms cereal along with a handful of extra dehydrated cereal marshmallows. Stir everything together until the marshmallow cereal mixture is well combined!
Finish: With the mixture ready you can add it to a greased 9×13 baking dish and start pressing it all down into the dish until it forms an even layer.
If you're using the dehydrated cereal marshmallows you can press some of them down into the top of the Lucky Charms treats to finish them off! Let them cool for an hour before slicing and serving.
Helpful Tip!
Spray a piece of wax paper with non-stick spray and use that to press the cereal mixture into place. The cereal bars won't stick to your hands or the wax paper!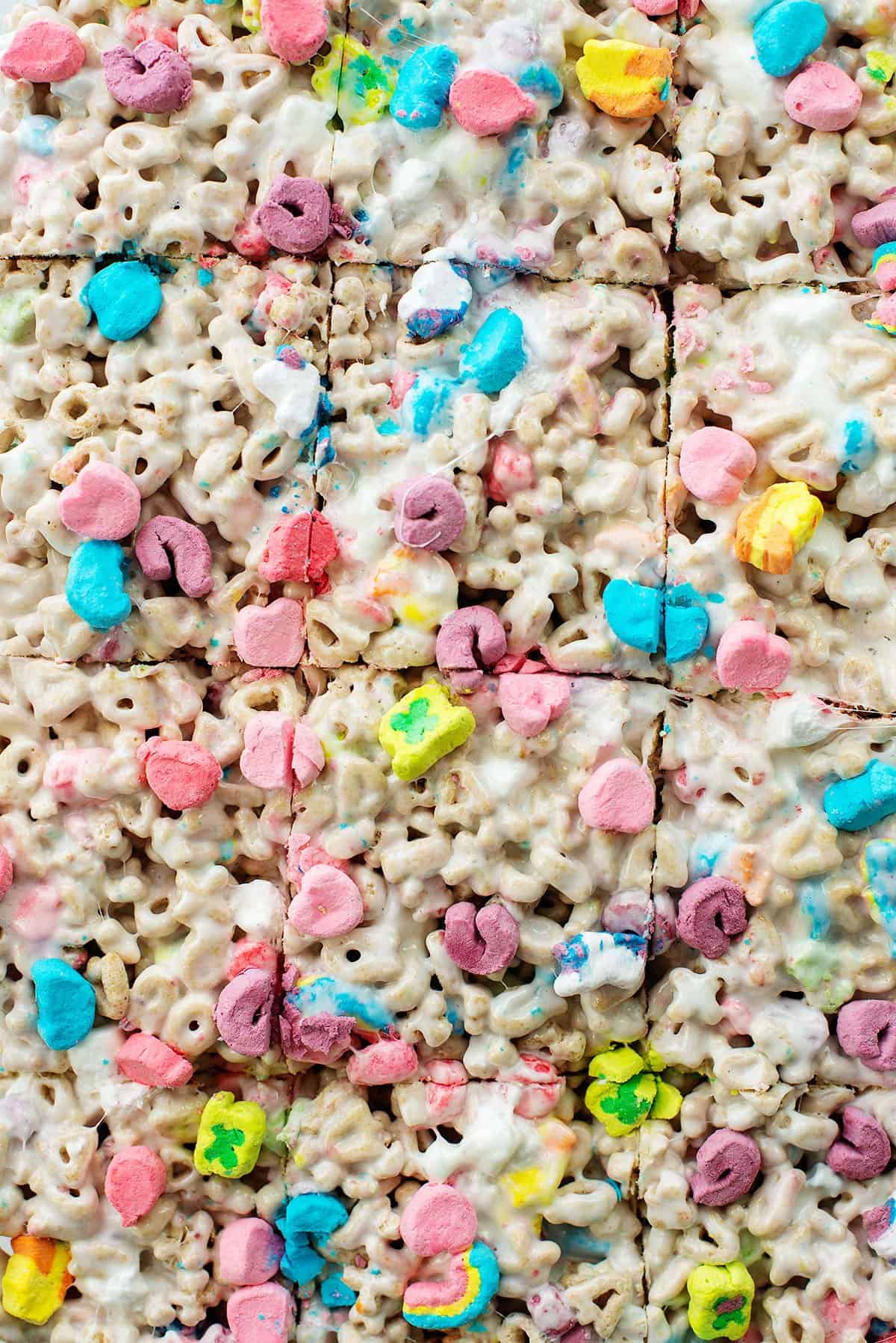 Are the dehydrated cereal marshmallows necessary?
Those dehydrated marshmallows add a fun pop of color to the cereal treats and the little crunch of them is serious marshmallow perfection, but they aren't exactly cheap. Feel free to skip them entirely – these treats will still be tasty enough thanks to the marshmallows in the box of Lucky Charms!
Another (cheaper) option would be to buy a second box of Lucky Charms and raid it for the marshmallows. Cheaper than buying a bag of 'mallows, but good luck getting your kiddos to eat Lucky Charms without the magical shapes!
FAQs:
How to store cereal bars?
These Lucky Charms cereal bars can be stored pretty much like you would any Rice Krispies Treat recipe! Keep them in a sealed container at room temperature for 2-3 days
How to freeze cereal bars?
You can freeze the Lucky Charms bars for about two to three months. First slice the treats into bars or squares and wrap each one in plastic wrap or wax paper before sealing in a freezer bag.
MORE RICE KRISPIES TREATS RECIPES!
Lucky Charms Treats
These cereal treats swap Rice Krispies for Lucky Charms, making for a magically delicious no bake treat that's easy enough for the kiddos to make! We add in extra dehydrated marshmallows for a fun pop of color and loads of crunchy marshmallow goodness.
Prep10 minutes
Cook5 minutes
Cooling Time1 hour
Total1 hour 15 minutes
Instructions
Heat the butter in a large pot over medium heat until melted.

Add the marshmallows and cook, stirring constantly, until the marshmallows have melted. Remove from the heat and stir in the vanilla.

Add the cereal and 1/4 cup of dehydrated marshmallows to the mixture and stir to coat.

Press mixture into a greased 9×13 dish.

Press remaining 1/4 cup of cereal marshmallows over the top of the cereal bars, if desired.

Let set for at least one hour to fully cool before slicing and serving.
Tips & Notes:
The bag of dehydrated cereal marshmallows taste just like Lucky Charms marshmallows, but are more pastel in color. We picked out a handful of Lucky Charms marshmallows for pressing on the top and then added a ½ cup of the bagged marshmallows in with the cereal, just for looks. The extra dehydrated marshmallows are totally optional, but we love the extra flavor and color they add to these bars. They're not super cheap, so it's fine to skip them if you don't want to purchase a whole bag of them. Alternately, buy a second box of Lucky Charms and just pick out the marshmallows for using in these bars. It's cheaper than buying a whole bag of marshmallows, though you will have a sad box of cereal to deal with afterwards.
Nutrition Information:
Serving: 1bar| Calories: 256kcal (13%)| Carbohydrates: 53g (18%)| Protein: 3g (6%)| Fat: 5g (8%)| Saturated Fat: 3g (19%)| Polyunsaturated Fat: 1g| Monounsaturated Fat: 1g| Trans Fat: 1g| Cholesterol: 10mg (3%)| Sodium: 226mg (10%)| Potassium: 59mg (2%)| Fiber: 1g (4%)| Sugar: 32g (36%)| Vitamin A: 817IU (16%)| Vitamin C: 7mg (8%)| Calcium: 110mg (11%)| Iron: 6mg (33%)