These Golden Graham bars are made with your favorite cereal and lots of marshmallow and chocolate! They're just like a S'mores bar, extra ooey gooey, and so fun to make and eat!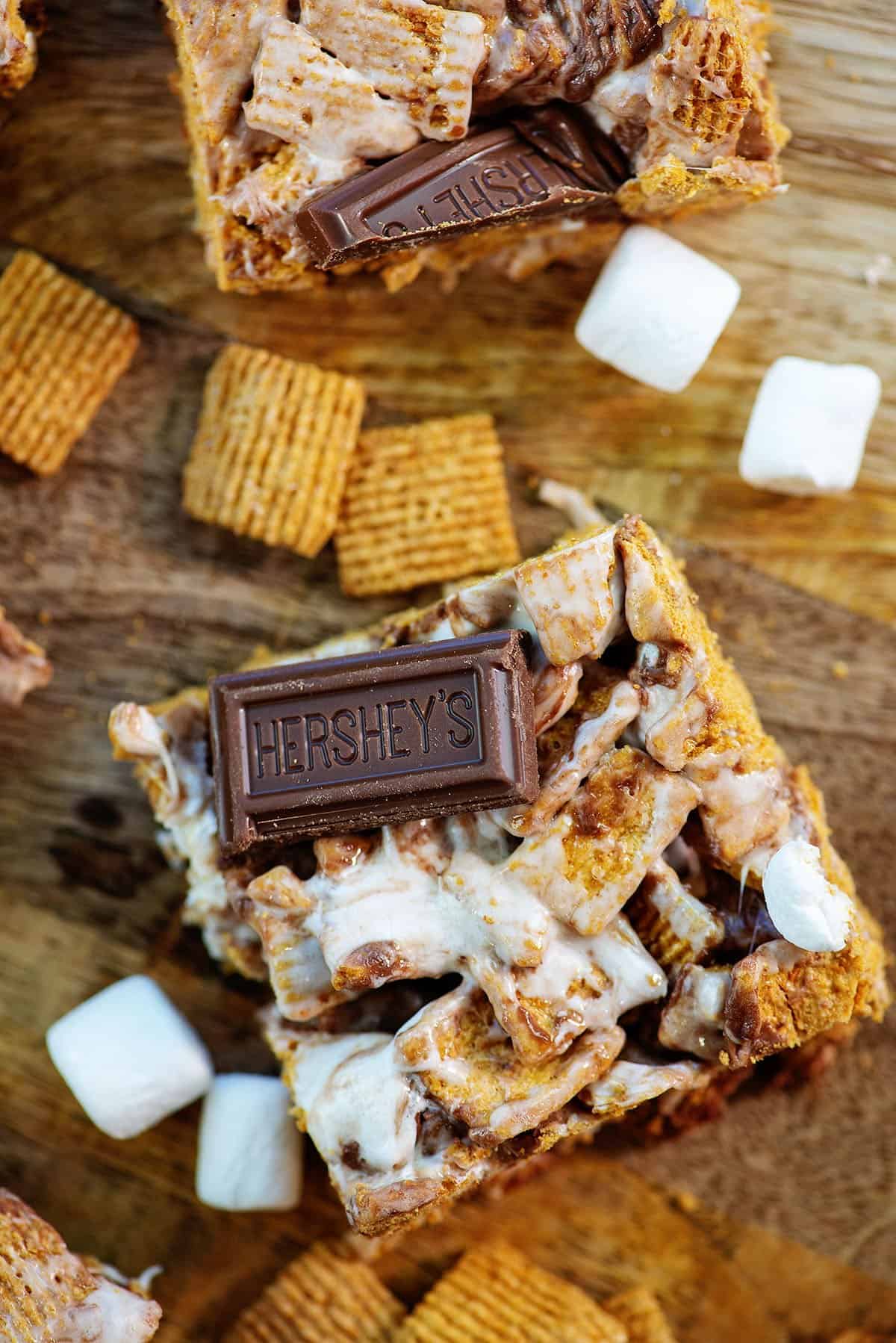 Can y'all believe that (as of publishing this recipe!) I've been sharing my recipes here for over 12 years? Hard to believe!
I'm sure most of you haven't been around since the beginning, but if you have then you know I have a thing for s'mores!
I used to share new s'mores creations regularly, but must have burnt myself out because it's been awhile. Too long, actually. 😉
So here we are with these Golden Graham S'mores Bars – they're made with Golden Grahams cereal, mini marshmallows, and a mixture of milk chocolate chips and Hershey's bars. These are seriously so fun!
Our s'mores cookie recipe is a favorite (just look at that toasty 'mallow!) and I will never turn down these s'mores bars!
Ingredient Notes:
This post contains affiliate links. As an Amazon associate and member of other qualifying programs, I earn from qualifying purchases.
Golden Grahams Cereal – Our star ingredient! You'll combine the cereal up with the other ingredients like marshmallow and chocolate to make these Golden Grahams cereal bars.
Marshmallow – These cereal bars could also be referred to as Golden Grahams S'mores! We've got all the s'mores ingredients here which means plenty of mini marshmallows and chocolate! It'll also get melted together with some butter.
Chocolate – You're going to need some milk chocolate chips, and a full sized Hershey's chocolate bar!
What We Love About Golden Graham S'mores Bars:
These are ooey gooey, just like a traditional s'mores, but there's no need to build a campfire. I love that these are quick to whip up and a little more fun than the classic Rice Krispies Treat, but similar enough that everyone loves them!
How to Make Cereal Bars:
Marshmallow: Melt together the marshmallow and butter to create the sticky sweet glue that'll hold these Golden Graham bars together!
Cereal: Remove from the heat and add the cereal, an extra handful of marshmallows, and some chocolate chips.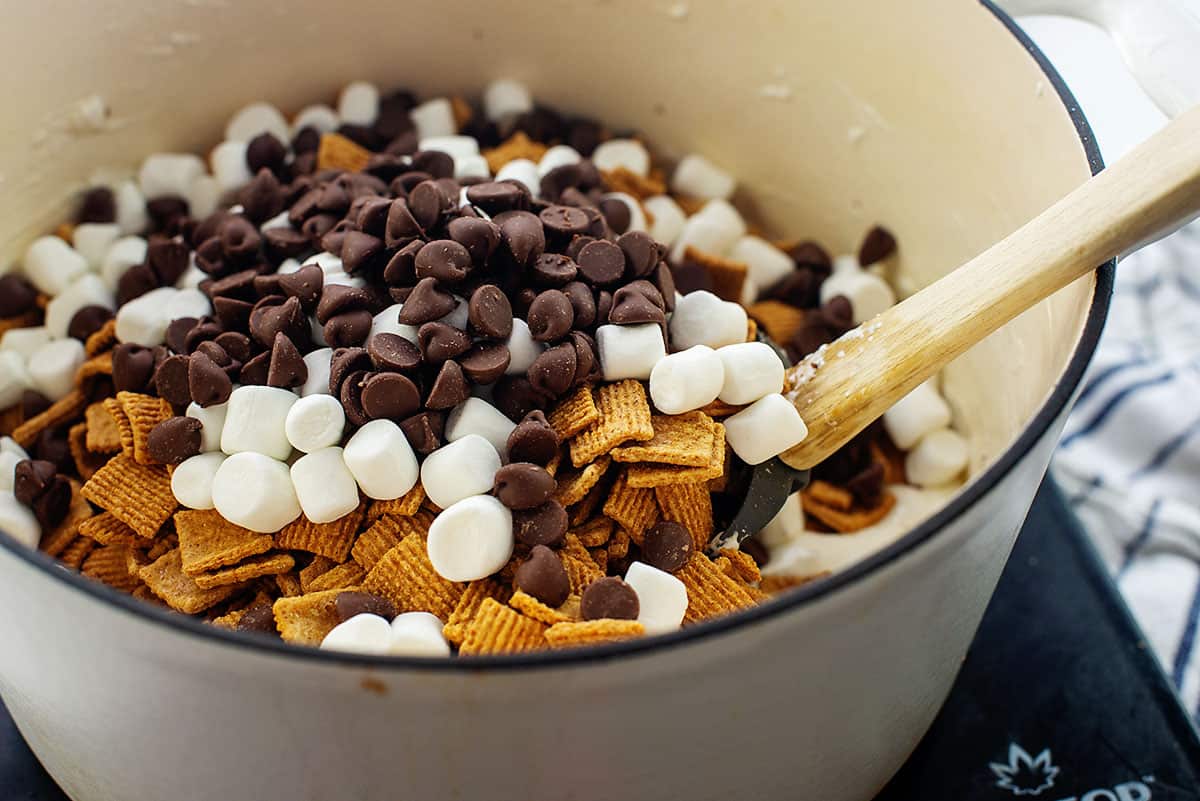 Stir: Stir everything really well to coat it in the marshmallow goo. The chocolate chips will melt quite a bit as you stir and the extra marshmallows will soften up.
Shape: Add the mixture to a greased 9×13 baking dish and start pressing it into a smooth surface using some non-stick spray and wax or parchment paper. It'll save you from sticky hands.
Helpful Tip!
Don't have any wax paper or parchment paper for shaping the bars? You can either use a little non-stick spray on your hands, or just wet them with some water before pressing down to keep them from getting sticky!
Top: Once you've pressed the cereal bar mixture into the baking dish you can break up the Hershey's chocolate bar and start pressing pieces into the top of the bars. It should be warm enough that they'll just stick. You can add a few extra marshmallows, if you like.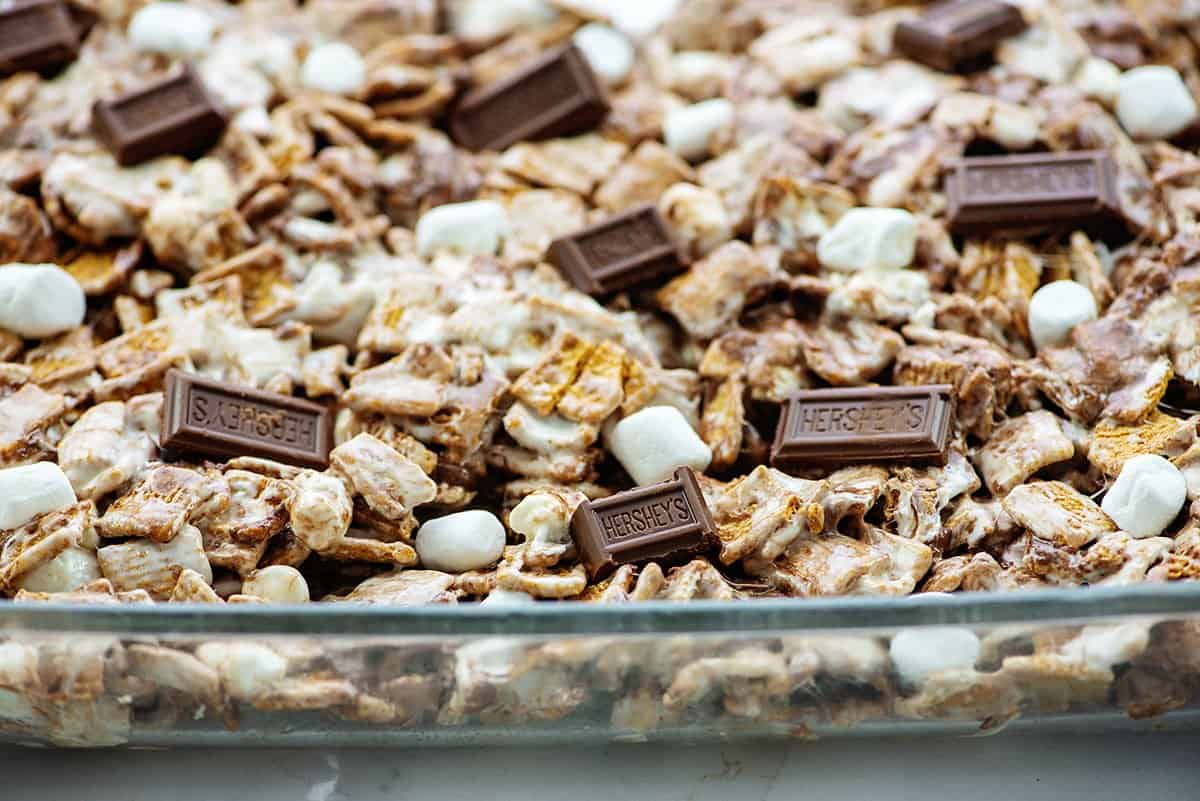 FAQs:
How to store cereal bars?
Keep these Golden Grahams S'mores bars sealed in an airtight container for up to 3 days at room temperature!
Can I use large marshmallows instead of mini marshmallow?
When you're melting the marshmallows and butter together, feel free to use regular sized marshmallows. You'll want mini marshmallows for mixing in after melting and for topping, though.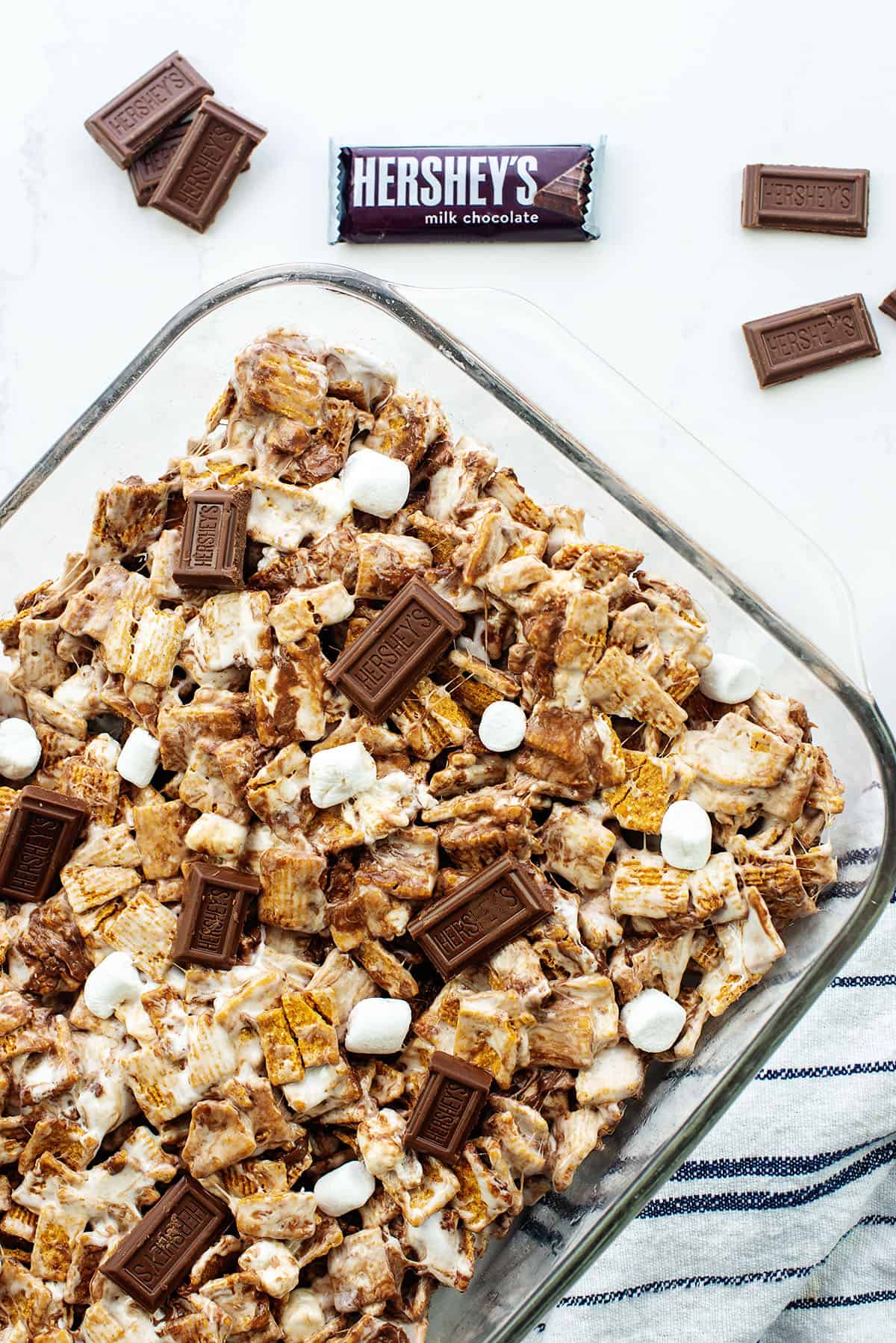 MORE CEREAL BAR DESSERTS!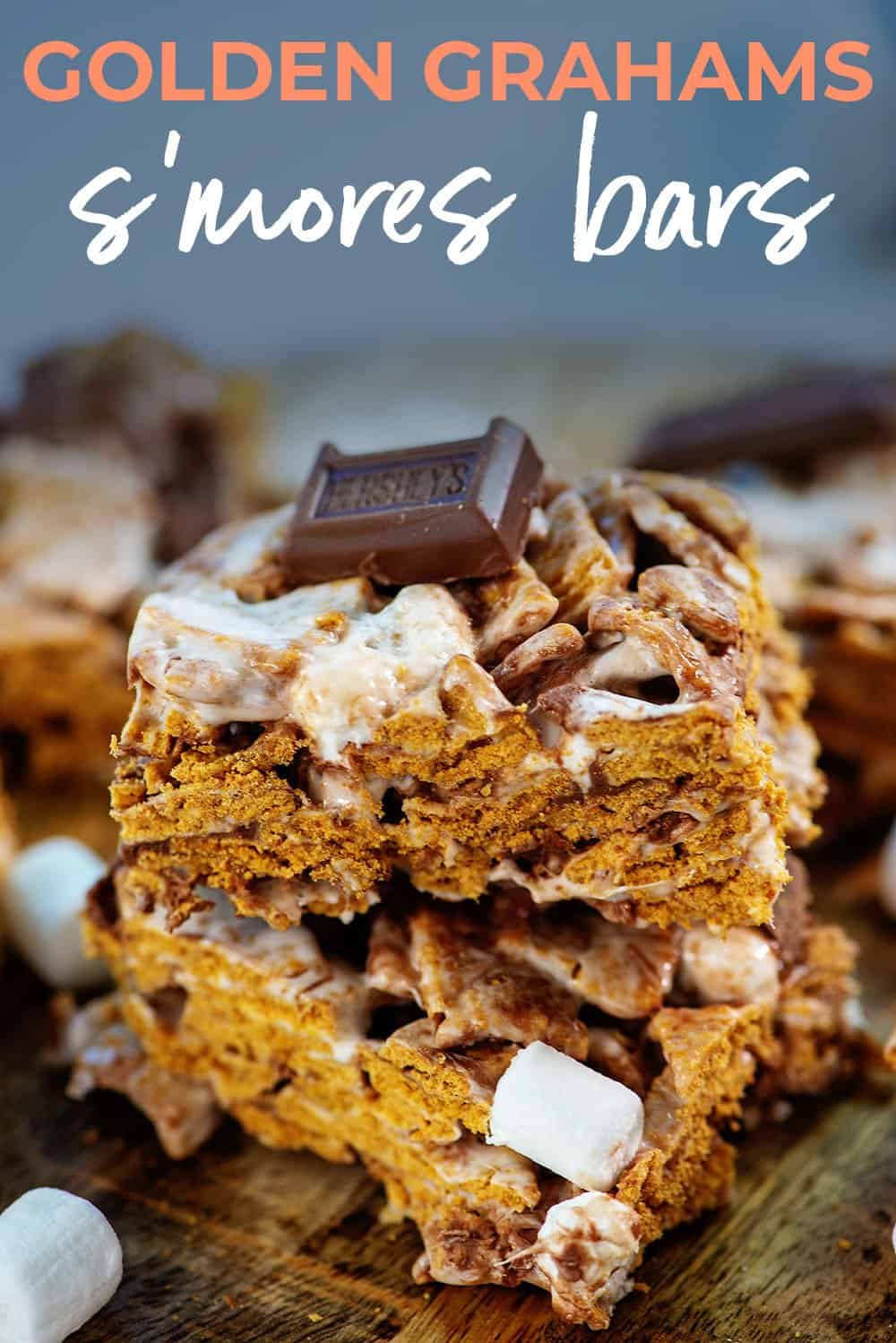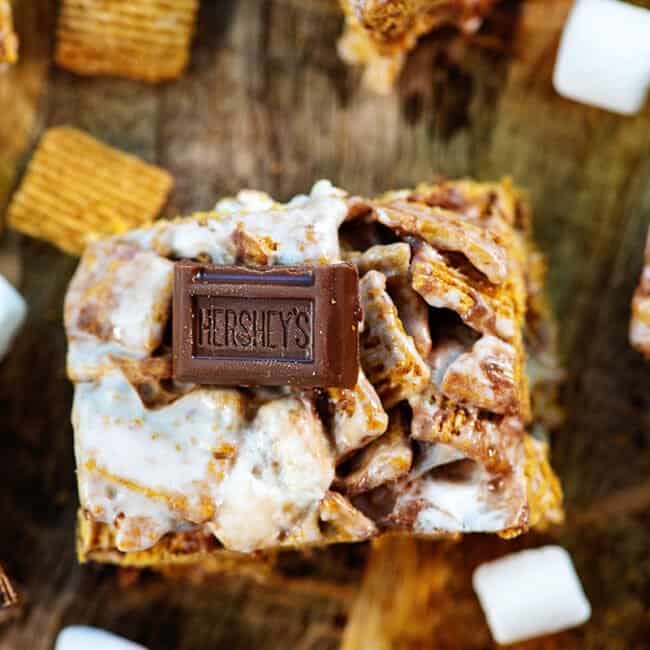 Golden Graham Bars
Ooey gooey no bake bars are always a hit in our house and these taste like the classic s'mores!
Prep5 minutes
Cook5 minutes
Coolin1 hour
Ingredients
¼ cup butter
7 cups mini marshmallows divided
6 cups Golden Grahams cereal
1 cup milk chocolate chips
1.55 ounces Hershey's bar
Instructions
Heat a large pot over medium heat and add the butter.

Once butter has melted, stir in all but 1 cup of the mini marshmallows. Continue cooking and stirring until the marshmallows have melted. Remove from the heat as soon as the mixture has melted.

Stir the cereal into the marshmallow and keep stirring to coat.

Add the chocolate chips and remaining cup of marshmallows to the mixture and stir well.

Press the mixture into a greased 9×13 baking dish. Spray a piece of wax or parchment paper with nonstick spray and place that over the bars. Use your hands to press the bars into a smooth surface.

Break apart the Hershey's bar and arrange over the top of the bars, pressing lightly so they stick.

Let cool for 1 hour before cutting and serving.
Tips & Notes:
We use mini marshmallows, but you can also use full sized marshmallows for melting. One 10 ounce bag plus 1 cup of mini marshmallows is what you'll need. Press a few extra marshmallows on top, if desired, to give it more of a s'mores look.
Nutrition Information:
Serving: 1bar| Calories: 271kcal (14%)| Carbohydrates: 49g (16%)| Protein: 2g (4%)| Fat: 8g (12%)| Saturated Fat: 5g (31%)| Polyunsaturated Fat: 1g| Monounsaturated Fat: 1g| Trans Fat: 1g| Cholesterol: 12mg (4%)| Sodium: 165mg (7%)| Potassium: 52mg (1%)| Fiber: 1g (4%)| Sugar: 33g (37%)| Vitamin A: 485IU (10%)| Vitamin C: 4mg (5%)| Calcium: 86mg (9%)| Iron: 3mg (17%)